2009 Article Archive
2023 | 2022 | 2021 | 2020 | 2019 | 2018 | 2017 | 2016 | 2015 | 2014 | 2013 | 2012 | 2011 | 2010 | 2009 | 2008 | 2007
Today's Dietitian helps your business grow by offering you the opportunity to purchase reprints of articles or departments found in the magazine, or link to the article from your Web site. Share them with clients, colleagues, patients, and students. They're also great for your sales force and tradeshow handouts! Simply select an article below and e-mail us or call 877-652-5295 for more details.
---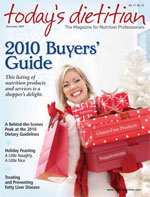 December 2009 Issue
FEATURES
Get Ready for the 2010 Dietary Guidelines
As specialists in their field, RDs should be familiar with the guidelines, as well as offer their expertise for future revisions.
Naughty and Nice — A 'Give-and-Take' Approach to Holiday Feasting
Using a few smart tips, your clients can indulge a little and still maintain their healthy regimen.
Nonalcoholic Fatty Liver Disease — Strategies for Prevention and Treatment of an Emerging Condition
Dietary choices and physical activity can prevent and help treat this disease while improving overall health.
2010 Buyers' Guide
Review this compilation of products and services that may be useful to your practice.
DEPARTMENTS
Editor's Spot
Community Matters
Growing Your Business
Are You an Entrepreneur? How Personality Affects Career Success and Satisfaction
Dynamics of Diabetes
Good Move — Consider Tai Chi for Better Diabetes Control
Boomer Health
Delay the Decay
Supplement Spotlight
Evidence on 2009's 'Super' Supplements
Food for Thought
Farm Aid — Music to Move the Good Food Revolution
Research Brief
News Bites
Products + Services
Culinary Corner
American Pork: The Other Safe Meat
Datebook
Focus on Fitness
---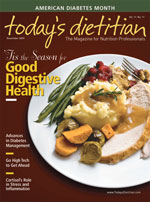 November 2009 Issue
FEATURES
'Tis the Season for Good Digestive Health
Help clients survive the holidays by sharing these tips on how to support their stomachs when feasting and making merry.
Innovations in Diabetes Management — Emerging Tools and Medications Aim to Strengthen and Simplify Care
Less blood, more accurate results, alternative avenues of insulin administration, and a vaccine are all on the horizon.
Cortisol: Its Role in Stress, Inflammation, and Indications for Diet Therapy
This glucocorticoid has multisystem effects, but careful diet and stress management can minimize the risks.
Living the Clean Life
Discover an eating plan that follows the basic tenets of health by focusing on whole, unprocessed foods.
Get Connected — Go High Tech to Gain That Professional Edge
RDs expand their business and their influence by utilizing the Internet's social networking, blogging, and video potential.
DEPARTMENTS
Editor's Spot
Community Matters
Practice Matters
It's About Time — Adapt to New Nutrition Assessment Tools to Optimize Care
Children's Health
Winning Strategy — Address Weight and Energy Intake to Improve Athletes' Performance
Dynamics of Diabetes
Guidelines for the Casual Exerciser
LTC Concerns
Customer Satisfaction — Key to Consulting Success
News Bites
The Heart Beat
Add Tart and Tangy for Heart Health
Bookshelf
Products + Services
Info to Go
Culinary Corner
Don't Forget About Winter Squash
Focus on Fitness
---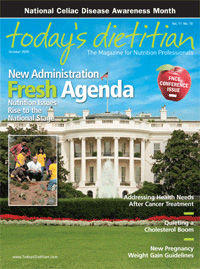 October 2009 Issue
FEATURES
New Administration, Fresh Agenda — Nutrition Issues Rise to the National Stage
From vegetable gardens to food safety, nutrition is starting to get the attention it deserves in Washington.
Life After Cancer — Survivors' Care Following Treatment Is Vital to Maintaining Health
Dietitians can tailor specific dietary plans to meet individuals' unique needs during and after therapy.
Seasonings of Change
Americans need help reducing their sodium intake to reach recommended guidelines and avoid health risks.
Pregnancy by the Numbers — The IOM Updates Weight Gain Guidelines
Appropriate weight gain is crucial to infant health from the first trimester to the third.
Quieting a Cholesterol Boom
Dietitians can help baby boomer clients lower their risk for cardiovascular diseases through diet and fitness changes.
DEPARTMENTS
Editor's Spot
Inbox
Allergy & Intolerance Awareness
Give 'Em Options — RDs Can Help Restaurants Cater to Gluten-Free Customers

Green Matters
Sustainable Seafood — Tackle Overfishing by Making the Right Recommendations
Dynamics of Diabetes
Focused Approach — Find Success With Client-Centered Counseling
News Bites
For Your Information
Food for Thought
Food (and Film) for Thought (and Action)
Datebook
Products + Services
Culinary Corner
Cooking With Heart for the Heart
Focus on Fitness
---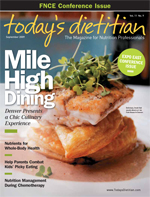 September 2009 Issue
FEATURES
Nutrients for Whole-Body Health — Spotlight on Omega-3s, Vitamin D, and Calcium
Make food fun again by turning away from the can't-haves and looking at the must-haves.
Mile High Dining — Denver Presents a Chic Culinary Experience
Going to this year's FNCE? Check out these foodie locales while you're there.
No Peas for Me! Helping Parents Combat Kids' Picky Eating Behaviors
Try, try, and try again, but also know when it's OK to move on.
Commercial Appeal
Media can negatively influence children's eating behaviors, but RDs can influence advertising regulations.
DEPARTMENTS
Editor's Spot
Supplement Spotlight
Supplements for Autism Spectrum Disorder

Boomer Health
Eating for Eye Health

Nutrition Support 360
Pediatric Specialty Formulas in Enteral Nutrition
LTC Concerns
Smart Savings
News Bites
For Your Information
Food for Thought
Labor Day: Beyond the Barbecue
Datebook
Focus on Fitness
Products + Services
Culinary Corner
Turn Over a New Leaf — Stevia-Based Sweeteners
---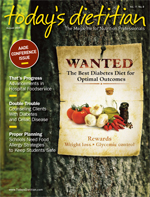 August 2009 Issue
FEATURES
Wanted: The Best Diabetes Diet for Optimal Outcomes
The search for an ideal diet continues.
That's Progress — Advancements in Hospital Foodservice
Technology has improved food delivery and safety so patients are more likely to receive the nutrients they need.
Double Trouble — Counseling Clients With Diabetes and Celiac Disease
For clients with both conditions, eating well-balanced meals can be challenging, and RDs need to be ready to step up to the plate.
Sorting Out the Science on Multivitamins and Minerals
Everyone would love for multivitamin formulas to be the answer to nutrition needs, but the truth may be hard to swallow.
Proper Planning — Schools Need Food Allergy Strategies to Keep Students Safe
Working together, schools, dietitians, and parents can provide the best environment for children.
DEPARTMENTS
Editor's Spot
Children's Health
Optimizing Nutrition Status in Cystic Fibrosis
Dynamics of Diabetes
Nutrition and Wound Care
The Heart Beat
Spoonfuls of Evidence on Sweeteners
LTC Concerns
Healthy Change for Hypertension
Community Matters
Practice Matters
Understanding Muslim Fasting Practices
Food for Thought
News Bites
Products + Services
Datebook
Focus on Fitness
Culinary Corner
Mainstream Mojito
---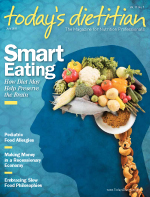 July 2009 Issue
FEATURES
Smart Eating — How Diet May Help Preserve the Brain
This is your brain. This is your brain on mind-protecting nutrients. Any questions?
Making Money in a Recessionary Economy
In tough economic times, a little creativity can go a long way to establish and broaden a clientele base.
Off to a Good Start — Embracing Slow Food Philosophies for Nutritious and Pleasurable Eating
For clients ready to change their eating habits, don't rush—take it slow.
Digging Into Soil Health
Starting from the ground up is vital to nutrition, since what goes in the soil affects what goes in the body.
A Nutritious Approach to Healthier Skin
Who doesn't want soft, clear, youthful skin? But modern products that claim various benefits through vitamins and minerals demand a second look.
DEPARTMENTS
Editor's Spot
Inbox
Research Briefs
Allergy & Intolerance Awareness
The Hygiene Hypothesis
Nutrition Support 360
Societies Release New Critical Care Guidelines
Green Matters
Heirlooms — Unique Varieties Preserve History, Support Biodiversity

LTC Concerns
Fortify to Enhance Nutritional Value

Bookshelf
Food for Thought
News Bites
Products + Services
Datebook
Focus on Fitness
Culinary Corner
Cranberries — Tangy, Tasty, and Nutritious
---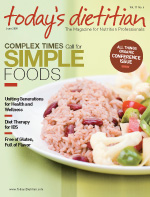 June 2009 Issue
FEATURES
Complex Times Call for Simple Foods
Clients can save money, and eat healthfully, by building meals around foods they already have in their pantry.
Free of Gluten, Full of Flavor
Follow the progression of gluten-free foods from bland and boring to consumer scoring.
Soothing the Symptoms of IBS With Diet Therapy
Recognizing the problem and guiding clients to an individualized diet may relieve their symptoms.
Orthorexia: When Eating Healthy Becomes an Unhealthy Obsession
Dietitians are in prime position to stop this destructive behavior and help clients get on the right eating track.
Intergenerational Programs — Uniting Young and Old for Good Nutrition, Physical Activity, and Wellness
Building a bridge between these two groups can lead to overall benefits for both sets.
DEPARTMENTS
Editor's Spot 
Dynamics of Diabetes
Finding a Place for the Glycemic Index
LTC Concerns
Be Prepared for Emergencies
Supplement Spotlight
Supplementing Memory Loss
Boomer Health
Boomers on the Go
Food for Thought
Bacteria and Beyond — Getting to the Root of Food Safety Issues
Conference Currents
News Bites
Products + Services
Datebook
Focus on Fitness
Culinary Corner
Flour Power — Make Way for White Whole Wheat
---
May 2009 Issue
FEATURES
Coffee Buzz: Trends and Possible Perks of America's Beloved Beverage
As coffee consumption is increasing in popularity, researchers find that a cup of joe may offer health benefits rather than concerns.
African Americans and Diabetes: Educate to Eliminate Disparities Among Minorities
Since there is an increased risk of diabetes among the African American population, dietitians need to consider cultural values to make realistic recommendations.
Seeking Simplicity: Consumers Drive Back-to-Basics Food Trend
Consumers are heading back to foods they can pronounce and ingredients they recognize.
Cooking Under Pressure: Easing the Pain of Preparing Wholesome Meals
In these high-pressure times, teach patients with diabetes about high-pressure cooking to make whole foods in less time.
DEPARTMENTS
Editor's Spot 
The Heart Beat
Eating Omega-6 Fatty Acids for Heart Health

Children's Health
Just Say No … to the Children's Menu
LTC Concerns
New Recommendations for Treating Pressure Ulcers

Nutrition Support 360
Vitamin D — New Perspectives in Enteral and Parenteral Nutrition Practice

Growing Your Business
Creating a Business and Marketing Plan — 10 Steps to Success

Bookshelf
Food for Thought
Datebook
Products + Services
News Bites
Focus on Fitness
Culinary Corner
Cooking for Our Palates and the Planet
---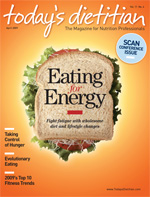 April 2009 Issue
FEATURES
Eating for Energy
Are your clients feeling fatigued? Check out ways to improve energy levels through diet and lifestyle.
Taking Control of Hunger — Lessons on Calming Appetite and Managing Weight
Hunger is a big factor in weight control. Learn satiety strategies to assist your clients with managing both.
Evolutionary Eating — What We Can Learn From Our Primitive Past
Has food technology surpassed our genetic ability to use it healthfully? Some suggest that a return to a simpler diet could prevent disease.
2009's Top 10 Fitness Trends (There's a Workout for Everyone on This List)
Help your clients keep fit by learning the latest workout trends, including stretching their muscles without straining their budgets.
Food Banks in Crisis — Hard Times Spell Increased Demand, Reduced Donations
In today's economy, food banks are getting less donations and more demand for them. How can dietitians help?
DEPARTMENTS
Editor's Spot 
Allergy & Intolerance Awareness 
Dynamics of Diabetes 
LTC Concerns
Community Matters 
Green Matters 
Products + Services
News Bites
Datebook
Focus on Fitness 
---
FEATURES
Diversifying Dietetics: A Challenge That's Well Worth the Effort
Diversity has been slow to spread to the dietetics profession. What is the ADA doing to prevent dietitian demographics from creating a culture divide in healthcare?
Small Stores, Big Changes
In the current trend away from excess, even grocery stores are downsizing.
The Jungle Effect: Book Unlocks the Power of Indigenous Diets
Read along as Daphne Miller, MD, goes on a nutritional safari around the world to discover the health benefits of traditional, local foods.
Canned Foods Make a Comeback
Use fruits and veggies canned at their seasonal peak to cut costs and meet nutritional needs year-round.
Inside the Shell: A Look at the Healthy Attributes of Nuts
Consumers often fear the fat in nuts. Help your clients shed misconceptions to enjoy these healthful items in moderation.
DEPARTMENTS
Editor's Spot
Boomer Health
Nutrition Support 360
LTC Concerns
Bookshelf
For Your Information
Products + Services
Datebook
News Bites
Supplement Spotlight
Culinary Corner 
Focus on Fitness
---
FEATURES
The Delicious Side of Heart-Healthy
Eating Follow these tips and recipes to give clients a diet that hearts and taste buds will love.
A Burger and Fries (Hold the Trans Fats) - Restaurants Respond to Demand for Healthier Oils
Restaurants are helping promote heart health by eliminating trans fats from their menus.
Nutrition for Health and Longevity
It's never too late to make healthy changes to live longer. Help your clients, especially older adults, improve their eating habits and health.
Fighting Heart Disease, the Dean Ornish Way
Familiarize yourself with Ornish's nutritional and lifestyle guidelines to prevent or reverse heart disease and cancer.
Nutrition for COPD — Dietary Considerations for Better Breathing
Learn how to provide proper nutrition for those who struggle to breathe due to exposure to toxins such as cigarette smoke.
DEPARTMENTS
Editor's Spot
Children's Health 
The Heart Beat
Growing Your Business
Dynamics of Diabetes 
Datebook
News Bites
Products + Services
Culinary Corner
Focus on Fitness 
---
FEATURES
A Decade of Today's Dietitian
Review some of the last decade's dietetic trends as we celebrate the 10th anniversary of Today's Dietitian.
Irradiation: What It Is, What It Does, and How It Affects the Food Supply
Will this technology that is capable of preventing E. coli and Salmonella be as accepted as milk pasteurization?
Plant Power: Fueling Athletes Right Through Balanced Vegetarian Nutrition
An RD tests how diet affects athletic performance. Is vegetarianism up to the challenge?
Team Spirit: Pulling Together to Create Effective Nutrition Support Teams
Familiarize yourself with nutrition support teams and how to incorporate them at your facility.
Winter Nutrition
Good nutrition and wellness often drop with the temperature; guide clients toward health rather than hibernation.
Journey to a New Life: A Nutrition Support Case Study
Follow the story of one patient's long road to nutritional recovery.
DEPARTMENTS
Publisher's  Note
Inbox
LTC Concerns
Allergy & Intolerance Awareness
Green Matters
Nutrition Support 360
Conference Currents
Bookshelf
Datebook
News Bites
Products + Services
Culinary Corner
Focus on Fitness