2023 Article Archive
2023 | 2022 | 2021 | 2020 | 2019 | 2018 | 2017 | 2016 | 2015 | 2014 | 2013 | 2012 | 2011 | 2010 | 2009 | 2008 | 2007
Today's Dietitian helps your business grow by offering you the opportunity to purchase reprints of articles or departments found in the magazine, or link to the article from your Web site. Share them with clients, colleagues, patients, and students. They're also great for your sales force and tradeshow handouts! Simply select an article below and e-mail us or call 877-652-5295 for more details.
---
May 2023 Issue
North African Roots of the Med Diet
Mention the Med diet and thoughts of Italy or Greece may come to mind. But many of the food staples, spices, and flavorful dishes originated in the northern region of the Motherland. Find out more so you can better counsel clients.
The World of Aquatic Foods
Discover how nutritious and sustainable blue foods are and the certifications that can help clients choose safe, healthful options.
PCOS Across the Lifespan
The effects of polycystic ovary syndrome can be felt over a lifetime. Learn the origins of PCOS, how it may present in adolescence and postmenopause, and the role the gut microbiota plays in its development.
What's Inside the New FTC Guidelines?
Learn what the latest protocols are for identifying and communicating express vs implied claims and how guidance is aimed to correct misunderstandings of scientific evidence in media ads.
The Gut-Endocannabinoid Axis
With increased use of cannabis, it's important for RDs to understand the relationship between the gut microbiome and the endocannabinoid system, and the role cannabis may play in the functioning of the human body.
CPE Monthly: 2020–2025 Dietary Guidelines for Americans
This continuing education course examines the most recent dietary guidelines for Americans. From dietary recommendations for children aged 0-24 months to recommendations for pregnant and lactating women, there are several details RDs will want to explore to better assist clients.
departments
Community Matters
Get to Know …
Health Matters
News Bites
Research Briefs
---
April 2023 Issue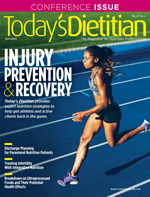 Injury Prevention and Recovery
Through evidence-based nutrition interventions, explore how RDs can help treat bone and soft tissue injuries and prevent them in the future.
Discharge Planning for Parenteral Nutrition Patients
A step-by-step guide on how to prepare hospitalized patients on parenteral nutrition for a safe and seamless transition to the home setting.
Integrative Nutrition and Fertility
The ability to conceive is crucial for women wanting to start a family. Learn how taking a whole-person approach, which blends conventional and alternative therapies with nutrition, can treat female infertility and support a healthy pregnancy.
Ultraprocessed Foods
Here's a primer on what they are, how much they've grown in popularity, their health effects, and strategies for counseling clients.
Diminished Appetite at End of Life
Loss of appetite is common among adults of advanced age. But dietitians have options to boost nutritional intake while helping families understand that sometimes focusing on comfort rather than nourishment is best for patients during the dying process.
CPE Monthly: Nutrition's Role in Managing COVID-19
This continuing education course examines dietary nutrients and their potential immune-supportive role in preventing severe COVID-19 outcomes and how RDs can educate clients on evidence-based diet patterns.
departments
For Your Information
Get to Know…
Health Matters
News Bites
Research Briefs
Datebook
Culinary Corner
---
March 2023 Issue

Zero-Proof Beverages
Decreased alcohol consumption has spurred a generation of the 'sober curious' and an ever-increasing variety of low- and no-alcohol beverages mimicking the taste and smell of the real thing.
TD10
In Today's Dietitian's 14th annual showcase of dedicated and deserving dietitians, this year's winners display incredible achievements that are making a huge difference in dietetics.
Functional Foods on Restaurant Menus
From açaí bowls and beetroot juice to wellness shots and vegan burgers, functional foods have become all the rage, adding flavor and healthfulness to menu offerings across the country.
Immune Health in Older Adults
Today's Dietitian explores the complexities of the immune system and the latest research on the role nutrition plays in boosting immune health in seniors and the products on the market that claim to help.
Social Media Pseudoscience
False diet and nutrition information on Facebook, Twitter, TikTok, and Instagram peddled by unqualified influencers is rampant. Learn more about what's being circulated and how to combat it.
CPE Monthly: The Role of Nutrition in ADHD
This continuing education course details the relationship between ADHD and nutrition status and discusses the efficacy of various nutrition strategies for managing symptoms.
departments
Reader Feedback
Focus on Fitness
Heart Health
Health Matters
News Bites
Research Briefs
Products + Services
February 2023 Issue

Biomarkers for Cardio Health
New biomarkers are being studied to assess patient risk of CVD and determine their role in diagnosing and managing patients.
Protein Requirements for Seniors
Research shows this essential macronutrient is especially important for older adults to maintain and support muscle health well into their later years. Learn how much they really need plus strategies for effective nutrition counseling.
The Diabetes Plate Method for Cultural Diets
A diabetes diagnosis can be scary for clients and patients, but a balanced plate, regardless of culture, can go a long way in managing the condition.
Plant-Based Fish & Seafood
As concerns about climate change and sustainability increase, science is generating new, innovative, and environmentally conscious ways for consumers to enjoy alternative seafood options made to resemble and taste like the real thing.
Nutrition's Link to Sleep Quality
Dietary patterns play a large role in whether clients get enough Zs. Learn more about what nutrients and foods can help ensure a restful and refreshing night's sleep.
CPE Monthly: Updated Guidelines for Low-Sodium Diets
This continuing education course examines updated guidelines for low-sodium diets for the general population and those with chronic conditions.
departments
Reader Feedback
Get to Know …
Health Matters
News Bites
Research Briefs
Culinary Corner

January 2023 Issue

Culinary Medicine
RDs are teaching med students and physicians about this exciting evidence-based field so they can masterfully blend the art of food and cooking with the science of medicine.
Navigating Sustainability With Confidence
Today's Dietitian takes a fresh look at the continued growth of the sustainability movement and explains how dietitians can make informed decisions about the products they buy and recommend to clients.
Snacking With Intention
Munching on snacks in between meals is on the rise. Encourage clients to make more nutritious choices while teaching them habits of mindfulness.
Nutrition & Nonalcoholic Fatty Liver Disease
Here's an update on nonalcoholic fatty liver disease and how diet and nutrition play a role in its prevention and treatment.
Body Positivity in Dietetics Practice
The term has strayed from its original meaning, harkening back to the 1960s social justice movements. Learn how it has evolved and ways to effectively counsel clients.
CPE Monthly: Eye Health and Nutrition
This continuing education course explores the role of nutrition in visual development and healthy vision as well as nutritional factors in prevention and treatment of age-related macular degeneration, glaucoma, cataract, dry eye disease, and visual complications of diabetes.
departments
Reader Feedback
Get to Know …
Health Matters
News Bites
Research Briefs
Culinary Corner