Current Issue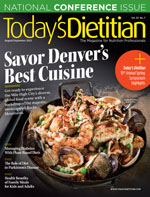 August/September 2023 Issue
Savor Denver's Best Cuisine
Get your palates ready because FNCE® is coming to Denver. To prepare, find out about the best local spots to grab a bite to eat and experience the diverse international and local flavors of Colorado.
Plant-Based Diets & Diabetes
More research links plant-based diets with lower risk of type 2 diabetes and better management of type 1 and type 2. Discover how dietitians can use such dietary patterns to assist clients in meeting their health goals.
Diet's Role in Parkinson's Disease
Evidence is mounting in support of key nutrients and the overall diet that can lessen the severity of Parkinsonian signs and symptoms. Read about what early research suggests and how it may impact future recommendations.
Fresh Look at Family Meals
Food brings people together, but what are the long-term benefits of that togetherness? Today's Dietitian examines the latest evidence regarding food, socialization, and mental well-being throughout the lifespan.
Today's Dietitian 10th Annual Spring Symposium
TDcelebrated 10 years of providing symposia to RDs in the coastal city of Savannah. Check out the highlights and photo gallery. Hope to see you next year!
CPE Monthly: Nutrition Needs for Aging Adults
This continuing education course reviews the leading health concerns of older adults and their dietary needs, macronutrient and fluid recommendations, and plant-based and other diet solutions.
departments
Heart Health
Get to Know …
Health Matters
News Bite