2010 Article Archive
2023 | 2022 | 2021 | 2020 | 2019 | 2018 | 2017 | 2016 | 2015 | 2014 | 2013 | 2012 | 2011 | 2010 | 2009 | 2008 | 2007
Today's Dietitian helps your business grow by offering you the opportunity to purchase reprints of articles or departments found in the magazine, or link to the article from your Web site. Share them with clients, colleagues, patients, and students. They're also great for your sales force and tradeshow handouts! Simply select an article below and e-mail us or call 877-652-5295 for more details.
---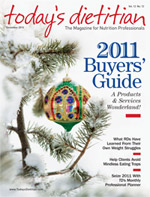 December 2010 Issue
FEATURES
When Foods and Drugs Collide — Studies Reveal Interactions Between Certain Foods and Medications
Sometimes healthful eating can be dangerous when foods alter how medicine is processed in the body.
Avoid the Trap! Experts Reveal Today's Top Mindless Eating Pitfalls
Studies have found your eyes really are bigger than your stomach and limiting what you see can help you cut back on how much you eat.
Seize the Year
Here you can find ideas on what to do every month of the coming year to further yourself and your business.
Blessing in Disguise — RDs Share How Their Personal Weight Struggles Have Empowered Them Professionally
For these dietitians, overcoming personal struggles with weight have helped shape how they address the same struggles in clients.
2011 Buyers' Guide: A Products and Services Wonderland
While the weather outside is frightful, curl up with this listing of products and services.
DEPARTMENTS
Editor's Spot
Children's Health
Allergy Abuse — What to Do When Kids With Food Allergies Become Victims of Bullying
The Heart Beat
Please Pass the Flavor — Alternative Tastes and Techniques Can Reduce the Need for Added Salt
News Bites
For Your Information
Healthy Aging and Weight Management — Strength Training Reveals Its Role
Conference Currents
FNCE 2010 — Catch Up With This Wrap-Up
Community Matters
Rising to the Challenge — Chef Takes Retirement Community Foodservice From Bland to Grand
Products + Services
Bookshelf
Culinary Corner
Chickpeas — Rediscovering This Middle Eastern Staple Is More Than a Matter of Taste
Focus on Fitness
---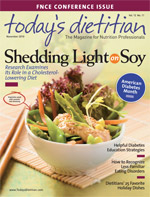 November 2010 Issue
FEATURES
Shedding Light on Soy
With all of the conflicting (and confusing) news surrounding soy, what information can you share with your clients?
Winning Ways in Diabetes Management — Experts Share Best Strategies for Counseling Newly Diagnosed Patients
By starting where a client is, you can empower individuals to make the necessary changes to lead a more healthful life.
Dietitians' 25 Favorite Holiday Recipes
The holidays don't have to be riddled with empty calories. A few simple changes to old classics and the introduction of some new flair can make the holidays a happy affair.
Two of a Kind — Research Connects Celiac and Thyroid Diseases and Suggests a Gluten-Free Diet Benefits Both
These two conditions often go hand in hand and with overlapping symptoms. It's up to dietitians to recognize the possibility of dual diagnosis if treating one doesn't make the problems go away.
Nutrition Transition in Chinese Communities
Three women look into the westernization of the traditional Chinese diet and how dietitians can help balance out the changes.
DEPARTMENTS
Editor's Spot
Allergy & Intolerance Awareness
Food Allergy Identification at Its Best — Hospital Institutes Critical Protocol
Dynamics of Diabetes
Sugar Substitutes — Useful Ingredients in Effective Diabetes Management
For Your Information
Technology's Got Game — Exergaming Shows Potential for Encouraging Healthful Behaviors
Food for Thought
From A to Shiitake — Japanese Mushrooms May Offer Certain Benefits
News Bites
Foodservice Forum
Bookshelf
Community Matters
Personal Computing
Focus on Fitness
---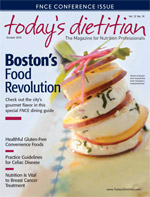 October 2010 Issue
FEATURES
Boston's Food Revolution
Check out the city's gourmet flavor in this special FNCE dining guide.
Modified Functional Foods — Do They Have a Place in a Healthful Diet?
Regardless of their qualifications, modified foods have risen in popularity. Find out what the experts have to say about fortified and enhanced products.
Simple, Healthy, and Celiac Friendly
Everyone is on the go, and those limited to a gluten-free diet are no exception. Check out dietitian-recommended products that pass the taste and health test.
Nutrition Therapy During Breast Cancer Treatment
When going through the stress of fighting breast cancer, patients need to maintain a healthy weight and an equally healthful diet.
"Frugal" Feasting — Help Clients Celebrate Thanksgiving's Cornucopia of Foods in More Healthful, Portion-Controlled Ways
The feast of thanks doesn't need to turn into a gorge of gluttony.
DEPARTMENTS
Editor's Spot
Allergy & Intolerance Awareness
Thanksgiving, Gluten Free and Satisfying — Safe and Healthful Foods for Clients
Boomer Health
Prostate Protection — Diet May Play a Big Part in Lowering Men's Disease Risk
Research Briefs
Practice Matters
Vegetarian Kids — Plug Dietary Holes to Fulfill Nutritional Needs
News Bites
Supplement Spotlight
Nanoceuticals — Does Their Potential Outweigh Their Risk?
Nutrition Support 360
Thiamine Deficiency — RDs Are Key Players in Prevention and Treatment
Bookshelf
Food for Thought
Fair Trade — Make Food Dollars Work Toward Sustainability and Justice
Products + Services
Focus on Fitness
---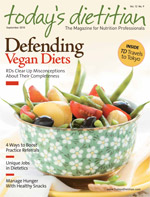 September 2010 Issue
FEATURES
Defending Vegan Diets — RDs Aim to Clear Up Common Misconceptions About Vegan Diets
This article offers the whats, whys, and hows of consuming a well-balanced, healthful vegan diet.
Field of Dreams
If you're tired of the same old, take a minute to look at these options from RDs who have broadened the scope of what it means to be a dietitian.
On Track With a Snack
The right kind of snacking can be beneficial instead of harmful, and it's up to RDs to guide their clients in the direction that will help them the most.
Lunch Lessons
By returning to the nutritional elements of their traditional diets, Japanese schools are improving the health of their children.
Go Fish — Four Strategies to Increase Practice Referrals
Getting referrals requires a willingness to give as much as you receive. Several experts share their secrets to success.
DEPARTMENTS
Editor's Spot
Children's Health
Gray Area — Jury's Still Out on Link Between Artificial Colors and Hyperactivity
Dynamics of Diabetes
Diabetes-Friendly Snacking Options
The Heart Beat
Coffee and Heart Health — The Answers to Many Common Questions Are Still Brewing
Food for Thought
Health Claims — Help Clients Understand the Meaning Behind Industry Buzzwords
Bookshelf
News Bites
Products + Services
Culinary Corner
Rose Water
Focus on Fitness
---
August 2010 Issue
FEATURES
Fueled by Technology — Athletes Achieve Top Performance With Diabetes Management Tools
By keeping up-to-date on improvements in tracking blood sugar, you can help clients reach their sporting goals.
The FODMAPS Approach — Minimize Consumption of Fermentable Carbs to Manage Functional Gut Disorder Symptoms
FGD symptoms may be reduced by adapting the diet around the saccharides and polyols that can cause disruption.
Nutrition and Type 1 Diabetes — Can Diet Reduce Risk?
Scientists research how exposure to nutrients as an infant may influence the probability of having type 1 diabetes later in life.
2010 Diabetes Buyers' Guide
Check out this listing of diabetes products and services
DEPARTMENTS
Editor's Spot
Inbox
Nutrition Support 360
Promising Potential — Science Uncovers Benefits, and Some Risks, of Probiotics in Critical Care
Foodservice Forum
Community Matters
Allergy & Intolerance Awareness
Get Certified — Provide a Valuable Service by Adding Allergy Testing to Your Practice
Green Matters
Tips for Eating Green When Eating Out
News Bites
Products + Services
Culinary Corner
Greek Yogurt — Simple Recipes Feature a Trendy, Creamy Treat
Focus on Fitness
---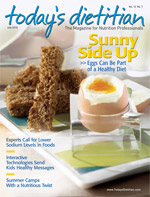 July 2010 Issue
Sunny Side Up — Eggs Can Be Part of a Healthy Diet
The debate about eggs and cholesterol can be confusing to patients, so read up on the facts to help them understand the benefits in those little packages.
Good Reception — Kids Receive Wholesome Messages Through Interactive Technologies
Television, Internet, and video games are often blamed for rising obesity rates, but can these same tools inspire positive changes?
Salt Talk — Experts Call for Acceptable Sodium Levels in Foods
As the struggle for reducing salt intake continues, recommendations have been made that may lead the way to a more healthful future.
Summer Camps With a Twist — Programs Help Kids Have Fun While Honing Healthful Habits
Combining nutrition education, physical activity, and excitement teaches youths how to get and stay fit and healthy.
DEPARTMENTS
Editor's Spot
Boomer Health
Curb Cholesterol — Evidence on Achieving Better Levels With Dietary Supplements
Dynamics of Diabetes
Hypertension in Diabetes — Intensive Treatment May Be Risky for Some Patients
Practice Matters
Three Power Tools in Eating-Disorder Counseling
Supplement Spotlight
Blueberry Buzz — Research Investigates Supplements' Effects in Multiple Health Conditions
Food for Thought
Waste Not, Want Not — Recognize Ways to Act Responsibly for the Planet and Future Generations
Bookshelf
Info to Go
News Bites
Products + Services
Culinary Corner
'Vegaquaterian' Eating
Focus on Fitness
---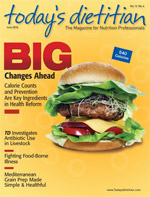 June 2010 Issue
FEATURES
Big Changes Ahead — Calorie Counts and Prevention Are Key Ingredients in Health Reform
Learn what this new legislation means for the future of dietetics.
Whole Grain Guidance
With whole grains' increasing popularity, education is key to purchasing the right goods.
Antibiotics in Animal Agriculture — Experts Weigh in on a Meaty Issue
As the frequency of antibiotic-resistant diseases increases, professionals investigate the use of antibiotics in food animals.
Mediterranean Grains — The History and Healthful Preparation of Four Old and Emerging Varieties
Exploring these grains can invite opportunities for unique tastes and good nutrition.
Food Safety Update — Report Underscores Need for Enhanced Legislation to Protect Americans
Products travel from around the world to our plates, making regulation of the potential avenues of food-borne illness a monumental task.
DEPARTMENTS
Editor's Spot
Nutrition Support 360
Gastric Residuals — Understand Their Significance to Optimize Care
Green Matters
Eco-Friendly Fast Food — What It Is and How It Stacks Up Against Its Mainstream Counterpart
Children's Health
Insurance Companies Aid Child Obesity Fight
The Heart Beat
Make the Most of Summer — Five Heart-Smart Farm Stand Picks
News Bites
Products + Services
Culinary Corner
Dragon Fruit
Focus on Fitness
---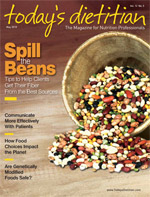 May 2010 Issue
FEATURES
Spill the Beans 
Clients may realize fiber's benefits but not its best sources. Offer them some tips and preparation tricks to boost their intake.
Keys to Clear Communication — How to Improve Comprehension Among Patients With Limited Health Literacy
If your clients can't fully grasp what you're saying, they may not be able to follow through on appropriate diet and lifestyle changes.
Working Mothers' Challenge — Finding a Way to Pump Throughout the Day
Overcoming the obstacles to continue feeding breast milk is rewarded by benefits that will last the child's lifetime.
Meat Takes Heat — Evidence Suggests Livestock Contribute Significantly to Global Warming
Researchers continue to realize that what we put in our stomachs may affect the environment even more than what we put in our tanks.
DEPARTMENTS
Editor's Spot
Growing Your Business
Reinvent Yourself — Add Yoga to Your Practice
Foodservice Forum
Dynamics of Diabetes
Diabesity in Children — Epic Proportions of Disease Necessitate Major Action
Allergy & Intolerance Awareness
Gluten-Free Blogs — Get to Know Several Popular Sites
Bookshelf
News Bites
Products + Services
Culinary Corner
The Surprising Benefits of Coconut Water
Focus on Fitness
---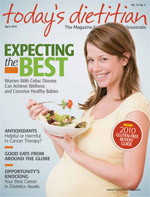 April 2010 Issue
FEATURES
Expecting the Best — Women With Celiac Disease Can Achieve Wellness and Conceive Healthy Babies
With careful attention to diet, patients can conceive, deliver, and nurse and enjoy healthy outcomes.
Therapeutic Controversy — Is Supplementing Cancer Treatment With Antioxidants Helpful or Harmful?
While the debate continues, RDs play an important role in integrating nutrition with treatment.
Opportunity's Knocking — Your Best Career in Dietetics Awaits
Whether new to the field or a veteran, you may wonder what else is out there. Take our quiz, see how you rate, and get inspired by RDs who have found their ideal jobs.
Good Eats From Around the Globe
Try a world sampler of some delightfully unique foods to add healthy variety to a bland diet.
2010 Gluten-Free Buyers' Guide
Take a look at this expanding market and all it offers.
DEPARTMENTS
Editor's Spot
Boomer Health
Antioxidant Appeal — Boomers Turn to Supplements and Foods to Fight Aging and Disease
For Your Information
Supplement Spotlight
Debate on Antioxidants — Some Studies Suggest Efficacy While Others Question Safety
Food for Thought
Eat Green on Earth Day — Dietitians Share Their Best Eco-Friendly Food Shopping Tips
Bookshelf
News Bites
Products + Services
Culinary Corner
Oodles of Noodles — Those Who Like Large Servings of Pasta May Appreciate Shirataki
Focus on Fitness
---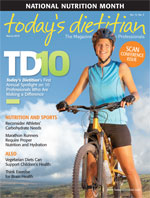 March 2010 Issue
FEATURES
Think Exercise for Brain Health
Here's a bright idea: Encourage physical activity to help improve cognitive function during all stages of life.
No Meat, No Problem — Vegetarian Diets Can Support Optimal Health for Infants and Children
As long as it is planned carefully, a plant-based lifestyle can nurture people of all ages—even kids.
Marathon Fueling — Runners Need Proper Nutrition and Hydration for the 26.2-Mile Stretch
An increasing number of amateur runners means dietitians should be prepared to help them meet their food and fluid goals.
Today's Dietitian's First Annual Spotlight on 10 Professionals Who Are Making a Difference
For National Nutrition Month, Today's Dietitian honors several RDs who work hard to improve the lives of their clients and the public.
DEPARTMENTS
Editor's Spot
LTC Concerns
Unintended Weight Loss — Evidence Analysis Library Offers New Guidelines
For Your Information
Dynamics of Diabetes
Women's Special Needs — Better Understanding Leads to Better Care
Children's Health
Perilous Pesticides — Teach Parents Why and How to Protect Their Kids
The Heart Beat
Vitamin Has Heart Appeal — Studies Show Benefits of Increasing Daily D
Bookshelf
Info to Go
News Bites
Products + Services
Culinary Corner
Ratatouille — 'Fringe Chef's' Take on a French Classic
Focus on Fitness
---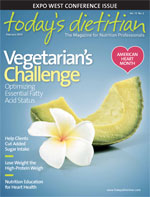 February 2010 Issue
FEATURES
Vegetarian's Challenge: Optimizing Essential Fatty Acid Status
Consuming the right amounts of the right fatty acids is vital, especially for a population that can't get these nutrients from fish.
Sweet Defeat
Help clients slash added sugars from their diet to make their hearts healthy and happy.
Lose Weight the High-Protein Weigh
Improving satiety is just one way in which a properly balanced protein diet can produce results.
Nutrition Education for Heart Health — Interventions That Work
Research is demonstrating that certain strategies can facilitate healthy behaviors.
A Burning Need — Prevent Heart Disease Among Firefighters
The heroic men and women who risk their heart health to rescue people may need a nutrition intervention.

DEPARTMENTS
Editor's Spot
Practice Matters
Perfect Pairing — Chefs and Dietitians Unite for Healthy, Flavorful Cuisine
Foodservice Forum
Eating Out in a Down Economy
Allergy & Intolerance Awareness
GREAT Healthcare — Program Aims to Improve Celiac Knowledge Among Professionals
Nutrition Support 360
Enteral Misconnections — Changes in Pipeline to Prevent Deadly Errors
News Bites
Products + Services
Culinary Corner
Korean Food Is Hot
Focus on Fitness
---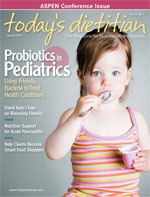 January 2010 Issue
FEATURES
Probiotics in Pediatrics
Friendly bacteria may help manage certain health conditions in children.
Dr. David Katz's Take on Reversing Obesity in America
A well-known nutrition expert offers refreshing solutions to the nation's weight crisis.
Hurdles in the Health Food Aisle
With health foods going mainstream, consumers need to be aware that appearances can be deceiving.
Nutrition Support in Severe Acute Pancreatitis
Providing optimal care for these patients is challenging, making knowledge of best practices vital.
A Monthly Calendar of Activities to Help You Grow and Succeed
Join a listserv. Start a nutrition newsletter. Whatever the task, the point is to try something new each month this year.
DEPARTMENTS
Editor's Spot
Practice Matters
Night Eating Syndrome
Supplement Spotlight
Vitamin D — Is It a Weapon in Disease Prevention?
Dynamics of Diabetes
Benefits of Screening for and Treating GDM
Conference Currents
Boomer Health
Nutrition for Cognitive Health
News Bites
Products + Services
Culinary Corner
Reducing Sodium in Canned Beans — Easier Than 1-2-3
Research Brief
Focus on Fitness