2015 Article Archive
2023 | 2022 | 2021 | 2020 | 2019 | 2018 | 2017 | 2016 | 2015 | 2014 | 2013 | 2012 | 2011 | 2010 | 2009 | 2008 | 2007
Today's Dietitian helps your business grow by offering you the opportunity to purchase reprints of articles or departments found in the magazine, or link to the article from your Web site. Share them with clients, colleagues, patients, and students. They're also great for your sales force and tradeshow handouts! Simply select an article below and e-mail us or call 877-652-5295 for more details.
---
December 2015 Issue
Maintaining Weight Loss Over the Holidays
Expert dietitians share their top 10 strategies for shedding unwanted pounds during this festive season.
Popular Nutrition Trends for 2016
RDs weigh in on what products will be trending in the new year ahead.
Short Bowel Syndrome in Adult PN Patients
Short bowel syndrome is a complex condition affecting the gastrointestinal tract. Learn more about its pathophysiology and treatment and management strategies to improve patient care.
Gluten-Free Living and Emotional Health — What Every Dietitian Must Know
A deeper understanding of the impact of celiac disease and the gluten-free diet on mental health and quality of life can help dietitians improve counseling and dietary compliance. 
Teen Nutrition Leaders
Two brilliant, award-winning teenagers are improving the health and wellness of people in their communities with a focus on nutrition.
CPE Monthly: Obesity: Beyond Cardiovascular Disease and Diabetes
This continuing education course explores obesity's far reach and ill effects in lesser-described conditions.
departments
Reader Feedback
Retail Dietitian
Conference Currents
Foodservice Forum
Focus on Fitness
Bookshelf
Get to Know…
November 2015 Issue

'Tis the Season for Pumpkin
Today's Dietitian reviews the history and folklore of this humble fall fruit, and provides a variety of recipes clients can enjoy for the holiday season.
Grass-Fed vs Conventional Beef
There are differences in their taste and nutritional profiles. Know what the differences are so you can better educate clients.
Treasures of Frozen Produce
Nutritious, convenient, and cost-effective, frozen produce can help add more fruits and vegetables to clients' plates.
Weight-Loss Drugs for Diabesity
Learn about the latest FDA-approved drugs for people with diabetes and strategies on how to counsel them more effectively.
Hosting Supermarket Tours
These 10 proven tips can help dietitians plan successful nutrition store tours that can boost retail business and improve community health.
CPE Monthly: Probiotics May Prevent and Treat of Clostridium Difficile
This continuing education course reviews the evidence regarding probiotic consumption through diet and drugs in the prevention and treatment of C diff in the adult population.
departments
Reader Feedback
Heart Health
Community Matters
Research Brief
Get to Know…
Personal Computing
Products + Services
October 2015 Issue

Plant-Based Diets for the Whole Family
A well-planned vegetarian or vegan diet can be healthful for people of all ages. Today's Dietitian offers tips on how you can help clients cover their nutrition bases.
Seeds and Grains in the Dairy Aisle
Suggest clients look for them in Greek yogurt, beverages, and other products.
RDs' Favorite Fall Produce Recipes
Encourage clients to enjoy the bounty of fall produce to promote their health and the health of the planet.
Food Photography Mastery
Forget the expensive digital cameras. Dietitians can take awesome food photos for their blogs, websites, and books with a smartphone.
Dietitians on Social Media — Promoting and Protecting Your Work
Knowing the rules gives you a professional edge in the cyberspace marketplace.
Taking On Information Overload
Help patients find evidence-based messages about antioxidants, weight loss, soy, and cancer risk.
CPE Monthly: Dietitians in the Health Care Classroom — Developing Effective Lesson Plans Maximizes Student Learning
In this continuing education course, the third in a three-part series, RDs will learn how to develop well-aligned lesson plans that teach class participants demonstrable skills, and create standards from which goals can be identified.
departments
Reader Feedback
Ask the Expert
Living Gluten-Free
Dynamics of Diabetes
September 2015 Issue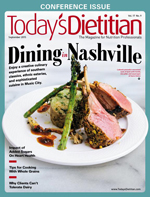 Dining in Nashville
From Southern classics to ethnic eateries to sophisticated, award-winning cuisine, attendees of the Academy of Nutrition and Dietetics' Food & Nutrition Conference & Expo® will be pleasantly surprised with the Music City's dining scene.
Added Sugars and Heart Health
Recent research shows added sugars can contribute to cardiovascular disease risk and increased mortality.
The Link Between Diet and Breast Density
Studies suggest dietary patterns may lead to an increased risk of dense breast tissue, a possible risk factor for breast cancer.
Cooking With Whole Grains
Dietitians can encourage clients to eat more whole grains by dispelling myths about this nutritious food group and teaching how to prepare them.
Why Clients Can't Tolerate Dairy
Learn about the three main reasons dairy foods are problematic for many patients and tips on how for helping them live symptom free.
Malnutrition in Older Adults
Because malnutrition screening remains unstandardized for hospital discharge, dietitians must recognize malnutrition diagnostic criteria and make appropriate recommendations to ensure proper nutrition following inpatient stays.
CPE Monthly: Dietitians in the Health Care Classroom — Assessing Learning by Asking the Right Questions
The second in a three-part series, this course explores the different types of learning assessments and the rationale for using them. It presents assessment tools and practical suggestions for how to use them in the health care classroom.
departments
Reader Feedback
Ask the Expert
Digestive Wellness
Practice Matters
Community Matters
Bookshelf
Get to Know…
News Bites
Datebook
Culinary Corner
August 2015 Issue
Features
Optimize Diabetes Nutrition — Going Beyond Glycemic Control and Carbohydrate Restriction Is Critical
Certified diabetes educators recognize the strong link between diabetes and heart disease, and therefore emphasize management of other risk factors that may jeopardize heart health.
Fighting Child Hunger
Dietitians are in the perfect position to work with food banks across the United States to help stamp out hunger once and for all.
Top 10 High-Fiber Foods
These surprising sources have unexpected nutrient profiles that make them fantastic additions to a healthful diet.
Processed Foods — Problem or Panacea?
Today's Dietitian speaks with experts about the real definition of processed foods and whether all or some are detrimental to overall health.
Protecting Bee Populations
Bees help produce the rich food supply and contribute billions of dollars annually to the North American economy, but their populations are decreasing. Learn why and what's being done to turn the tide.
CPE Monthly: Dietitians in the Health Care Classroom — Assessing Learners' Prior Knowledge Is Key: Part One of a Three-Part Series
Learn more about the importance of prior knowledge that learners bring to a classroom setting, how to demonstrate ways to assess prior knowledge, and take that information into account to choose teaching strategies that better apply nutrition information to daily lives.
Departments
Reader Feedback
Ask the Expert
Foodservice Software
Living Gluten-Free
Bookshelf
Get to Know…
Datebook
Culinary Corner
July 2015 Issue
Features
Celebrate Summer Fruits
From blueberries and strawberries to peaches and watermelon, Today's Dietitian reviews the health benefits of North American summer fruit favorites.
Appetite Hormones
RDs who understand how gut and brain hormones impact eating can help clients navigate the pitfalls encountered in weight control efforts.
Today's Dietitian's 2nd Annual Spring Symposium
If you couldn't join us in Las Vegas this past May, read all about the activities everyone enjoyed and view the candid photos that capture the excitement of the spectacular event.
Meeting the New Nutrition Targets
School districts across the country are developing strategies to conquer the challenges of K-12 menu planning.
Water Use and Shortages
Dietitians play a unique and pivotal role in promoting food and water systems that not only optimize nutrition and health but also advance environmental stewardship.
CPE Monthly: Small Intestinal Bacterial Overgrowth
This continuing education course reviews the pathophysiology, symptoms, causes, and treatment for small intestinal bacterial overgrowth (SIBO). In addition, it explores the role dietitians play in identifying SIBO and thus improving nutritional status.
Departments
Reader Feedback
Education
Ask the Expert
Focus on Fitness
Get to Know…
Datebook
Culinary Corner
---
June 2015 Issue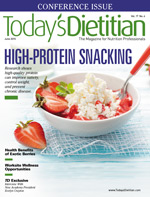 Features
High-Protein Snacking
Research has found that high-quality protein can improve satiety, help with weight management, and prevent chronic disease.
Worksite Wellness
It's a multibillion-dollar business, and career opportunities for dietitians are exploding. Learn all about them and how to break into the industry.
The Allure of Exotic Berries
Studies show they're chock full of nutrients, but more research is needed to determine their tangible health benefits.
TD Exclusive Interview: Meet Evelyn Crayton
Today's Dietitian sits down with the first black president of the Academy of Nutrition and Dietetics, who discusses her incredible journey to becoming an accomplished nutrition professional and her goals for the organization.
Nutrition and Healthy Aging for Men
Learn more about five common nutrition-related health concerns that affect older men and how best to counsel them for prevention.
CPE Monthly: Bariatric Surgery in Diabetes Management
This continuing education course reviews the research on bariatric surgery as a treatment option for type 2 diabetes, including the types of interventions, remission rates, and the mechanisms for diabetes resolution, and outlines practical applications for dietitians.
Departments
Reader Feedback
Ask the Expert
Allergy-Friendly Food
Get to Know…
Dynamics of Diabetes
Children's Health
Datebook
Culinary Corner
---
May 2015 Issue
Features
Today's Dietitian Share Your Story Essay Contest Winners
Today's Dietitian congratulates the three winners of our 2015 Share Your Story Essay Contest. Read their engaging stories about why they became dietitians and the journeys they took along the way.
Celiac Disease and Bone Health
Learn how celiac disease impacts bone density and how administering MNT can help reduce fracture risk in patients.
Celebrating Mediterranean Food Traditions
Join in the fun as supermarket RDs from across the country offer food samples, stage cooking demos, and educate shoppers to kick off Oldways' International Mediterranean Diet Month.
Dietitians as Health Coaches
Becoming a certified health coach can enhance your RD credential and boost your effectiveness with clients.
The Latest on Lactose Intolerance
What it is, how it's diagnosed, and tips for counseling clients and patients.
CPE Monthly: MNT For Endometrial Cancer Survivors
This continuing education course reviews the epidemiology of endometrial cancer, the increasing incidence of diagnosis, and how nutrition professionals can help reduce survivors' risk of death from comorbid conditions and improve their quality of life.
Departments
Reader Feedback
Ask the Expert
Sports Nutrition
Focus on Fitness
Culinary Corner
Datebook
---
April 2015 Issue
Features
Tofu's Many Faces
This versatile, ancient food comes in a variety of tastes and textures and is used in recipes ranging from smoothies to vegetable stir-fries.
Hydration in Young Athletes
Knowing the guidelines can help RDs educate coaches, youth sports organizations, and parents.
The Pescetarian Diet
Adding fish and seafood to a vegetarian eating plan can create the healthful diet clients crave.
Antibiotics in Meat
Dietitians and meat industry professionals discuss this controversial practice and what could be done to possibly curtail it.
TD Q&A: Organic vs Conventional — Which Is Better?
Today's Dietitian speaks with agricultural, nutrition, and toxicology experts about organically grown and conventionally grown foods and their impact on human health and the environment.
CPE Monthly: Can Lifestyle Changes Improve Erectile Dysfunction?
This continuing education course explores specific lifestyle risk factors associated with erectile dysfunction and whether the condition can be improved by modifying them.
Departments
Reader Feedback
Ask the Expert
Nutrition Software
Dynamics of Diabetes
Bookshelf
Focus on Fitness
Personal Computing
News Bite
Get to Know…
Datebook
---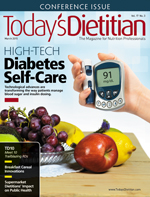 March 2015 Issue
Features
High-Tech Diabetes Self-Care
Learn about the latest technological advances transforming the way patients manage blood sugar and insulin dosing.
TD10
Here's Today's Dietitian's sixth annual showcase of 10 trailblazing RDs who are making a difference.
Breakfast Cereal Innovations
A review of some of the latest trends in breakfast cereals, plus recommendations from dietitians for clients and patients.
Retail RDs' Impact on Public Health
The increasing numbers and expanding influence of supermarket RDs will have a greater influence on shoppers' health both now and in the years to come.
Dietitians' Food Industry Relationships
In part two of Today's Dietitian's coverage on corporate relationships in the dietetics world, we focus on how dietitians can build positive, ethical relationships while working in the food industry.
CPE Monthly: Nutrition and Rheumatoid Arthritis
This continuing education course reviews the epidemiology of rheumatoid arthritis along with its common treatments and comorbidities in the context of nutrition assessment and management.
Departments
Reader Feedback
Ask the Expert
Focus on Fitness
Datebook
---
February 2015 Issue
Features
Heart-Healthy Oils — They're Not All Created Equal
Here's an update on what's trending on store shelves and the latest science on the healthful fats they contain.
What's New in the Dairy-Free Aisle
Consumer demand for plant-based dairy products is on the rise. Learn more about which categories are gaining in popularity and how these options compare nutritionally with their dairy counterparts.
TD Q&A — Building a Private Practice
Today's Dietitian speaks with successful entrepreneurs to get answers to common questions about what it takes to start a nutrition business. 
Plan Healthful Vegan Diets
Learn how to better counsel vegan clients and patients so they can meet nutrient needs and avoid shortfalls.
The Value of Benchmarking
Today's Dietitian reviews the differences between required and voluntary benchmarking programs and offers RDs strategies for implementation to help improve delivery of clinical nutrition services.
CPE Monthly: Skin Cancer and Nutrition
This continuing education course evaluates the current research on dietary interventions that may affect the risk of developing skin cancer and analyzes the possible mechanisms involved with the disease.
Departments
Reader Feedback
Ask the Expert
Get to Know…
Heart Health Showcase
News Bite
Datebook
---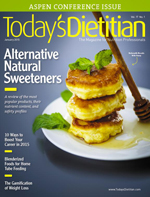 January 2015 Issue
Features
Alternative Natural Sweeteners
Learn more about the most popular products on store shelves and what the science says about their nutrient content and safety profiles.
Boost Your Career in 2015
Experts provide 10 proven strategies that will help take you and your business to the next level.
Blenderized Foods for Home Tube Feeding — Learn About the Benefits, Risks, and Strategies for Success
Across the country, more RDs are assisting home enteral nutrition consumers with the use of blenderized foods for tube feeding even though not much medical research has been done to support this practice.
Corporate Sponsorships — An Assessment of Food Industry Relationships in the Dietetics Profession
In part one of this two-part series, Today's Dietitian will tackle the question: How should the dietetics profession navigate corporate sponsorships? We've asked several nutrition experts to weigh in with their feedback surrounding this hot issue.
The Gamification of Weight Loss
Making a game of losing weight using smartphone apps, online programs, and social media platforms is a fast-growing trend that's improving lives.
CPE Monthly: Assessing Vegetarian Athletes' Needs
This continuing education course reviews the unique nutritional needs of vegetarian athletes in the context of nutrition assessment and management.
Departments
Editor's Spot
New Year, Greater Anticipation
Reader Feedback
Ask the Expert
Practice Matters
Optimizing Nutrition Before Surgery
The Heart Beat
Eat Nuts
Eating Disorders
Starving for Two
Dynamics of Diabetes
Break the Cycle of Gestational Diabetes
Focus on Fitness
Culinary Corner
Warm Winter Produce and Tahini