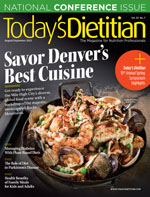 Editor's Spot: Breaking Bread With Family
By Judith Riddle
Today's Dietitian
Vol. 25 No. 7 P. 6
There's much to be said about the research on the benefits of family meals. When I was growing up, my mother celebrated family every day by serving delicious meals. One thing my mother was most known for was her love of cooking—she was a real foodie at heart. She'd spend hours in the kitchen making various dishes for her relatives and neighborhood friends during the holidays, cookouts, and other special occasions. She took great pride in making dishes from scratch, such as turkey tetrazzini, paella, lobster thermidor, shrimp bisque, plum pudding, steamed mussels, freshly baked bread, ice cream, and more.
Each night when my mom, dad, brother, and I sat down to eat dinner, we enjoyed these and other gourmet foods, spirited conversations, and laughter. It was a time to check in with one another to discuss our school day and anything else on our minds. Our family meals drew us together and offered other benefits, too.
Research has long shown that regularly attended family meals have great health benefits for everyone sitting at the table. Children are more likely to eat more fruits and vegetables, have higher grades in school, have less depression and anxiety, have decreased incidence of eating disorders, and experience less substance and alcohol abuse. Adults are more likely to experience better emotional and mental health, higher self-esteem, improved marital and family relationships, and greater longevity. My mom lived to the ripe old age of 93; my dad lived to the age of 94.
In this issue, Today's Dietitian (TD) features an article called "Fresh Look at Family Meals," on page 36. In it, TD goes into greater detail about the overall health benefits of family meals throughout the lifespan and provides six family-friendly recipes courtesy of expert culinary dietitians.
Moreover, TD is covering another crucial topic: lifestyle medicine. Lifestyle medicine is a medical specialty of old that's been fine-tuned over the past several years and supported by research. Lifestyle medicine addresses chronic disease risk factors as well as CVDs and type 2 diabetes. Dietitians will learn more about lifestyle medicine's six pillars, how to apply it to daily practice, and the importance of certification.
Also in this issue are articles on plant-based diets and diabetes, nutrition's role in Parkinson's disease treatment and management, a dining guide to Denver's best restaurants, and TD's 10th annual Spring Symposium highlights, featuring a photo gallery of the TD staff and attendees at workshops, fitness activities, special events, and more. Please enjoy the issue!
— Judith Riddle, Editor
TDeditor@gvpub.com