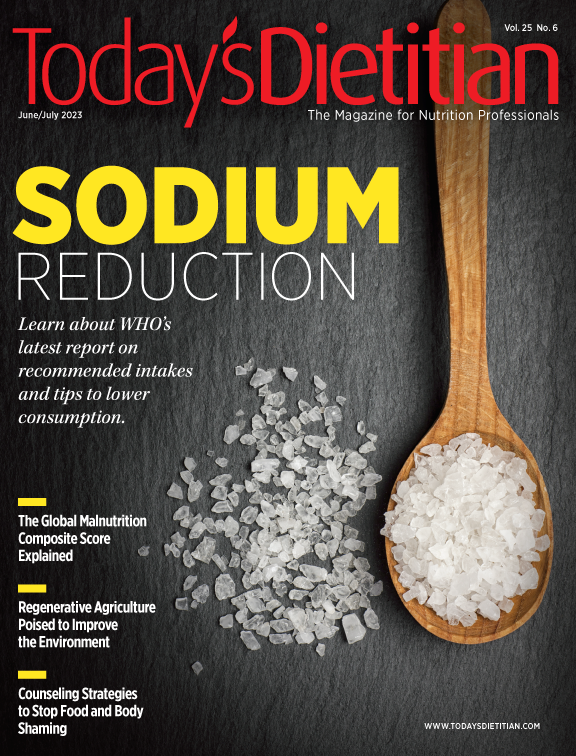 Editor's Spot: Global Push to Tackle Sodium Intake
By Judith Riddle
Today's Dietitian
Vol. 25 No. 6 P. 4
Dietitians who don't work directly with patients with hypertension or hypertension-related illnesses, such as heart attack, stroke, and kidney disease, will be interested to know that the World Health Organization (WHO) recently published a first-of-its-kind report concluding that the implementation of sodium reduction policies worldwide is key to saving millions of lives by 2030.
Currently, several countries aren't on schedule to meet the global target of a 30% decrease in sodium intake by 2025. In fact, according to the WHO, only nine countries have a comprehensive package of recommended policies in place to reduce sodium intake—the United States, unfortunately, isn't on that list.
The report, spurred on by the abysmal statistic that more than 18 million people worldwide die each year from heart attack and stroke, includes a "Sodium Country Score Card" to estimate the impact policies have on lowering dietary sodium intake and CVD risk. The scores range from 1 (the lowest level) to 4 (the highest level) and are used to track each country's performance in the fight against excessive sodium consumption through a variety of actions: the implementation of national policies and voluntary measures to reduce sodium intake and mandatory front-of-pack nutrition labeling of sodium content on prepackaged foods, among other measures.
The overarching message to successfully lower sodium intake globally and save millions of lives is to enact policies aimed at decreasing sodium intake within the food supply and educating consumers to make better lower-sodium food choices. One of the ways consumers can tackle sodium intake is to put down the salt shaker and use a salt substitute.
Research shows individuals who use salt substitutes have a lower risk of heart attack, stroke, and other cardiovascular events, as well as premature death from all causes, compared with those who regularly use table salt. However, individuals with certain chronic diseases shouldn't use salt substitutes, so these products aren't for everyone.
To learn more about salt substitutes, the WHO report, sodium's link to CVD, and recommended intakes, turn to "Sodium Reduction," on page 20.
Also in this issue are articles on regenerative agriculture, the new Global Malnutrition Composite Score, food and body shaming, and the best Turkish cuisine of the Mediterranean.
Many of you know that Today's Dietitian recently hosted its 10th annual Spring Symposium on May 14 to 17 at the Hyatt Regency Savannah in Savannah, Georgia. Our continuing education event was the best one yet, as it offered a wide variety of sessions and workshops, opportunities to network with colleagues and presenters, morning fitness activities, breakfast and lunch presentations, and special events. To learn more about the symposium and view the photo gallery, stay tuned for our August/September 2023 issue.
As always, please enjoy this month's edition!
— Judith Riddle, Editor
TDeditor@gvpub.com