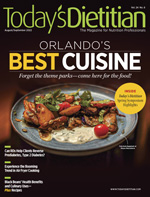 August/September 2022 Issue
Ask the Expert: Hemp Seeds
By Toby Amidor, MS, RD, CDN, FAND
Today's Dietitian
Vol. 24, No. 6, P. 8
Q: Clients have been inquiring about hemp seeds. Can you provide some background on them and discuss their health benefits?
A: Hemp seeds have gained much attention in recent years for their nutritional value and purported functional benefits. This article explains the botany of hemp plants, why they're so popular, and the truth about their health benefits.
About the Plant
An herbaceous plant belonging to the Cannabaceae family, Cannabis sativa L., or hemp, is considered one of the longest-cultivated plants in human history. Today, C sativa L. is cultivated throughout Asia, Canada, Europe, Africa, and the United States.1
The crop has low environmental impact, and each part of the plant can be used for different applications. The seeds, which can be whole or dehulled, can be used as human food, animal feed, and cosmetics. The stems can be used for animal bedding, construction materials, paper, and textile applications. The flower can be used for ornamental purposes, cosmetics, and pharmaceuticals (ie, medical cannabis), and, in a living plant, the root system can extract and eliminate heavy metals from the soil.1
Rise in Popularity
In the United States, hemp was removed from the Drug Enforcement Administration's controlled substances list with the passage of the 2018 Farm Bill, paving the way for more widespread cultivation of the plants and greater availability for consumers. Essentially, the USDA now treats hemp as any other crop. However, varieties of the plant federally legalized for cultivation must contain less than 0.3% THC (delta-9-tetrahydrocannabinol), one of the primary cannabinoids (ie, cannabis compounds) and the best-known intoxicating compound in the plant. This is why, as consumers may have noticed, the US market suddenly was flooded with products containing CBD (cannabidiol), the other major cannabinoid in cannabis. CBD is nonintoxicating and can be legally obtained from hemp varieties below the 0.3% THC threshold.1 Although some clients may conflate hemp products with cannabis, they can be assured that hemp is safe to eat and won't result in a "high."
As food, hemp seeds have continued to increase in popularity, with the worldwide hemp seed market valued at $388.46 million in 2020 and expected to increase to $544.93 million by 2027. This notoriety is due in part to the public's belief that hemp seeds are nutritional "superstars," touted for such health benefits as weight loss, sustained energy, lower cholesterol and blood pressure, improved circulation, reduced inflammation, and blood sugar management.2
Nutrition
Hemp seeds can be consumed as whole seeds or as hulled seeds, called hemp hearts. The seeds also can be processed into oil, flour, and protein powder. Hemp seeds comprise 20% to 25% protein, 20% to 30% carbohydrate, 25% to 35% fats, and 10% to 15% insoluble fiber.1 According to the USDA's FoodData Central, 3 T hulled hemp seeds provide 166 kcal, 15 g total fat, 1 g saturated fat, 2 g total carbohydrate, 1 g dietary fiber, 9.5 g protein, and 8 g linoleic acid (omega-6) and 3 g alpha-linolenic acid (omega-3). It's also an excellent source of thiamin (32% DV), phosphorus (40% DV), magnesium (50% DV), and manganese (100% DV), and a good source of vitamin B6 (11%) and iron (13% DV). Hemp seeds also are rich in antioxidants and bioactive compounds, including bioactive peptides, phenolic compounds, tocopherols, carotenoids, and phytosterols.
The Research
Few human studies have investigated whole hemp seeds (studies were mostly conducted with hemp seed oil as a supplement); however, there are numerous animal studies examining the effects of hemp seeds on CVD and neurogenerative diseases. A 2019 study looked at rats fed a high-fat, pro-hypercholesterolemic diet compared with rats fed the same diet but also supplemented with 10% whole hemp seeds. Those fed the high-fat diet with 10% hemp seeds had decreased total cholesterol, LDL cholesterol, and triglyceride levels.3
Other animal studies examined the potential benefits of dietary hemp seed intake on neurogenerative diseases associated with aging, oxidative stress, and neuroinflammation (eg, Alzheimer's disease, cognitive deficits, memory). A 2011 study examined the effects of hemp seed meal and linoleic acid on neurodegenerative diseases in fruit flies. Researchers found that flies fed hemp seed meal experienced a neuroprotective effect, which was attributed to linoleic acid and alpha-linolenic acid.4 However, according to the Natural Medicines Database, there's insufficient evidence that hemp seed is effective in improving symptoms of multiple sclerosis and osteoarthritis.5
Recommendations for Clients
Hemp seeds are safe to eat and can be part of a healthful, well-balanced diet. Dietetics professionals can discuss the nutritional benefits of including hemp seeds in the diet, making it clear that they're not "magic" seeds with all of the health benefits that have been touted. There's some evidence that hemp seeds can help fight CVD and neurodegenerative diseases, but the research should be put into perspective for clients. In addition, RDs can provide clients with ideas on how to include hemp seeds in the diet, such as by sprinkling on salads, yogurt, or oatmeal, or adding to baking recipes.
— Toby Amidor, MS, RD, CDN, FAND, is founder of Toby Amidor Nutrition (tobyamidornutrition.com) and a Wall Street Journal bestselling author. She's written nine cookbooks, including The Healthy Meal Prep Cookbook: Easy and Wholesome Meals to Cook, Prep, Grab, and Go and The Family Immunity Cookbook: 101 Easy Recipes to Boost Health. She's also a nutrition expert for FoodNetwork.com and a contributor to U.S. News Eat + Run and other national outlets.
References
1. Farinon B, Molinari R, Costantini L, Merendino N. The seed of industrial hemp (Cannabis sativa L.): nutritional quality and potential functionality for human health and nutrition. Nutrients. 2020;12(7):1935.
2. Global hemp seeds market report 2021-2027 featuring Naturally Splendid Enterprises, Darling Ingredients, Agropur, & Aurora Cannabis. GlobeNewswire website. https://www.globenewswire.com/news-release/2021/04/30/2220623/28124/en/Global-Hemp-Seeds-Market-Report-2021-2027-Featuring-Naturally-Splendid-Enterprises-Darling-Ingredients-Agropur-Aurora-Cannabis.html. Published April 30, 2021.
3. Kaushal N, Dhadwal S, Kaur P. Ameliorative effects of hempseed (Cannabis sativa) against hypercholesterolemia associated cardiovascular changes. Nutr Metab Cardiovasc Dis. 2020;30(2):330-338.
4. Lee MJ, Park SH, Han JH, et al. The effects of hempseed meal intake and linoleic acid on drosophila models of neurodegenerative diseases and hypercholesterolemia. Mol Cells. 2011;31(4):337-342.
5. Hemp. Natural Medicines Database website. https://naturalmedicines.therapeuticresearch.com/databases/food,-herbs-supplements/professional.aspx?productid=1605#scientificName. Accessed June 7, 2022.