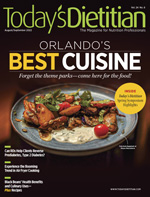 August/September 2022 Issue
Today's Dietitian 9th Annual Spring Symposium
By Judith Riddle
Today's Dietitian
Vol. 24, No. 6, P. 42
A Special Time for Reuniting and Networking With Colleagues, Continuing Education, and Fun in the Sunshine State
Situated in sunny southwest Florida between Naples and Fort Myers is the booming city of Bonita Springs. Revered for its long stretches of pristine beaches, the city boasts a plethora of fine restaurants, recreational facilities, and golf courses, as well as cultural and historical attractions. No wonder that after a two-year hiatus from hosting in-person conferences due to the pandemic, Today's Dietitian (TD) chose the award-winning Hyatt Regency Coconut Point Resort and Spa, a three-acre poolscape in Bonita Springs surrounded by statuesque palm trees and lush tropical gardens, fountains, tennis courts, and a golf course, to have its ninth annual Spring Symposium from May 22 to 25.
Approximately 600 attendees from across the country and abroad celebrated with us as they reunited with colleagues and learned about the latest trends and topics in dietetics. The event offered a wide variety of cutting-edge continuing education sessions and workshops led by 40 expert presenters who specialize in food insecurity, cannabinoid therapy, cancer nutrition, entrepreneurship, plant-based eating, sports nutrition, dietary supplements, culinary medicine, nutrition education, and more. Dietitians earned up to 33 CEUs and had opportunities to participate in fitness activities and educational special events.
Like all of TD's past in-person conferences, attendees took to social media, posting up a storm, including photos and video clips of the event in real time to #TDinFL.
"Thank you @TodaysDietitian for an amazingly informative, in-person, joyful 2022 symposium," tweeted Christen Cupples Cooper, EdD, RDN, founding chair and an assistant professor of nutrition and dietetics at Pace University in Pleasantville, New York.
Opening Sessions and Workshops
The event kicked off with the 2 1/2 hour "The Food Dignity Workshop: Improve Nutrition Security and Food Equity," presented by food equity advocate Clancy Cash Harrison, MS, RDN, FAND, followed by "Cannabis & CBD for Gut Health," presented by holistic cannabis practitioner Janice Bissex, MS, RDN, FAND, and "The Continuum of Care for the Cancer Patient," presented by fitness expert and cancer nutrition and communications specialist Shayna Komar, RD, LD, and clinical exercise physiologist Joel Hardwick, ACSM EP-CET, EIM2. All three sessions provided comprehensive information and strategies for RDs and other nutrition professionals to use in practice to effect change in their daily work and organizations.
One participant said "The Food Dignity Workshop" was a "thought-provoking session" and illustrated "how to approach food insecurity as well as work with clients and coworkers."
"Janice did an excellent job reviewing the research and also personalizing it by telling us about her father and her sister," said another attendee of the "Cannabis & CBD for Gut Health" session. "I can't wait to order some product from her to see if it helps with the arthritis pain my mother has."
Still another said "The Continuum of Care for the Cancer Patient" provided "great information and insight into helping cancer patients recover and prevent cancer recurrence. I took away great information I can use both with cancer patients and other people."
Morning Fitness
Following the first day of workshops, attendees started their mornings at 6:30 AM with one hour of physical activity that included cardio, strength training, and yoga workouts.
Jolie Root, LPN, LNC; Laurel Sterling, MA, RD, CD/N; and Frisline Saintoiry, MA, led The Green Apple Gallop—Walk/Run, sponsored by Carlson Labs. Attendees were encouraged to jog, walk briskly, or stroll at their own pace to get their bodies moving and hearts pumping while enjoying the lush landscape of the resort grounds.
Australian RD and certified fitness trainer Kara Landau and Australian RD and certified personal fitness trainer Morgan Savy led the Sculpt & Tone strength training class, sponsored by UpLift Food and the Global Prebiotic Association. The class focused on sculpting and conditioning the core and upper and lower body.
Jewells Blackwell, a power vinyasa yoga teacher, led Sunrise Yoga, sponsored by the Florida Beef Council, during which participants of all fitness levels stretched and strengthened their bodies through a variety of low-key movements and poses to help improve mind-body awareness.
Favorite Sessions
Once attendees got some exercise, they attended several educational sessions of interest over the coming days. One of their faves was "Plant-Based Juniors: Strategies for Meeting the Needs of Vegan, Vegetarian, and Plant-Forward Children," presented by Alexandra Caspero, MA, RD, founder of and plant-based chef at Delish Knowledge, and Whitney English, MS, RD, a certified personal trainer and founder of the website and YouTube channel Whitney E. RD. The plant-based diet trend continues to skyrocket in the general adult population, but this session focused on children and how RDs can develop healthful meals that meet all of the nutrient needs for their growing minds and bodies and strategies for counseling parents.
One attendee, who said she's a second-generation vegetarian with two children and two grandchildren who are vegetarian, said this was an "excellent" presentation and that the information was "great!"
"Both presenters were very knowledgeable," said another participant, "and the presentation was well researched."
Another favorite session was "From Sunrise to Sunset: Practical Culinary and Tech Solutions for Better Sleep," presented by Dana Angelo White, MS, RD, ATC, a certified athletic trainer, cookbook author, journalist, and nutrition and fitness consultant, and Karman Meyer, RDN, an author and food and nutrition industry consultant. Since many health care professionals and laypeople alike live with chronic sleep deprivation, this session was especially timely. White and Meyer discussed how daily activities impact sleep, culinary approaches to improve sleep, how sleep tracking technology influences sleep and nutrition, and how healthful habits and recipes can lead to better slumber.
"This is an extremely important topic," said an attendee, "as more studies have shown sleep is directly related to health. The culinary meal and snack preparations that promote sleep and items that tend to interfere with sleep provided practical ways to incorporate nutrition therapy for wellness."
The session "Our Foods Are Healthy: Culture-Focused Nutrition," presented by Ashley Carter, RD, LDN, and Jasmine Westbrooks, MS, RDN/LDN, CDCES, founders and directors of Eat Well Exchange, a 501(c)(3) nonprofit that teaches low–socioeconomic status communities how to grow their own food and cook foods in a more healthful manner, also was a big hit. This dynamic duo discussed the need for cultural and racial diversity in dietetics, outlined the different factors and socioeconomic barriers impacting people of color, and offered tips on how to educate clients about healthful eating and nutrition based on their culture and food preferences.
One RD said, "I can't say enough positive words [about] how good this presentation was and how much it will motivate me and others to make a difference. They provided many examples of what I can do to make a difference in my community."
Another dietitian said, "Loved that the speakers reminded us that our profession needs more diversity and emphasized inclusivity, getting to know clients/community first, and understanding if [clients] even want the help and what those barriers are. Lose the 'savior' attitude."
Attendees also lauded the session "Where Health Meets Food: The Intersection of Food as Medicine in 2022," presented by Kathleen Zelman, MPH, RDN, LD, a food, nutrition, and media communications consultant and owner of No Nonsense Nutrition, LLC. Zelman reviewed the latest research on the nutrients, foods, beverages, and dietary patterns that have the most impact on prevention, management, and reversal of chronic disease and healthy aging.
One attendee said Zelman's session included "inspiring info to help our patients use food as medicine."
Another participant said Zelman was a "great speaker!" and that "the slides were very good. I am looking forward to reviewing this talk again."
Breakfast and Lunch Presentations
Our symposium attendees enjoyed not only the various workshops throughout each day but also the special breakfast and lunch presentations sponsored by several food and nutrition companies—and were served delicious food that included vegetarian- and vegan-friendly options.
Attendees said all of the speakers were "engaging," "excellent," and "outstanding," and that the presentations were "informative" and pertinent to current dietetics practice.
This year, sponsors hosted six breakfast presentations: "Food Security in America: Food Assistance Programs and the Role of Ready-to-Eat Cereal in Healthy Diets Across Income Levels," sponsored by Bell Institute of Health and Nutrition and presented by Geri Henchy, director of nutrition policy at the Food Research and Action Center, and Amy Cohn, RD, senior nutrition manager of Big G Cereal at General Mills; "Winning With Nutrition: Achieving Patient Success With Practical Solutions to Reduce Added Sugar Intake," sponsored by Splenda and presented by Holly Moran, MS, RD, LD, CDCES, a diabetes educator at Heartland Food Products Group; "The Process of Establishing the Dietary Guidelines for Americans: Addressing Public Health Concerns," sponsored by Simply Good Foods and presented by Jon Clinthorne, PhD, director of nutrition at Simply Good Foods; "What Every Dietitian Should Have in Their Gut Health Toolkit," sponsored by Activia® and presented by Kate Scarlata, MPH, RDN, founder of For a Digestive Peace of Mind, LLC; "Fighting Inflammation and Oxidative Stress: The Role of Orange Juice," sponsored by Florida Orange Juice™ and presented by Taylor Wallace, PhD, CFS, FACN, principal and CEO of the Think Healthy Group and an adjunct professor in the department of nutrition and food studies at George Mason University, and Gail Rampersaud, MS, RDN, a dietitian at the Florida Department of Citrus; and "Dive Into the Sea-Based Nutrient With Whole Body Benefits," sponsored by NOW® Foods and AstaReal and presented by Dawn Jackson Blatner, RDN, CSSD, an author and creator of the Nutrition WOW blog, and Karen Hecht, PhD, scientific affairs manager at AstaReal.
The four lunch presentations included the following: "A Guide to Prebiotics & the Gut Microbiome: Harnessing the Power of Microbes to Support Health," sponsored by BENEO-Institute, and presented by Hannah Holscher, PhD, RD, an associate professor of nutrition at the University of Illinois Urbana-Champaign; "Top 10 Trends in Seafood & How You Can Translate These to Consumers," sponsored by StarKist®, Seafood Nutrition Partnership®, and Alaska Seafood® and presented by Jessica Miller, RDN, LD, nutrition communications manager at Seafood Nutrition Partnership; "How to Support Digestive Health and Help Fill the Fiber Gap," sponsored by OLIPOP™ and presented by Renee Korczak, PhD, RDN, CSSD, LD, consultant dietitian at Premier Nutrition, LLC, and an assistant professor at Rutgers University; and "Canned Beans: Closing the Knowledge Gap to Open the Possibilities," sponsored by Canned Beans and presented by Stephen McCauley, founder and president of The Ginger Network, and Jessica Broome, PhD, MS, founder and head of Southpaw Insights.
Networking and Special Events
One of the most memorable events of the symposium was the Tuesday Night Sunset Soiree Spectacular, sponsored by Regular Girl. Attendees entered the party walking past an arch of pink and white balloons—the featured colors of the Regular Girl brand. Product information scrolled on flat screens throughout the party space, reminding RDs that Regular Girl is a complete care system uniquely formulated for women to support gut health and overall wellness. The beautiful landscape of the Bonita Springs Atrium created the perfect environment for attendees to enjoy the famed "Regular Girl Margaritas" and dance the evening away to the tropical island tunes of the Caribbean Chillers, one of Florida's favorite bands. Attendees enjoyed an evening listening and dancing to Caribbean music as they mingled, caught up on old times, sipped cocktails, and sampled hors d'oeuvres.
The Talktail Reception, sponsored by Protein PACT, featured Eric Mittenthal, MS, chief strategy officer at the North American Meat Institute, who shared news about how animal protein supports healthy people, healthy animals, healthy communities, and a healthy environment. Attendees enjoyed a complimentary cocktail along with an elaborate, protein-filled charcuterie board while networking and learning how to make the foods people love more sustainable for generations to come.
Exhibit Hall Extravaganza
Like the special events, the exhibit hall bustled with excitement. The moment the doors opened, attendees grabbed their tote bags filled with new products, educational literature, coupons, and branded souvenirs. Attendees eagerly walked from booth to booth to interact with our diverse group of 45 sponsor companies that showcased their products and services in support of the nutrition and dietetics field. Attendees received vital information and participated in valuable discussions with brand representatives who learned more about their clients' and patients' needs. The excitement was infectious as many dietitians raved about the companies and brands represented. During exhibit hours, names of dietitians were announced randomly to win prizes. The winning prizes included one-year free memberships in TD's CE Club; free registration for the 2023 TD Spring Symposium in Savannah, Georgia; complimentary two-night stays at the Hyatt Regency Coconut Point Resort & Spa; and a TD Lifetime CE Membership. The grand prize winner, Tracy Coffey, RD, won free registration and accommodations for our 2023 Spring Symposium in Savannah.
"The nutrition hall of vendors didn't disappoint," tweeted Jaimie Cole, MS, RD, LDN, educator and founder of Think Nutrition, an integrative nutrition consulting business in Palm Harbor, Florida.
Jean Ragalie-Carr, RDN, LDN, president of the National Dairy Council and past chair of the Academy of Nutrition and Dietetics Foundation, tweeted, "So great to meet so many RDNs in the exhibit hall."
Social Media Buzz
TD also created much social media excitement around the symposium by encouraging all attendees to use #TDinFL to tweet and post photos and video clips of their experience. Our staff also tweeted photos and comments in real time throughout the event. Our hashtag received 2,800 interactions, reaching 2.5 million people, and was used by 263 symposium attendees across social media channels.
The symposium "was a fantastic conference and a beautiful location," tweeted Theresa Yosuico Stahl, RDN, LDN, FAND, a nutrition instructor at Allegany College of Maryland and author of I'm Full: Remindful Eating Tips to Feel Great and Make Peace With Your Plate. "Thanks to all who worked hard to make this memorable, informative, and inspiring."
"Such a fantastic event," tweeted Chrissy Carroll, MPH, RD, owner of Snacking in Sneakers, a website that offers nutrition, fitness, and recipe content for runners and triathletes.
"So proud to be part of this event," said Judy Gerber Seybold, MS, RD, LD, CLC, nutrition officer and principal at Sifter SP, LLC, an app and website that empowers people to discover products that fit their personal wellness preferences, based in Barrington Hills, Illinois.
Future Plans
This year's in-person symposium proved to be a huge success—an awesome comeback after a two-year shift to a virtual platform during the pandemic. Everyone appreciated the workshops and continuing education sessions, the high energy of the exhibit hall, special networking events, and fitness classes. The TD team extends a huge thank you to all of our sponsors, presenters, attendees, and volunteers. We can't wait to see you next year when we celebrate our 10th annual symposium, which will be held May 14 to 17, 2023, in Savannah, nicknamed the "Hostess City of the South." Go to TodaysDietitian.com/ss23 to register. We look forward to seeing you there!
— Judith Riddle is editor of Today's Dietitian.