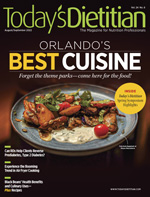 August/September 2022 Issue
Orlando's Best Cuisine: Forget the Theme Parks — Come Here for the Food!
By Carrie Dennett, MPH, RDN
Today's Dietitian
Vol. 24, No. 6, P. 20
The Sunshine State teems with highly recommended, award-winning restaurants specializing in plant-forward and sustainable, farm-to-table cuisine, as well as fine dining and casual down-home cooking and local faves.
Hear "Orlando," and your first thought is probably "Disney World." Or maybe "LEGOLAND." But Orlando is more than just a theme park destination or "home of the food chains." Increasingly, it's being considered a foodie destination, as evidenced by the MICHELIN Guide coming to Florida, and Orlando specifically, for the first time this year. From big restaurants associated with big-name chefs in the theme park district, to innovative food offerings in charming bricked, tree-lined neighborhoods, to fine dining in luxury hotels, Orlando has many unique tastes to offer.
"Orlando is a huge melting pot of cultural dining and flavors for every occasion," says Orlando dietitian and personal trainer Valentina Sabella, RD, LDN, of Bombshell Fitness. "Tourists and locals alike get to enjoy the craftsmanship and passion of chefs from all parts of the globe."
Megan Poczekaj, RDN, LD, co-owner of Nutrition Awareness in Orlando, says she thinks of Orlando as a tale of two cities. "On one hand, you have the attractions side of Orlando, with Disney, Universal, SeaWorld, and I-Drive, with countless options for dining for travelers," she says. "Most visitors only see this side of Orlando and don't even realize there's a downtown about 20 minutes away with many unique neighborhoods surrounding it. That's the 'real people Orlando,' where the locals hang and dine." She says people will be hard-pressed to find an Orlando resident heading out to the attractions area for dinner, but they'll need a car to get to any of the spots Poczekaj and Sabella recommend, or to the foodie neighborhoods that reviewers and diners talk about most.
Plant-Forward Delights
"One of the things that surprised me the most about the Orlando dining scene is how vegan an vegetarian friendly it is," Poczekaj says. "Every single restaurant has a plant-based option, and there are many gems solely dedicated to plant-based dining." Her top picks include Ethos Vegan Kitchen (ethosvegankitchen.com, 601-B S. New York Avenue, Winter Park, Florida, 407-228-3898), which offers hearty, homestyle 100% vegan fare daily for breakfast, lunch, and dinner, with hours until 11 PM. Leguminati (bean-team.com, 2401 Curry Ford Road, Orlando, Florida, 407-930-7308) has a focused menu of crunch wrap sandwiches that use vegan chick'n or vegan beef crumbles. "They have a vegan crunch wrap that's way, way better than anything from Taco Bell," Poczekaj says.
Market on South (marketonsouth.com, 2603 E. South Street, Orlando, Florida, 407-613-5968) is the home of two plant-based eateries, Dharma Southern Kitchen and Valhalla Bakery, along with a shared market space where people can buy locally produced foods and crafted goods. Valhalla Bakery offers a range of vegan baked goods, and Dharma offers Southern comfort foods, such as a Florida fried green tomato sandwich with eggplant remoulade and garlicky kale, a pulled jackfruit sandwich, and a Nashville "hawt" fried chick'n sandwich.
Poczekaj is a particular fan of Hungry Pants (eathungrypants.com, 3421 S. Orange Avenue, Orlando, Florida, 407-412-6300) for the restaurant's cute decor and delicious health-forward food. The menu includes salads and bowls that have vegan and nonvegan protein add-on options, as well as vegan nibbles like cauliflower and sweet potato tots and a mezze plate, plus a cheeseburger, salmon wrap, and other nonvegan options.
Sustainable and Farm-to-Table
Poczekaj likes Luke's (eatatlukes.com, 640 S. Orlando Avenue, Maitland, Florida, 407-674-2400), which offers unique takes on American cuisine using locally sourced ingredients whenever possible, and local favorite Highball & Harvest at the Ritz-Carlton (highballandharvest.com, 4012 Central Florida Parkway, Orlando, Florida, 407-393-4422), with its modern, Southern-inspired dishes, including shrimp and grits, cornbread fried catfish, and Florida strawberry salad. "The atmosphere and service are top notch, and they have their own farm where they grow a lot of the food," she says.
The Osprey (theospreyorlando.com, 4899 New Broad Street, Orlando, Florida, 407-960-7700) is a sustainable seafood–centric gastropub in the Baldwin Park neighborhood. An oyster bar is the star, and the restaurant offers caviar service if diners are feeling fancy. It received the "Best Restaurant" Editor's Choice award from Orlando Magazine in 2021.
The Monroe (themonroeorlando.com, 448 N. Terry Avenue, Orlando, Florida, 407-734-2102) offers modern comfort fare in the downtown Parramore neighborhood with Florida-themed décor that pays homage not just to Orlando but also to neighborhood history. Designed as a social gathering place, it has a dining room, a semiprivate dining area, bar, lounge/study area, backyard patio, and daytime coffee bar. Orlando Magazine gave The Monroe its Editor's Choice award for best newcomer, calling both the space and the dishes upscale, comforting, and welcoming. Chef Art Smith's Homecomin' at Disney Springs (homecominkitchen.com, 1602 E. Buena Vista Drive, Orlando, Florida, 407-560-0100) offers Southern-inspired, local, farm-to-table cuisine that pays homage to Florida's rich agricultural heritage.
Fine Dining and Award-Winning
For fine dining, Poczekaj recommends Bull & Bear (bullandbearorlando.com, 14200 Bonnet Creek Resort Lane, Orlando, Florida, 407-597-5413) at the Waldorf Astoria, which was named one of the top 100 restaurants in the United States by OpenTable. "Everything is finished at the table so it is a dining experience—don't miss 'The Lemon' dessert." Immersion (londonhouse.life/immersion, 8000 Via Dellagio Way, Orlando, Florida, 407-743-2525) at London House also offers "a dining experience like no other" from chef Rikku Ó'Donnchü and his team. Indeed, that's what one would expect from a three-hour "choreographed experience," featuring 15 courses of "mind-contorting cuisine." Single seating at 7 PM nightly, limited to 22 guests per night.
Knife & Spoon (ritzcarlton.com/en/hotels/florida/orlando/dining/knife-spoon, 4012 Central Florida Parkway, Orlando, Florida, 407-206-2400) is helmed by award-winning Chef John Tesar, a multiple-time James Beard Award finalist and two-time contestant on Bravo's Top Chef. Tesar appears in Anthony Bourdain's memoir Kitchen Confidential under the pseudonym Jimmy Sears, and Bourdain called him "the single most talented cook I ever worked with." Condé Nast Traveler said, "Everyone who knows food in Orlando is talking about this place," noting the flawless service, the steaks (Tesar's specialty), and the Tuna & Foie appetizer. DoveCote Restaurant (dovecoteorlando.com, 390 N. Orange Avenue, Suite 110, Orlando, Florida, 407-930-1700) sits at the base of downtown Orlando's towering Bank of America building, offering French-inspired American cuisine. Partake of the raw bar, or tuck into appetizers such as ham and cheese beignets with rouge aioli or citrus glazed quail, then entrées such as short ribs, braised rabbit, or eggplant caponata. Or, go for a steak, seafood, or a black bean burger. There's a fun happy hour menu, too.
"I've had the privilege to experience an Omakase  ("leave it up to you") in Morimoto Asia (morimotoasia.com, 1600 East Buena Vista Drive, Lake Buena Vista, Florida, 407-939-6686) in Disney Springs," Sabella says. Disney Springs is a shopping and entertainment area at Walt Disney World Resort that's free for anyone to enter. "This incredible experience allows you to taste a variation of tasty sushi prepared fresh in your view. In this experience, you 'leave it up to' the sushi chef, they will wow your taste buds with multiple courses. If you're not a fan of this adventurous experience, they also have a casual dining experience with numerous Iron Chef Morimoto's signature dishes." These include Peking duck, ramen, a stir-fried tofu medley, pork spare ribs, and a variety of dim sum small plates.
Jaleo (jaleo.com/location/jaleo-disney-springs, 1482 E. Buena Vista Drive, Orlando, Florida, 321-348-3211). Chef José Andrés, whose many accolades include being named one of Time magazine's "100 Most Influential People" and being awarded "Outstanding Chef" by the James Beard Foundation, opened his first outpost of Jaleo in 1993 in Washington, D.C. The Orlando outpost at Disney Springs continues to focus on the spirit and flavors of Spain with its tapas, paellas, and sangria, but in a dynamic, multilevel space complemented by Pepe by José Andrés, the first-ever brick-and-mortar location for the chef's famous food truck. Adjacent to Jaleo, Pepe serves hot and cold Spanish-style sandwiches, or bocatas, as well as gazpacho, salads, desserts, and sangria.
Also at Disney Springs is Frontera Cocina (disneyworld.disney.go.com/dining/disney-springs/frontera-cocina, 1604 E. Buena Vista Drive, Orlando, Florida, 407-560-9197), from eight-time James Beard award winner Rick Bayless, as notable for its design elements as its authentic Mexican fare. Bayless also is known for television hits such as Mexico—One Plate at a Time and Bravo's Top Chef Masters. Frontera Cocina offers salads, tacos, and entrées such as Oaxacan red mole chicken and carne asada.
Casual but Amazing
Poczekaj's pick for best pizza in Orlando is Pizza Bruno (pizzabrunofl.com, 3990 Curry Ford Road, Orlando, Florida, 407-270-6833), which serves naturally leavened Neapolitan pies and authentically Italian pasta, and has a good selection of craft beers on tap and a popular weekend brunch. Condé Nast Traveler called this "the place for people who are serious about their pizza." Another casual spot for breakfast, lunch, or brunch that Poczekaj likes is The Glass Knife (theglassknife.com, 276 S. Orlando Ave, Winter Park, Florida, 407-500-CAKE). Whether you go for avocado and egg toast, shakshuka, a salmon Niçoise salad, or a cheddar biscuit sandwich, be assured that your meal will be Instagram worthy. Or, just stop in for a cannoli cruller, a lemon lavender cookie, or one of the other assortments of pastries and desserts.
Global Flavors
Kadence (kadenceorlando.com, 1809 Winter Park Road, Orlando, Florida, no phone) is an eight-seat sushi and sake bar in Orlando's Audubon Park Garden District. It features an intimate dining experience focused on multicourse tasting menus and an extensive yet carefully curated selection of sake. Chefs Mark Berdin, Jennifer Bañagale, and Lordfer Lalicon are graduates of the University of Florida who trained in Michelin-starred restaurants in New York and London before returning to Orlando to open Kappo, a sushi stand, in the East End Market in 2014, followed by Kadence two years later. Kadence picked up a slew of awards in 2019, including the Foodie Award for best restaurant of the year, and Orlando Magazine's critic's choice for best Japanese restaurant. No walk-ins are allowed, and reservations must be prepaid. Another favorite sushi option is Seito Sushi (seitosushibp.com, 4898 New Broad Street, Orlando, Florida, 407-898-8801), which offers fresh sushi and contemporary Asian fare in Baldwin Park. The first restaurant in the Good Salt Restaurant group—opened in 2000—Seito Sushi has continued to win both reader's choice awards and accolades from Eater and other reviewers.
Shifting to a different part of the globe, Eater credits Nile Ethiopian Restaurant (nileorlando.com, 7048 International Drive, Orlando, Florida, 407-354-0026) with introducing Orlando to fare from the "Cradle of Humanity" when it first opened in 2006. Now, both tourists and locals come to scoop boldly spiced stews and meats with spongy, tangy injera from communal plates. The menu includes beef, lamb, chicken, and vegetarian/vegan options. Eater noted that the post meal coffee ceremony is worth braving the I-Drive traffic for. Eater also calls Tabla Indian Restaurant (tablacuisine.com, 216 N. Park Avenue, Winter Park, Florida, 321-422-0321; 5847 Grand National Drive, Orlando, Florida, 407-248-9400; 9971 Tagore Place, Suite 9, Orlando, Florida, 407-743-2846) the city's best Indian restaurant and says chef Sajan Prem really shines with specials such as soft-shell crab pakoras Keralan-style mussels that you won't find anywhere else. The expansive Indian, Thai, and Chinese menu includes gluten-free, vegan, vegetarian, and Jain vegetarian options.
Can you get good Mexican food in Orlando? Yes, you can. Hunger Street Tacos (hungerstreettacos.com, 2103 W. Fairbanks Avenue, Winter Park, Florida, 321-444-6270) is a labor of love from owners and brothers Joe and David Creech, who spent their early childhood in Mexico—where their parents were missionaries—and returned often as young adults. Joe's wife, a Mexico City native, craved her favorite taco after moving to Florida, inspiring the brothers to start Hunger Street. Tortillas made by hand from imported blue Oaxacan corn become tacos and quesadillas filled with shredded chicken, seared brisket, chorizo, panko-breaded fried avocado, halloumi grilling cheese, and much more. Vegan, vegetarian, and gluten-free options are available. Currently takeout only.
Poczekaj also recommends the "very traditional" tacos at MX Tacos (207 N. Bumby Avenue, Orlando, Florida, 407-730-5241, no website), and she's not alone, as they were Orlando Magazine's reader's choice for best tacos in Orlando last year. The menu represents many regions of Mexico with fillings such as sweet potato and mole, confit pulled pork, and steak and avocado with pumpkin seed sauce. And then there's Reyes Mezcaleria (reyesmex.com, 821 N. Orange Ave, Orlando, Florida, 407-868-9007), which offers inspired Mexican cuisine—and more than 150 tequilas and mezcals—from Chef Wendy Lopez, a Michoacán native. Menu highlights include starters such as a mixed ceviche of citrus-cured snapper and shrimp, elotes (Mexican street corn), and queso, along with tacos and entrées such as chile relleno, crispy half-chicken, or cauliflower al pastor. Vegan and gluten-free options are available.
Neighborhoods to Savor
If you love to check out hip, up-and-coming neighborhoods when you travel, look no further than Audubon Park Garden District. Home to restaurants, boutiques, music venues, and the beautiful botanical park Harry P. Leu Gardens, this neighborhood is registered by the National Trust for Historic Preservation. The active community hosts a weekly community market on Monday evenings (audubonmarket.com, 1842 E. Winter Park Road, Orlando, Florida).
Audubon Park also is home to what Poczekaj and many Orlando residents and visitors consider a not-to-be-missed Orlando food experience: "Head to East End Market (eastendmkt.com, 3201 Corrine Drive, Orlando, Florida, 321-236-3316), where you can get a taste of the plant-based Winter Park Biscuit Company (winterparkbiscuitco.com, 321-972-3006), grab a smoothie from Skyebird Juice Bar & Experimental Kitchen (skyebird.com), and don't miss the cookies from Gideon's Bakehouse (gideonsbakehouse.com). "Seriously. If you eat anything in Orlando, eat the cookies from Gideon's. Check out their Instagram (@gideonsbakehouse) to see what I mean," Poczekaj says. "Since most travelers will be on the attractions side of town, they do have a Gideon's in Disney Springs, but beware: The lines can be out of control."
As Orlando's original food hall, East End Market is considered part of the new Florida food scene, showcasing some of Central Florida's top food entrepreneurs, makers, artisans, and chefs. On his Travel Channel show The Zimmern List, chef and James Beard Award–winning television personality Andrew Zimmern, says, "It's like a theme park full of fantastic food." The two-story structure is home to a dozen merchants, as well as a demonstration kitchen, an incubator kitchen, offices, and retail shops. Other notable restaurants in the market include Domu (domufl.com, 407-960-1228), which offers housemade noodles (Zimmern called it Orlando's best ramen), creative small plates, and seasonal cocktails. Farm & Haus (farmandhaus.com, 321-430-6627) aims to make it easy to eat well with soups, salads, wraps, bowls—plus hearty breakfast offerings—using ingredients from local farms. Need a morning (or afternoon) boost? Grab a beverage from local craft coffee roaster Lineage Coffee Roasting at Lineage Coffee Bar (lineageroasting.com, 407-205-8096) and pick up some beans to take home.
Directly connected to Audubon Park—about 20 minutes northeast of downtown—is the Winter Park neighborhood. It has a robust network of parks and a gorgeous chain of lakes, but its epicenter is Park Avenue, a tree-lined, cobblestoned street lined with museums and some of Orlando's best shopping.
It's also home to some of Orlando's top culinary artists, including James Beard Award–nominated chefs James and Julie Petrakis of The Ravenous Pig (theravenouspig.com, 565 W. Fairbanks Avenue, Winter Park, Florida, 407-628-2333), a seasonal gastropub offering creative, unpretentious Southern cuisine using uniquely Floridian ingredients. A beer garden adjacent to the restaurant serves brews from the Ravenous Pig Brewing Co. next door.
Prato (prato-wp.com, 124 N. Park Avenue, Winter Park, Florida, 407-262-0050) made executive chef Brandon McGlamery a James Beard semifinalist for "Best Chef: South" in 2017. Located not far from Luke's (640 South Orlando Avenue, Maitland, Florida, 407-674-2400), McGlamery's other restaurant, Prato spotlights Italy with wood-fired pizza and housemade pasta. The seasonal menu includes oak-roasted cauliflower and chickpea soup, burrata and kohlrabi, leek ravioli, potato gnocchi, lamb tortellini, flat iron steak, and, of course, many pizzas, which Eater says are some of the best in Winter Park.
Briarpatch (thebriarpatchrestaurant.com, 252 Park Avenue N., Winter Park, Florida, 407-628-8651) is one of Winter Park's most iconic restaurants, welcoming both locals and visitors since 1980. It serves contemporary American cuisine using only local ingredients that showcase seasonal Florida flavors. Briarpatch serves breakfast, lunch, and weekend brunch, offering salads, sandwiches, handcrafted burgers, specialty pastries, and cakes, as well as beer, wine, and cocktails. Enjoy the outdoor patio if the weather's fine. No reservations needed.
Not to be confused with Winter Park, Winter Garden, located 30 minutes west of Orlando, is one of Central Florida's most beautiful communities. Sabella says downtown Winter Garden is the perfect place to spend a sunny Saturday. "The food scene is out of this world!" she says. The Farmer's Market (wintergardenfarmersmarket.com, 104 South Lakeview Avenue, Winter Garden, Florida, 407-656-4155) and Plant Street Market (facebook.com/plantstmarket, 426 W. Plant Street, Winter Garden, Florida, 786-671-1748) are where you'll find a huge variety of foods and drinks—from tasty empanadas, Cuban sandwiches, and arepas, to mouthwatering BBQ with a local brew at Crooked Can Brewing Company (crookedcan.com/plant-st-market, 407- 395-9520). Finally, for all the coffee lovers, there are many spots to check out. Try a nitro coffee at Axum Coffee (axumcoffee.com, 407-988-2146) or an orange blossom latte at Piccolo Coffee Co. (piccolocoffeeco.com, 18 N. Boyd Street, Winter Garden, Florida).
Orlando has many main street districts in or adjacent to downtown. One of the most foodie-worthy is The Milk District, named for the landmark T.G. Lee Dairy, one of the largest milk producers in Florida, but now is a hip home to bars, boutiques, and live music venues. Check out Tasty Takeover (tastytakeover.com, 2424 E. Robinson Street, Orlando, Florida), the weekly food truck gathering, for great street food. Or, head to The Milkhouse (milkhousesocial.com, 201 N. Bumby Avenue, Orlando, Florida, 407-237-0575), a unique dining space housing Cicchètti Kitchen's (milkhousesocial.com/cicchetti) modern Italian bar food, and Kelly's Homemade Ice Cream (kellyshomemadeicecream.com), known for its original ice cream flavors, such as banana pudding and caramel scotchie, and Foxtail Coffee Co. (foxtailcoffee.com) for gourmet coffee, and Winter Park's Ravenous Pig Brewing Co. (theravenouspig.com/brewery) for beer on tap.
Another downtown-adjacent district of note is Mills 50, named for the intersection of Mills Avenue and Colonial Drive—aka State Road 50. One of Orlando's oldest neighborhoods—Eater calls this area the "real" Orlando—you'll find colorful murals created by professional artists and too many restaurants to note. If you like food that has origins in Latin or Asian countries, this may be your happy place—just walk, explore, and trust your instincts. Or, there's Thornton Park, which has been called "downtown for grownups." Its brick-lined, canopied streets have a European feel with streetside cafes and vintage bungalows. The Sunday Orlando Farmer's Market (orlandofarmersmarket.com) at Lake Eola Park is popular, as is the award-winning Southern Contemporary Cuisine, also known as SoCo (socothorntonpark.com, 629 E. Central Boulevard, Orlando, Florida, 407-849-1800). Go for dinner or for Sunday brunch—which is also popular in Thornton Park.
A five-minute drive from the Orange County Convention Center, along Sand Lake Road, Orlando's famous Restaurant Row isn't just convenient; it has some offerings worthy of serious foodies. Rocco's Tacos and Tequila Bar (roccostacos.com, 7468 W. Sand Lake Road, Orlando, Florida, 407-226-0550) offers tacos, enchiladas, tortas, burritos, bowls, and more, along with 425 varieties of tequila. For authentic Turkish food, try the family-owned Bosphorous Turkish Cuisine (bosphorousrestaurant.com, 7600 Dr. Phillips Blvd, Suite 108, Orlando, Florida, 407-352-6766). Homemade hummus and hand-carved lamb shish kebabs are only a few of the delicious choices on the menu that includes several vegetable-forward items, as well as meat, poultry, and seafood options.
If you're craving sushi, you have a few choices on Restaurant Row. One is Akasaka (akasaka-sushi.com, 7786 Sand Lake Road, Orlando, Florida, 407-370-0007), with artistic sushi as well as appetizers and entrées from the hibachi grill and a variety of cocktails and sakes. Another is Dragonfly Robata Grill and Sushi (dragonflyrestaurants.com, 7972 Via Dellagio Way, Orlando, Florida, 407-370-3359), which specializes in Japanese robatayaki, a method of cooking similar to barbeque, in which food on skewers is slowly grilled at varying speeds over the fire. The fish is flown in from Japan and produce is fresh from the farm.
For the steak and seafood lovers, there are lots of options, including Eddie V's Prime Seafood (eddiev.com, 7488 W. Sand Lake Road, Orlando, Florida, 407-355-3011), which serves steaks that have been aged for more than 28 days but really specializes in seafood, with fish arriving daily from coastlines around the world, including branzino, scallops, oysters, lobster, and sea bass.
Feeling elegant? Chatham's Place (chathamsplace.com, 7575 Dr. Phillips Boulevard, Orlando, Florida, 407-345-2992) offers seasonal, organic dishes with fresh herbs, vegetables, and fruits straight from chef/owner Tony Lopez's own organic farm. Starters include beef or smoked salmon carpaccio and Caprese salad (with homemade mozzarella), and entrées include spicy chicken Louisiana and rack of lamb. They're joined by an array of vegetable sides, a carefully curated list of wines from family-run vineyards, and live piano music played every night. For some modern American fare and another carefully curated wine list, Slate (slateorlando.com, 8323 W. Sand Lake Road, Orlando, Florida, 407-500-7528) offers a regularly rotating menu that includes grilled meats, fresh seafood, unique sandwiches and pastas, pizzas, and in-house desserts. They also have Sunday through Thursday happy hours and a weekend brunch.
The diversity of critically acclaimed, award-winning restaurants is quite impressive in Orlando and the surrounding area. So, if you're headed to FNCE®, go with great expectations and with forks held high, as there will be many restaurants from which to choose to satisfy just about every palate.
— Carrie Dennett, MPH, RDN, is the nutrition columnist for The Seattle Times, owner of Nutrition by Carrie, and author of Healthy for Your Life: A Holistic Guide to Optimal Wellness.