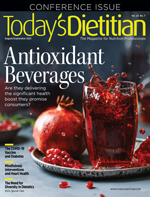 August/September 2021 Issue
Dietitians From All Backgrounds Wanted
By Neva Cochran, MS, RDN, LD, FAND, and Tracy Williams, BS
Today's Dietitian
Vol. 23, No. 7, P. 38
RDs from a variety of ethnicities and life experiences speak to Today's Dietitian about the need for greater diversity in the field to improve patient care.
Many believe the health professions, including dietetics, need to become more diverse. Surveys from the Academy of Nutrition and Dietetics and the Commission on Dietetic Registration show that 6% of nutrition professionals are Hispanic, 3% are Black or African American, 5% are Asian, and 2% are of another racial or ethnic group, while 3.7% are male and 1.5% have some type of disability.
In contrast, the United States Census Bureau reports that 13.4% of the US population is Black or African American, 1.3% Native American, 6% Asian, 2.8% mixed race, and 18.5% Hispanic or Latinx. And the National Service Inclusion Project estimates that 19.4% of noninstitutionalized civilians in the United States have a disability. Clients, patients, and the community may feel more comfortable with dietitians who share similar ethnic, cultural, gender, and other life experiences and, therefore, achieve better outcomes.1
Studies support that being of the same race or ethnicity increases the possibility of seeking preventive care and treatment for new health problems and ongoing medical issues. According to a 2018 Association of American Medical Colleges report, when patients' life experiences more closely match those of their health care providers, patients tend to be more satisfied with their care and follow practitioners' advice.2,3
Finally, cultural competence and cultural humility are important factors to consider when providing patient care. While cultural competence means understanding a culture's foodways and traditional diets, cultural humility emphasizes learning from patients, respecting them by incorporating their preferences and culture while involving them in decision making, and being aware of historical realities and injustices that shape them today.4-8
To illustrate the critical need for more diverse RDs within the profession, five dietitians from underrepresented groups discuss their experiences and recommendations for providing nutrition care to clients and patients who share their culture and background.
Constance Brown-Riggs, MSEd, RDN, CDCES, CDN
Owner of CBR Nutrition Enterprises in Massapequa, New York
Constance Brown-Riggs is the owner of CBR Nutrition Enterprises, a nutrition consulting and counseling practice based in Massapequa, New York, and the author of four books on diabetes. Her most recent book, Living Well With Diabetes 14 Day Devotional, received a 2019 Gold Hermes Award for creativity. She's passionate about writing books and developing educational tools that shorten the cultural gap among patients, caregivers, and health care providers.
Brown-Riggs has found that sharing a similar culture and life experience brings a level of trust to her relationships with clients. "They are more comfortable because they know I understand their approach to diet and exercise, their eating habits, their relationship with health care providers, and even their spirituality," she says. One example is her African American female clients' reluctance to exercise so they won't "sweat out their hairstyle." She provides tips from her own experience to help them manage their hair to overcome that barrier.
And when she shares personal stories of her own family gatherings, what food was on the table, and how she changed her exercise and eating habits, clients realize she isn't perfect in her lifestyle choices, which adds additional trust and relatability to the relationship. "I don't take away food they've grown up on, but show them how to successfully include their heritage food," she explains.
"Despite the numbers of Black people who have or are at risk of diabetes, there has been a lack of books and educational materials that focus on the unique health concerns of this population," Brown-Riggs says. "And fewer are written by someone who shares their culture, history, and health concerns." So she wrote the African American Guide to Living Well With Diabetes and developed the Diabetes Soul Food Pyramid to address the needs of African American people with diabetes.
According to Brown-Riggs, it's crucial to counsel from a place of cultural humility by being aware of and sensitive to a client's historic realities. Show clients you care, express empathy without stereotyping, and ask questions while truly listening to the answers. "Many Blacks have a tenuous relationship with the health care system that was once segregated, and loved ones were refused treatment at white hospitals," she adds. "And those living in urban and very rural communities have had to cope with the lack of qualified doctors, overcrowded clinics, and the closing of hospitals in Black neighborhoods." By recognizing and addressing the failures of the past, she can validate her clients' feelings and help them begin to trust the health care system and people who are trying to provide care.
Antonio Miranda, MS, RD, LD
PhD Candidate in Nutrition and Health Behavior at Texas Woman's University and Diabetes Educator at Texas Health Resources in Fort Worth, Texas
Antonio Miranda is a proud first-generation college graduate. As young adults, his parents emigrated from Mexico to Fort Worth, Texas, where he was born. He's currently pursuing his PhD in nutrition at Texas Woman's University with a research focus on psychological and sociocultural determinants of health behavior among Mexican American men at risk of obesity and diabetes. He also works part-time as a hospital diabetes educator.
Miranda believes clinicians with cultural congruency or competency foster an atmosphere of openness and compassion with their patients. In his case, Mexican men respond well to his ability to relate to their life struggles and common practice of health neglect. He says, "Cultural competence transcends having more Hispanic or minority dietitians, and extends into our understanding of how specific cultural groups approach health and perceive their responsibility in nutrition and physical activity."
According to Miranda, dietitians must have a compassionate story to share with patients. He always begins sessions with Hispanic men by saying, "I want to first thank you for showing up today. I know you are busy, so my goal is to help answer any questions that can help make things easier for us." Then he asks, "What are your biggest questions for me today?" followed by, "What are our biggest barriers to achieving these changes?" He concludes with the compassionate script, saying, "As a Hispanic man, it can be difficult for many reasons. We prioritize our family [and] finances, face pressures from our friends and families to eat, and we often don't come from the cultural background of prioritizing our health. But I want you to know that there comes a time when we must prioritize our health. It's OK to focus on you and reduce your risk of diabetes so that you can continue to live the life you want to live. And it doesn't have to be a drastic change either. I am not here to take away your tortillas!" (Then he laughs with the patient.) He notes that this script works wonders.
To resistant patients, he says, "I have no right to tell you what to do, but your body does. My job is to translate what your body is telling us so that we can listen to it, make small changes, and help keep your body healthy. Our goal is to find small and simple changes we can make to help you reach your goal of feeling fit while at work for many years to come."
Because food is a universal language, understanding cultural foods bridges the gap between dietitians and patients. Miranda believes that cultural humility also is important. "As a Hispanic dietitian, I should always seek to learn about cultures from all other regions, ethnic groups, and religions," he explains. "And this is important for all dietitians."
Jackie Henderson, RD, LD
Spinal Cord Injury Dietitian at the VA in St. Louis
Jackie Henderson has a spinal cord injury as a result of a car accident at age 15. She uses a manual wheelchair for mobility but has full use of her upper body. This hasn't kept her from achieving her career goals, however, and she presently works as a spinal cord injury dietitian at the VA in St. Louis. She completed her bachelor's degree at Fontbonne University, followed by her dietetic internship at the St. Louis VA. She also has worked in mental health and outpatient nutrition counseling there.
Henderson believes a shared life experience in almost any situation can bring about a natural sense of camaraderie and understanding. "When you have an outward disability on display, the understanding of mutual challenges is often unspoken," she says. "Dietitians with disabilities can have a genuine understanding of the barriers that exist while at the same time the hope for changes that could make a positive impact on one's life. It interrupts the 'what's the point?' question some of our clients may be asking themselves."
In working with her patients, she makes sure to ask questions or use phrases she'd use with anyone in nutrition counseling. Encouraging behavior change should focus on what's important for each individual. "Embrace what is 'not the same' as before with them if it's a new disability and that certain parts of this life are not good. You do not need to be a persistent cheerleader to promote behavior change," she explains.
According to Henderson, when there's trust in client relationships, dietitians can become relatable through sharing their personal experience. She has her go-to stories. "For example, when explaining the difficulty of weight gain while dependent on a wheelchair for mobility, I often recall the time when I was pregnant, 20-plus lbs heavier and pushing up a ramp," she says. "I've pushed a thousand times before on our campus but oddly became out of breath while pregnant." The whole length of the ramp she kept thinking she should have taken her backpack off her wheelchair, but once she reached the top, she realized there was no backpack. "It was all me and my sweet baby," she laughs.
Henderson's patients can face challenges with shopping and meal preparation. It's crucial to have accessible means of getting to the store, being able to reach items on grocery store shelves, and finding ways to carry items from the store to transportation to home. Many of her patients have kitchens equipped with standard countertop and sink heights that aren't easy for them to work from. The adaptive cooking classes she has taught with an occupational therapist help them learn both healthful eating and adaptive ways of cooking. This can lessen their feelings of having fewer choices, a lack of control, or being a burden to others.
Jen Nguyen, RDN, CPT
Director of Nutrition for Sweet Pea Plant-Based Kitchen in Rochester, New York
A first-generation Vietnamese Chinese American, Jen Nguyen was born and raised in Santa Ana, one of the most populated Vietnamese American cities in Southern California, after her parents fled Vietnam by boat to resettle in the United States. Growing up, she participated in the National School Lunch Program but often skipped lunch due to the unfamiliar food choices. She eventually diversified her palate as she grew older. Nguyen serves as the director of nutrition for Sweet Pea Plant-Based Kitchen in Rochester, New York, and is also a certified personal trainer.
According to Nguyen, sharing a common culture with her Asian clients is an advantage because she can relate to the more holistic way they solve problems. "For example, traditional beliefs on food and nutrition involve yin and yang eating, where yin-type foods include cold and fresh foods and yang-type foods include hot and warm. The yin foods are meant to refresh the body, and yang foods are meant to have an invigorating effect," she says.
In addition, Asians may seek advice from acupuncturists, herbalists, and energy healers who practice natural home remedies such as coining, cupping, and herbal and dietary therapies to treat illness. Therefore, her knowledge of how these holistic providers play a role in their health care helps build trust with her clients. Her capacity to relate to some clients' inability to afford food or those struggling with assimilation into American culture also can provide comfort.
To be more relatable, Nguyen often shares her family traditions with her clients. "Being able to connect thoughts, feelings, values, and traditions of eating to a client allows me to understand their eating behaviors and offer realistic suggestions that can be accomplished," she explains. To include more whole grains, she may recommend clients continue eating white rice noodle soup dishes but gradually replace the white rice noodles with brown. For dessert, she encourages clients to use fresh and exotic fruits or beans in a typical Vietnamese dessert, known as chè, more often than traditional cakes and pastries.
"The pandemic has heightened and brought light to populations and regions with health disparities that need attention. People of color and underserved groups altogether experience higher rates of death and illness in a variety of health conditions. This can be due to lack of resources, education, and access to health care," Nguyen says. Inadequate access to health care coverage has been longstanding for people of color and those of lower socioeconomic status. Providing consistent policies for coverage can give a sense of stability and thus trust in the health care system.
Vandana Sheth, RDN, CDCES, FAND
CEO of Vandana Sheth, LLC, in Los Angeles
Indian American dietitian Vandana Sheth is the CEO of Vandana Sheth, LLC, and author of My Indian Table: Quick & Tasty Vegetarian Recipes. Based in Los Angeles, she specializes in vegetarian nutrition, diabetes, and disordered eating, and uses an intuitive eating and mindful approach to nutrition and wellness.
Sheth agrees that sharing a culture similar to her clients can help them feel much more comfortable, especially in making dietary changes. "Food is so personal. Knowing that I understand their culture and traditions and can make suggestions that allow them to maintain the integrity of their food preferences, while tweaking their diet for health reasons, helps them make the transition more easily and willingly," she says. Sharing personal stories of how her family members and past clients have implemented simple changes in eating and meal preparation can help them achieve significantly better health outcomes.
Genetically, Indians are predisposed to higher rates of heart disease and diabetes. Clients consuming a traditional Indian, high-carbohydrate vegetarian diet often are disappointed when dietitians tell them to start eating meat or tofu instead of their typical staples like rice or roti. They feel their food preferences are completely ignored. Sheth's experience with traditional Indian foods, ingredients, and flavor profiles allows her to suggest swaps so her clients can enjoy these foods without compromising flavor or health. "For example, a client with blood sugar concerns who's a vegetarian often has a high carbohydrate load, but with small tweaks can enjoy traditional foods without blood sugar spikes," she explains.
Cultural humility is an integral part of positively influencing clients' lives with food and nutrition, even for dietitians of the same race or ethnicity. Sheth cautions that dietitians need to be aware of their own beliefs and biases and come to their clients with an openness to learn and collaborate with them for the best health outcomes.
"I don't assume that just because someone has an Indian background that I fully understand their food beliefs, traditions, and lifestyle," she says. "Depending on when they immigrated, how long it has been, their acculturation, family dynamics, where they live, and if they have children are all factors affecting their food habits and how willing they are to make changes."
Her recommendations can vary greatly depending on her patients' religion, their food preferences, how strictly they follow traditional eating habits, and how receptive they are to other foods. She concludes that, "By being open and communicating our desire to help clients adapt traditional foods in their eating plan without judgment, we are more likely to be successful in helping people from diverse groups become more willing to access and seek help."
— Neva Cochran, MS, RDN, LD, FAND, is a nutrition communications consultant in Dallas, working with a variety of food, nutrition, and agricultural organizations to promote science-based nutrition information so people can "eat beyond the headlines" and enjoy eating, not fear food. A long-time leader, she received a 2012 Academy of Nutrition and Dietetics Medallion Award and the 2016 Texas Academy of Nutrition and Dietetics Outstanding Preceptor Award.
— Tracy Williams, BS, earned her degree in nutrition and dietetics from Dominican University. She partners with disability, community, and nonprofit organizations to speak on a variety of food and nutrition topics, and is a writer for Abilities Buzz, Push Living, and Disability Horizons. You can connect with her at tracysplate.com to view her previous work or to work with her.

References
1. Greenlee H, Gaffney AO, Aycinena AC, et al ¡Cocinar para su salud!: randomized controlled trial of a culturally based dietary intervention among Hispanic breast cancer survivors. J Acad Nutr Diet. 2015;115(5):S42-S56.
2. Ma A, Sanchez A, Ma M. The impact of patient-provider race/ethnicity concordance on provider visits: updated evidence from the Medical Expenditure Panel Survey. J Racial Ethn Health Disparities. 2019;6(5):1011-1020.
3. Silver JK, Bean AC, Slocum C, et al. Physician workforce disparities and patient care: a narrative review. Health Equity. 2019;3(1):360-377.
4. Palmer S. Cultural humility in food & nutrition. Todays Dietitian. 2021;23(2):24.
5. Brown Riggs C. Closing the culture gap. Food & Nutrition Magazine. August 26, 2013. https://foodandnutrition.org/september-october-2013/closing-culture-gap/
6. Nemec K. Cultural awareness of eating patterns in the health care setting. Clin Liver Dis. 2020;16(5):204-207.
7. Klement CS. Intercultural competence for the nutrition professional [senior honors thesis]. Eastern Michigan University; 2010. https://commons.emich.edu/honors/231/  
8. McCabe CF, O'Brien-Combs A, Anderson OS. Cultural competency training and evaluation methods across dietetics education: a narrative review. J Acad Nutr Diet. 2020;120(7):1198-1209.