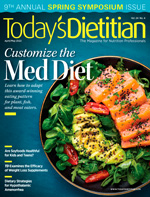 April/May 2022 Issue
Customize the Med Diet
By Densie Webb, PhD, RD
Today's Dietitian
Vol. 24, No. 4, P. 24
This award-winning eating pattern can be adapted for plant, fish, and meat eaters.
May is International Mediterranean Diet Month, a time to highlight the proven health benefits of the Mediterranean way of eating and to share that information and enthusiasm with clients and patients.
The Mediterranean diet is the traditional dietary pattern of Greece, Italy, and other countries surrounding the Mediterranean Sea. The traditional Mediterranean diet is plant based and focuses on whole grains, vegetables, legumes, fruits, nuts, seeds, herbs, and spices. Olive oil is the main source of added fat. Fish, seafood, dairy, and poultry are included in moderation, and red meat is eaten only on occasion. The Mediterranean Diet Pyramid, developed by Oldways, a Boston-based nonprofit organization dedicated to improving public health while promoting sustainability, depicts the emphasis on plant foods, starting at the base of the pyramid.
The traditional Mediterranean diet is considered one of the most healthful dietary patterns in the world, with its combination of foods rich in antioxidants and anti-inflammatory nutrients. U.S. News & World Report's annual review of diets has ranked the Mediterranean diet as the best overall diet in 2018 (when it tied for first place with the DASH diet), 2019, 2020, 2021, and now in 2022. That's because researchers have studied the Mediterranean eating pattern for more than half a century and found it to be associated with the prevention of a host of diseases and conditions.
Many studies have demonstrated a strong relationship between adherence to the Mediterranean diet and a reduced risk of CVD, type 2 diabetes, several types of cancers, Alzheimer's disease, rheumatoid arthritis, and osteoarthritis.1-4 A 2018 review in The Journal of Nutrition found that epidemiologic studies and randomized clinical trials have shown that Mediterranean and vegetarian diets are linked with beneficial changes to the gut microbiome, such as increased production of short-chain fatty acids. Such beneficial changes in the gut microbiota have been associated with a decreased risk of several diseases and conditions, especially cardiometabolic diseases.5
A recent study found that diets rich in plant foods, like the Mediterranean diet, can add as many as 13 years to a person's life if the pattern begins at a young age. In addition to being a healthful dietary pattern, the Mediterranean diet also contributes to a sustainable lifestyle. It has been considered the best evidence-based, healthful, sustainable diet compared with others.6
But what if a client or patient is vegan, vegetarian, pescatarian, or omnivorous? Can they still follow the Mediterranean diet and receive its health benefits? The good news is that with a few minor tweaks, the Mediterranean diet can easily cater to each of these dietary patterns.
Modifying the Mediterranean Diet
Foods that are part of the daily diet in the Mediterranean may not be appealing to someone unfamiliar with them. Therefore, it's important to tell clients and patients that consuming a Mediterranean diet doesn't mean eating only Mediterranean foods they may not like. "The Mediterranean diet can be re-created with foods that aren't from the Mediterranean region," says Sara Baer-Sinnott, president of Oldways. "The key is eating foods from plants that are minimally processed."
For example, if stuffed grape leaves or olive-laced recipes aren't a client's idea of a tasty dish, offer "Mediterranean equivalents" of other vegetables they're more familiar with and that are just as healthful so they're more likely to eat them on a regular basis. "It's the pattern that's important," Baer-Sinnott adds. Foods that aren't traditional Mediterranean foods, such as avocados, now are included in Mediterranean diet recipes as healthful foods that fit well into the Mediterranean dietary pattern.
There are four basic guidelines for customizing the Mediterranean diet:
• Vegans can choose from the base of the pyramid, which includes a wide variety of fruits and vegetables.
• Vegetarians can start with the base of the pyramid and add small servings of eggs, cheese, and yogurt.
• Pescatarians can choose from the bottom two sections of the pyramid to include fruits, vegetables, and fish and seafood, along with small servings of eggs, cheese, and yogurt.
• Omnivores can choose from the entire pyramid but should limit intake of red meat and poultry to small servings of lean meats.
If clients are unsure about what to buy at the supermarket, Oldways offers a comprehensive shopping list that can be purchased in tear-off pads of 50. The list is broken down into vegetables, fruits, herbs and spices, beans, grains, nuts and seeds, seafood, healthy oils/fats, and dairy/eggs, making shopping much easier for clients who are new to the Mediterranean way of eating. Additional blank lines on the shopping list enable them to add items based on their food preferences.
Patients looking for convenience can try Mediterranean diet meal delivery services. Healthline recently published an article that reviewed the services and ranked them as "Best Overall," "Best for Families," "Best Budget," "Best Frozen," and "Best Organic." While there are plenty of quick and easy recipes available that fit into the Mediterranean dietary pattern, creating balanced meals that focus on fresh, unprocessed ingredients often calls for more time in the kitchen than clients may be accustomed to or able to set aside.
Practical Tips and Recipes
Oldways' Baer-Sinnott; Melissa Prest, DCN, MS, RDN, CSR, LDN, a private practice dietitian in Chicago and a spokesperson for the Academy of Nutrition and Dietetics (the Academy); and Sandra J. Arévalo Valencia, MPH, RDN, CDN, CLC, CDCES, FAND, director of community and patient education at Montefiore Nyack Hospital in Nyack, New York, and a spokesperson for the Academy, make the following detailed suggestions for adapting the Mediterranean diet to different dietary patterns:
• Vegetarian Mediterranean. There are many different types of vegetarians, but, in general, most avoid eating meat but will still eat eggs and dairy products, many of which are excellent sources of protein. In a Mediterranean diet, beans, tofu, and other soyfoods can be substituted for meat. Clients can add beans to soups and salads or make them into a dip. They also can use tofu in some recipes that call for meat.
• Vegan Mediterranean. In addition to the recommendations above, vegan clients will need to replace nutrients found in eggs and dairy. Clients can choose almond milk, soymilk, pea milk, or any other plant-based milk in place of cow's milk. Counsel clients to check nutrition labels for calcium content, as not all plant-based milks provide adequate amounts of calcium. Nut butters such as almond butter or peanut butter are good sources of protein. Clients can buy nondairy spreads made with beans, such as black bean dip or hummus, or those made with fruits, such as avocado in guacamole.
• Pescatarian Mediterranean. Clients have much to choose from within a pescatarian Mediterranean diet; the only difference between this pattern and the typical Mediterranean diet is that animal sources of protein aside from seafood aren't included. The Mediterranean diet is big on fish and seafood in general, and especially emphasizes fatty fish such as salmon, tuna, and mackerel. It's recommended that fish be included at least twice per week, even for those who eat from the entire Mediterranean pyramid.
• Omnivore Mediterranean. While clients can eat everything in the pyramid, they should base each meal on plant foods and include smaller amounts of foods from animals, such as two servings of fish or seafood each week plus small portions of yogurt and traditional, authentic cheeses, including feta and Parmesan. Recommend clients eat small servings of lean meats and avoid fried meats such as fried chicken or fried fish.
Recipes for each dietary pattern are below, and more can be found at oldwayspt.org/recipes.
Bottom Line
A Mediterranean-style diet is a healthful, environmentally friendly choice regardless of which adaptation dietitians choose to match their clients' dietary patterns. While the Mediterranean diet is flexible, it can't be customized for some diets, such as the keto diet or Whole30, which restrict carbohydrate intake.
For some, adopting the Mediterranean diet will be a minor adjustment to their current diet; for others, it may be a drastic change. To make the switch easier, Oldways offers a Mediterranean Diet Starter Kit that dietitians can provide to clients. The kit includes a book with a four-week menu plan, a grocery list tear-pad, a tear-pad of sheets that feature the Mediterranean Diet Pyramid, and a brochure with more tips on following the Mediterranean diet.
— Densie Webb, PhD, RD, is a freelance writer, editor, and industry consultant based in Austin, Texas.

References
1. Mentella MC, Scaldaferri F, Ricci C, Gasbarrini A, Miggiano GAD. Cancer and Mediterranean diet: a review. Nutrients. 2019;11(9):2059.
2. van den Brink AC, Brouwer-Brolsma EM, Berendsen AAM, van de Rest O. The Mediterranean, Dietary Approaches to Stop Hypertension (DASH), and Mediterranean-DASH Intervention for Neurodegenerative Delay (MIND) diets are associated with less cognitive decline and a lower risk of Alzheimer's disease—a review. Adv Nutr. 2019;10(6):1040-1065.
3. Tosti V, Bertozzi B, Fontana L. Health benefits of the Mediterranean diet: metabolic and molecular mechanisms. J Gerontol A Biol Sci Med Sci. 2018;73(3):318-326.
4. Martín-Peláez S, Fito M, Castaner O. Mediterranean diet effects on type 2 diabetes prevention, disease progression, and related mechanisms. A review. Nutrients. 2020;12(8):2236.
5. Tindall AM, Petersen K, Kris-Etherton PM. Dietary patterns affect the gut microbiome-the link to risk of cardiometabolic diseases. J Nutr. 2018;148(9):1402-1407.
6. Dernini S, Berry EM, Serra-Majem L, et al. Med Diet 4.0: the Mediterranean diet with four sustainable benefits. Public Health Nutr. 2017;20(7):1322-1330.
Simple and Fast Mediterranean Diet Recipes for Every Dietary Pattern
Mediterranean Recipe for Omnivores
Greek Grilled Chicken With Spinach and Tomatoes
Serves 4
Ingredients
4 (6-oz) boneless, skinless chicken breasts
2 T olive oil, divided
1/4 tsp salt, divided
1/4 + 1/8 tsp pepper, divided
1 (14-oz) can fire roasted diced tomatoes, no salt added
1/4 cup pitted Kalamata olives
5 oz baby spinach
1/4 cup crumbled feta cheese
Directions
1. Season the chicken breasts with 1 T of the olive oil, 1/8 tsp of the salt, and 1/4 tsp of the pepper.
2. Using an outdoor grill or a grill pan, cook chicken for about 7 minutes on each side, until the thickest part of the chicken reads 165˚ F on a meat thermometer. Place cooked chicken on a clean dish and set aside.
3. Meanwhile, heat a large skillet over medium-low heat. Add the remaining 1 T of olive oil to coat the pan. Then add the diced tomatoes and olives and cook for about 3 minutes, stirring often. Add the spinach, 1/8 tsp salt, and 1/8 tsp pepper and continue cooking, stirring often with tongs, until the spinach is wilted, about 5 minutes.
4. Divide the spinach mixture into four servings, then top each serving with 1 grilled chicken breast and 1 T crumbled feta cheese.
Nutrient Analysis per serving
Calories: 350; Total fat: 16 g; Sodium: 530 mg; Total carbohydrate: 7 g; Dietary fiber: 2 g; Protein: 41 g
— Source: Recipes and photos courtesy of Oldways, oldwayspt.org
---
Mediterranean Recipe for Vegans
Everything Green Chickpea Salad
Serves 4
Ingredients
1 can chickpeas, drained and thoroughly rinsed
1/4 cup mint, finely chopped
2 T chives, finely chopped
2 scallions, finely chopped
Juice of 3 lemons
3 T extra-virgin olive oil
2 tsp dried oregano
Directions
1. In a large salad bowl or mixing bowl, combine all ingredients.
2. The salad can be served at room temperature or chilled. It will taste best when given a few hours or overnight to chill in the refrigerator to allow the flavors to meld.
Nutrient Analysis per serving
Calories: 200; Total fat: 12 g; Sat fat: 1.5 g; Sodium: 150 mg; Total carbohydrate: 19 g; Dietary fiber: 6 g; Protein: 6 g
— Source: Recipes and photos courtesy of Oldways, oldwayspt.org
---
Mediterranean Recipe for Vegetarians
Vegetable Frittata
Serves 4
Ingredients
3 whole eggs
3 egg whites
1/4 cup grated Parmigiano Reggiano cheese
2 T diced fresh tarragon (or 2 tsp dried)
Salt and freshly ground pepper, to taste
3 T extra-virgin olive oil, divided
1 onion, diced
1 zucchini, diced
1 red or orange bell pepper, diced
Directions
1. Combine the eggs, egg whites, cheese, tarragon, salt, and pepper in a large bowl and whisk to blend. Set aside while you prepare the vegetables.
2. Heat 1 T of the olive oil in a large, oven-safe skillet over medium-high heat. When hot, add in the diced vegetables and cook, stirring for 5 to 7 minutes, or until just tender, with golden brown edges. Season with a pinch of salt and pepper. Remove the vegetables and set aside in a bowl. Heat the broiler.
3. Wipe out the skillet with a paper towel and turn the heat down to medium low. Add the remaining 2 T of olive oil and swirl to coat the skillet.
4. When the skillet is hot, pour in the egg mixture and cook for about a minute, then gently spoon the vegetables over the eggs (do not mix them in). Continue cooking until the edges have set. Lift the frittata gently to see that the bottom has browned, about 5 minutes.
5. Put the skillet under the broiler for 2 minutes, or until the top is set and lightly browned. Watch carefully to prevent burning. Let the frittata cool for a few minutes. Then slide it onto a serving plate, cut into wedges, and serve.
Nutrient Analysis per serving
Calories: 260; Total fat: 20 g; Sat fat: 5 g; Sodium: 230 mg; Total carbohydrate: 9 g; Dietary fiber: 2 g; Protein: 14 g
— Source: Recipes and photos courtesy of Oldways, oldwayspt.org
---
Mediterranean Recipe for Pescatarians
Spicy Salmon
Serves 4
Ingredients
4 cloves garlic, chopped
1/2 tsp sea salt
1 tsp crushed red pepper flakes
2 T extra-virgin olive oil
Juice of 1 lemon
4 salmon steaks, each about 4 oz
Directions
1. Crush the garlic with the salt in a mortar, or mash it with a fork in a small bowl. Add the pepper flakes, olive oil, and lemon juice and continue mashing to form a smooth paste.
2. Arrange the salmon in a baking dish and spread the marinade on top. Cover with plastic wrap and refrigerate for up to two hours.
3. Preheat the oven to 450° F. Uncover the fish and bake for about 20 minutes or until it flakes easily with a fork.
Nutrient Analysis per serving
Calories: 230; Total fat: 14 g; Sat fat: 2 g; Sodium: 340 mg; Total carbohydrate: 2 g; Dietary fiber: 0 g; Protein: 23 g
— Source: Recipes and photos courtesy of Oldways, oldwayspt.org