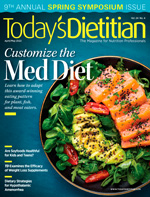 April/May 2022 Issue
Frozen Foods: Frozen Seafood
By Carrie Dennett, MPH, RDN, CD
Today's Dietitian
Vol. 24, No. 4, P. 16
What's driving the popularity of frozen—and sustainable—options?
Grocery shopping habits have changed in countless ways since news broke of COVID-19 in early 2020: more online shopping, more stock-up shopping trips, increased interest in less perishable protein products. One of those products is seafood, with many consumers finding themselves willing to set aside the "fresh is best" mindset and reach for options in the freezer case—especially those that marry taste, convenience, and sustainability.
According to the International Food Information (IRI) Council's 2021 Food & Health Survey, 23% of consumers are eating more seafood than they did the previous year.1 Data from IRI show that frozen seafood saw a 19.8% increase in sales between June 2020 and June 2021, twice the 9.7% increase in sales of frozen foods overall. Many of these gains come from a continued shift toward shellfish options—especially shrimp, but also scallops and crab—but sales of frozen salmon also have increased (by 23%) among new frozen seafood buyers, with sales of cod and pollock also up slightly.2
Deloitte's 2021 "Future of Fresh" survey of US consumers found that 47% of those aged 18 to 34 agree that frozen seafood is just as good or better than fresh, compared with 34% of consumers aged 55 or older.3 IRI found that consumers became more open to frozen seafood because they wanted to re-create the restaurant experience at home and increase their variety of protein options—but also because a surge of recipes and tutorials on TikTok and other social media platforms made cooking seafood less intimidating.4
What about when clients are too tired or busy to cook? Research from Mintel suggests that one-quarter of seafood buyers want more preseasoned or marinated options, breaded options with more healthful coatings, and international flavors.5 Jessica Miller, RDN, nutrition communications manager for the nonprofit Seafood Nutrition Partnership, says that the seafood industry has rallied to meet this demand.
"We have definitely seen both retailers and seafood companies innovate to offer more ready-to-eat meal solutions," she says. "It helps alleviate some people's concerns over preparing seafood and offers a foolproof cooking experience. The frozen category especially has some tasty, and healthier, new products. The benefit of frozen seafood is that it helps connect home cooks with seafood no matter the season—or when they can go grocery shopping throughout their week."
What's Spurring Growth?
Analysis of the global frozen seafood market by Fact.MR estimates its current value at $27 billion, a figure that's expected to grow at a compound annual growth rate of 5%, eventually exceeding $43.3 billion by 2031. That's an increase from the 3.8% compound annual growth seen from 2016 to 2020. In 2021, total sales of frozen seafood in North America were expected to be worth $9.2 billion, accounting for roughly 34% of global sales, with the US frozen seafood market expected to account for 82.6% of the North American market.6
"During the pandemic, overall seafood has shown tremendous growth," Miller says. "According to the 2021 Power of Seafood report, seafood sales grew nearly 30%, which is much higher than meat, produce, deli, and bakery. We are seeing restaurants open back up, but now with staffing and product shortages making eating out a different experience than it used to be. Many consumers are still enjoying their new cooking skills they learned during the shutdown."
A report published by Persistence Market Research in New York found that the reasons demand for frozen seafood products is increasing globally include manufacturers focusing on producing more healthful products and many consumers shifting their preference to frozen foods over canned foods because more nutrients are preserved.7 For example, Australis Aquaculture's barramundi are harvested, hand-fileted, and flash-frozen all in the same day using technology that chills the filets to -30° F in less than 10 minutes, locking in freshness.8
Even though some consumers still prefer fresh seafood, if they're concerned about the environment, they have to contend with the fact that fresh seafood has a larger carbon footprint than frozen. Fresh seafood must be quickly flown to market, whereas frozen seafood can be transported on energy-efficient transportation—trucks, trains, or ships—because time is no longer a factor. Flash-freezing also reduces waste during processing.6
"When food is frozen, its nutrient profile stays intact; so, nutritionally, fresh and frozen are comparable—and, in fact, frozen-at-sea technology seals in the nutrients when they're at their peak without any degradation," Miller says. "Many kinds of seafood are frozen directly on the boat after the catch, [whereas] fresh fish and shellfish may take some time to travel to the seafood counter."
As sustainable food movements grow and consumers learn more about the environmental impact of their food, frozen seafood sales are expected to continue to rise. According to IRI data, nearly one-half of Gen Z and millennials actively seek retailers that carry sustainable products,9 and research from the food industry association FMI found that 4 in 10 seafood eaters make a significant effort to choose sustainable seafood.5
Since 1999, GlobeScan, a global public opinion research program, found that the number of consumers who say they'd consider rewarding companies that are socially responsible jumped from about 20% from 1999 through 2017 to 38% in 2020.10 GlobeScan research for the Marine Stewardship Council in 2020 found that 65% of seafood lovers say buying fish and seafood from sustainable sources is vital, and 41% say they notice products labeled as eco-friendly when shopping. There are some generational differences, as 74% of respondents aged 18 to 24, compared with 49% of those older than 55, had taken an action to protect fish and seafood in the previous year, and 89% of 18- to 24-year-olds compared with 78% of those older than 55 say they're willing to take action in the future to protect the fish and seafood in our oceans.11
"Consumers are prioritizing health and sustainability in these times, and people are flocking to foods that are mood boosting, immune supporting, and climate friendly—and seafood fits the bill," says Seafood Nutrition Partnership Founder and President Linda Cornish. "We believe consumers will continue to choose quality products and better-for-you options such as seafood despite rising food costs."
Product Innovation
When advising clients and patients on shopping sustainably in the seafood freezer case, dietitians can confidently suggest choosing seafood labeled with a logo from the Marine Stewardship Council, Aquaculture Stewardship Council, or Best Aquaculture Practices. These logos indicate that the seafood has come from a sustainable fishery in the United States or overseas. Many grocery chains, including Whole Foods, Costco, Safeway, and Stop & Shop, stock sustainable seafood brands.
The following are some specific sustainable frozen offerings that RDs can look for in their local stores and perhaps recommend to clients:
• High Liner Foods' new line of products includes buffalo-spiced Alaska Wild Wings, coated wings made from sustainably sourced pollock. Available in Canada—and in the United States, under the Sea Cuisine brand—the company offers a Smart Ingredients line that comes already seasoned and ready to bake.
• North Coast Seafoods has introduced a product line called Naked Seafood, which includes certified sustainable salmon, scallops, shrimp, mussels, and cod. Farmed offerings are raised without antibiotics, and all products are free from artificial preservatives or phosphates.
• SeaPak Shrimp & Seafood Company offers some interesting flavor profiles, including an Everything Bagel Butterfly Shrimp and a Coconut Cod. All of SeaPak's aquaculture products are sourced from suppliers that are at least two-star Best Aquaculture Practices–certified or higher.
• Online organic grocer Thrive Market partnered with Kvarøy Arctic, which raises USA Fair Trade Certified sustainable farmed salmon raised in Norwegian water.
• Australis Aquaculture added two new freezer-to-oven products to its The Better Fish line of frozen Fair Trade Certified Barramundi: Tuscan Herb Butter Barramundi and Crispy Fish Tenders.
• Trident Seafoods created a Protein Noodle made from wild Alaska pollock, offering 10 g protein per serving. Wild Alaska pollock has a significantly lower carbon impact than other animal protein options and even certain plant-based meat substitutes.12
• "Another product we're excited about is from Blue Circle Foods, which offers omega-3–rich, responsibly sourced products called Happy Fish," Miller says. "These are delicious fish-shaped patties with only four ingredients: salt, pepper, lemon, and fish. This can make introducing little ones to seafood fun, and they'll enjoy the health benefit seafood offers."
• New microwavable Seafood Bowls by Aqua Star go from the freezer to the microwave to the table in five minutes or less, making life easier for clients who are experiencing cooking fatigue.

"It's exciting to watch these companies innovate and pivot to meet consumer trends and demand," Miller says. "Keep frozen fish in the freezer as a budget-friendly option—you can cook from frozen or thaw filets in about 15 to 20 minutes. From frozen-at-sea filets to baked fish sticks, grilled salmon to shrimp scampi, frozen seafood offers options everyone in your family will love."
— Carrie Dennett, MPH, RDN, CD, is the nutrition columnist for The Seattle Times, owner of Nutrition by Carrie, and author of Healthy for Your Life: A Holistic Guide to Optimal Wellness.

References
1. International Food Information Council. 2021 Food and Health Survey. https://foodinsight.org/wp-content/uploads/2021/05/IFIC-2021-Food-and-Health-Survey.May-2021-1.pdf. Published May 2021.
2. Wyatt SL, Boule C, Bodor A; IRI. Frozen food trends: strategies for success in a new consumer environment. https://www.iriworldwide.com/IRI/media/Library/webinar/Frozen-Food-Trends-Success-in-a-New-Consumer-Environment.pdf. Published August 3, 2021.
3. Renner B, Baker B, Cook J, Upadhyaya J. Fresh vs. frozen: the future of fresh in a changing competitive landscape. Deloitte website. https://www2.deloitte.com/us/en/insights/industry/retail-distribution/future-of-fresh-food-sales/future-of-food-survey.html. Published September 28, 2021.
4. Crawford E. Frozen food continues to win as regions re-open, but what consumers reach for is evolving, IRI finds. FoodNavigator-USA website. https://www.foodnavigator-usa.com/Article/2021/08/19/Frozen-food-continues-to-win-as-regions-re-open-but-what-consumers-reach-for-is-evolving-IRI-finds. Published August 19, 2021.
5. Sloan AE. Consumers catch the seafood wave. Institute of Food Technologists website. https://www.ift.org/news-and-publications/food-technology-magazine/issues/2021/september/columns/consumer-trends-seafood. Published September 1, 2021.
6. Frozen seafood market: rising preference for frozen foods over canned foods to propel the frozen seafood market growth during 2021-2031. Fact.MR website. https://www.factmr.com/report/frozen-seafood-market. Published August 2021.
7. Frozen seafood market: global industry trend analysis 2012 to 2017 and forecast 2017 - 2025. Persistence Market Research website. https://www.persistencemarketresearch.com/market-research/frozen-seafood-market.asp
8. 4 reasons you should consider frozen vs. fresh fish. The Better Fish website. https://www.thebetterfish.com/thecurrent/reconsider-frozen-fish/
9. Shea C. The future of food: five consumer COVID trends that are here to stay. IRI website. https://www.iriworldwide.com/en-us/insights/blog/the-future-of-food-five-trends
10. Chase C. Millennials, Gen Z driving sustainable seafood purchasing shift. SeafoodSource website. https://www.seafoodsource.com/news/environment-sustainability/rise-of-gen-z-seafood-consumers-leading-push-for-sustainable-options. Published March 18, 2021.
11. Concern for the oceans drives consumers to 'vote with their forks' for sustainable seafood. GlobeScan website. https://globescan.com/2020/06/08/msc-consumers-vote-with-their-forks-sustainable-seafood/. Published June 8, 2020.
12. Quantis. Life cycle assessment of wild Alaska pollock final ISO LCA report. https://www.alaskapollock.org/media/2246/final-report.pdf. Published July 2021.