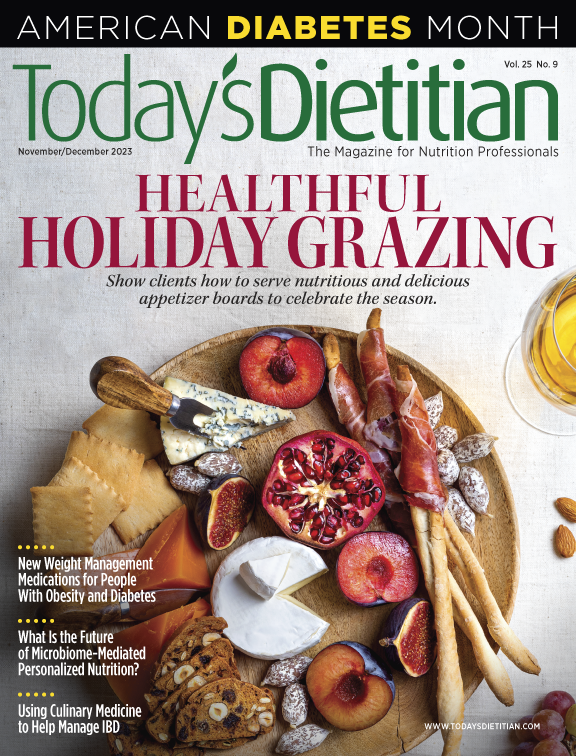 Herbs & Spices: Exploring Staple Asian Flavors
By Michelle Dudash, RDN
Today's Dietitian
Vol. 25 No. 9 P. 12
While the idea of preparing an Asian-inspired stir-fry sounds exciting, home cooks may be stumped when determining which flavors to add beyond garlic and soy sauce. Not to worry, as a variety of herbs and spices bursting with flavor awaits. Better yet, obtaining these ingredients may be easier than your clients think, whether from their favorite grocery store, Asian market, or online store.
In this article, Today's Dietitian highlights some popular herbs and spices commonly used in cuisines from Korea, Taiwan, China, and Japan, including insights from culinary dietitians with expertise in the flavors of these regions.
Flavors Used Across Asia
Numerous ingredients overlap between countries, and even across the continent, so the following herbs and spices are a good starting point for clients to stock their pantries:
• Chili peppers: A variety of chili peppers can be found in East Asian dishes with varying amounts of heat. Fresh chilis may include jalapeño and Anaheim. Whole dried chiles, like Sichuan chili and dried red chili, infuse flavor and heat into hot oil, braises, and sauces, but avoid eating them directly due to their coarse texture.1
• Cilantro: Fresh cilantro is used in a range of East Asian cuisines as a finishing ingredient at the end of cooking stir-fries, noodles, meat, and seafood, and as a topping on noodle soups. Santa Monica, California–based Cindy Chou, RDN, chef and founder of the websites Cancer Nutrition in a Bowl and The Sound of Cooking, adds roughly chopped cilantro stems and leaves to the popular Taiwanese dish, oyster vermicelli, called ô-á mī-sòaⁿ. In addition, "Cilantro sometimes gets paired with crushed peanuts as a topping in dishes like crepe-wrapped taro ice cream," Chou says.
• Garlic: Not surprisingly, garlic often is minced, crushed, or sliced for many dishes, from stir-fries to fried rice. Dried garlic also comes in handy.
• Ginger: Knobs of gingerroot get peeled first, then are sliced, minced, juiced, or finely shredded.2 Ground ginger offers convenience and has a long shelf life and a rather spicy, pungent taste.
• Scallions: Also known as green onions, scallions can be chopped, sliced, minced, or finely shredded. Whole scallion stalks gently infuse broth with aromatics. Minced scallions can be added at the beginning of cooking for a more intense flavor. Finely shredded scallions get tossed into stir-fries to brighten a dish, and sliced scallions sprinkled in at the end or used as a colorful garnish add a crisp texture.
• Sesame seeds: Besides adding a notable texture and garnish to stir-fries, sesame seeds added to oil at the beginning of cooking impart a nutty taste. Black sesame seeds can be spotted in desserts. Sesame paste can be stirred into cold noodle dishes, dipping sauces, and sweets.
• Shallots: These small, purplish onions pack a punch and can be minced and added at the beginning of cooking, or thinly sliced and stirred in at the end. Chou relies on fried shallots as a staple in her Taiwanese dishes. "I add a tablespoon of fried shallots to soups, stir-fried clams, and Taiwanese turkey or pork rice bowls for their subtle sweetness and texture." Chou explains that her childhood favorite, Taiwanese pork and bamboo meatball bawan (bah-oân), served with a sweet and savory sauce, "Wouldn't taste right without fried shallots in the filling." If clients don't feel like making their own fried shallots, they can buy them at Asian grocery stores and from online stores like Weee! (www.sayweee.com), a website Chou recommends.
• White pepper: With its elegant taste, white pepper is used in Chinese and Japanese dishes, including marinades and stir-fries, and blends in well with seafood, sauces, and broths. For the freshest taste, buy white peppercorns and grind them in a pepper mill. "Ground white pepper is one of the most used spices in savory Taiwanese dishes due to its unique flavor and light color, so much so that it always has the front and center spot on my rotating spice shelf right by the stove," Chou says.
Korean Herbs and Spices
• Gochugaru: "If there's one go-to Korean spice dietitians should know about, it's gochugaru," says Maggie Moon, MS, RD, a brain health nutrition expert and Korean-American founder of Kimchi Curious, a website dedicated to exploring her cultural roots in the kitchen. It's a type of coarse Korean chili flake, and "What makes gochugaru essential and irreplaceable in Korean cuisine is that it provides smoky, almost sweet flavors, along with mild-to-moderate heat," Moon says. In addition to using gochugaru in tongbaechu kimchi (traditional fermented napa cabbage kimchi), oi-muchim (spicy cucumber salad), and spicy jiggaes (stews), Moon sprinkles it on eggs and watermelon; mixes it into dressings, sauces, and guacamole; and rubs it on vegetables before roasting. Moon warns, "Don't try to replace gochugaru with other chili flakes or powders, because the heat is nowhere near that of cayenne or crushed red peppers." In addition, powdered gochugaru also can be used to make gochujang, which is a Korean red chili paste that's perfect when added to a vinegar-based dipping sauce for vegetables or smeared into a lettuce wrap.
• Perilla leaves (kkaennip): Bearing resemblance to Japanese shiso leaf, kkaennip is related to the mint family, but with larger leaves and smoother edges. As Moon's favorite distinctly Korean herb, she describes the flavor as "Grassy, like something between basil and mint." Moon uses fresh perilla leaves in ssam (leafy wraps), kkaennip jeon (battered, pan-fried perilla with savory fillings), and chiffonade into salads. Moon recommends looking for perilla leaves at Korean grocery stores, Korean-owned bodegas, and Asian grocery stores.
Chinese Herbs and Spices
While Chinese cuisine varies greatly by region, here are some staples to get clients started:
• Black cardamom: As a main flavoring ingredient in slow-cooked, Sichuan-braised meats, black cardamom adds a smoky taste and is much different than green cardamom. Pods purchased whole and intact have the most flavor.
• Chinese mustard: This spicy variety of mustard has a bit of a horseradish taste. Rub dry mustard on meat or add it to stir-fries. Stir mustard paste into dipping sauces.
• Five-spice powder: Native to the Sichuan province of China, five-spice powder is comprised of cinnamon, cloves, fennel, Sichuan peppercorns, and star anise. This seasoning offers a convenient way to add a sweet, warming flavor to dishes such as chicken, noodles, and tofu.
• Orange peel: Dried or fresh, orange peel adds a bright and sweet taste to chicken, sauces, and vegetables, including broccoli and snap peas.
• Sichuan peppercorns: Technically berries, Sichuan pepper has a reddish-brown color and a flowery appearance. To prepare, first discard any twigs, then dry toast these "flower peppers" in a pan. Let cool, and then grind in a mortar.
Japanese Herbs and Spices
• Furikake: This Japanese seasoning blend contains nori (dried seaweed), sesame seeds, sugar, and salt, and often a type of dried fish, like bonito flakes. Furikake commonly is used as a garnish for rice, noodles, fish, roasted vegetables, and savory grain porridge.
• Sanshō: As a Japanese pepper with floral notes, sanshō is reminiscent of Chinese Sichuan pepper, except with more citrusy and grassy tones. In the book The Spice Companion, author Lior Lev Sercarz believes that sanshō works best in raw dishes or at the end of cooking.3 Use sanshō in dishes like chicken yakitori, miso ramen, and scrambled tofu, or simply have it on hand as a table condiment.
• Shichimi togarashi: This Japanese seven-spice tabletop blend offers heat, citrus, and umami all in one, adding a crunchy texture with red chili pepper, sanshō pepper, hemp seeds, poppy seeds, sesame seeds, ginger, citrus peel, and nori.
• Shiso: According to Moon, this Japanese variety of perilla leaf differs from Korean kkaennip, with its smaller leaves, jagged edges, and greater astringent flavor. Chou likes to include shiso in sauces, salads, and noodles and also pairs it with sashimi.
Considering Shelf Life
The shelf life of dried herbs and spices runs on a continuum, with ground ingredients losing their flavors the quickest and whole ingredients lasting the longest. While there are "rules" on the lifespan of herbs and spices, the amount of time can range from six to 12 months or even years due to different grind levels and storage environments.
Most importantly, store dried herbs and spices in air-tight containers away from heat, moisture, and light. If unsure whether a spice is still "good," give it the sniff test. A dusty or rancid scent signals that it should be thrown out. If you rub the spice between your fingers and it has no aroma, replace it.
Getting Started
Hopefully, this seasoning guide motivates dietitians and their clients to experiment with East Asian herbs and spices. If clients aren't sure where to start, suggest they add one or two new ingredients to their favorite recipes, and they may be amazed at how their dishes go from ho-hum to yum.
They'll never know where inspiration will find them, whether it be at their corner grocery store, Asian market, online store, or restaurant tabletop. May they keep an open mind and keep on tasting.
— Michelle Dudash, RDN, is a Cordon Bleu–certified chef, author of Clean Eating Kitchen: The Low-Carb Mediterranean Cookbook (Fair Winds Press, 2021), and creator of Spicekick Seasoning Mix, a line of nine gluten-free seasoning mixes with no added sugars for preparing easy, one-pot meals. More info is available at michelledudash.com.
References
1. Young G. Stir-Frying to the Sky's Edge: The Ultimate Guide to Mastery, With Authentic Recipes and Stories. Simon & Schuster; 2010.
2. Hom K. Ken Hom's Chinese Cookery: Spectacular Recipes Featuring Ease of Preparation Without Sacrificing Authentic Tastes. Harper & Row; 1984.
3. Sercarz L. The Spice Companion: A Guide to the World's Spices. Clarkson Potter; 2016.