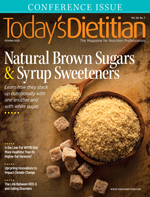 Focus on Fitness: Wearable Fitness, Wellness Technology
By Kelly Jones, MS, RD, CSSD, LDN
Today's Dietitian
Vol. 24 No. 7 P. 48
Pros and Cons for Clients
The wearable technology market is booming with brands continually improving their products' tracking features, since many Americans long for feedback on fitness, sleep, heart rate, and more. While having personal data at their fingertips sounds like a great motivator to engage in physical activity and get fit, is more information always better for helping our clients reach their health and fitness goals? As dietitians look to support their clients, it's important to understand the benefits and drawbacks of various types of wearable technology so you can offer suggestions on how to use data in a mentally healthy way.
General Benefits
Wearable technology has come a long way in a short time. Now, in addition to counting steps, most trackers come standard with the ability to measure distance traveled, heart rate, altitude, and estimate calorie expenditure, information that used to come at a premium with expensive fitness monitors from brands such as Polar. Others, including the popular Apple Watch, now offer information on blood oxygen levels, sleep quality, fall detection, and even VO2 max.
Dietitians seem to be most fond of general movement and sleep data, while informing clients that calorie and weight-focused data often are inaccurate and less important. Jennifer Fiske, MS, RDN, LD, a sports and wellness dietitian in Dallas Fort Worth, says the greatest benefit of trackers is awareness. "Making lifestyle changes requires baseline information, and wearable technology can make this easier to identify," Fiske says. "Active gymgoers may be sedentary at work and home, while I've worked with elite athletes who are very active but don't sleep well. We can create realistic personalized goals and track trends in progress."
Laura Ligos, MBA, RDN, CSSD, an Albany, New York-based, author and owner of TheSassyDietitian.com, a private practice specializing in one-on-one coaching, media and brand partnerships, and group programs, also sees benefits gleaned from information on movement and sleep. "Wearables can be great for people to check in with their body and prioritize movement," Ligos says. "For many of my clients, reminders to move or get to sleep on time have motivated them to change habits they have struggled with." While the goal of 10,000 steps per day isn't rooted in science, a recent study tracking several thousand adults for 11 years found 7,000 steps per day to be the point that reduced chances of premature death by 50% to 70%.1 "Most people don't move much outside of planned exercise, so wearables can help reach a more functional step count for their health," Ligos adds. This may encourage people to get outside, which itself is shown to improve mood and reduce stress.2
Dietitians can suggest active clients, who aren't athletes, save their money and skip purchasing the Apple Watch or other more sophisticated devices that provide data such as VO2 max. Ligos says "more data isn't always a good thing for individuals who can focus on the basics, such as eating more vegetables, increasing steps and sleep, and managing stress."
Accuracy of Wearable Devices
Data on the accuracy of wearable fitness technology vary among studies and different models of similar devices. Just as health care professionals monitor biometric data, RDs can evaluate the trends wearable trackers provide and assess how the information fits into a client 's wellness plan. Fiske says she values trends since "the accuracy of most wearable technology depends on several factors, including appropriate use of the device itself. A person's build also can impact accuracy. I've seen wearables inaccurately track steps for a shorter client compared with a taller client."
Ligos agrees, stating that she usually discourages clients from relying heavily on certain information. "Every wearable device has its flaws, and I remind my clients that they're not perfect tracking devices, only one tool in your health toolbox," Ligos says. "Calorie output, for instance, can vary greatly between devices. As some of my clients get wrapped up in these data, I never recommend looking at calorie recommendations from the wearables."
Population Specific Applications
For endurance athletes looking to measure effort, devices with chest strap heart rate monitors likely are the most accurate during intense activity, which is why options from Garmin or Polar maintain their status in this community. The Whoop tracker, which is pricey due to its monthly fee, also offers information on "strain" and recovery by assessing heart rate variability during exercise and the rest of the day, including during sleep. For those that tend to push fitness too far, the device's information can encourage increases in rest and recovery days.
Some wearables feature real-time notifications on irregular heartbeat, heart rate, and blood oxygen levels, which may be helpful for heart disease patients even though they may not be as accurate as those from their doctors. Some new watches, such as the Yamay smartwatch and Popglory smartwatch, also measure blood pressure. Dietitians can discuss these devices and the features they offer with clients but also should recommend they discuss their usage and data with their cardiologists.
Other groups that may benefit from wearable technology are those recovering from injury or surgery or who have limited mobility. If health professionals have access to movement information remotely, they can monitor their patients' progress, which will help improve discussions during in-person office visits. Such a scenario also is helpful for telehealth patients who can't come in to see a physical therapist or doctor for their care or treatment.
Some sensors that measure range of motion and are used on athletes are considered too expensive for the general population. However, as technology advances and more data are collected, health care companies may cover the cost of using such devices if they're shown to improve compliance with cardiac rehab or physical therapy programs.3
When Technology Goes Too Far
For clinicians who don't have experience working with disordered eating or haven't explored the harms of weight bias in health care,4 recommending trackers may seem like a no-brainer. However, when devices are connected to the body while sending alerts through smartphones, some individuals may become distracted from other priorities and their body's cues. This can lead to a preoccupation with the outputs, such as "closing the rings," or completing daily challenges that aren't personalized to meet their goals. "If clients become obsessive, then the stress isn't worth the wearable," Ligos says. Studies have shown the effects of chronic stress on brain structure and how they negatively impact immune responses, heart health, and more.5
Clients don't need a history of disordered eating or weight stigma for information to lead to negative behaviors. For example, the Amazon Halo has a function that translates a full body scan from a smartphone into an accurate depiction of body fat percentage. Not only is accuracy problematic but so is the idea that a lower body fat is always better for one's health. The device's "visual fitness assessment" also attempts to rate fitness and provide a custom fitness program. Without other assessments and oversight from a professional, these recommendations and programs can be harmful.
According to Fiske, the trend in tracking fitness, weight, and overall health also goes too far in the pediatric population. "Kids love technology, but don't need to constantly track activity or weight," Fiske says. Eating disorder risk is highest between the ages of 12 and 25, and as technology use has risen since the onset of the COVID-19 pandemic, so have the incidence of eating disorders.6 As a dietitian and mom, Fiske says, "It's important to let kids be kids. Adults can encourage positive behaviors, including fun physical activity and balanced nutrition without focusing on data."
Counseling Clients
Whether RDs should recommend or discourage the use of wearable technology depends on the population they work with and the individual clients. For example, while many athletes can benefit from some data, this population has an increased risk of disordered eating and eating disorders. Similarly, patients with heart disease may benefit from reminders to move and sleep more, but since stress is a large risk factor for heart disease, it's critical these individuals don't become obsessive with the information. Moreover, dietitians must recognize that many individuals who use wearable technology are more affluent and have better access to a variety of nutrient-rich foods, the ability to safely exercise, access to preventive health care, and lower stress levels. Consider these factors when recommending devices and using device data to manage their overall health. RDs who work with clients who wear tracking devices shouldn't shy away from discussing them. In fact, dietitians should consider including a section for fitness tracking usage on intake forms as a means to begin a dialogue, which may start and end with reminding clients that no device is perfect. Fiske says, "The key to using data from wearable technology is to consider it alongside other data. Energy levels, sleep quality, quality of workouts and recovery, and ability to focus are examples of subjective data to consider. No singular piece of data tells the whole story."
— Kelly Jones, MS, RD, CSSD, LDN, is a board-certified specialist in sports dietetics and a media and nutrition communications expert who's regularly featured in broadcast, print, and digital media. She founded and oversees her private practice Student Athlete Nutrition, where her dietitians work with athletes at every level in individual and group settings.
References
1. Paluch AE, Gabriel KP, Fulton JE, et al. Steps per day and all-cause mortality in middle-aged adults in the coronary artery risk development in young adults study. JAMA Netw Open. 2021;4(9):e2124516.
2. Gladwell VF, Brown DK, Wood C, Sandercock GR, Barton JL. The great outdoors: how a green exercise environment can benefit all. Extrem Physiol Med. 2013;2(1):3.
3. Vijayan V, Connolly JP, Condell J, McKelvey N, Gardiner P. Review of wearable devices and data collection considerations for connected health. Sensors (Basel). 2021;21(16):5589.
4. Alberga AS, Edache IY, Forhan M, Russell-Mayhew S. Weight bias and health care utilization: a scoping review. Prim Health Care Res Dev. 2019;20:e116.
5. Mariotti A. The effects of chronic stress on health: new insights into the molecular mechanisms of brain-body communication. Future Sci OA. 2015;1(3):FSO23.
6. Katzman DK. The COVID-19 pandemic and eating disorders: a wake-up call for the future of eating disorders among adolescents and young adults. J Adolesc Health. 2021;69(4):535-537.