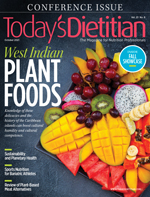 October 2021 Issue
Plant-Based Meat Alternatives
By Lori Zanteson
Today's Dietitian
Vol. 23, No. 8, P. 42
Today's Dietitian explores trends around this growing category and its expanding array of innovative products.
The new generation of plant-based meat alternatives is much more than the veggie burger of old. What was once a niche product intended as vegan or vegetarian fare is now mainstream and growing exponentially to the tune of a multibillion-dollar global market.
Plant-based meat is popping up on the menus of major chain restaurants, such as Burger King, Del Taco, and KFC. It has its own section in most supermarkets that's stocked with a wide variety of veggie-based alternatives from burgers to breakfast bowls. Consumer interest has spurred the success of well-known meat alternative companies, including Impossible Foods and Beyond Meat, along with big-name investors such as Bill Gates, and Evan Williams and Bi Stone, two of the cofounders of Twitter.
The booming plant-based meat alternatives segment is projected to continue global growth from $11.6 billion in 2019 to $30.9 billion by 2026 with a compound annual growth rate of 15%, compared with the meat sector, which is projected to grow at a rate of 3.9% with a market value of $1.14 trillion by 2023, according to a market analysis report by Statista.
In the United States, plant-based foods are a $7 billion market, growing nearly twice as fast as overall food sales. According to SPINS retail sales data released in April 2021, grocery sales of plant-based foods that directly replace animal products have grown 27% in the past year. Even major meat companies, such as Tyson Foods and Perdue, are investing in their own versions of meat alternatives. The result is an expansive sector of innovative products aimed at all consumers—vegans, vegetarians, flexitarians, and carnivores alike.
"A lot of factors contribute to the growing popularity of meat alternative products, such as the attention to the environment and evidence of the benefits of plant-based diets—it's good for health, for the animals, and the environment," says Julieanna Hever, MS, RD, CPT, known as the Plant- Based Dietitian, based in Los Angeles.
In fact, according to a market analysis report from Fortune Business Insights, consumers are attracted to meat alternatives because they consider them more healthful, sustainable, and eco-friendly.
In this article, Today's Dietitian provides an overview of the many plant-based meat alternative products on the market, explores how they're made and how they stack up nutritionally to meat products, and discusses whether these foods are healthful for consumers based on the latest research.
Plethora of Products
The selection of plant-based meat alternatives includes most every animal protein (beef, chicken, pork, seafood, eggs) in every meal category from breakfast to dinner—including appetizers and snacks. There are two main types of plant-based meat alternatives: veggie burgers and meals that are made with whole ingredients, such as beans, grains, vegetables, and herbs, and those that require more processing and include extruded, isolated ingredients to mimic the taste and texture of meat as closely as possible. This article focuses on trends within the latter category.
Beef Alternatives
While there are many products within the beef replacement category, here's a look at some of the most popular formulations.
• Impossible Foods' Impossible Burger Made From Plants is soy-based and sold in a 12-oz package for about $6. It looks, cooks, and tastes like ground beef, so consumers can use it to prepare tacos, meatballs, sliders, and chili. It's found in the refrigerated meat section in supermarkets.
• Kraft Heinz's Boca All American Veggie Burgers have 13 g of soy protein per patty and are sold in frozen packages of four for about $4.
• Gardein Beefless Tips by Conagra are a steak substitute clients can use in kebabs, stir-fries, and stroganoff. They're sold frozen in 9-oz packages for about $5.
Chicken Alternatives
This category is exploding in supermarkets and restaurants. Here's a glimpse at the latest trends.
• Quorn Meatless Nuggets are made with mycoprotein, not soy, which is important for people with soy allergies. The frozen nuggets are breaded with a meatlike texture and can be quickly cooked in the oven or microwave. A 10.6-oz frozen package sells for about $4.
• Gardein Meatless Chick'n Strips are sold frozen in a 10-oz package for about $4. It's recommended that consumers cook them while frozen in a lightly oil-coated stovetop pan, just as they would chicken breast strips. Individuals can use the strips in stir-fries and chicken salad.
• MorningStar Farms Veggie Original Chik Patties are sold in the frozen case in supermarkets in a 10-oz package of four for about $4. They're lightly seasoned with a crispy breading and are suited for burgers, sandwiches, and wraps. Clients can heat them in the oven or microwave.
• JADA Plant Based Mediterranean Chick'n Mix is a shelf-stable, dry plant mix consumers should combine with water and oil to form a mince they can shape into balls or patties to make kebobs, gyros, falafels, Greek salads, and more. The balls and patties can be pan-fried, baked, or grilled. The mix comes in a package with two 5.9-oz boxes that sell for about $20.
Pork Alternatives
A growing variety of alternatives to replace processed pork products is hitting grocery store shelves, including the following options.
• Beyond Meat Beyond Sausage Original Brat Links are sold in a 14-oz refrigerated or frozen package of four links for about $8. Made with protein from peas, brown rice, and fava beans, they can be cooked like pork sausage on top of the stove or grill, or in the oven.
• 365 Whole Foods Market Meatless Plant-Based Breakfast Patties are sold in a frozen 8-oz package of six patties for about $4. Clients can pan-fry, bake, or microwave them just as they would any breakfast sausage.
Seafood Alternatives
One of the newest plant-based alternative categories to hit the market is seafood. Here are some of the more popular products.
• Loma Linda Blue Sesame Ginger Fishless Tuna is sold in 3-oz pouches. Clients can use this shelf-stable tuna alternative just as they would real tuna fish: mixed into tuna salad, casseroles, or pastas.
• Gardein Mini Cr'b Cakes share the crisp breaded coating of their authentic seafood counterpart and pair well with cocktail sauce as an appetizer, tartar sauce as a main or side dish, or atop a green salad. Clients can prepare them in an air fryer, oven, or on top of the stove in about 15 minutes. An 8.8-oz frozen package costs about $5.
• Gardein F'sh Filets come in a 10.1-oz frozen package that sells for about $5. Coated in a light tempura batter, these vegan filets cook in 10 minutes.
Egg Alternatives
• Just Egg Plant-Based Patty comes in a frozen 8-oz package with four folded plant-based eggs for about $4. Clients can pop the patties in the toaster or warm them in a skillet, oven, or microwave to enjoy as is, with salsa or hot sauce, in a sandwich, or sliced in a stir-fry.
• The Neat Egg Egg Substitute is sold in a 4.5-oz shelf stable package that can make the equivalent of 18 eggs for about $6. Clients can mix the product with water to form the equivalent of one or more eggs to use in recipes where egg is used as a binder, such as in cakes, French toast, and meatless burgers.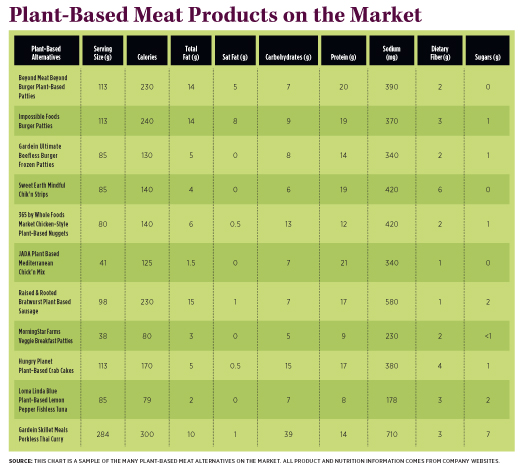 Click to enlarge
How Companies Make Plant-Based Products
Many plant-based products of the past were a relatively straightforward mash of vegetables and whole grains that included oats and beans. And many of these foods can serve as plant-based meat alternatives, such as tofu, tempeh, seitan, and pulses. Plants and fungi, including Portobello and oyster mushrooms and jackfruit, also became more common meat substitutes due to their similar texture to meats. The fibrous texture of mushrooms, for example, provide a fleshlike look and feel, and jackfruit's tender, stringy consistency is a common substitute for shredded chicken, pork, or beef. These plant-based products made with whole ingredients are widely available.
Processed meat alternatives that mimic meat have been around for decades, both in Asia and in the United States. However, new formulations have increased the acceptance of these products for consumers.
Companies such as Impossible Foods and Beyond Meat, which use food science to make plant-based meats highly similar, if not identical, to animal meats require a more complex and extensive processing method, with the goal of mimicking every characteristic of meat by replacing animal-based ingredients without sacrificing the overall experience of appearance, texture, flavor, and aroma.
The biggest challenge of creating a plant-based meat alternative is matching the appearance and texture of real meat. Some companies may add soy leghemoglobin to imitate the bloody appearance and taste of the heme iron in meat. Others may include extracts from red beets, red berries, carrots, and other similarly colored vegetables to give plant-based meat alternatives a reddish meatlike appearance. Methylcellulose often is used to give these products a meatlike texture, while flavoring agents are added to mimic the taste of cooked meat. To match the nutrient content of meat, manufacturers use isolated plant proteins (eg, soy, pea, potato, mung bean, rice, mycoprotein, wheat) and fortify them with vitamin B12, zinc, iron, and other nutrients found in red meat to provide similar nutritional content.
Because animal proteins are more elastic than plant cells, plant proteins are structurally altered with the use of heat, acid, solvent, or fermentation. Binders, such as xanthan gum, carrageenan, and methylcellulose, usually are added to hold plant proteins together.
Fat is another critical component to replicating the texture of plant-based meat alternatives. Animal fats generally are more saturated than plant-based fats, with the exception of coconut and palm oils, which are widely used as primary fats in faux meats. The saturated fat in coconut and palm oil lends a juiciness that's released at a slower melting point, similar to animal fat. Solid plant-based fats in faux burgers also have a similar appearance to the animal fat in meat burgers.
Nutrition Comparison
Choosing plant-based meats over animal meats may seem like a more healthful option, but it isn't always so clear-cut. While it's true faux meats are plant-based, many of which are made from whole ingredients, those designed to closely mimic meat are made with food isolates and extracts rather than whole foods, such as chopped mushrooms or black beans. The more processed varieties often include refined ingredients and can be high in sodium. And because they're often made with coconut or palm oil, they can be high in saturated fat.
"Plant-based meats are often ultraprocessed foods. They can fit into a healthful diet, but they're not necessarily a health food," Hever says. "Whole food is always better."
Many of Hever's clients are vegan, yet they present with similar health issues as carnivores because they're still eating a standard Western diet. Hever says highly processed foods aren't wholesome, even when they're plant-based, such as a plant-based burger from a fast food restaurant, despite its health halo. Though plant-based foods may be an alternative to a less healthful red meat fast food burger, Hever says, "they should still be considered treat foods."
Vandana Sheth, RDN, CDCES, FAND, a Los Angeles–based author, media spokesperson, and owner of Vandana Sheth, LLC, where she specializes in plant-based nutrition, agrees: "There are a lot of fake meat alternatives, but having the whole food is a better option than fake meat all the time. Having it occasionally is fine, but you don't want that to be your mainstay. It's a nice entry point for people to try, and then give them options to make things with beans and lentils and tofu," Sheth says.
Deciphering the Health Halo
Stanford University researchers sought to determine whether highly processed plant-based meat products, which often are high in sodium and saturated fat, are in fact healthful. In their randomized crossover trial, published in the November 2020 issue of The American Journal of Clinical Nutrition, the researchers asked one group of participants to eat at least two daily servings of primarily red meat and a second group to eat at least two servings of plant-based meat for eight weeks. Afterward, the groups switched diets. Participants who ate the red meat diet first had an increased level of trimethylamine N-oxide (TMAO), which has been linked with an increased risk of CVD, but when they switched to the plant-based diet, their TMAO levels decreased. Those who ate the plant-based diet first didn't experience increased TMAO levels, nor did those levels increase when they ate the red meat diet. In addition, both groups experienced lower LDL cholesterol levels of clinical significance while on the plant-based diet, and they lost an average of 2 lbs. While the results suggest plant-based meats may be a heart-healthy choice compared with red meat, more research is needed.
Another study, published online in the July 5, 2021, issue of Scientific Reports, compared the nutrient composition and the metabolites of commercially available plant-based meat alternatives with ground beef from grass-fed cattle. While the foods' Nutrition Facts panels appeared comparable, the products weren't nutritionally equivalent. Not every nutrition component appears on the label. Calories, protein, and fat are similar between the plant-based meat and the animal meat, but 90% (171 out of 190) of the metabolites were different between the grass-fed beef and the plant-based meat. The beef contained 22 metabolites th plant substitute didn't and included nutrients, while the plant substitute contained 31 metabolites that the beef didn't. The main differences were in the amino acids, types of saturated and unsaturated fats, saccharides, dipeptides, and phenols. Several metabolites of importance to human health were found exclusively in the beef and some were found exclusively in the plant-based meat. Researchers concluded that consumers shouldn't view these products as nutritionally identical and shouldn't determine that plant-based or grass-fed beef is more healthful than the other.
As more people begin eating more plant-based foods and cut back on red meat, plant-based alternative meats certainly can fit into an overall healthful eating pattern with an increasing variety of products. However, it may benefit consumers to gradually switch to more whole plant foods as they make the shift to plant-based eating—something dietitians are well equipped to discuss.
— Lori Zanteson is a food, nutrition, and health writer based in Southern California.