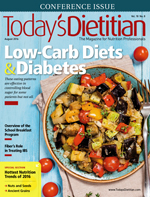 August 2016 Issue
Culinary Corner: Sweet Summer Corn
By Jessica Fishman Levinson, MS, RDN, CDN
Today's Dietitian
Vol. 18 No. 8 P. 66
It's in season, widely available, and nutritious, too.
One of the pleasures of summer is munching on row after row of sweet corn on the cob at a backyard barbecue. It's something I eagerly wait for all year long and can now celebrate, as fresh sweet corn is in season and widely available throughout the month of August.

Corn is a nutrient-rich vegetable clients can include in their diet all year, especially in the summer when fresh corn is abundant. One large ear of corn is a good source of fiber, vitamin C, folate, magnesium, and potassium.1 Corn is also a good source of lutein and zeaxanthin, phytonutrients linked to reduced risk of cataracts and macular degeneration, which are common in the aging population.2,3

Boiled or grilled corn on the cob is classic, but there are many more ways to enjoy this nutritious and delicious vegetable. You can add corn kernels to pasta dishes, bake them into corn bread and corn pancakes, or toss them into a salad. There are many variations of corn salad, but one of my favorites is Mexican corn salad, also known as esquites.

Esquites is a salad version of Mexican street corn, which is grilled corn on the cob served with a spread made of mayonnaise, cotija cheese, lime juice, and chili powder. It's a great side dish to serve to a crowd and much neater to eat than the on-the-cob version. It's full of flavor, but it also can be high in kcal, with anywhere from 120 to 300 kcal per serving. The lighter version of esquites here has 78 kcal per serving and is lower in total and saturated fat, too. Your clients can enjoy this Mexican corn salad with fresh corn through the end of the summer and make it all year round with frozen corn kernels.

— Jessica Fishman Levinson, MS, RDN, CDN, is a New York-based nutrition consultant, writer, and recipe developer, and the founder of Nutritioulicious (www.nutritioulicious.com).

References
1. Basic report: 11167, corn, sweet, yellow, raw. US Department of Agriculture, Agricultural Research Service website. https://ndb.nal.usda.gov/ndb/foods/show/2932?manu=&fgcd=. Accessed May 31, 2016.
2. Gale CR, Hall NF, Phillips DI, Martyn CN. Lutein and zeaxanthin status and risk of age-related macular degeneration. Invest Ophthalmol Vis Sci. 2003;44(6):2461-2465.

3. Delcourt C, Carrière I, Delage M, Barberger-Gateau P, Schalch W; POLA Study Group. Plasma lutein and zeaxanthin and other carotenoids as modifiable risk factors for age-related maculopathy and cataract: the POLA study. Invest Ophthalmol Vis Sci. 2006;47(6):2329-2335.


Recipe
Esquites (Mexican Corn Salad)
This lighter version of a classic Mexican street food is made with low-fat plain yogurt instead of mayonnaise to save on calories without sacrificing flavor.
Serves 8

Ingredients
Cooking spray or oil for grill grates
4 medium ears of corn, husks and silks removed (or 16 oz frozen)
1/4 cup nonfat plain Greek yogurt
2 tsp minced garlic
2 T lime juice
1/2 tsp chili powder
1/2 tsp kosher salt
1/3 cup chopped scallions
1 T minced jalapeño pepper, seeds removed
2 T chopped cilantro
1/2 cup crumbled cotija cheese (or feta)
Directions
1. Spray grill grates with nonstick cooking spray or brush them with oil. Heat grill to 400° to 450° F.
2. Place corn on the grill and cook 15 to 20 minutes, turning every 5 minutes until evenly grilled and kernels are tender. Remove corn from the grill and set aside to rest until cool enough to handle.

3. While corn is cooking and resting, whisk together yogurt, garlic, lime juice, chili powder, and salt.

4. Using a serrated knife, cut corn kernels off cob and place in a large bowl. Add scallions, jalapeño pepper, cilantro, and cheese to corn. Toss with yogurt sauce and season with more salt and chili powder if desired.

Nutrient Analysis per serving
Calories: 78; Total fat: 3 g; Sat fat: 1 g; Trans fat: 0 g; Cholesterol: 9 mg; Sodium: 231 mg; Total carbohydrate: 11 g; Dietary fiber: 1 g; Sugars: 3 g; Protein: 4 g