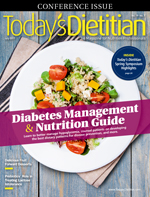 July 2017 Issue
Education: Engage Millennials in the Classroom
By Hadley Turner
Today's Dietitian
Vol. 19, No. 7, P. 14
Here's how dietetics educators are using social media, namely Twitter, in creative ways to effectively teach millennial students.
You'd have to live under a rock to not know it: Millennials are changing the way in which the world communicates. Sometimes referred to as Generation Y, millennials include those born between 1982 and 2004, according to the two researchers who coined the term, William Strauss, JD, and Neil Howe, MPhil.1
Generational labels aren't necessarily a predictor of behavior, but it's clear that millennials have been raised much differently than their predecessors. For example, while not all millennials are savvy with or reliant on technology, they all grew up in a world in which it was not only pervasive but also virtually unavoidable. Those on the college-aged side of this generation have had even more exposure to technology than their older millennial counterparts and have few memories of a world without smartphones (the first iPhone was released in June 2007) and social media (Facebook was founded in 2004, Twitter in 2006). With technology so ingrained into students' lives, it inevitably finds its way into the modern dietetics classroom.

Active Learning
"The millennial student has grown up with technology; it's always been a part of their life," says Mary-Jon Ludy, PhD, RDN, FAND, an assistant professor of nutrition sciences at Bowling Green State University (BGSU) in Bowling Green, Ohio. "So it makes sense that it would also be a part of their education."
Ludy and her colleague Carrie Hamady, EdD, RDN, LD, a nutrition sciences instructor and coordinator at BGSU and consultant in private practice, have been faculty advocates for technology in the classroom. Since 2013 for Hamady and 2014 for Ludy, they've used social media and other forms of technology in a variety of ways to engage their students.
Traditionalists might balk at the idea, but Hamady and Ludy see social media as another active learning tool for students. Active learning is an educational model in which students take part in activities such as discussions, experiments, writing, and problem solving that require them to analyze, synthesize, and evaluate information.2 Hamady believes active learning is particularly critical for her freshman students, who became accustomed to lecture-based learning in high school and may expect information to be "transferred to them," she says. "I want them to realize education is a two-way street. I want them to be curious, to ask questions."
Ludy also points out that everyone learns differently, so it's important to use mixed approaches to teaching. Engaging in a variety of learning methods also helps dietetics students in their future careers. "When students leave their university or internship settings, they're not just working with millennials; they're going to be working with folks from Generation X, Boomers, the Silent Generation, and with people younger than them," she says. "They better be able to communicate with all of those people."
Reading, Writing, … Tweeting?
Hamady and Ludy's primary use of social media in the classroom has been what's called "microblogging," or Twitter chats. Twitter chats happen constantly all over the world. RDs may be familiar with #RDchat, which brings dietitians together virtually to discuss different nutrition topics. Anyone can participate simply by using or following the hashtag of the chat.
When assigning a Twitter chat, Hamady and Ludy use a hashtag specific to their class's session or to a topic they want their class to participate in. Ludy teaches a graduate seminar class in which students watch food documentaries, "some of which have a lot of junk science and unfounded beliefs in them. We have a microblogging discussion going [on Twitter] at the same time that the documentary is playing," she says. Through the Twitter chat, students may, for example, call out certain "facts" as untrue and link to an abstract of a PubMed article debunking the information.
In addition to microblogging assignments, Hamady uses Twitter to get students to pay more attention to current events and research updates in the field. "We're always trying to get students to read about the current headlines and research. Twitter's a really easy way to set that up" by having students follow @eatrightpro and various dietetic practice groups of the Academy of Nutrition and Dietetics, Hamady says.
Social media also broadens the classroom in ways that previously were impossible or prohibitively difficult or expensive. Ludy appreciates that from where their classroom is in Ohio, "I can have a guest expert from Australia [take part in our class] for free because all they have to do is join us on Twitter."
Professional Development
Josie Mansperger, a soon-to-be senior undergraduate dietetics student at BGSU, has developed her professional Twitter profile in her classes with Hamady, using her account to follow pediatric dietitians all over the country. "It can bring you to a lot of connections," she says.
For example, by following Hamady's suggestion to participate in a Twitter chat about the Ohio Academy of Nutrition and Dietetics conference in May, Mansperger connected with well-known pediatric dietitian Jill Castle, MS, RD, LDN, who presented at the event. Mansperger and her friends also created a promotional video for the conference, which the Ohio Academy tweeted. "It was cool to get connected with the conference before it even happened," Mansperger says.
This speed and breadth of networking and exposure would be difficult, if not impossible, without social media. And, according to a survey Ludy and Hamady conducted a few years ago, students often aren't aware of Twitter's professional uses before they take these classes.
"No one's probably ever spoken to them about how to use social media appropriately," Hamady says. "They've all been told, 'Don't do this, don't do that,' but they've never been told, 'Do this' or 'This would be a great way to use your social media.' We try to teach them how Twitter can be their personal learning network and show them that there are great dietitians and researchers that they can follow."
Hamady's and Ludy's dietetics students haven't only used Twitter to stay up to date on the latest research but also landed internships through the medium. When Ludy was in Washington, D.C., for a conference, she had her students take part in a Twitter chat with legislators, during which one of the students connected with someone from her hometown. When the time for her dietetics internship rolled around, the student reached out to this professional, who helped connect her to her internship.
In another case, one of Hamady's dietetics students was searching for a summer internship in her native Pittsburgh. Hamady recommended she reach out to Heather Mangieri, MS, RDN, CSSD, LDN, an RD Hamady had connected with over Twitter. As it turns out, the student interned with Mangieri for three summers.
Hamady says such experiences, while not directly resulting from the student's use of Twitter, illustrate the importance of social media networking and the opportunities it can lead to. "We've helped our students connect with other professionals that they wouldn't have otherwise connected with," Hamady says.
Becoming more tech-savvy also is beneficial for students entering an increasingly tech-oriented health care industry. "In the world of eating disorders, they're using text messaging and social media to connect with clients," Hamady says. "There's a lot of good research out there that shows these methods are helping clients. So by us helping our students become more tech-savvy and social media-savvy, we're really helping them put another tool in their toolbox for when they're professionals."
Getting Up and Running
For educators interested in incorporating more technology and active learning modalities into their classrooms, Hamady, Ludy, and Mansperger offer the following tips:
• Get comfortable. When Hamady and Ludy presented at the Food & Nutrition Conference & Expo™, educators expressed nervousness about using an unconventional medium in the classroom. Not all dietetics educators are "digital natives," and that's OK. "Use the technology yourself first and get comfortable with it," Hamady says.
• Team up. Ludy recommends finding a fellow faculty advocate. "I'm lucky enough to have Carrie down the hall," Ludy says, adding that she and Hamady can run to each other to collaborate on new ideas. However, Ludy says, one could just as easily find a partner in a dietetics educator from another institution (yet another use for social media).
• Be prepared. While much of this technology requires a trial-and-error approach, there are certain steps educators can take in advance to make the process go more smoothly. Ludy recommends ensuring that students who don't have the equipment to be on Twitter outside of the classroom know where they can access computers. She usually points them toward campus or public libraries.
• Start small. "You don't have to revamp your whole class," Ludy says. "Start with one activity where you are using social media or Twitter," and see how it goes.
• Don't be afraid to fail. "This is something we teach our students all the time," Hamady says. "If something goes wrong, it goes wrong."
• Do a trial run. Conduct a Twitter chat in class rather than making it a graded assignment from the get-go, Mansperger says. The educator can answer questions right in the classroom. "As a student, one of the main concerns [when I first began the assignments] was having only 140 characters and [figuring out] how to fit in everything you want to say, as well as what's appropriate to abbreviate and what isn't," Mansperger says.
• Experiment. Learn from mistakes and ask students for feedback. "I view education as an experiment," Ludy says, "and students are really respectful when you frame it in that manner. We teach our students to be scientists. If your experiment doesn't go well, how are you going to make it better next time?"
— Hadley Turner is a millennial and an editorial assistant for Today's Dietitian.

References
1. Bump P. Here is when each generation begins and ends, according to facts. The Atlantic. March 25, 2014. https://www.theatlantic.com/national/archive/2014/03/here-is-when-each-generation-begins-and-ends-according-to-facts/359589/. Accessed May 5, 2017.
2. Active learning. University of Michigan Center for Research on Learning and Teaching website. http://www.crlt.umich.edu/tstrategies/tsal. Accessed May 15, 2017.