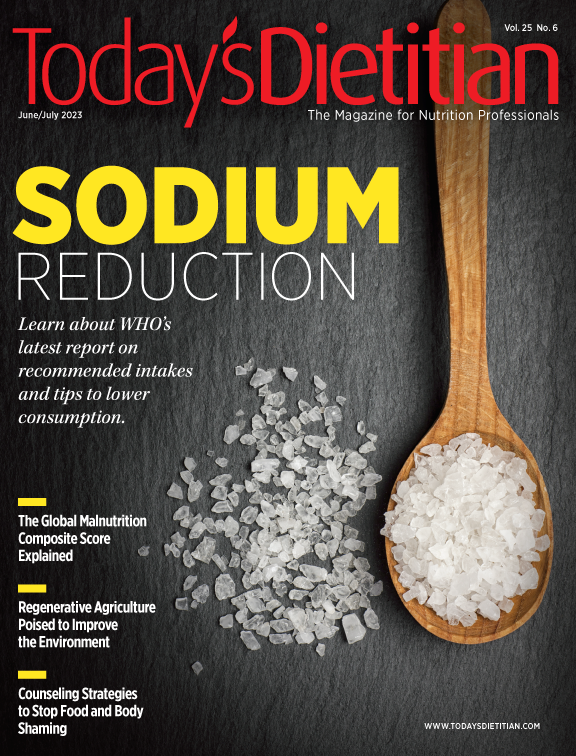 Cultural Foods: Culturally Diverse Packaged Foods
By Toby Amidor, MS, RD, CDN, FAND
Today's Dietitian
Vol. 25 No. 6 P. 10
Today's Dietitian examines this growing trend and its popularity among US consumers.
One of the biggest food trends of 2023 to receive much buzz at Natural Products Expo West in Anaheim, California, was the debut of a plethora of culturally diverse packaged foods that are making their way into mainstream markets.
Today's Dietitian explores this booming trend and why cultural foods have become so popular, and provides examples of these foods on the market, as well as expert strategies on how they can become part of a healthful eating plan.
Rising Popularity
International travel, immigration, and globalized trade are increasing worldwide. As a result, the interest in global cuisine has skyrocketed. In 2013, US retail sales of ethnic foods were $11 billion, and by 2018, they were estimated to generate more than $12.5 billion.1 The most popular foods were Mexican/Hispanic cuisine, followed by Asian heritage. Italian food also was popular, with almost two-thirds of US female consumers eating Italian cuisine at least monthly.1 A recent consumer survey found that having a good selection of diverse cultural foods is important for about 25% of respondents when selecting their primary grocery store.1 Another survey among US specialty food consumers found that 44% of respondents purchased Mexican food at retail stores that sold hard tortillas, soft tortillas, and taco kits, with Mission Foods, Inc, being the top vendor. In addition, Peruvian and Korean cuisine have started growing in popularity. For example, the company A Dozen Cousins sells Peruvian Pollo ala Brasa, a seasoning sauce for roasted chicken. McCormick has Peruvian seasoning for lamb, chicken bowls, plantains, roasted vegetables, and more. Some popular Korean foods available include O'Food's Garlic Tteokbokki, Korean rice cakes with red chili and garlic sauce, and Bibigo's Korean-based dumplings, sauces, and kimchi. According to Globe Newswire, there's a strong presence of Asian cuisine in the United States' ethnic foods market—such as Thai, Korean, Vietnamese, and Japanese—as consumers seek bolder flavors.2 The trend also is growing as more immigrants from Asia move to the United States and Europe compared with other areas globally.
Moreover, the Asian-Pacific region has a growing youth population that enjoys eating and experimenting with various interstate and intercountry food cuisines, which has created market demand, and foodservice operations and food companies have been responding. Furthermore, the greater use of social media among Indians and those in other countries has enabled consumers from around the globe to share their culinary experiences, encouraging people to try new food options.
These factors have led to increased availability and accessibility of global foods through ethnic food markets, restaurants, and packaged foods sold in grocery stores, further prompting food manufacturers to introduce international favorites that add variety, spice, and bold flavors.2 Some of the major companies that have been developing cultural foods include Ajinomoto Co, Inc; McCormick & Company, Inc; General Mills Inc; Associated British Foods PLC; Orkla ASA; ARYZTA AG; Paulig Ltd; Asli Fine Foods; Capital Foods (Ching's Secret); Charlie Bigham; The Spice Tailor; and Quality Ethnic Foods, Inc.2
RDs Weigh In
Vandana Sheth, RDN, CDCES, FAND, author of My Indian Table: Quick & Tasty Vegetarian Recipes (www.vandanasheth.com) was born and raised in India and moved to Los Angeles as a young adult. She has lived longer in the United States than in India and is proud to be an Indian American. Sheth weighs in on the growing trend of culturally diverse foods, saying that it's important to make these foods available to meet the needs of our changing population and changing palates. "I remember when I first came to the United States over 30 years ago. There were very few culturally diverse options in the regular grocery stores. I would have to travel far to an Indian grocery store to find them. Now, I can find a lot of products in my local store or at Trader Joe's," Sheth says.
Madhu Gadia, MS, RDN, CDE, author of New Indian Home Cooking and The Indian Vegan Kitchen (www.cuisineofindia.com) is an Indian American who grew up in Northern India. Gadia says the increased availability of packaged Indian foods is based on demand. As the population of Indians (and South Asians) increases in the United States, so does demand from many consumers for more variety of flavorful, spicy, and convenient global cuisine. "The companies are basically trying to reach a diverse population to increase their market share," Gadia says.
"As with other recent migrants, Indians and other South Asians tend to prefer foods they grew up eating," Gadia continues. "The number of Indian restaurants and Indian grocery stores in the US has increased over the last decade." She says the number of packaged Indian foods—shelf-stable, refrigerated, and frozen—has increased exponentially in the last decade. "There are two types of packaged products available today: recipe components/ingredients and complete meals/dishes. The recipe components, such as dosa dough, papri, idli, chutneys, roasted sooji (cream of wheat), and much more, are readily available and save time in meal preparation. There also are frozen ingredients such as paneer (Indian cheese), Indian vegetables, and coconut available." Frozen meals, naan, Indian flatbreads, snacks such as samosa, pakodas as well as mithai (desserts) are now abundant in many areas where they were scarce not long ago.
So what traditional foods do Sheth and Gadia keep in their homes? Sheth usually has frozen Indian vegetables, such as chopped fenugreek leaves, that aren't commonly available in conventional grocery stores. She purchases them online at ishopindian.com. Sheth also likes having ready-to-eat, shelf-stable, and frozen options at home.
Gadia started buying several conveniently packaged ingredients such as roasted sooji, roasted vermicelli (noodles), and chutneys and likes to have frozen naan, roti, parathas (Indian flatbreads), paneer, and samosas for convenience. "I have always searched for and purchased a variety of packaged Indian spicy snack mixtures, as I prefer them to chips and American snack mixes."
Examples of Culturally Diverse Packaged Foods
Some of the most popular, culturally diverse packaged foods presented at Natural Products Expo West in 2023 that have grabbed the attention of many health-conscious consumers include the following:
• Kevin's Natural Foods (www.kevinsnaturalfoods.com) sells a variety of culturally diverse packaged meals such as chicken tikki masala, Korean BBQ style beef, and Mongolian beef. Meals contain between 130 and 170 kcal per serving for the meat dishes and between 220 and 300 kcal per serving for the pasta dishes. Sodium content ranges from 20% to 30% of the daily recommended amount. The Korean BBQ Style Chicken per 5-oz serving contains 140 kcal, 3.5 g total fat, 0.5 g saturated fat, 20 g protein, 5 g total carbohydrate, 0 g fiber, 3 g total sugars, 2 g added sugars, and 520 mg sodium.
• Planet Based Foods (https://planetbasedfoods.com) produces plant-based meat using nutrient-dense hemp—drawing inspiration from Mexican culture. The company produces vegan Southwest taquitos that feature its crumble made with hemp. It also promotes its plant-based protein and products made from simple, clean ingredients that are non-GMO, soy-free, and gluten-free. Its Taquitos Original with Cheese (per 2 taquitos) contains 190 kcal, 11 g total fat, 2 g saturated fat, 4 g protein, 20 g total carbohydrate, 1 g dietary fiber, 2 g total sugars, and 250 mg sodium.
• Copper Cow Coffee (https://coppercowcoffee.com) makes high-quality, sustainable Vietnamese coffee and lattes using 100% natural ingredients. Products are available in major retailers nationwide, such as Whole Foods, Walmart, H-E-B, and Sprouts.
• Drink Sanzo (https://drinksanzo.com) sells a line of sparkling water that celebrates high-quality Asian flavors using real fruit and no added sugars. Flavors include yuzu with ginger, pomelo, calamansi, lychee, and mango. One can of Yuzu with Ginger (355 mL) contains 0 kcal, 0 g total fat, 0 g saturated fat, 0 g protein, 0 g total carbohydrate, 0 g dietary fiber, 0 g total sugars, and 0 mg sodium.
• Brazi Bites (https://brazibites.com) makes pão de queijo (bunlike cheese bread), which is stocked in every freezer in Brazil. The company uses simple, wholesome ingredients with nothing artificial, and the product is naturally gluten-free. The Brazilian Cheese Bread is available in Cheddar and Parmesan varieties. A three-piece serving contains 130 kcal, 6 g total fat, 2 g saturated fat, 3 g protein, 15 g total carbohydrate, 0 g dietary fiber, 0 g total sugars, and 260 mg sodium. In addition to the Brazilian cheese bread, the company also sells pizza bites, empanadas, and a line of breakfast sandwiches (inspired by Brazil's popular grilled cheese), which are promoted as protein-packed, gluten-free, and made with simple, wholesome ingredients.
• Tasty Bite (tastybite.com) produces authentic Indian cuisine, including entrees, rice, and bowls. Tasty Bite says its products are all-natural and/or 100% organic and non-GMO certified. Indian Madras Lentils (per 2/3 cup serving) contains 140 kcal, 6 g total fat, 3 g saturated fat, 6 g protein, 17 g total carbohydrate, 6 g fiber, 4 g total sugars, and 460 mg sodium.
Recommendations to Clients
Gadia and Sheth say that culturally diverse packaged foods can be included in a healthful diet when people take certain considerations into account. According to Sheth, "These types of options can be a part of a healthful eating plan with a little thought and planning." For example, Sheth says many of the shelf-stable entrees are high in sodium and inadequate in protein. "I love adding a side of veggies or a salad and serving the entree with a high fiber tortilla/bread and some Greek yogurt."
Gadia also warns that "for all packaged foods, culturally diverse or not … packaged foods are convenient but can be high in fat, salt, and sugar, and it's easy to eat too much."
As a result, it's important for RDs to ask clients about the cultural cuisines they purchase. Even if companies claim "clean" or "fresh" ingredients, it's critical to review with clients how to read the nutrition facts panels to ensure overconsumed nutrients such as added sugars, sodium, and saturated fat are within reasonable limits. Finally, if packaged foods have insufficient amounts of protein or vegetables, RDs can help clients plan meals and snacks with complimentary foods to help establish balance in their diet.
— Toby Amidor, MS, RD, CDN, FAND, is founder of Toby Amidor Nutrition (tobyamidornutrition.com) and a Wall Street Journal bestselling author. She's written 10 cookbooks, including the upcoming Up Your Veggies: Flexitarian Recipes for the Entire Family (October 2023) and Diabetes Create Your Plate Meal Prep Cookbook: 100 Delicious Plate Method Recipes. She's also a nutrition expert for FoodNetwork.com and a contributor to U.S. News Eat + Run and other national outlets.
References
1. Ethnic foods in the U.S. — statistics & facts. Statista website. https://www.statista.com/topics/2313/ethnic-foods-statistics-and-facts/#topicOverview. Published November 22, 2022.
2. Ethnic foods market is anticipated to register a CAGR of 8.33% during 2023–2028 — market size, share, forecasts, and trends analysis report by Mordor Intelligence. Globe Newswire website. https://www.globenewswire.com/news-release/2023/04/03/2639680/0/en/Ethnic-Foods-Market-is-anticipated-to-register-a-CAGR-of-8-33-during-2023-2028-Market-Size-Share-Forecasts-and-Trends-Analysis-Report-by-Mordor-Intelligence.html. Published April 3, 2023.