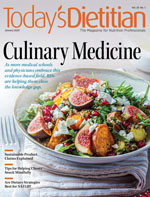 Culinary Corner: Pears
By Liz Weiss, MS, RDN
Today's Dietitian
Vol. 25 No. 1 P. 66
A Cold-Weather Favorite Fruit
In autumn and winter, when sweet, juicy pears are at their seasonal peak, they make their way into my family's fruit bowl. They're a delicious grab-and-go snack, but they also work wonders in a multitude of recipes, including salads and slaws, tarts and fruit crisps, and sandwiches and charcuterie boards.
Pears have a sweet spot in my heart. Back in the early 1980s, when I was a dietetic intern at the Oregon Health Sciences University in Portland, I remember taking weekend road trips to the Hood River Valley, where we'd drive by acres of beautiful pear orchards. They were something to behold. Pears are Oregon's official state fruit, but in the United States, they're also grown in Washington, California, Michigan, Pennsylvania, and New York.
As a dietitian and recipe developer, I appreciate the nutrient profile and versatility of pears. One medium pear has 100 kcal, an impressive 6 g fiber, and 8% DV of vitamin C. The peel contains antioxidants, including quercetin, which research shows may help to reduce high blood pressure and high cholesterol levels.1
There are 10 varieties of pears from which to choose. They vary in color, flavor, size, and texture. Bartletts are the most popular—when ripe, the juice will drip down your chin when you take a bite. Bartletts appear at the market as early as August and are followed by other varieties, such as Anjou, Bosc, Comice, Seckel, and Forelle, which last through winter. Choose pears that are still firm with a little softness around the stem. To ripen, store at room temperature until they yield to gentle pressure and smell sweet and floral. Once ripe, store in the refrigerator.
Pears are delicate—they're softer than apples—and pair nicely with cinnamon, ginger, allspice, and cardamon, as well as lemon zest, and vanilla and almond extracts.
To enjoy sweet, ripe pears all year long, choose halved, sliced, or diced canned pears packed in juice or a light syrup. Half a cup counts as one fruit serving. Canned pears are just as versatile as fresh, so your clients and patients can try them as a stand-alone snack or incorporate into smoothies and soups or main meals and desserts.
— Liz Weiss, MS, RDN, is a mom of two grown boys with a specialty in family nutrition and wellness. She shares recipes and healthful living advice on LizsHealthyTable.com and her podcast, EAT, DRINK, LIVE LONGER. Weiss is a cooking instructor, frequent lifestyle guest on TV shows across the country, and a Have a Plant Ambassador for the Produce for Better Health Foundation.
Pear and Berry Crisp With Pecan Oat Topping
Serves 6 to 8
Pears are wonderful in fruit-based desserts. For the filling in this simple pear and berry crisp, I prefer firmer varieties like Bosc and Concorde (although I've used Bartlett, which also works well) and convenient frozen mixed berries. The topping calls for whole grain oats, pecans, and olive oil vs butter. With just 1/4 cup brown sugar in the entire recipe, 6 g fiber per serving, and monounsaturated fats from the nuts and olive oil, encourage clients to give this better-for-you dessert a try.
Ingredients
3 large ripe pears, peeled, cored, and cut into 3/4-inch pieces, 3 heaping cups
One 12-oz bag frozen mixed berries (21/2 cups)
1/4 cup brown sugar, divided
2 T cornstarch
1 tsp ground cinnamon, divided
1/2 tsp ground ginger
1 cup quick-cooking or old-fashioned oats
1/2 cup roughly chopped pecans
A few pinches kosher salt
3 T extra virgin or pure olive oil
* Optional topping: Plain Greek yogurt or frozen vanilla yogurt
Directions
1. Preheat oven to 375˚ F. Place pears and frozen mixed berries in large bowl and stir gently to combine. (If there are strawberries in frozen fruit mix, place on cutting board and carefully cut each into thirds or quarters.)
2. Add 2 T of the brown sugar, cornstarch, 1/2 tsp of the cinnamon, and ginger, and stir gently until fruit is evenly coated and cornstarch dissolves.
3. Place fruit mixture in 8 x 8-inch baking pan or dish and set aside.
4. To make crisp topping, place oats, pecans, remaining brown sugar, remaining cinnamon, and kosher salt in a medium bowl and stir to combine. Add oil and stir until oat mixture is well coated. Spread topping evenly over fruit mixture.
5. Bake 30 minutes until topping is golden. Lightly cover with aluminum foil and cook 10 to 15 minutes more until fruit is tender and mixture is bubbling. Serve with optional toppings as desired.
Nutrient Analysis per serving
Calories: 217; Total fat: 9 g; Sat fat: 1 g; Cholesterol: 0 mg; Sodium: 27 mg; Total carbohydrate: 35 g; Dietary fiber: 6 g; Sugars: 18 g; Added Sugars: 8 g; Protein: 3 g
Reference
1. Li X, Zhang J, Gao W, Wang Y, et al. Chemical composition and anti-inflammatory and antioxidant activities of eight pear cultivars. J Agric Food Chem. 2012;60(35):8738-8744.