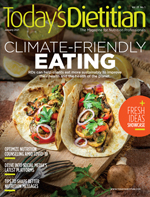 January 2021 Issue
Nutrition Counseling During COVID-19
By Densie Webb, PhD, RD
Today's Dietitian
Vol. 23, No. 1, P. 28
What's Changed and What's Remained the Same
We're in the midst of a global pandemic, with no end in sight. That fact has affected all aspects of our lives—and our futures. From employment, health care, and travel, to financial concerns, education, and socialization, everything has changed. It's no surprise that the pandemic has affected how your clients and patients obtain and prepare food, make their food choices, and determine how much they eat, as well as their ability and willingness to stay physically active. Many are stuck at home, working remotely or job hunting, while trying to wrangle and educate children via virtual classes. All these tasks seem to take a master juggler to keep all balls in the air.
Even if your clients were focused on eating healthfully before, worrying about how healthful their diets are now may be low on the list of things to plan and manage. Overeating is especially a concern, when boredom and stress offer a one-two punch that triggers cravings. If clients are home all day, the kitchen is just a few steps away and it may be stocked full with comfort foods or foods that are the easiest to prepare but may not be the most healthful to eat.
Customized nutrition counseling is needed now more than ever. Some dietitians are still offering in-person counseling with safety protocols in place, while others are offering only virtual counseling via programs such as Healthie, Kalix, SimplePractice, or Practice Better, and prerecorded videos loaded to YouTube or a combination of any of these.
Today's Dietitian speaks with several RDs who are offering nutrition counseling during the pandemic, and they provide insight, tips, and suggestions for helping clients and patients eat healthfully and manage their weight as they spend much time at home. While most dietitians say their basic advice to clients hasn't changed, their method of delivery has, and managing overeating triggered by stress has become the rule, rather than the exception.
Quarantine 15?
There has been talk in the media about the "quarantine 15," echoing the "freshman 15," which refers to the weight gain that often occurs during the first semester away at college. Melissa Mitri, MS, RDN, owner of Melissa Mitri Nutrition, LLC, in Milford, Connecticut, says there was much discussion on the quarantine 15 in the first couple of months after the pandemic started, but she says she hasn't heard as much about it recently. However, she has established a Facebook group (facebook.com/groups/1287973074745401) for weight loss support and accountability. Several RDs are in the group, as well as clients.
Lauren Harris-Pincus, MS, RDN, owner of Nutrition Starring YOU, LLC, in Green Brook, New Jersey, and the author of The Protein-Packed Breakfast Club, has a similar perspective. "I've seen more quarantine 15 talk from non-RD diet influencers and fitness platforms than from counseling dietitians. For the first few months, the weight management conversation was off the table for me. People were relying on inconsistent grocery delivery time slots and low supermarket stock on staple items." Some people, she says, gained weight due to emotional eating, constant kitchen access, and a lack of physical activity. Others lost weight because they were trying to conserve food due to a lack of availability or budgetary constraints. However, she says that around May or June, when the weather warmed up, people began to inquire about weight loss counseling again.
Lara Field, MS, RDN, owner of FEED Nutrition Consulting in Chicago, says her practice has seen a dramatic increase in overweight due to the pandemic. She says many kids, not just adults, have experienced weight gain. Among kids who had no weight concerns before, some have developed them due to increased screen time, lower activity levels, restricted access to sports teams, and an increase in "fun" foods in the house. "Kids are frustrated that life is not normal," she says, "and emotional eating has definitely increased in our practice."
With so much at-home time, food preparation has become more important, especially for clients with preexisting health conditions such as CVD, hypertension, or diabetes. "I'm noticing some patients are cooking more at home and have asked for more help with menu planning and recipes than in the past," says Alexa Sparkman, MA, RDN, LD, owner of Sparkman Nutrition, LLC, in Austin, Texas. While she says she noticed in the beginning of the pandemic that some of her patients experienced an increase in emotional eating behaviors related to food insecurity, isolation, and a fear of the unknown, she says that most of her current clients are learning to adapt to the changes.
Mary Donkersloot, RDN, owner of Professional Nutrition Services in Beverly Hills, California, also has had increased demand for help in the kitchen. "I do lots of menu planning, recipes, etc. People find them very helpful." She also emphasizes the importance of learning what the client's issues are. "Some people have issues with overeating, given the access to food and the lack of structure in their daily lives, but others are thriving, doing more cooking and less dining out."
Harris-Pincus says one of the overlooked side effects of the COVID-19 pandemic is the increased attention towards those with overweight and obesity as higher-risk individuals. "Weight stigma is so damaging and it has somehow become acceptable to fat shame people in the context of COVID-19 risk." She says her advice has remained the same—"Focus on patient-centered compassionate care to help them make healthful lifestyle and dietary changes that are sustainable."
Demand for Counseling: Virtual vs In-Person
Since the start of the pandemic, Mitri says she also has experienced more demand for nutrition counseling from people struggling with boredom and emotional eating and who were interested in strategies for weight loss. Now, she says, "more clients are looking to take advantage of the extra time at home to create a solid healthful eating plan." The pandemic and how it has affected a client's eating routines and meal schedules, she says, should be a part of the conversation during counseling sessions.
Sparkman also says her practice is busier than ever and her dietitians actually can see more patients virtually on a daily basis because they aren't limited by their physical space. Field says much the same about her practice. About 98% of her counseling is done virtually, though she says she does see a few clients in person, which she decides on a case-by-case basis. But, she says virtual counseling has enabled her practice to be more efficient, as she's better able to see additional clients in less time and has greater options for session times, since many are working from home.
Donkersloot says her counseling is now 80% Zoom, but she also sees some patients on the outdoor deck at her home.
Sparkman employs seven dietitians, and she says all but two are 100% telehealth. One of the two is an administrative dietitian, who's in the office 40 hours per week. The other sees a few clients face to face each week but, she says, the office has COVID procedures in place to keep everyone safe.
Harris-Pincus says her practice went 100% virtual in mid-March, and she says it will remain that way into 2021 at a minimum or until there's a widely available vaccine. She says that, for now at least, health insurance covers telehealth due to expanded telehealth coverage because of COVID-19. As a result, people have better access to practitioners whose offices may have been out of reach to them geographically.
John McWhorter, DrPH, MS, RDN, LD, CSCS, an assistant professor of health promotion and behavioral sciences and director of culinary nutrition for the Nourish Program at the University of Texas School of Public Health, and a spokesperson for the Academy of Nutrition and Dietetics, says, "Prepandemic, we held in-person culinary medicine classes with eight to 10 participants, cooking and eating delicious food. We work with populations at high risk of COVID, so an in-person culinary medicine class was no longer functional. We had to pivot all of our work to a virtual platform, but a lot of the communities we work with do not have reliable internet or devices to stream virtual sessions. To meet in the middle, we prerecorded culinary techniques and uploaded them to YouTube." His live classes/sessions are held via Webex, so participants can use video or a call-in option to join the sessions and work through topics in a "virtual group" environment, with a dietitian facilitating discussions.
Ideally, telehealth allows for easier coordination of group meetings via programs such as Zoom while still allowing for social distancing.1 However, lack of access to high-speed broadband services or wireless networks, as in McWhorter's case, can create a barrier for some clients. Poor connectively can cause poor communication. For more information on the use of telehealth to offer nutrition support, refer to the article on the topic published in the December 2020 issue of the Journal of the Academy of Nutrition and Dietetics.
"Though there's nothing like a person-to-person connection," Sparkman says, "virtual counseling has been very successful." Dietitians must decide what they and their clients feel will provide the greatest safety net.
Physical Activity
Just as meal planning and making healthful food choices have been challenging during the pandemic, so has finding creative ways to fit in physical activity. If clients frequented yoga or Pilates studios or worked out at the gym before the pandemic, they may no longer have this option. Whether that's due to COVID-19 restrictions, temporary closures, or a lack of financial resources to continue paying for gym memberships, dietitians have been called on to counsel them on other options.
Outdoor activities pose less risk than indoor activities, so walking, jogging, biking, hiking, and even exercising in the backyard are all options to boost activity without increasing the risk of coronavirus infection. Field says emphasizing physical activity always is important in her practice. "I try to suggest at least five hours per week of 'sweaty' activity," she says.
"Physical activity has been a topic of conversation more often during my client sessions," Mitri says. "Not only because it helps facilitate weight loss but also because it relieves stress and anxiety during this anxiety-provoking time."
The consensus among dietitians is that physical activity recommendations haven't changed. Physical activity always as been emphasized in counseling for overall health and wellness, but now it's important to assert that exercise supports the immune system. There are countless online routines and classes to choose from, many of which are free on YouTube.
Counseling Tips
The RDs interviewed have provided the following tips for counseling clients about weight management during the pandemic, whether in-person or virtual.
• Be realistic. Don't make recommendations that add more stress to your client's life.
• Ask probing questions to understand the barriers during this time. Listen more and speak less. Each client's circumstances are unique, as are their barriers to eating healthfully.
• Maintain regular contact with clients, especially with the use of telehealth. With regular sessions you can address issues as they arise, rather than waiting until the issue has reached a critical stage.
• Affirm your clients' current efforts, no matter how difficult their situation is, to help them stay motivated. Let them know healthful eating and weight management aren't an "all or nothing" proposition. Every positive choice is a step in the right direction.
• Encourage clients to keep moving. Sometimes all they need is a little nudge to begin thinking outside the box to come up with new, creative ways to remain active.
• Readjust goals. Bear in mind that even if a client's goal prepandemic was weight loss, weight maintenance may be a more realistic goal for them right now.
• Be prepared for clients' motivations to change month to month, week to week, and day to day as stressors shift up or down.
• Share your own stories with clients about how you're coping. We're all affected, so sharing can go a long way.
• Discuss how to manage cravings while working at home and being surrounded by food all day. It isn't just about getting kale and quinoa in your clients' diets. It's about decreasing the opportunity for temptations. Baking cookies with the kids may be a fun activity, but emphasize that it might not be the wisest choice if they're trying to prevent weight gain.
• Be more sensitive than usual. It's a stressful time for everyone, so empathy is more important than ever.
• Reinforce the tenets of healthful eating. Whether for weight management or preexisting conditions such as CVD, hypertension, or type 2 diabetes, dietary advice on what to eat and what to limit have remained the same.
• Emphasize a one-day-at-a-time approach and encourage clients to avoid becoming discouraged by focusing on the end goal. Help clients stay motivated and on track even though it seems there's no end in sight to social distancing precautions.
• Do some online research for specific exercise videos that would motivate clients based on their individual tastes and goals.
Weight management is difficult for clients in the best of times. The pandemic has increased that level of difficulty exponentially. For now, it may be more realistic to counsel clients about maintaining the status quo rather than working toward weight loss. During this time of COVID-19, offering a more realistically achievable goal offers better odds for success.
— Densie Webb, PhD, RD, is a freelance writer, editor, and industry consultant based in Austin, Texas.
Reference
1. Mehta P, Stahl MG, Germone MM, et al. Telehealth and nutrition support during the COVID-19 pandemic. J Acad Nutr Diet. 2020;120(12):1953-1957.