Web Exclusive
Vegan Yogurts: A Comparative Analysis
By Hadley Turner
It's no secret to nutrition professionals that veganism has become mainstream in the past decade or so. Plant-based cookbooks, vegan restaurants, and Meatless Monday programs abound, and clients are asking more questions about the value of plant-based diets. It behooves the dietitian now more than ever to be aware of the trends and nutritional needs of this growing group.
With dairy yogurt constantly touted as a health food, vegans are eager to reach for nondairy yogurt alternatives to achieve similar benefits. Many also are likely to have eaten yogurt before going vegan and crave that creamy, slightly sweet tang. And, of course, there's no denying the convenience of those little 5- to 6-oz cups.
What can make these products difficult to keep up with is that, unlike their cow's milk-based counterparts, their nutrient profiles can vary widely. This is in part because they're all made of different foods (including soy, almonds, and coconut), and companies have differing fortification processes (or lack thereof) that play a significant role.
Calcium and Vitamin D
Two nutrients of utmost concern for vegans are calcium and vitamin D. In omnivorous eaters and vegetarians, dairy products like yogurt are a common natural source of calcium and may be fortified with vitamin D, but nondairy yogurts must be fortified with both nutrients in order to contain them. Thus, RDs cannot take for granted that vegan clients will be getting a good source of calcium and vitamin D should they choose to consume nondairy yogurts. Some nondairy yogurts contain good to excellent sources of both of these nutrients, while others are fortified with just one of the two or neither.
"When plant-based [milks] are fortified, it's typically at the same amounts of calcium and vitamin D as cow's milk," says Kelly Pritchett, PhD, RDN, CSSD, a spokesperson for the Academy of Nutrition and Dietetics (the Academy). "For example, in a typical cup of soymilk, you would get around 300 mg calcium and 120 IU vitamin D." However, this is not necessarily the case for plant-based yogurts.
Vandana Sheth, RDN, CDE, a spokesperson for the Academy, adds that the bioavailability of calcium from fortification of plant-based dairy alternatives is somewhat less than the naturally occurring calcium in cow's milk (~21% to 24% vs ~32%). However, she also emphasizes that absorption rates from some calcium-rich vegetables are far higher than that of cow's milk, at roughly 53% for bok choy, 49% for kale, and 61% for broccoli.
(For more information about calcium and vitamin D in the vegan diet, read "Protecting Bone Health Among Vegans" in the February 2016 issue of Today's Dietitian.)
The Brands
So how do the most popular nondairy yogurt brands stack up against one another? After reviewing nutrient contents, no clear pattern seemed to emerge, even among yogurts made from the same base. (For reference, Yoplait Light, a popular brand of dairy yogurt, contains 90 kcal, 5 g protein, 10 g sugar, 150 mg calcium, and 80 IU vitamin D per 6-oz container.)
The soy-based Silk Dairy-Free Yogurt Alternative, likely the most well-known brand of dairy alternatives, is fortified, offering 200 mg calcium and 120 IU vitamin D per 5.3-oz cup. Sugar content (including naturally occurring sugars) ranges from 14 to 17 g. Silk Non-Dairy Yogurts are a good source of protein as well at 6 g per serving across all varieties.1
Stonyfield Farms' O'Soy is another common soy-based nondairy yogurt. O'Soy is fortified with 150 mg calcium but not vitamin D, so vegan clients would need to be certain to include a source of vitamin D in their overall diets to ensure proper calcium absorption. It's the highest in protein of all nondairy yogurts at 7 g per 6-oz serving, but it's also the highest in sugar (21 to 27 g, including naturally occurring sugars, depending on the variety).2
Kite Hill is a relatively new brand that touts itself as producing "artisan" almond milk yogurts, cheeses, and other plant-based dairy alternatives. Its Artisan Almond Milk Yogurt is unfortified, with no calcium or vitamin D. However, it's a good source of protein (5 to 6 g per 5.3-oz serving, depending on the variety) and is low in sugar relative to other brands (5 g in the plain variety and 14 to 15 g in flavored varieties).3
So Delicious Dairy Free, which makes a wide range of plant-based dairy products, offers two types of coconut-based yogurts: Cultured Coconut Milk (available in 5.3-oz cups) and Greek Style Cultured Coconut Milk (sold in 6-oz cups). These yogurts offer the most micronutrients per serving of all the nondairy yogurts Today's Dietitian compared, with each providing 300 mg calcium and 180 IU vitamin D. The Cultured Coconut Milk variety contains only 1 g protein; the Greek Style has 2 g. However, the Greek Style is among the lowest in sugar at 7 g in the plain variety and 11 to 12 g in the flavored varieties (including naturally occurring sugars). The Cultured Coconut Milk is higher in sugar, at 8 g in the plain variety and 17 to 20 g in most of the flavored varieties (which includes naturally occurring sugars). One flavor, Passionfruit Mango, stands out at 14 g sugar).4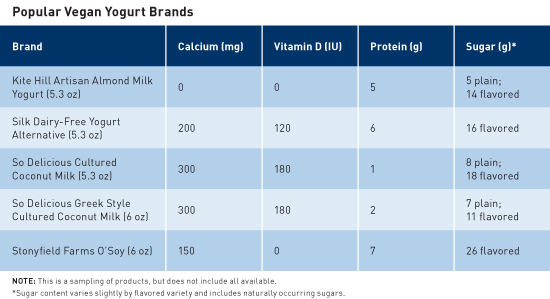 Tips for RDs
As with all clients, personal preference about brands and varieties is going to be a factor should they want to consume nondairy yogurt. When choosing between fortified and unfortified brands, Sheth says, "Typically, I provide my clients with the rationale for why a certain product would benefit them in better meeting their nutritional needs. However, if they aren't interested or amenable to trying it, we discuss alternatives with pros and cons."
Pritchett reinforces that there are also plenty of other plant-based options for calcium. "If [clients] are opposed to fortified options, encourage a diet rich in dark leafy greens, legumes, and almonds," she says. Clients would need to ensure that they consume supplemental vitamin D.
Something to also keep in mind is taste, as different brands of nondairy yogurt have different flavor profiles and textures; clients can love and loathe two seemingly identical (in nutrient profiles and ingredients) nondairy yogurts. But this is where RDs can help as Sheth reminds us: "Ultimately, it's the role of a dietitian to educate and empower clients to make food choices that maximize their client's nutritional and overall health."
— Hadley Turner is an editorial assistant for Today's Dietitian.
References
1. Dairy-Free Yogurt Alternative. Silk website. https://silk.com/products?category=413. Accessed February 18, 2016.
2. Products. Stonyfield Organic website. http://www.stonyfield.com/products. Accessed February 18, 2016.
3. Yogurts. Kite Hill website. http://www.kite-hill.com/our-foods/yogurts/. Accessed February 18, 2016.
4. Dairy free cultured. So Delicious Dairy Free website.
http://sodeliciousdairyfree.com/product_groups/dairy-free-cultured
. Accessed February 18, 2016.