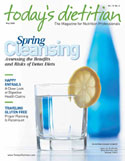 May 2008 Issue
RD Makeover: Career Edition! — Breaking Away From Traditional Dietetics Roles
By April Rudat, MS Ed, RD, LDN
Today's Dietitian
Vol. 10 No. 5 P. 50
Like an artist's palette, dietetics offers many colorful career options. From food stylists to playwrights, let the RDs featured here inspire you to explore new and unique paths in the field.
Clinical dietitians, foodservice managers, outpatient nutrition counselors, research dietitians, educators, consultants, and more. We are fortunate that our profession is not limited to one career path, and we can begin practicing in one area and then branch into an unrelated domain that better suits us. We can choose a position that meets our specific needs and make changes when the time is right. We have many career options, as well as opportunities to be creative and entrepreneurial. It is grand to be an RD.
But have you ever considered creating a new career in dietetics? Have you thought about the ways in which you may enhance your career based on your strengths? Have you contemplated combining your dietetics skills with a new skill set? Consider the following diverse and unique RD journeys; these stories may just spice up and enrich your career in dietetics.
Regulatory Performance Improvement Director, RD
Kessey Kieselhorst, MPA, RD, CDE, LDN, the director of regulatory performance improvement at Geisinger Medical Center in Danville, Pa., is one of the first RDs in the nation to hold this position. However, it took Kieselhorst many years of hard work to land her current job—she spent more than 14 years working as a clinical nutrition manager at two major medical centers in Pennsylvania.
When this position became available, Kieselhorst took a chance and applied. And it was a chance: Only registered nurses held this position in the past, and a nursing degree was listed as a requirement (for qualification) on the job posting.
With the mindset of a businessperson making a sale, Kieselhorst called the vice president of the department and asked whether she would be considered for an interview even though she was not a nurse. "I had all the other qualifications that were required, and after 16 separate interviews throughout the health system, I was offered the position," she says.
Kieselhorst strives daily to ensure that the hospital system is in compliance with The Joint Commission, the Pennsylvania Department of Health, the Centers for Medicare & Medicaid Services, and any other regulatory agency to which the hospital reports. "I am responsible for three hospitals, 40 community practice sites, two ambulatory surgery centers, and one drug/alcohol rehab facility," she says. "Our mission is to ensure patient quality of care and patient safety. I don't know what can be more meaningful than striving to achieve that mission."
Food Stylist, RD
In 2003, chef Stephanie Green, RD, taught nutrition-related cooking classes and conducted nutritional counseling in her Phoenix-based business. "As a business owner, I had my finger in all sorts of activities and volunteer boards," she says. And then came bad news: Green had breast cancer, and she eventually underwent a mastectomy.
"I was just so overwhelmed and had no energy left to give anyone else. I couldn't see clients anymore for nutritional counseling, and I couldn't lift heavy things as [required] in the culinary field, so I had to come up with a new plan," says Green. After conducting a live cooking demonstration on a local morning TV show, Green met a yogurt company representative and expressed a desire to take on food styling and recipe development for the company. A few months later, she got the phone call to begin the project.
With her culinary skills and her husband's professional photography background, she created a new business. Beginning with the RD credential and a diploma in culinary arts, Green enhanced her career by enrolling in a food styling course, a three-day workshop led by food stylist Lisa Golden Schroder.
In her current business, Nutrition Studio, she spends most of her time developing recipes and planning presentations. "Recently, I was working on new brownie recipes by day and guacamole by night," she says, "or I might be working with a cookbook author who needs the food styled for a TV appearance." Ultimately, Green spends her time preparing picture-perfect food, which her husband then photographs.
Green knew early on that traditional dietetics was not for her, but there are challenges in her line of work. "It's hard to be creative sometimes, especially when the deadline is looming," she says.
In addition, she shares the sentiment of many other business owners: When you work for yourself, balancing work and life can be difficult. "As fun as this all is, there are always dirty dishes waiting for you," she notes. However, she finds complete satisfaction in capturing the "hero" image, the photograph that elicits a "wow, that looks delicious!" reaction.
MD, RD
Starting down the same educational path as many RDs, Christine Gerbstadt, MD, RD, MPH, CSSD, CDE, achieved her RD status and a master's degree in public health. However, Gerbstadt's path changed when she decided to earn her medical degree with a residency in anesthesiology and a fellowship in pediatric anesthesiology.
And that wasn't the end of her education and training. Throughout her career, Gerbstadt has earned extensive medical and nutrition credentials and certifications and is also a spokesperson for the American Dietetic Association.
Currently the president of Nutronics, Inc. and The Anesthesia Experts, Inc., Gerbstadt works from home, at a client's preferred meeting place, or at other physicians' offices. She works with individuals, corporate clients, and pediatricians' offices to provide medical nutrition therapy, workplace wellness, and health promotion. A unique part of Gerbstadt's practice involves physician-directed nutritional assessments that include biochemical and medical studies.
Gerbstadt's latest career accomplishment is a professionally produced DVD about healthy eating, cardiovascular health, strength/weight training, yoga, stretching, and relaxation, with a bonus chapter on cooking with a five-star chef.
Playwright, RD
When Barbara Storper, MS, RD, was an intern at the New York City Board of Education and working on her master's degree in nutrition, she was asked to present a lecture on nutrition to an inner-city school in Brooklyn. Formerly a journalist, Storper was bothered and also inspired by the heavy marketing efforts of "junk food" advertisers. Like the food advertisers, Storper reached out to the children in "their language," involving all five senses in an interactive show. "I knew theater could be the medium that would speak to the hearts, minds, and spirits of children, and once I saw the reaction, I was sold," Storper explains.
Storper's talents—juggling, miming, puppetry, storytelling, and theater arts—came in handy. On that day in Brooklyn, instead of presenting a lecture, she performed a show featuring juggling, colorful characters, motivating health messages, music, magic, and audience participation. "We called the show 'FoodPlay,' and the rest is history," she says.
Not only did the 400 children in the audience have fun, but they also learned about nutrition. In addition, the board of education loved the show and proceeded to tour it throughout the city's schools. "Now, 25 years later, we tour several productions: 'FoodPlay' for elementary schools; 'This Is Your Life!' for middle schools; 'The Tobe Fit Juggling Nutrition Magician Show' for children and families; and 'Lil' Red Ridin' Thru 'Da Hood' (written by Caree Jackson) for urban youth," says Storper. "In the next year alone, we're scheduled to perform for over 800 schools, reaching over 325,000 children coast to coast."
Storper's programs have reached more than 3 million schoolchildren across the country, and Storper was asked to create a TV special, which earned an Emmy Award. The USDA and other sponsored evaluations have shown dramatic improvements in students' nutrition and health knowledge, attitudes, and behaviors after their participation in one of Storper's theater shows. "Over 75% of students surveyed reported increasing their intake of fruits and vegetables, reducing their intake of soda, reading ingredient labels more often, and trying to choose healthier foods [following a show]," she says.
Certified Lactation Consultant, RD
Rather than making a career change, Ginger Carney, RD, LDN, IBCLC, RLC, incorporated new skills into her clinical practice. About 20 years ago, Carney worked to establish a lactation program in her workplace while also working as a pediatric dietitian/lactation consultant. Now the director of clinical nutrition services at Le Bonheur Children's Medical Center in Memphis, Tenn., Carney recently hired an international board-certified lactation consultant (IBCLC) to work for her.
How did Carney make the transition from clinical RD to pediatric/lactation consultant RD? "I took my first [IBCLC] certification exam only the second year it was offered [1986]," she explains. "I also used my place of employment to obtain hands-on experience."
Even though she now works as the department director, Carney remains active in lactation management and breast-feeding promotion at work, in the community, and in local and national professional organizations. She has found it especially important to educate pediatric nutrition professionals about how to avoid conflicts of interest with companies who manufacture breast milk substitutes.
While Carney does experience the challenge of balancing administrative duties with breast-feeding promotion activities in her new position, she finds her work meaningful. Seeing mothers succeed at breast-feeding and reach their goals drives her to continue her work in lactation education. "I love educating healthcare professionals about breast-feeding and networking with others who feel as passionately as I do about the topic," says Carney.
Psychotherapist, RD
Do you provide nutrition counseling? Do you sometimes wish you had a psychology background so you could better understand your patients? Do you ponder the "why" behind your clients' eating choices? If so, perhaps additional education and training in counseling and psychology is for you.
To provide mental health counseling (eg, psychotherapy), one must obtain additional education and training to earn one of the following credentials: psychiatrist (MD), psychologist (PhD), or a master's degree toward the licensed professional counselor (LPC) or the licensed clinical social worker (LCSW) credentials.
Currently the chair of the nutrition and dietetics department at Immaculata University outside Philadelphia and an intermittent private practice licensed psychologist, Laura B. Frank, PhD, RD, LDN, CRC, has forged new paths in dietetics. Early in her career as a dietitian, Frank worked in many traditional settings. Realizing that she wanted more counseling skills to better help patients, she headed back to school full time and completed a second master's degree in counseling psychology and a doctorate in health education/counseling.
Following inpatient and outpatient work as a licensed psychologist, Frank combined work as a part-time private practitioner with a new career as a full-time faculty member in an academic setting.
In her private practice, Frank meets with clients in selected environments—in their homes, with their fitness professional or physician, or even in a restaurant or supermarket. She typically works with clients with dysfunctional eating patterns, attention-deficit or attention-deficit/hyperactivity disorder, stress management needs, bullying issues/assertiveness training needs, and body image issues.
In addition to nutrition assessments, Frank conducts assessments of eating patterns and behaviors, including the interaction of environment, mood, social situations, and work or school settings with food choices and mental/physical well-being. She also provides counseling or coaching sessions to assist clients in identifying eating, physical activity, and other behavior patterns; set goals for change; and modify behaviors to reach desired goals.
"It's very satisfying that I can help shape the future of the profession of dietetics through my teaching and mentoring and hopefully by demonstrating by example some of the many interesting paths a dietitian can follow," she says.
Lynn O'Hara, MS, RD, LPC, was becoming frustrated as an outpatient nutrition counselor. Her hospital system was undergoing a merger, so the outpatient nutrition program was under scrutiny—and the importance of her job became questionable. "Ironically, I had been questioning the worth of what I did as well," she says.
Working with many different clients, O'Hara began to notice a trend with those specifically seeking to lose weight. "Many wanted to lose weight in order to have a happier life," she says. "I felt unable to help these clients because the last thing they needed was another diet and more pressure to become thin."
Discovering that eating habits are a symptom of, not the answer to, problems, O'Hara researched nondiet approaches and began working toward her master's degree in counseling psychology to better help people achieve their nutrition-related goals. "I found I really enjoyed the psychological aspect of the work and decided to focus on that rather than educating people on how to change their diet," she explains.
Now, O'Hara focuses on helping people find contentment. She has found that once her clients seek happiness, weight loss seems to follow. "Instead of losing weight to become happier, my clients work toward happiness and then lose weight," she says.
Working in private practice, O'Hara sees clients with many different issues, including compulsive overeating and other nutritional problems with psychological origins. "Most of the work I do is on the emotional aspect of their lives, but I will incorporate nutrition education at times," she says.
Molly Kellogg, RD, LCSW, initially sought advanced counseling education to become a more effective dietitian; however, she ultimately decided to become a licensed psychotherapist. Now in private practice, Kellogg provides therapy for clients with a range of diagnoses, including eating disorders—she focuses on the nutritional aspects—and combined nutritional and mental health issues. In addition, Kellogg authored Counseling Tips for Nutrition Therapists: Practice Workbook, Volume 1. "At least half my time is now spent writing, doing supervision for other RDs, and speaking/training," she says.
In addition to her master's training and clinical supervision to become an LCSW, Kellogg is certified by the American Dietetic Association and the Commission on Dietetic Registration in adult weight management and attended a three-year training course on Gestalt therapy. Kellogg finds her new career meaningful since she can combine new knowledge, skills, and training to better help her clients and the RDs she trains.
Choose Your Own Adventure
As you can see from the previous examples, you can optimize your talents to take your career in amazing directions—and there is truly great versatility in our profession. Whether you wish to write a nutrition comic strip or play, create art out of vegetables, photograph food, or achieve a new degree or credential, career creativity and ingenuity can enhance your job satisfaction. To enhance your dietetics career, tailor your career to your interest areas, hone in on your strengths, and accomplish something extraordinary.
— April Rudat, MS Ed, RD, LDN, is a nontraditional dietitian who recently published her first book, Oh Yes You Can Breastfeed Twins!