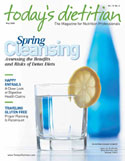 May 2008 Issue
Traveling Gluten Free: Proper Planning Is Paramount
By Carol M. Bareuther, RD
Today's Dietitian
Vol. 10 No. 5 P. 40
"Toto, I've a feeling we're not in Kansas anymore."

— Dorothy in The Wizard of Oz
This may be how your clients with celiac disease feel—like Dorothy in The Wizard of Oz—when traveling abroad. On one hand, celiac disease knows no boundaries, so kindred spirits abound worldwide. However, the local cuisine may present a challenge: a lack of gluten-free products and labeling differences that require research and planning before a trip.
A Global Condition
In the past, celiac disease was believed to affect people of European origin almost exclusively. New, simple, very sensitive, and specific serological tests such as antigliadin, antiendomysium, and antitransglutaminase antibody assays now show that celiac disease is common not only in Europe and among people of European ancestry but also in developing countries where the major dietary staple is wheat.1
"Celiac disease is indeed a worldwide phenomenon," says Peter H. R. Green, MD, director of the Celiac Disease Center at Columbia University in New York. "The occurrence is thought to be about 1% of the world's population, on average, and higher than this in regions such as southern Asia, the Middle East, northwest and east Africa, and South America, both in the general population and in groups at risk."
Unfortunately, gluten-free products are not necessarily universally available, despite the international incidence of celiac disease. In the review article "Celiac Disease in India," published in the September/October 2007 issue of the Indian Journal of Gastroenterology, the authors note, "Dietary management is often difficult due to nonavailability of labeled and marketed gluten-free foods."
Pretrip Planning
Research can be half the fun of traveling. But for people with celiac disease, it's essential.
Tricia Thompson, MS, RD, a Manchester, Mass.-based nutrition consultant, author, and speaker specializing in celiac disease and the gluten-free diet, recommends, "Check with the national celiac association in the country where you are traveling. They will be able to advise you on everything from the national labeling laws to where to buy gluten-free foods and tips for dining out."
There are more than 30 celiac associations in countries around the world, many with information-packed Web sites. For example, the Celiac Society of Italy (Associazione Italiana Celiachia [AIC], www.celiachia.it) provides information in English about its Eating Out Project. The project encompasses a group of venues—from pizza and ice cream parlors to bed and breakfasts—that offer gluten-free dining. To be included, foodservice personnel at these establishments are required to participate in a basic training course on celiac disease and the gluten-free diet taught by AIC personnel, use products approved by the Italian Ministry of Health and listed in the National Register of Gluten-Free Food of the Ministry of Health, and guarantee that no contamination with gluten takes place from the preparation process to service. A team of AIC tutors periodically monitors the venues.
Gluten-free meals served in Italy's eateries include pizzas topped with mushrooms, olives, artichokes, ham, fresh tomatoes, and mozzarella cheese and pasta with seafood. Many restaurants offer gluten-free appetizers and snacks as well, including breadsticks, crackers, and rolls. Pharmacies and major grocery stores throughout Italy also sell a variety of gluten-free products.
The Brazilian Celiac Foundation (Associação dos Celíacos do Brasil, www.acelbra.org.br) offers a drop-down screen on its Web site where stores selling gluten-free products are listed by city.
Coeliac UK's Web site (www.coeliac.co.uk) has an online shop where visitors can purchase the organization's 2008 Food and Drink Directory for $20 (£10). This directory, which is updated annually, lists some 11,000 gluten-free foods—from soup to ready-to-eat meals—available at major supermarket retailers such as Tesco, Sainsbury, and Marks & Spencer, as well as a variety of smaller grocers. Most supermarkets have a designated "free from" aisle containing foods that are suitable for people with various food allergies and intolerances. Free monthly updates to the directory are available via e-mail.
The Coeliac UK site also has an online "Eating Out Without" guide to gluten-free dining at restaurants throughout the country. This user name- and password-protected site is available only to members. However, an individual membership costs only $40 (£20) and would be worthwhile for someone planning frequent trips to or an extended stay in the United Kingdom. Dishes in the British cuisine that are likely to contain gluten include soups, dishes served in sauce or gravy, croutons, bread crumbs or rusk, sausages, pasta, batter, and pastries.
Finding gluten-free products in Denmark can be difficult, advises the Danish Coeliac Society's Web site (www.coeliaki.dk). Yet, the site lists brands to look for in-store, a baker who makes gluten-free breads and cakes that can be ordered ahead of time, and three e-shop addresses where additional products can be ordered and shipped to a vacation address.
The Coeliac Society of New Zealand's Web site (www.colourcards.com/coeliac) advises that the country's customs officers will allow visitors to bring in gluten-free pasta, bread, and snacks as long as the food is well wrapped, but fruits, vegetables, and meat products are not permitted, and hefty fines may be issued to those who attempt to bring these items in undeclared. The site also lists by region the phone numbers and Web sites of a dozen local manufacturers of gluten-free foods and restaurants that serve gluten-free fare. Finally, there's a link to New Zealand's Manufactured Food Database (www.mfd.co.nz), which provides a comprehensive online list of wheat-free, gluten-free, and low-gluten foods. The society offers this information in its Gluten Free Manufactured Food List, free to members or available for $8 (10 New Zealand dollars).
More universally, Thompson advises, "Know the language or at least a few key words like wheat or flour in the language spoken in the country where you're visiting. This will make dining out easier and safer."
Web sites such as www.celiactravel.com, www.glutenfreepassport.com, and www.triumphdining.com offer restaurant cards in a variety of languages. Clients can also make these cards using translation software.
Getting There
Major airlines worldwide offer gluten-free meals to their passengers. Like any special diet request, a gluten-free meal must be ordered in advance. Some airlines require 24 hours notice and others as much as 96 hours. Ideally, advise clients to order their gluten-free meal when they book their flight. The standard code the airline industry uses for a gluten-free meal is GFML, which indicates that no wheat, rye, barley, or their derivatives will be included with the meal. Clients should confirm this request directly with the airline a few days before traveling, at check-in, and once seated on the plane.
The selection and quality of gluten-free meals served on various airlines can vary significantly. Therefore, it's best for clients to pack ready-to-eat gluten-free snacks such as breads, crackers, rice cakes, cookies, nuts and trail mixes, energy bars, and chips. Clients should check customs restrictions regarding bringing food items into the destination country. Having these items confiscated on arrival defeats the purpose of packing them.
"You may want to carry a letter from your doctor that documents why you need these foods. Ideally, the letter should be translated into the language of the country you're visiting to make it easy for customs officials to read," Thompson says.
Decoding the Labeling Lingo
While it can be difficult to find gluten-free foods in some countries, especially those that are just realizing the prevalence of celiac disease, some nations have a wide range of products. When products are available, the key is to understand the labeling lingo.
Great strides have been made globally in food labeling over the past few years. For example, in December 2002, Food Standards Australia New Zealand introduced changes to its Food Standards Code, making it mandatory for common food allergens such as eggs, milk, peanuts, tree nuts, fish, soy, and cereals containing gluten, as well as products derived from these allergens, to be labeled on packaged foods. In 2005, the European Union Directive on product labeling required manufacturers to identify 12 common food allergens, including wheat and gluten. The first phase of the U.S. Food Allergen Labeling and Consumer Protection Act (FALCPA) took effect on January 1, 2006, and made mandatory the listing of any of eight common allergens in foods, including wheat, and ingredients that contained protein derived from any of these allergens.
What's currently in flux in the United States and abroad is the definition of gluten free in food labeling. On the home front, the second phase of the FALCPA will be finalized August 2, according to FDA spokeswoman Kimberly Rawlings. At that time, the FDA will issue its official definition for gluten free, along with a rule for manufacturers about how and when this label can be voluntarily applied to foods.
Once this rule is finalized, Thompson says, "A product labeled 'gluten free' and sold in the U.S. will contain less than 20 parts per million gluten. This applies to oats, gluten-free foods made using wheat starch and wheat starch hydrolysates such as wheat-based maltodextrin, wheat-based dextrin, wheat-based glucose syrup, as well as foods made using naturally gluten-free ingredients that may contain gluten through cross contact or contamination.
"This rule also applies to imported foods. If imported foods are labeled gluten free, they must comply with FDA regulations, including containing less than 20 parts per million gluten," she adds.
On the international front, labeling standards for gluten-free foods are moving closer to a universal definition. The Codex Alimentarius Commission, a Geneva-based international organization run jointly by the World Health Organization and the Food and Agriculture Organization of the United Nations, has scheduled adoption of the "Draft Revised Standard for Foods for Special Dietary Use for Persons Intolerant to Gluten" for July 7, 2008. What this latest version means "is that food products labeled gluten free, including those made from wheat starch, will contain no more than 20 parts per million gluten. For wheat starch-containing gluten-free foods, this is a much lower amount than the 200 parts per million gluten that was previously allowed by Codex," Thompson says.
There is also another category of foods designed in the latest Codex standard: specially processed to reduce gluten content to a level above 20 and up to 100 milligrams per kilogram. This category includes foods made from wheat, barley, rye, and crossbred varieties of these grains that have been processed to remove gluten and contain 20 to 100 parts per million gluten. Codex has not stipulated how foods such as this will be labeled.
"People traveling to Europe this summer may see foods labeled as gluten free that may still contain as much as 200 parts per million gluten per serving. A schedule for the implementation of the latest Codex standard has yet to be announced. What's more, member countries can choose to adopt this new standard or not or put their own versions into effect," says Thompson.
Looking at where the standards are headed, what does gluten free or 20 parts per million gluten mean? To put this amount into perspective, a 1-ounce slice of gluten-free bread containing 20 parts per million gluten provides 0.57 milligrams of gluten. Clients who require 1,800 to 3,200 calories per day should consume six to 10 servings of grains for good health. Assuming that each grain serving contains 20 parts per million gluten, this amounts to eating as much as 3.42 to 5.7 milligrams of gluten daily. Is this safe?
In 2007, Catassi and colleagues sought to establish the safety threshold of prolonged exposure to trace amounts of gluten. They did this by feeding 49 adults with biopsy-proven celiac disease capsules containing 0, 10, and 50 milligrams of gluten in a double-blind, placebo-controlled, randomized trial. The study participants maintained a strict gluten-free diet and were permitted to consume only specially marked gluten-free cereal foods that contained less than 20 parts per million gluten. Dietary gluten intake was estimated at less than 5 milligrams. Results indicated that there was a significant decrease in the villous height to crypt depth ratio in the intestinal tracts of the participants taking the 50-milligram capsule. However, there was no significant change in the ratio in the group taking the 10-milligram capsule.2
"Even if all of the gluten-free grain foods you ate contained 20 parts per million gluten," says Thompson, "and they probably wouldn't, you'd have to eat a lot more than the recommended number of servings to approach an intake of 10 milligrams of gluten."
Gluten-Free Grains and World Cuisines
There are numerous gluten-free grains that star in the world's cuisines. For example, corn tortillas and plain tortilla chips are staples in Mexico and countries in Central and South America. Rice, rice cakes, rice crackers, enriched white rice, brown rice, and 100% rice noodles are ubiquitous in Asian cooking. Amaranth, quinoa, millet, buckwheat, and teff are grains enjoyed globally that are generally considered to be free of gluten, although this isn't without debate.3
However, in the case of teff (Eragrostis tef), research published in the March issue of the Scandinavian Journal of Gastroenterology, "Tef in the Diet of Celiac Patients in The Netherlands," concluded that this grain could be a valuable addition to the diet of those with celiac disease. Native to the northern Ethiopian Highlands of northeastern Africa, this nutritious grain provides fiber, iron, calcium, and some protein, and travelers will see it on menus made into breads, breakfast cereals, and risottos.
Advance preparation is crucial for clients with celiac disease who wish to travel abroad and avoid health problems. This means visiting the Web sites of celiac associations in the destination countries for information about dining out and the availability of gluten-free products, learning what food product labeling in various countries means, and researching the local cuisine to see what grains are staples in the diet. By doing this, clients can enjoy their vacation and not feel like Dorothy in that "there's no place like home."
— Carol M. Bareuther, RD, is a U.S. Virgin Islands-based dietitian and a freelance writer whose articles have appeared in publications such as Cooking Light, Vegetarian Times, Caribbean Travel & Life, and Shape, as well as in numerous guidebooks. She has also published two books: Sports Fishing in the Virgin Islands and Virgin Islands Cooking.
References
1. Cataldo F, Montalto G. Celiac disease in the developing countries: A new and challenging public health problem. World J Gastroenterol. 2007;13(15):2153-2159.
2. Catassi C, Fabiani E, Iacono G, et al. A prospective, double-blind, placebo-controlled trial to establish a safe gluten threshold for patients with celiac disease. Am J Clin Nutr. 2007;85(1):160-166.
3. Food and Agricultural Organization of the United Nations. Report of the twenty-first session of the Codex committee on nutrition and foods for special dietary uses: Draft revised standard for gluten-free foods. Berlin, Germany. September 21-25, 1998.