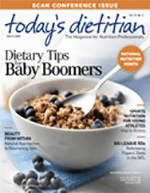 March 2008 Issue
Beauty From Within: Natural Approaches to Nourishing Skin
By Sharon Palmer, RD
Today's Dietitian
Vol. 10 No. 3 P. 50
Foods, supplements, and nutrient-infused topical products have arrived on the skin care scene in a big way, attracting those looking to improve their outer health and retain their youthful radiance.
The beauty biz is booming. Thanks to modern-day marvels such as BOTOX and microdermabrasion, women can retain their dewy appearance beyond the age of 35. Fifty has become the new 40 and 40 the new 30. Just gaze at the youthful countenance of Madonna, who will celebrate her 50th birthday this year, as an example of all that has changed.
Baby boomers are more confident as they age, often choosing to stay in the workplace rather than retire and willing to spend their extra dollars on themselves. They are motivated to embrace the inner wisdom they've gained, as well as preserve their outer radiance. The 30-something crowd is also fighting to preserve their youth, spending beaucoup bucks on products and procedures designed to defer the signs of aging.
Today's woman allots more time to grooming to reduce the visible signs of aging, according to the 2003 report "Fear of Aging" by Datamonitor. Older consumers are particularly open to adding dietary supplements as a health strategy, as well as investing in luxury skin care products that minimize the effects of aging.
However, this phenomenon is not limited only to females. Men are starting to realize that their appearance can improve their success in many aspects of their life. The Natural Marketing Institute's 2007 Health & Wellness Trends Report noted that men's personal care is the fastest-growing segment in the bath and body care category, driven by what they call the massification of metrosexuals.
The Buzz on the Beauty Nutrient Biz
Yesterday's skin care regimen for defying age was more focused on harsh, chemical-laden products or invasive procedures, but today's emphasizes natural, healthy approaches to antiaging. New terms are entering the lexicon, such as beauty foods, cosmeceuticals, and nutricosmetics, which refer to ingestible products in the form of foods, supplements, or beverages marketed specifically for beauty benefits. Ingredients in such products include botanical actives, enzymes, proteins, antioxidants, and vitamins. People are also chasing the beauty of nutrients in topical forms to give skin a more radiant, youthful glow. According to "Wellbeing: A Cross Category Approach to Nutrition, Health, and Beauty," a Business Insights report, consumers are demanding products that satisfy multiple health concerns, prompting a link between medicine, nutrition, and beauty.
And there's nothing novel about turning to nature's bounty for beauty. Many ancient cultures used foods and plants for health and beauty purposes. Cleopatra was famous for her camel's milk and honey baths. Ayurveda, an ancient holistic health practice that originated in India and involves the use of botanicals, oils, and massage, is enjoying increased popularity in the West. Today's cosmeceutical philosophy draws on ancient traditions updated with a dose of modern science to promote beauty from within.
"I have lots of patients who consistently ask me about complementary medicine, including nutrition, lifestyle, and daily habits. These days, everyone wants to look as great on the outside as they feel on the inside," says Sonia Badreshia-Bansal, MD, president and founder of Elite MD Advanced Dermatology, Laser, and Plastic Surgery Institute in San Francisco.
Cosmetic companies across the globe are awakening to huge opportunities. The nutricosmetics market demonstrates growth of 10% to 12% annually. America's obsession with youth will prompt the antiaging product demand to reach a projected $30.7 billion by 2009, according to the Freedonia Group, a market research company. Antiaging ingredients on the hot list include coenzyme Q10, soy and herbal extracts, lutein, lycopene, black cohosh, and red clover in dietary supplements and cosmeceuticals. While many companies specialize in cosmeceuticals, mainstream cosmetics companies are now adding wellness beauty lines to their product list.
Popping Beauty Pills
Consumers are eating up dietary supplements targeted for beauty benefits. Sephora, a retail beauty product supplier, lists pages of beauty dietary supplements on its Web site. N.V. Perricone M.D. Cosmeceuticals created Skin & Total Body Dietary Supplements with the tagline, "Specially formulated to work from the inside out, this nutritional system combines synergistic powerful antioxidants, B-complex energy enhancers, macrominerals, lipotropic factors, enzymes, and herbal extracts."
Injuv is a dietary supplement containing 9% low molecular weight hyaluronic acid, which is promoted to ward off the aging process by helping the body's tissues retain moisture and keep skin smooth and elastic. Murad peddles Optimal Health & Beauty Dietary Supplements that contain "key hydrating and cell-strengthening vitamins and nutrients that promote optimal skin health."
Functional Face Foods
The beauty buck doesn't stop at pill popping. Functional foods and beverages are being designed to keep the effects of aging at bay. The Japanese company Shiseido developed the Collagen EX Drink for Beautiful Skin, which purports to continue collagen growth and contains a balance of moisture ingredients to improve skin's suppleness. Health by Chocolate offers the organic Instant Bliss Beauty Drink "infused with skin-supporting cranberry seed oil for omega 3/6/9, blueberries, lutein, lycopene, beta-carotene, and astaxanthin for their antioxidant properties—you can indulge in a low-calorie chocolate drink and get the benefits of radiant, youthful skin at the same time." The company also makes Instant Bliss Beauty Bars, chocolate candy bars that are "the most delicious way to give yourself soft, smooth, luxurious looking skin."
BORBA Skin Balance Water, an "on-the-go, skin care-infused beverage, contains a revolutionary cultivated biovitamin complex along with a scientifically designed blend of nutrients intended to help skin regenerate its natural support system and improve clarity."
Slathering on the Nutrients
There is also a growing movement to combine oral dietary supplements with topical nutrients for an integrated beauty regime. Topical skin care products now boast a wide range of nutrients in their ingredient lists. Bare Escentuals' RareMinerals Skin Revival Treatment includes minerals derived from "untouched virgin soil and in potent powder form—the perfect nutrient carrier for vitamins A and C and a host of botanical extracts—[and] delivers benefits such as visibly reduced lines and wrinkles, reduced sun damage, more refined pores, brighter complexion, softer, smoother texture, less noticeable redness, and clearer and firmer-looking skin."
Peter Thomas Roth Pumpkin Enzyme Peel has "age-fighting antioxidants and vitamin A to help protect, nourish, and repair skin." Skinceuticals C E Ferulic is a combination antioxidant treatment containing L-ascorbic acid, alpha tocopherol, and ferulic acid that "enhances protection against damaging rays to better prevent signs of aging."
Beautiful Science
As we age, time continues its march across our face. Collagen and elastin—substances that give skin its firmness and elasticity—gradually decrease. Subsequently, skin becomes more loose, weak, and dry, as well as less elastic. As the fat pads under the skin begin to disappear, wrinkles form and the skin begins to sag. Genetic influences, cumulative sun damage, and direct effects from cigarette smoking and abrasive chemicals all take their toll on the skin. While we've known for decades how important nutrition is for maintaining healthy skin, little research has been done about the effects of diet on skin's aging appearance. But findings are trickling in that illuminate the roles nutrients may play.
Some studies have linked dietary patterns with less wrinkling. Using data from the National Health and Nutrition Examination Survey, researchers from Unilever examined associations between nutrient intakes and skin-aging appearance in 4,025 women aged 40 to 74. Dermatologists performed clinical examinations, and skin aging was defined as having wrinkled appearance, senile dryness, and skin atrophy. They discovered that higher intakes of vitamin C and linoleic acid and lower intakes of fat and carbohydrate were associated with better skin-aging appearance.1
In a study looking at food and skin wrinkling published in the February 2001 issue of the Journal of the American College of Nutrition, researchers determined that among four ethnic groups studied in a sun-exposed site, Swedish subjects had the least skin wrinkling. The study analyzed pooled data using major food groups and suggested that subjects with a higher intake of vegetables, olive oil, monounsaturated fat, and legumes and a lower intake of milk/dairy products, butter, margarine, and sugar products had less skin wrinkling.2
"As more research emerges, it is becoming increasingly clear that our food choices are very empowering and that we can increase our vitality and improve health from head to toe with our food choices. This includes skin," says Cheryl Forberg, RD, author of the upcoming book Positively Ageless: A 28-Day Plan for a Younger, Slimmer, Sexier You.
Recent research is zoning in on particular nutrients and their skin benefits. An article in a 2004 issue of the Journal of Cosmetic Dermatology reported that topical vitamins C and E and selenium protect the skin against sunburn, suntan, and skin cancer, as well as reverse the mottled pigmentation and wrinkles of photoaging. The author stressed that only certain forms of these labile antioxidants are stable and active after percutaneous absorption. Vitamin C must be nonesterified, acidic, and optimally at 20% concentration; vitamin E must be the nonesterified isomer d-alpha-tocopherol at 2% to 5% concentration; and selenium is only percutaneously absorbed and active when applied topically as l-selenomethionine, optimally at 0.02% to 0.05%. The skin attains higher antioxidant levels than can be achieved by only taking them orally. The level of vitamin C attained in the skin by topical application is 20 to 40 times that achievable with oral vitamin C. With topical application, the concentration of vitamin E in the skin increases by a factor of 10.6 and selenium by a factor of 1.7.3
Lycopene has been the star in several studies investigating its protection against UV radiation. In a 2003 study published in Nutrition and Cancer, researchers found the topical application of lycopene to exert a protective effect against acute UVB-induced photodamage.4
An oral supplement formulation (Evelle) that contained vitamins C and E, carotenoids, selenium, zinc, amino acids and glycosaminoglycans, blueberry extract, and pycnogenol (French maritime pine bark) was tested in a double-blind, placebo-controlled trial with 62 women aged 45 to 73. The researchers found that it improved skin elasticity by 9% after six weeks and reduced roughness by 6% after 12 weeks.5
There are too many studies investigating the potential skin benefits of a number of nutrients (eg, B vitamins, copper, alpha-lipoic acid, essential fatty acids, various antioxidants) to share in one article. Experts stress that the research on the antiaging benefits of nutrients is in its infancy. Badreshia-Bansal suggests using resources for complementary and alternative medicine available through the National Institutes of Health to stay on top of the findings, noting that "there are several topical and oral agents that are being studied to combat the signs of aging. Some that show the best promise include antioxidants and anti-inflammatory agents involved in sun protection. My favorites are vitamins A, C, E, [and] K, curcumin, green tea, pomegranate, soy, grapeseed extract, ginkgo, and fish oil."
According to the American Academy of Dermatology, nutrients that look particularly promising in fighting the signs of aging include tretinoin, a substance in the vitamin A family that has been shown to reduce fine wrinkles, splotchy pigmentation, and rough skin associated with chronic sun exposure; alpha hydroxy acids derived from fruit and milk; retinols of the vitamin A family; and topical antioxidants, especially vitamins C and E, which function to help cells repair damage caused by ultraviolet radiation and smoking.
Karen E. Todd, MS, RD, director of marketing for Kyowa Hakko, USA, an international health ingredients manufacturer, has more than 17 years of experience in the dietary supplement, functional food, and cosmetic skin care industries and recently spoke at the annual Health & Beauty America meeting in New York on cosmetics from a dietitian's perspective. Todd urges dietitians to be aware of the research about skin and nutrition, adding that "a few of the newer ingredients that have both efficacy in oral and topical use are coenzyme Q10, lycopene, L-hydroxyproline, and omega-3 and -6 fatty acids. All of these ingredients have tremendous benefits for one's skin—ranging from improving overall skin structure, antiwrinkling properties, UV protection, and moisturization."
Sifting Through the Hype
While some skin products appear to have reliable results, others may be marketed too vigorously. Badreshia-Bansal says patients and physicians have a difficult time sorting out which ingredients have proven scientific efficacy vs. those that have marketing hype, adding, "There is still lots of research to be done to substantiate most of the new nutritional and cosmetic products. The FDA is not involved in confirming that a product is efficacious. A product simply has to show that it is safe for topical or oral use."
So how can you unearth the true beauties at the cosmetic counter? "Many antiaging products make claims that are not scientifically validated. If a specific product is making a claim, look to see if the research has been published in a peer-reviewed journal," says Erin M. Welch, MD, assistant professor of dermatology at the University of Texas Southwestern Medical Center. According to Welch, a base of studies have proven that vitamins A and C can provide skin benefits, but it's a big stretch to take findings from a few laboratory studies on some topical nutrients and use them to substantiate a product that will produce results in people.
It may be easy for a dietitian to dismiss the plethora of beauty pills, foods, and ointments as nothing more than snake. But in doing so, a dietitian may miss out on an important part of the future practice of dietetics. "As a dietitian, instead of immediately throwing out the validity of products, one should review the science currently available and understand the new science that is emerging every day. The technology in scientific studies has changed over the years, improving our ability to see and measure improvement in skin quality. Skin is the largest organ of the body; what we put into our bodies will be seen on the outside. We care about nutrition and its role in the heart, liver, and kidneys, but what about the skin?" urges Todd.
"There is an inexplicable synergy when a variety of antioxidant-rich, nutrient-dense antiaging foods are combined in moderation. An antiaging diet rich in fresh fruits and vegetables, whole grains, cold water fishes, lean protein, legumes, traditional soy foods, nuts, and seeds is the easiest and most enjoyable way to protect your skin from the inside out," says Forberg.
As the public becomes more interested in the interface of skin and nutrition, they will hopefully seek out dietitians to help guide them. Will you be ready?
— Sharon Palmer, RD, is a contributing editor at Today's Dietitian and a freelance food and nutrition writer in southern California.
References
1. Cosgrove MC, Franco OH, Granger SP, et al. Dietary nutrient intakes and skin-aging appearance among middle-aged American women. Am J Clin Nutr. 2007;86(4):1225-1231.
2. Purba MB, Korris-Blazos A, Wattanapenpaiboon N, et al. Skin wrinkling: Can food make a difference? J Am Coll Nutr. 2001;20(1):71-80.
3. Burke KE. Photodamage of the skin: Protection and reversal with topical antioxidants. J Cosmet Dermatol. 2004;3(3):149-155.
4. Fazekas Z, Gao D, Saladi RN, et al. Protective effects of lycopene against ultraviolet B-induced photodamage. Nutr Cancer. 2003;47(2):181-187.
5. Segger D, Schönlau F. Supplementation with Evelle improves skin smoothness and elasticity in a double-blind, placebo-controlled study with 62 women. J Dermatolog Treat. 2004;15(4):222-226.