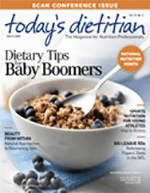 March 2008 Issue
A Spoonful of Anecdotal Advice: Teaching Valuable Lessons Through Storytelling
By Juliann Schaeffer
Today's Dietitian
Vol. 10 No. 3 P. 26
Have you ever experienced an awkwardly outlandish or particularly motivating moment with a client and thought, "If only someone else were here to see this!" Sharing client stories from throughout your dietetics career—be they sad, successful, or just plain comical—can create a camaraderie among coworkers that can teach lessons that wouldn't otherwise be learned.
In honor of National Nutrition Month, curl up with the following stories that six nutrition professionals have been kind enough to share. They may not begin with once upon a time, but there are some definite to do's (and to not do's) in this anecdotal advice.
Her story: Beverly Price, RD, MA, RYT, is a registered dietitian, an exercise physiologist, and a registered yoga teacher who specializes in the treatment of anorexia, bulimia nervosa, and compulsive and binge eating. She is also principal of Jump Start Consulting LLC, which specializes in management and marketing strategies for dietitians and other healthcare professionals, along with distance learning products for continuing professional education.
At her private practice in Royal Oak, Mich., she blends mindful and conscious eating with yoga in her counseling and support programs. With more than 24 years of private practice experience, she is also the coauthor of Nutrition Secrets for Optimal Health and the creator of the DVD Reconnect With Food...Unplugged!
Taking Back Control
"Julia has struggled with bulimia and is a standout in my practice, as she never loses sight of her recovery. She works at her recovery tenaciously through nutrition intervention, along with yoga and a mindfulness practice.
"Currently 38 years old, Julia grew up in a home where her mother controlled everything she ate. For one thing, she and her brother were not allowed to bring sweets into the house. Julia remembers visiting her aunt's house on a lake, and before she and her brother could leave the house to go swimming, they had to eat their protein with breakfast. Julia and her brother would sneak sweets into the house and hide them in their bedrooms. They looked forward to going to their dad's house where he and their stepmother had 'better food.'
"As a newlywed, Julia underwent the usual new marriage stress. However, in an attempt to gain control of what was happening in her life, her control extended to her food as she began binging and purging. Julia's bulimia also extended into exercise bulimia. Her sisters-in-law, concerned about her dropping weight, encouraged her to see a physician.
"From the physician's recommendation, she found her way into psychotherapy and began regular yoga and meditation practice. Julia also began consulting with me as a dietitian and was empowered to make balanced food choices, along with learning about mindful eating. Julia attended individual nutrition consultations, yoga, and group support programs, along with my eating disorder intensive week and weekend support programs."
Julia shares with readers, "Yoga has helped me gain control of my impulses when it comes to overeating. My daily meditation has helped me solidify the progress I am making toward more mindful food behaviors. I now use my intuition when it comes to making healthy lifestyle choices.
"Yoga has also raised my sensitivity level so I am able to curb cravings and choose foods that serve my highest good. I have also worked with Beverly as my registered dietitian and yoga teacher to understand how my relationship with food parallels other aspects of my life."
Her story: Carol Meerschaert, MBA, RD, is a freelance writer, a corporate consultant, and a lecturer in Pennsylvania. The story she shares is from when she was enrolled in the CUP program at the University of Texas Health Science Center at Houston. Postgraduation, she worked as a dietitian at a nursing home for six months and then accepted an oncology dietitian position at Pottstown Memorial Medical Center in Pennsylvania, where she stayed for nine months. Meerschaert eventually began a private practice in Maine where she counseled clients, taught cooking classes, and did freelance writing for 13 years.
Southern Comfort
"Before our first clinical rotation as student dietitians, we were given a stern lecture by our professors. We were told a cautionary tale of a student from the year ahead of us who cheerily bounded into a room with an 'isn't this a great day' greeting only to be told by the patient that it was not a great day because he had just been given a diagnosis of terminal cancer. We were warned to not repeat this mistake. This was afterward referred to as the 'don't be stupid lecture.'
"With this in mind, I went to Hermann Hospital's cardiology unit to see my very first patient, Mr. Smith, and get his dietary history. I read his chart and tried to see him at least five times over three days, but he was either not in his room or inside with the door closed and the doctors were talking to him. I was up against my deadline to report my progress back to the supervising dietitian.
"Finally, the doctors left, and the patient was in the room. I approached Mr. Smith, being friendly but not overly so, keeping the cautionary tale in mind. Mr. Smith was a large, strong, middle-aged Texan; he was over 6 feet tall and weighed more than 300 pounds. He sat on the bed in a pair of shorts with no shirt on. I asked him if this was a good time to talk regarding diet, and he said yes.
"I began my litany of student dietitian questions about his typical food intake, portion sizes of milk and chicken, how often he ate vegetables, and whether he ate fried foods. He was explaining that he usually ate at least half of a chicken at a sitting when this strong Texas man began to cry. I did not know what to do. I had only been living in Texas for a few months, but I knew it took a lot to make a grown Texan cry. I asked if I should leave, and he said no.
"Mr. Smith then told me that he had just been given six months to live. Three years ago, he had been admitted to this hospital with a heart attack. He underwent angioplasty and was told to make the usual lifestyle changes—low-fat diet, lose weight, get some exercise. He complied, and all went well for a year or so. Then he started to gain the weight back, and his arteries clogged up again. Now weighing more than before the first heart attack, he was told that his heart condition was too advanced, his arteries were totally clogged, and there was nothing else they could do for him.
"All I could think of is that I violated the 'don't be stupid lecture.' Here I was asking about the portion size of his chicken dinners when Mr. Smith was contemplating what to do with just half a year to live. I wanted to melt into the floor. We completed his diet history, and—thankfully—I did not make him cry again that day.
"I returned to his room later, and this time his wife was present. She greeted me with, 'So, you are the one my husband told me about.' She said she wanted to talk to me; I nearly had a heart attack myself. I stuttered and did not know what to do. I made her big, strong husband cry, and now I was going to pay the price.
"My fears were unfounded. Mrs. Smith explained that the first day I had visited, her husband indeed did just get news of his terminal condition. He called Mrs. Smith, but she was unable to come in because her car had broken down. Mr. Smith needed to talk to someone, anyone, about anything and not just sit on his bed alone. She thanked me for being there for her husband. She said I was so nice and pleasant that he felt better after our dietary chat.
"I share this story because it was such a great lesson that often our greatest gift to patients is not our stunning dietary advice or our knowledge of biochemistry or drug-nutrient interactions but our gift of compassion and our willingness to listen and to comfort."
Her story: Jenna A. Bell-Wilson, PhD, RD, CSSD, is currently a nutrition communications consultant in Massachusetts. Prior to her position as an assistant professor at The Ohio State University, she worked as a nutrition support dietitian for Coram Healthcare for two years and an HIV/AIDS dietitian at Southwest CARE Center in Santa Fe, N.M., for five years.
Attack of the Midday Munchies
"It is not uncommon to have clients where knowing better doesn't equate to doing better. These folks have the knowledge and understand how to eat well and reach their nutrition goals but something—even something seemingly unimportant—stands in their way. I had a female client who was quite clear about how to make nutritious choices and expressed a strong desire to, as she made excellent choices at breakfast, lunch, and dinner.
"Her challenge was twofold. First, she had very little weight to lose to hit her goal weight, but she was determined to rid herself of that last 10 pounds to fall within her goal weight range. The second obstacle was that she was convinced that she was starving around 3 pm every day, regardless of what she had for lunch, so she would 'graze' … starting with an apple and finishing her slow-moving picking party after approximately 500 to 600 calories had been consumed. As the weekly appointments progressed, it became evident that the midday feasts spawned from a full-course fear of actually feeling hungry, with a side of afternoon boredom.
"She has such a good attitude, and our conversations about this afternoon delight actually made us laugh on occasion. I pulled out all of my dietitian tricks to help her change her behavior but to no avail. One afternoon, around 3 pm, she sent me an e-mail simply stating, 'I'm hungry. Can I eat?' It made me laugh because I knew that she was hungry as well, so I promptly replied, 'No, go for a walk.'
"This went on for a few weeks, in addition to our regular visits. Then the e-mails stopped, the walks continued, the weight slowly decreased, and her 3 pm hunger was satiated."
Her story: Jessica Setnick, MS, RD, CSSD, has been a dietitian for 10 years, working exclusively with individuals with eating disorders and their families. She is chair-elect of the American Dietetic Association's (ADA) Behavioral Health Nutrition Dietetic Practice Group and the founder of Eating Disorders Boot Camp. She is also the author of The Eating Disorders Clinical Pocket Guide: Quick Reference for Healthcare Professionals and coauthor of The Eating Disorders Book of Hope and Healing.
Hard to Swallow
"Being a dietitian has led me to encounter things that I was never prepared for in school and that I never could have predicted. Every time I think I have heard it all, another patient presents something new that challenges my professional skills, my creativity, and sometimes, my serenity.
"Most recently, I was challenged with a young woman who presented upon referral from her psychotherapist, a social worker she had been referred to at discharge from an eating disorders treatment center. This patient, Brenda, denied that she had an eating disorder, a realization that occurred to her in treatment when she saw how 'skinny' the other patients were and compared her body, which she observed as overweight. Brenda weighed less than 100 pounds. Additionally, Brenda believed that one of the criteria for an eating disorder was refusing to eat certain foods. Because she ate freely and then purged by vomiting, she thought she did not meet these criteria and did not have an eating disorder.
"I decided that convincing Brenda that she did have an eating disorder was moot and chose to focus on what was personally motivating to her—the fact that she was ruining her teeth. Brenda reported that she had cracked a tooth, causing excruciating pain every time she vomited, but since she felt that she deserved the pain, she was not seeking dental care. She already had dental bills that she could not pay, yet each time she practiced her eating disorder, she knew she was damaging her teeth even more.
"As I continued to work with Brenda, she revealed that one day when she was vomiting after a meal, she swallowed the spoon that she was utilizing as a tool. This was three weeks ago, and she believed the spoon was still in her throat, as she could feel it when she threw up that day. When Brenda went to the emergency room with her sister, she was told that children swallow marbles all the time and that the spoon would probably pass. Brenda took from this that the spoon was in a safe place and didn't pose a problem. This meshed well with her belief that she wasn't sick enough to deserve medical care.
"I was angry. I called Brenda's primary care doctor while Brenda was in my office and left a message asking for advice. The doctor called back the next day to say that she had set up an appointment for Brenda with a gastroenterologist for that morning. I was thrilled.
"At Brenda's next visit, I expected her to tell me that her spoon had been removed. Instead, she told me that when she arrived at the gastroenterologist's office and was told that the procedure would last six hours, she left to go to work. I was confused. It seemed so important to me, crucial even, that Brenda have this spoon removed. I imagined all kinds of damage it was doing to her esophagus, which I imagined was already damaged by years of vomiting. I was concerned, and Brenda did not share my concern.
"This left me frustrated and feeling powerless, but discharging Brenda would not solve the problem. I was determined to see this through, even if it meant something terrible would happen to Brenda. I had to handle my own anxiety to be a good role model for my patient, so I talked with my dietitian support group and our supervisor, a psychologist, to get my bearings. I said good-bye to Brenda before she went home for the holidays, hoping it would not be the last time that I saw her.
"I am happy to report that while she was home, Brenda's mother took charge, and her spoon was removed via endoscopy while she was under general anesthesia. She continues to struggle with self-induced vomiting and—unbelievably—she still uses a spoon. I think it is accurate to say that the person who has learned the most from this experience is me. With each 'Brenda' who comes my way, I learn more and become stronger as a person and a professional, more confident in my approach and more convinced that I have certainly not yet seen it all."
Her story: Kindy R. Peaslee, RD, is the founder of Kindy Creek Promotions, a New York-based marketing firm specializing in the promotion of natural and organic food and beverage products. She has practiced as a registered dietitian throughout the United States in the field of clinical nutrition, public relations, and marketing and nutrition communications for the past 16 years.
An author, trainer, and wellness advocate for healthier lifestyles for families and children, she is a former Americorp volunteer who has worked with at-risk youths and has been featured on radio and television regarding child obesity. She has represented the New York State Dietetic Association as a media representative for health issues and has served on the executive committee of the Nutrition Entrepreneurs specialty group of the ADA.
Beauty at Any Size
"After sitting through hundreds of nutritional counseling sessions as an entry-level dietitian in the early '90s, I grew tired of diet instructions to patients already set up for failure with a strict meal plan that usually got lost on their refrigerator door. The moment I changed my philosophy on diet instructions came when I had an appointment with a teen girl and her mom.
"All the mom wanted was a diet for her daughter—some way to perfect her daughter to the world—and all the daughter admitted she wanted was a way to gain confidence, to convince her mom that she didn't eat that much, and to gain knowledge about what foods would give her endurance during school sports.
"Because of this session, I started to wish that our world of fashion would have clothing that is not numerically sized. I like the idea of Kevin Simon, a clothing designer and owner of Kevin Simon Clothing out of California, who started a unique labeling system for sizes on her creations. Sizes range from "a little little" and "a little" to "a little bigger." Her label designs state, 'Kevin Made It My Size.' Possibly, this would allow women to look forward to shopping without the harsh judge of a clothing size. Why should beautiful women who are talented and creative play 'follow the fashion police' and torment their souls just to be like everyone else? Self-esteem, confidence, and creating one's own style are more valuable than gold and rubies.
"I will never forget that early mother-daughter counseling session, which will always remain with me as a dietitian. It reminds me to keep up the good fight of teaching women and teen girls about leaving numbers on scales and clothing sizes behind. It is truly an opportunity to offer hope to a world of women and young girls who have never truly experienced beauty in a healthy way."
Her story: Rita E. Carey, MS, RD, CDE, works as a clinical dietitian and diabetes educator for the Pendleton Wellness Center, the preventive medicine department of Yavapai Regional Medical Center in Prescott, Ariz. Her department offers outpatient cardiac rehabilitation and diabetes education, as well as personal training and medical nutrition therapy. Primarily teaching diabetes, and cardiac nutrition and cooking classes, she also does individual medical nutrition therapy for diabetes and weight loss. Carey has past experience working as a clinical, renal, and community dietitian.
Teaching Older People New Eating Tricks
"I teach a series of nutrition classes to patients in a cardiac rehab program. The ages of participants range from 40-somethings to 80-somethings, with the majority being elderly. These folks grew up in a different era and spent their childhood on Midwestern farms where they became accustomed to the typical diet of the time—meat, potatoes, vegetables, and generous helpings of fat.
"When they are diagnosed with and treated for heart disease, diet is one of the first things they are admonished to change. Patients in my classes frequently express frustration and depression about changing their diets. In fact, a maxim commonly heard in class is, 'If it tastes good, spit it out!'
"In class, I empathize with everyone and acknowledge the challenges involved with diet or any other lifestyle change. I also push them, just a little at first, to expand their tastes and take on the challenge of creating healthier lives. Some continue to grumble, but I am always pleasantly surprised at the number of patients who take what they learn to heart and make changes.
"During one class, I prepared a number of unusual dishes at home and brought them to class. Steamed edamame, soy milk smoothies, and baked potatoes topped with a red pepper sauce were on the menu, along with other items. One particularly curmudgeonly fellow declined to taste anything until his wife and peers egged him on enough to finally sample a few things. I didn't note any reaction to the food from him, though others in the group expressed pleasant surprise and approval.
"A few weeks after that class, our curmudgeon pulled me aside as I walked through the fitness room. He smiled and whispered, 'You know, I really liked that red pepper paste. I put it on my potatoes instead of butter, and my wife can't make enough of it! … You can keep those green bean pods though!' he lamented about the edamame.
"In this business, you win some and you lose some, but the little victories sure are valuable!"
— Juliann Schaeffer is an editorial assistant at Today's Dietitian.
Client Memories
"I have a patient who wrote a love letter to Splenda before she poured it all down the drain because she used to wake up in the middle of the night to eat tons of it straight out of the box."
— Jessica Setnick, MS, RD, CSSD
"My 86-year-old patient looked at me like you'd admire a puppy trying to climb on the couch and replied, 'Dear, I don't care about how much calcium I have in my diet at this point; I just want to be able to taste my food.' I shrugged, lesson learned."
— Jenna A. Bell-Wilson, PhD, RD, CSSD
"I used to supervise a weight management center. I had a patient whose routine was to load up with food on the tollway oasis, have that food consumed by the next oasis, where he would reload and have that food consumed by the next oasis. This went on all day long as he traveled from Indiana to Illinois to Wisconsin. Just by skipping every other oasis, he lost more than 50 pounds in three months—the power of small changes!"

— David W. Grotto, RD, LDN, author of 101 Foods That Could Save Your Life! and president and founder of Nutrition Housecall, LLC