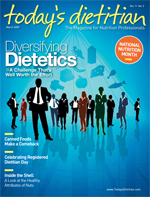 March 2009 Issue
Canned Foods Make a Comeback
By Juliann Schaeffer
Today's Dietitian
Vol. 11 No. 3 P. 44
Go ahead, canned peaches, and take your rightful place in a healthy diet. According to the experts, you have just as much reason to be there as your fresh friends.
While fresh is often an appropriate adjective applied to many RDs' recommendations regarding clients' fruit and vegetable intake, produce in canned form is making a comeback—and it's starting with chefs. Spring's bounty is yet to sprout, but certain chefs have been utilizing the fruits of last season's canning labor all winter long. A recent trend of some chefs to can or pickle seasonal produce for year-round use has cast canned goods in the spotlight and is highlighting the many benefits of fresh produce's oft-forgotten canned cousin.
Food Preserves in the Culinary World
"Most chefs rely on fresh, seasonal fruits and vegetables, but when nature brings in a bumper crop of high-quality produce, it makes sense to take advantage of the bounty," says Andrew Schloss, CCP, president of Culinary Generations, Inc and a spokesperson for The Canned Food Alliance.
Schloss cites condiments as an easy outlet for chefs looking to incorporate homemade preserves into their menus, such as cranberry ketchup at Strings restaurant in Denver, Georgia peach relish at South City Kitchen in Atlanta, and zucchini relish at the Butcher Shop in Boston. "Increasingly, I have seen many menus with housemade condiments taking advantage of fresh produce. All of these items could be easily canned, since their acidity, sugar content, or salt content would require minimal processing," he says.
One such restaurant displaying this culinary canning trend is the new Happy Noodle House in Boulder, Colo. Executive chef James Van Dyk spends much of his time at the local farmers' market and likes to can and pickle produce at the height of the season when plenty of produce is coming out of the garden. He enjoys the lowered costs that canning brings, adding that it can save the extra produce from going to waste.
James Lee, beverage director and bar manager at Happy Noodle House, illustrates how canning's value also carries over to cocktails. Lee believes that the only way to achieve a perfect cocktail is to use not only the finest spirits but also the freshest fruits and vegetables. As every ingredient is essential, he says, the cherry in your Manhattan should be one that is picked at the peak of its season. To preserve a cherry at its peak, this chef cans cherries in the summer and uses them year-round in cocktails such as Basil & Basil, Manhattan, Old Fashioned, and Aviation.
Sheila Weiss, RD, director of nutrition policy for the National Restaurant Association, says chefs' recent pull toward preservation stems from another hot trend of 2009: locally grown produce. According to the latest National Restaurant Association survey, chefs listed locally grown produce as the No. 1 trend, and Weiss says, "I think [the locally grown] trend would offer itself very well to this [preserving] trend. If chefs are interested in using locally grown produce, clearly that produce is not going to be available fresh all year round. So the fact that they're canning it and preserving it makes a lot of sense so that they can take some of those recipes and use them throughout the year rather than just a few weeks out of the year."
When chefs incorporate canning techniques to preserve seasonal produce, "They enjoy lower food costs, since they're buying local, in-season produce, and control of the canning quality in terms of taste and preservation, since they're canning the products themselves," says Jeannie Houchins, MA, RD, a food and nutrition consultant in Chicago. "Also, since chefs are canning or preserving the products themselves, it allows them to be more creative with the preservation ingredients and combinations, since it's not a mass-produced product."
And whether chefs contemplate enhanced flavor profiles or cost savings in their canning considerations of what produce to preserve and how, the customers benefit from both. "With the economic crunch that we're experiencing now, the benefit of having that locally grown produce available all year round is wonderful. And therefore, [chefs] can pass those savings on to the customers," Weiss says.
"Consumer benefits include a better-tasting product, since the chef or restaurant is canning themselves vs. purchasing a large-scale manufactured product, and capturing the ingredient at its prime likely adds a different taste dimension. [Consumers also benefit from] exposure to ingredients that they wouldn't typically find canned in a store; the customer reaps the chef's creative cannery," adds Houchins.
Year-Round Convenience, Cost Benefits
This culinary trend toward food preservation highlights the many benefits canned goods, as a whole, can offer, especially during the winter months when fresh often means picked before prime. "Fresh, local produce is impossible to come by in many parts of the country during the winter," explains Elizabeth M. Ward, MS, RD, author of The Pocket Idiot's Guide to the New Food Pyramids. "Transporting produce requires energy, which is not good for the environment. It also means that fresh produce, whether domestic or imported, is harvested long before you eat it, which may mean significant nutrient losses. Long transit times may also encourage waste, as consumers throw out a portion of spoiled or slightly spoiled produce. I think canned produce is an excellent value because there is no waste and because it's a way to work in fruits and vegetables all year round."
At a time when every dollar counts and buying all fresh produce is financially out of reach for many Americans, canned produce's biggest selling point could be in its combination of convenience and low cost coupled with nutritional benefits. "I always remind people of the convenience and nutritional value that canned food brings to the table. You don't need to buy fresh produce all the time," says Roberta Larson Duyff, MS, RD, FADA, CFCS, a food and nutrition expert, the author of the American Dietetic Association Complete Food and Nutrition Guide, and a spokesperson for The Canned Food Alliance. "Fresh produce may cost more, it's more perishable so you need to use it right away, and some products may not be as available at certain times of the year."
Duyff likes to emphasize to consumers and clients that incorporating canned foods into recipes is often easier because they are already cooked, saving a cooking step—especially for vegetables such as pumpkin, which is more convenient when canned, regardless of the season. "Like canned beans, for example, you may not have time to soak dry beans overnight, then cook the beans the next day, and then prepare them in a meal. Keeping a variety of canned beans on hand is a huge time-saver, and they're just as good of a source of protein, whether they are sold as dry, frozen, or fresh," she says.
Also, given that fresh produce varies in cost depending on the season, there may be times when purchasing canned products just makes more sense for some. "Convenience can be interpreted in many ways. For those who are in need of a lasting shelf life, as well as easy storage, canned foods may be the solution," says Jennifer E. Seyler, MS, RD, of Current Lifestyle Marketing, who adds that canned foods can fit nicely into a healthy diet. "As a reminder, balance is key, and a healthy meal plan includes a variety of foods, which can be fresh, canned, frozen, etc."
"Many people have the misconception that healthful eating always costs more, but I don't agree with that," says Duyff, noting that canned ingredients often cost less than their frozen or fresh counterparts. "Yet their nutrition content when cooked is comparable," she says. "For example, recent cost comparisons show a 28-ounce can of cut green beans costs $1.09, while the same amount of frozen beans was $3.29, and of fresh beans was $3.14. Prices for corn compared similarly: $1.09 for a 15.25-ounce can of whole kernel corn compared with $3.29 for the same amount of frozen."
Nutritionally Speaking
According to Duyff, canned goods often get a bad rap, as many consumers don't realize how nutritionally sound canned fruits and vegetables can be. "Many people don't realize that canned fruits and vegetables are comparable in nutrition to those that are cooked fresh or frozen," she says, citing a recent University of California, Davis study that found all forms of fruits and veggies—canned, cooked fresh, and frozen—are nutritionally similar and can contribute to a healthful eating plan.
"The canning process locks in nutrients at their peak of freshness, and due to the lack of oxygen during the storage period, canned fruits and vegetables remain relatively stable up until the time they are consumed and have a longer shelf life," she adds. In contrast, some fresh vegetables, such as spinach and green beans, lose up to 75% of their vitamin C within seven days of harvest, even when held at the recommended refrigerator temperature, according to the University of California, Davis study.
In addition, research from the University of Illinois showed that canned foods are nutritionally comparable with—and in some cases slightly higher in some nutrients than—their cooked fresh and frozen varieties. "For example, 1⁄2 cup of canned pumpkin contains three times more vitamin A compared to 1⁄2 cup of cooked fresh pumpkin. The canning process concentrates the pumpkin so that more of this nutrient is available from the same amount of food," Duyff adds.
Tomatoes are another example of a vegetable that is sometimes better canned. "They're more flavorful than fresh hothouse tomatoes, and nutritionally speaking, the body's ability to use the heart-healthy antioxidant lycopene found in tomatoes is greater when tomatoes are cooked or canned because of the heat from the canning process," says Duyff. "One-half cup of canned tomatoes provides 11.8 milligrams of lycopene compared to just 3.7 milligrams found in one medium fresh uncooked tomato. Canned tomatoes and tomato sauces are among the best sources of the heart-healthy antioxidant lycopene."
Plus, canned food retains its nutrients for up to two years, and canneries are often located within a few miles of the field, helping ensure that canned food is packed at the peak of freshness and ripeness.
Although certain nutrients, such as vitamins A and C, are lessened in the canning process, nutrients can also be lost during fresh produce's transport—a reason for embracing both in a healthy diet. "Fresh and canned foods both have nutritional value to offer," says Seyler. "In general, canning does not appear to significantly affect most nutritional values of food, but decreases in vitamin A and C have been seen due to the heating process. The nutrient makeup can be affected by a number of variables, such as ripeness, transit, storage, etc. For fresh produce, it is also important to keep them cool, as they can lose nearly half of their vitamin value within days. In addition, transporting out-of-season fruits may require additional transit time, which could affect the end products' nutritional value."
While an optimal diet can include an array of fresh, frozen, and canned fruits and vegetables, according to Duyff, more crucial is that right now consumers aren't getting enough of any kind. "The 2005 Dietary Guidelines urge Americans to increase their fruit and vegetable intake regardless of type (canned, frozen, fresh, and dried), yet Americans are far from meeting their fruit and vegetable goals," she says. "Exclusively recommending one form of fruits or vegetables over another ignores the benefits that each form provides and limits consumer choice. Canned fruits and vegetables, along with fresh and frozen, contribute to the nation's nutrition and make healthful choices available to everyone, everywhere, any time of year."
Houchins agrees, noting that nutrition professionals should recommend whatever fruits and vegetables clients are most likely to eat: "To me, there isn't an optimal ratio of canned fruits and vegetables for a diet. I'm more concerned with folks consuming the recommended daily intake of fruits and vegetables a day. At this point, most Americans aren't consuming enough of them."
Healthful Creativity in a Can
There are a number of ways to incorporate canned fruits and vegetables into a healthy diet, but keep some key considerations in mind. For clients who are monitoring their salt intake, steer them toward canned foods' low- and no-sodium options and remind them that draining and rinsing canned foods can reduce sodium levels by 23% to 45%, according to a study reported in a University of California, Davis scientific review. Also, have clients look for canned fruit with no added sugar or in juice instead of syrup.
Duyff gives the following consumer and client recommendations for healthful canning creativity:
• Mix canned blueberries or pineapple tidbits in your yogurt.
• Garnish your salad with slices of canned beets or peaches.
• Layer canned pineapple slices on a smoked turkey or ham sandwich or try mandarin orange segments in tuna or chicken salad.
• Use canned carrot coins, mushrooms, corn, and sliced peppers as pizza toppers.
• Make a taco salad with tomato salsa.
• Fortify canned and homemade soup with green peas or beans.
• Switch to a sweet potato salad made with canned sweet potatoes.
• Make hot or chilled pumpkin soup with canned pumpkin purée.
• Partner fiber-rich, whole-grain foods (eg, brown rice, quinoa, bulgur) with canned vegetables or beans in hearty salads, soups, and stews.
• Top pancakes, cereals, waffles, and ice cream with any canned fruits you have on hand rather than sugary syrups.
• Make a quick sorbet by freezing canned fruit, then puréeing it in a blender and serving immediately.
Ward uses canned foods to spice up soups and salads: "I use canned mandarin oranges, canned artichoke hearts, canned beets, and canned garbanzo beans in salads. I rely on chopped canned tomatoes and canned black beans to make chili. Sometimes I use two types of beans and halve the meat to cut costs," she says.
For Houchins, reading nutrient labels is a must when canned food shopping, and she suggests that her clients do the same: "First read labels; buy canned vegetables packed in water; buy canned fruits in natural or light juice," she says, adding that canned beans are great time-saving options—just drain the liquid (to decrease salt content) and rinse the beans before using in bean soups, salads, etc. "Canned vegetables are excellent in side dishes, casseroles, and one-pot meals," she adds, "or make a dessert of your favorite canned fruit and nonfat cottage cheese or yogurt."
Home Canning Basics
For adventurous clients who have some time (and space) on their hands, home canning may be an option, especially in these penny-pinching times. But Schloss warns of its time-consuming nature. "Canning fresh fruits and vegetables at home is labor intensive, requiring peeling, coring, chopping, and blanching vegetables, sterilizing jars, and processing under pressure if the produce is not acidic or sweetened. Home canning takes time, skill, and the right equipment so food stays safe and retains its quality," he says. "Unless someone is dealing with a large harvest that must be canned, I would advise home cooks to rely on professionally canned items that are convenient, low cost, consistently high quality, and processed at the peak of ripeness."
Duyff recommends that the inexperienced read up on the process before trying their hand at canning, mostly because of safety concerns. Have clients seek out their local extension service for canning expertise or find information online at the National Center for Home Food Preservation's Web site."If you decide to try your hand at home canning, learn to do so safely and with care. To do so, select, wash, and perhaps peel fresh fruits and vegetables carefully; often add lemon juice, vinegar, or acids; use the right jars and self-sealing lids; then process the jars of food in boiling water or under pressure for the right length of time," she says.
Whether fruits and vegetables are canned commercially or with proper home canning, Duyff says the basic processes and goals are the same: remove the oxygen and destroy enzymes that cause deterioration; prevent the growth of harmful bacteria, yeast, and mold; and create a vacuum and, as a result, a tight seal that will keep air and contaminants out and food and their liquids in.
If you ask Houchins, canning can be a great way for consumers to learn more about what they're eating, which can only be a good thing. "The more consumers are involved with their food, the more they'll have a better understanding of what they're eating and how they're preparing their meals. In addition, learning about canning and canning their own produce will encourage them to be more creative in the kitchen and therefore likely to eat their own creations," she says.
"Canning is a fun activity the entire family can enjoy," notes Seyler. "It is also a great way to capture the nutrients of the fresh vegetables and fruits when they are in season and at their peak. If space is not an issue, canning is a great lifestyle option."
— Juliann Schaeffer is an editorial assistant at Today's Dietitian.
Resources
• The Canned Food Alliance Professional Resource Center:
www.mealtime.org/content.aspx?id=144
• Clemson University, Department of Food Science and Human Nutrition: www.foodsafetysite.com/consumers/resources/canning.html
• USDA Food Safety and Inspection Service: www.fsis.usda.gov/oa/topics/foodsec_cons.pd