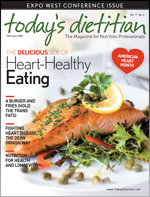 February 2009 Issue
The Delicious Side of Heart-Healthy Eating
By Sharon Palmer, RD
Today's Dietitian
Vol. 11 No. 2 P. 26
Who says eating for your heart has to be tasteless? Take some tips from the Mediterranean diet and turn your heart-healthy recommendations into something people can really sink their teeth into.
Remember the days when being on the receiving end of heart-healthy eating advice was about as much fun as a root canal? Say au revoir to those days, thanks to a new approach to heart health. A strict, low-fat dietary strategy for heart disease prevention is old news. Today's emphasis is on a vibrant, flavorful diet that powers up on healthy fats, seasonal fruits and vegetables, whole grains, seafood, herbs, spices, and moderate alcohol consumption. There's nothing frightful about that portrait of a diet. Maybe it's time to take a look at the way you're doling out heart-health advice and determine whether it needs a more palatable update. 
"Our job is to make healthy food taste good. People can learn to prepare healthy food in a delicious way. I hope dietitians are still not simply doing the 'foods to avoid' list. We should be talking about healthy food being really delicious and about how to prepare and enjoy these foods. Taste is No. 1. It wins out over nutrition every day," says Janice Newell Bissex, MS, RD, a nutrition consultant, a speaker, and the coauthor of The Moms' Guide to Meal Makeovers: Improving the Way Your Family Eats, One Meal at a Time!
Thankfully, many nutrition professionals are helping dispel the notion that a heart-healthy diet is a grim voyage into a buffet of broiled white fish fillets and flavorless steamed vegetables. There's a whole world of healthy eating out there that celebrates flavor as much as it does nutrition. Celebrity chefs are doing a great job of promoting lighter, more healthful cuisine that honors seasonal produce, seafood, whole grains, herbs, spices, and olive oil. And dietitians are right there beside them, promoting the brighter side of heart-healthy eating. From those working in the media and food industry to those counseling patients in clinics and corporate wellness programs, dietitians' focus is on delicious food that happens to be healthy.
"There are many dietitians working hard to get the message out that making better, heart-healthy food choices can be delicious," says Brenda Ponichtera, RD, author of Quick & Healthy Recipes and Ideas: For People Who Say They Don't Have Time to Cook Healthy Meals. "We are stressing good fats today, such as nuts, avocados, olive oil, and canola oil. It is a very individual matter because it depends on their weight, activity, and how many calories they can handle."
A Mediterranean Approach to Heart Health
The traditional Mediterranean diet, with its emphasis on vegetables, legumes, fruits, whole grains, fish, nuts, seeds, monounsaturated fats, and moderate alcohol consumption and its low meat, dairy, and saturated fat intake, has made a tasty impression on the current rationale for heart-healthy eating. This cultural culinary style yields flavorful foods that offer increased satiety, primarily due to the use of monounsaturated fats such as olive oil and high fiber intake through its emphasis on plant foods. The scientific support for this lifestyle began more than 50 years ago, when Ancel Keys, PhD, published results confirming a relationship between the dietary pattern in the Mediterranean and coronary risk factors. Since then, the research supporting eating a la Mediterranean has been flowing in.
"Cardiovascular disease [CVD] is still the leading cause of death worldwide," said Emilio Rios, MD, PhD, head of the Lipid Clinic at the University of Barcelona, at Oldways' Mediterranean Diet Conference in Boston in November 2008. "The risk for CVD in the Mediterranean countries was lower compared with Anglo-Saxon countries. It could have been genetic factors, but lifestyle factors more likely explained the lower CVD risk factor. In the Mediterranean countries, the people were outdoors more often and were more physically active. The concept of the Mediterranean diet and lower CVD risk led to the Seven Countries Study, started by Ancel Keys."
The famous Seven Countries Study surveyed more than 12,700 men in 16 cohorts from seven different countries from 1958 to 1964. The study, published in 1970, was the first of its kind on many fronts: It was the first to compare heart disease among populations from different cultures, link high serum cholesterol levels to high coronary heart disease mortality, relate total dietary fat intake (specifically saturated fat intake) to the risk of heart disease, and point out that dietary and lifestyle patterns may influence cholesterol levels and coronary heart disease rates. The study also revealed that Northern Europeans were five times more likely to die from heart disease than people from southern Mediterranean countries. The Lyon Diet Heart Study came along in 2001 with strong evidence that people eating a Mediterranean diet had a 50% to 70% lower risk of repeat heart attacks compared with people eating a Western diet.
Recent studies continue to support the Mediterranean diet's role in CVD risk reduction. In a 2008 BMJ meta-analysis, researchers from the University of Florence evaluated 12 studies with more than 1.5 million participants, tracking dietary habits and health for three to 18 years. Those who followed a Mediterranean diet experienced a 9% decrease in CVD mortality. A 2008 review published in the Journal of the American Dietetic Association that examined the relationship between diet and CVD discovered that adherence to a Mediterranean diet lowered the risk of cardiovascular events in certain populations.
In people with high CVD risk, according to a 2007 study published in the Archives of Internal Medicine, patterning the diet after a Mediterranean style of eating showed significant reductions in cellular lipid levels and LDL oxidation compared with a low-fat diet. And the European Prospective Investigation into Cancer and Nutrition-Elderly study, which was published in the European Journal of Epidemiology in 2007, found when examining the six-year dietary patterns of more than 2,500 people older than the age of 50 with a previous history of myocardial infarction that a Mediterranean-type diet lowered overall mortality by 18%.
When you take a deeper look at the Mediterranean diet, it is similar to other dietary recommendations, such as the American Heart Association (AHA) and Dietary Approaches to Stop Hypertension guidelines. The AHA reports that the Mediterranean diet is often close to AHA dietary recommendations but is higher in monounsaturated fat intake, primarily through olive oil; thus, there is concern for increased risk of obesity. Many dietitians are finding a Mediterranean diet approach to eating that reinforces moderation in monounsaturated fat intake to be an easy way to encourage heart-healthy eating change.
Get Them Cooking for Heart-Healthy Flair
There's a big roadblock to getting people to feast on delicious, heart-healthy cuisine because many have forsaken their kitchens in lieu of convenience and take-out foods, where healthy fare is often elusive. It's important to get people cooking to achieve a heart-healthy lifestyle, says Ponichtera. "People are not cooking at home. They are spending more money on prepared foods and fast foods. Planning is a huge issue to get people on the right track. People don't know where to begin. It's a big stumbling block because their parents may have never planned and didn't teach them to plan," says Ponichtera, who includes 20 weeks of easy dinner menus with grocery lists in her book.
Dietitians can be key in reversing the exodus from the kitchen by weaving practical culinary education into their lessons. "Dietitians need to take it to a basic level. They need to give clients recipes, menus, grocery lists, and advice on products that you recommend so that the whole family can eat healthy. Kids aren't learning this because they don't get it at home, and many schools have taken out home economics," adds Ponichtera.
"Give them fast, healthy, simple recipes and spend time teaching people how to pump up nutrition by teaching them how to cook. The culinary knowledge of most people is pretty basic. If you're giving them recommendations about what to eat and they don't know how to cook it, it's a problem. You need to say, 'Here are five of my favorite recipes that are easy and affordable.' So many people are intimidated about healthy eating because they don't know how to cook," says Bissex, who suggests RDs provide people with practical examples of how to turn healthy, tasty ingredients into meals. One of the examples she offers is starting with frozen, precooked shrimp and stir-frying it with rice, fresh prepared vegetables from the produce section, a little oil, and some low-sodium teriyaki sauce as a healthy meal families can rely on.
And don't stop there. Give people ideas about freezing leftovers for a second healthy meal later in the week. Look at their favorite dishes and see how you can give them makeovers. Bissex suggests that dietitians offer up a few of their favorite culinary health tips, such as using omega-3-enriched eggs, including canola oil in baking, substituting one half of the white flour in a recipe with whole wheat, and stirring ground flaxseeds into dishes. 
Heart-Healthy Cooking Tips From the Pros
Offer practical culinary health tips like a pro by using some of our nutrition experts' favorite tricks in the kitchen.
1. Variety is the key: People don't want to dine on bland, plain food every day, says Ponichtera. But who says healthy eating has to be limited to a rubbery baked chicken breast? Make menu ideas interesting with the addition of healthy fats, marinades, herbs, and a variety of fresh fruits, vegetables, and grains.
2. The new "OK" foods: Explore the foods that people may be avoiding because of misperceptions, urges Ponichtera. For instance, avocados, walnuts, and almonds can add a lot of heart-healthy fats and flavor to salads.
3. Add a touch of healthy fat: People may be cooking without any fat, so suggest ways of adding a small amount of healthy fat, suggests Ponichtera. "It's a common misperception regarding 'healthy cooking techniques' that steaming and broiling plain foods is the healthiest way to cook food. People should be given permission to use a little healthy fat, such as a tablespoon of extra-virgin olive oil or canola oil, in their cooking or use marinades to add flavor," says Bissex.
4. Cook with olive oil: Introduce the notion that a small amount of olive oil should be the first choice in cooking. Bissex suggests using a good-quality extra-virgin olive oil to add great flavor. Ponichtera recommends that people learn to stir-fry foods with a very small amount of olive oil by using a pump to control the amount added to the pan. "I love the flavor and the smell of olive oil heating up in the pan," says Ponichtera.
5. Make vegetables delicious: Want people to eat more vegetables? Make them delicious by drizzling extra-virgin olive oil and kosher salt on top, roasting them, serving them with a dip, or mixing up a light cheese sauce for broccoli and cauliflower, recommends Bissex.
6. A pinch of kosher salt: A heart-healthy diet doesn't have to be void of seasoning. Boost the flavor of dishes with herbs, spices, and a dusting of kosher salt, suggests Bissex.
7. Pump up the nutrition: Bissex favors adding vegetables to meats to increase the flavor and nutrition. Try stirring shredded carrots and red pepper into sautéed ground beef.
8. A little bit of flavor goes a long way: "People need to realize that a little bit of high-calorie, high-fat food is OK," says Ponichtera. A small amount of blue cheese in a salad can offer powerful flavor and get people to turn to salad greens more often.
9. Name-drop favorite products: Know a great low-fat cheese? Spread the good news. Bissex encourages dietitians to single out a few of their favorite, best-tasting, healthy products to give clients direction. After all, you don't want them to be disheartened by trying the low-fat cheese that tastes like rubber.
10. Include avocado in sandwiches: Instead of dry sandwiches, Ponichtera suggests spreading mashed avocado on sandwich bread for moisture, flavor, and healthy fat.
— Sharon Palmer, RD, is a contributing editor at Today's Dietitian and a freelance food and nutrition writer in southern California.
Jesse Ziff Cool's Seven-Ingredient Pantry
Jesse Ziff Cool, author of Simply Organic: A Cookbook for Sustainable, Seasonable, and Local Ingredients and founder of Flea St. Café and CoolEatz Restaurants and Catering in Menlo Park, Calif., has been a pioneer in the farm-to-table movement since opening her first restaurant in 1975. Among her responsibilities as a writer, an educator, and a speaker, Cool collaborates with Stanford University's education department, instructing student teachers about how to connect the garden and cooking with classroom curriculum and messages about healthy eating.
"People really have no sense about how to cook, so you've got to make it easy for them. I developed my seven-ingredient box for the Stanford teaching class so that they can watch me cook from my garden. They watch me do it and then they learn. By the third class, they tell me that they had no idea it was so easy to cook," says Cool. With Cool's list of seven ingredients, you can take fresh ingredients from a home garden, farmers' market, or grocery store and turn them into a delicious, healthy meal without even cracking open a cookbook.
Seven Ingredients to Success
1. Olive oil
2. Acid (vinegar or lemon juice)
3. Salt
4. Pepper
5. Sugar (small amount to enhance flavor)
6. Herbs, either fresh or dried
7. Spices, either fresh or dried
With these seven ingredients, you can cook fresh, seasonal vegetables and a desired protein to simple, delicious perfection by sautéing seasonal vegetables and lean protein in olive oil with the listed ingredients and calling it a meal. Or you can make a fresh salad with seasonal greens, vegetables, and lean protein using the seven ingredients as your vinaigrette.
"With these simple ingredients, you can cook garden-fresh or local foods no matter where you are. You can use what is in season and cook a meal in one pot without a recipe," says Cool.
Three extra ingredients can be added to Cool's basic seven to make even more of the meal:
1. Whole grain (eg, whole grain pasta or brown rice)
2. Cheese
3. Onions/garlic
— SP
Confetti Walnut Quinoa Salad
Created by the California Walnut Commission
Ingredients:
11/2 cups water
1 cup uncooked quinoa
3 T walnut oil, plus additional oil if needed
3 T lemon juice, plus additional lemon juice if needed
1 tsp dried oregano leaves
1/2 tsp ground cumin
1/2 tsp salt, plus salt to taste
1/2 tsp freshly ground black pepper
1 cup cooked corn kernels or frozen corn, thawed
Half of an English cucumber, quartered lengthwise, seeded, and thinly sliced
6 to 8 oz cherry tomatoes, halved, to make about 11/2 cups
3/4 cup chopped California walnuts, toasted
1/2 cup crumbled feta cheese, preferably flavored with garlic and herbs
1/3 cup coarsely chopped, pitted Kalamata olives
1/4 cup chopped fresh parsley
Directions:
Combine water and quinoa in a 2-quart saucepan and bring to a boil over high heat. Cover the pan, turn the heat to low, and simmer until the water is absorbed, 10 to 12 minutes. Set aside off heat for about five minutes, then stir and fluff the quinoa with a fork.
In large bowl, whisk together the walnut oil, lemon juice, oregano, cumin, salt, and pepper. Add corn, cucumber, cherry tomatoes, walnuts, feta cheese, olives, parsley, and quinoa and stir and toss to coat with the dressing. Refrigerate until serving.
Taste the salad and season with additional salt, walnut oil, and lemon juice, if you wish. 
Makes 6 to 8 cups salad, serving 8 to 10
Nutrition information per serving: Calories: 200; Total Fat: 13 g; Saturated Fat: 2 g; Protein: 6 g; Carbohydrate: 18 g; Cholesterol: 5 mg; Sodium: 250 mg; Fiber: 3 g
Many Grains Bread
Created by Bob's Red Mill Natural Foods, Inc
Ingredients:
23/4 to 31/4 cups unbleached white flour
3 cups graham flour
2 T active dry yeast
4 tsp sea salt
3 cups water
1/2 cup molasses
1/4 cup vegetable oil
1/2 cup buckwheat flour
1/2 cup light rye flour
1/2 cup low-fat soy flour
1/2 cup quick rolled oats
1/2 cup cornmeal
1 T butter
Directions:
In a large mixing bowl, combine 11/2 cups unbleached white flour and 2 cups graham flour, yeast, and salt; mix well.
In a saucepan, heat water, molasses, and oil until very warm (120˚F). Add to flour mixture. Blend at low speed until moistened; beat three minutes at medium speed.
By hand, gradually stir in buckwheat flour, rye and soy flours, rolled oats, cornmeal, and remaining graham flour and enough remaining unbleached white flour to make a firm dough. Knead on a floured surface for five to eight minutes.
Place in an oiled bowl; turn once to coat. Cover and let rise in warm place until doubled, about one hour.
Punch down dough; divide into two equal parts. On lightly floured surface, shape each half into a round loaf. Place on greased cookie sheet. Cover and let rise in warm place until double, about 30 minutes.
With a very sharp knife, make cross slash across top of each loaf.
Preheat oven to 375˚F and bake for 35 to 40 minutes, until bread sounds hollow when tapped. If tops darken too quickly, cover loosely with foil for the last five to 10 minutes of baking.
Remove from cookie sheet and brush with butter; allow to cool.
Makes 2 round loaves (15 slices each)
Nutrition information per serving (serving size of 76 grams): Calories: 190; Calories From Fat: 30; Total Fat: 3.5 g; Saturated Fat: 0.5 g; Cholesterol: 0 mg; Sodium: 15 mg; Total Carbohydrate: 36 g; Dietary Fiber: 3 g; Sugars: 4 g; Protein: 6 g

Salmon & Rice Packets With Fennel, Orange & Raisins
Created by David Dahlman, 2007 "Rice to the Rescue!" Recipe Contest Winner. Courtesy of USA Rice Federation for the Whole Grains Council
Ingredients:
3 cups (585 g) cooked brown rice
1/4 cup (40 g) golden raisins
1 tsp grated orange zest
1/2 tsp salt, and more for sprinkling
1/4 tsp pepper, and more for sprinkling
4 salmon fillets (6 oz/170 g each), skin removed
1 medium fresh fennel bulb, trimmed, cored, and thinly sliced crosswise
1 small red onion, thinly sliced in 8 rounds
Juice of 1 orange
2 T olive oil
Directions:
Preheat broiler. Combine rice, raisins, orange zest, salt, and pepper in a medium bowl. Place four sheets of foil (12" X 12") on a large baking sheet.
Spoon equal amounts of rice mixture in center of each sheet. Top rice with salmon; sprinkle lightly with additional salt and pepper. Top salmon with equal amounts of fennel and arrange onion slices over fennel. Squeeze juice from orange evenly over all and drizzle with oil.
Wrap foil over contents and pinch ends tightly to form individual packets; broil 6 to 7 inches from heat source for 20 minutes or until salmon is opaque in center.
Makes 4 servings
Nutrition information per serving: Calories: 600; Total Fat: 27 g; Cholesterol: 100 mg; Sodium: 430 mg; Total Carbohydrate: 50 g; Dietary Fiber: 5 g; Protein: 39 g
Potato Olé Omelet
Created by MealMakeoverMoms.com, demonstrated at the Oldways' 2008 Mediterranean Diet Conference
Ingredients:
11/4 pounds potatoes, peeled and cut into 1/3-inch cubes (about 21/2 cups)
2 T extra-virgin olive oil
1 small onion, finely chopped (about 1/2 cup)
1 medium red bell pepper, finely diced (about 1 cup)
1 clove garlic, minced
6 large eggs, beaten
3/4 tsp kosher salt
Freshly ground black pepper
Directions:
Place the potatoes in a medium saucepan. Add enough cold water to cover. Cover and bring to a boil. Reduce the heat and cook at a low boil until tender, about seven minutes. Drain and set aside.
Heat 1 tablespoon of the oil in a large nonstick skillet over medium-high heat. Add the onion, pepper, and garlic and cook, stirring frequently, until the vegetables are tender, about five minutes.
Combine the cooked vegetables, potatoes, eggs, salt, and pepper in a large bowl and stir to combine.
Heat the remaining oil in the skillet over medium-high heat. Pour the egg mixture back into the skillet, reduce the heat to medium, and cook until the omelet turns golden brown on the bottom, three to five minutes.
Preheat the broiler to high. Place the skillet under the broiler. (If the handle is plastic, wrap it in aluminum foil.) Broil until the top turns golden brown, three to five minutes. Cut into wedges and serve.
Makes 4 servings
Nutrition information per serving: Calories: 310; Total Fat: 15 g; Saturated Fat: 3.5 g; Monounsaturated Fat: 5.5 g; Sodium: 320 mg; Carbohydrate: 32 g; Fiber: 3 g; Protein: 12 g; Vitamin A: 30%; Vitamin C: 100%; Iron: 15%
Chicken Breasts With California Avocado, Grapefruit, and Herbs
Created by the California Avocado Commission
Ingredients:
4 boneless, skinless half chicken breasts
Paprika and white pepper
1 tsp olive oil
1 cup reduced-sodium, fat-free chicken broth
1/2 cup grapefruit juice
2 T honey
1 small onion, sliced
1 large clove garlic, minced
1 cup dry orzo (rice-shaped pasta) or rice, cooked (3 cups cooked)
1/2 tsp cornstarch
2 tsp each fresh tarragon and thyme leaves
1 ripe fresh California avocado, seeded, peeled, and sliced
1 small grapefruit, peeled and sectioned
Directions:
Rinse chicken breasts and pat dry; remove any excess fat. Lightly sprinkle chicken with paprika and pepper.
In a large nonstick skillet sprayed with no-stick cooking spray, heat oil. Over medium-high heat, quickly brown chicken on both sides, about five minutes. Add 3/4 cup broth, grapefruit juice, honey, onion, and garlic; bring to a boil. Reduce heat; cover and simmer for 10 to 12 minutes, until chicken is tender.
Remove chicken and arrange on cooked orzo or rice; keep warm.
Combine cornstarch with remaining 1/4 cup broth; stir into skillet mixture. Add tarragon and thyme. Cook, stirring, until sauce thickens. Add avocado and grapefruit; heat briefly. Salt to taste (optional). Serve sauce over chicken and orzo or rice.
Makes 4 servings
Nutrition information per serving: Calories: 486 (20% calories from fat); Protein: 32 g; Carbohydrate: 64 g; Total Fat: 11 g; Cholesterol: 66 mg; Sodium: 219 mg