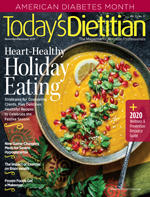 November/December 2019 Issue
Frozen Foods Get a Makeover
By Mindy Hermann, MBA, RDN
Today's Dietitian
Vol. 21, No. 11, P. 36
New packaging and product innovations are breathing new life into supermarket freezer cases. Find out what's trending and how to counsel clients.
Not long ago, the frozen foods aisle in the supermarket appeared to be on the road to extinction. But a confluence of trends has reinvigorated it and turned it into one of the fastest growing sections in the grocery store.
According to the 2019 "The Power of Frozen" report from the American Frozen Food Institute and the Food Marketing Institute, convenience is the foremost reason consumers turn to frozen foods.1 Consumers also name ease of preparation, taste, price, and time savings as important motivators for frozen food purchases. For high-frequency consumers of frozen foods, quality and variety matter, as do healthful and environmentally sustainable options, and animal welfare.
Demographics also drive the popularity of frozen foods. Older millennials and families with young children are more often repeat consumers. What's more, busy parents turn to frozen meals as a back-up solution to preparing foods that are challenging to make. "Nobody wants to make a recipe with lots of ingredients, have the recipe fail, and be stuck with all the extra ingredients," says Kristin Reimers, PhD, RD, director of nutrition at Conagra Brands in Chicago. "Frozen allows people to explore different dishes and cuisines and to enjoy and be excited about those dishes without all of the expense of unique ingredients, food waste, or time."
Smaller and niche companies are among the pioneers in creating what can be called frozen entrées 2.0, today's choices that are positioned to better meet consumer expectations. "When we launched in 2010, consumers were becoming more aware of antibiotic-free meat through the supermarket meat department, but it wasn't yet used in frozen foods," says Jack Acree, executive vice president of Saffron Road Foods. Interest also was growing in humanely raised chicken and beef and halal-certified meat, Acree says.
Saffron Road also helped lead the global expansion in frozen meals. Acree explains that "ethnic wasn't being done well in 2010. Any ethnic frozen foods were a bit too authentic for the mainstream American consumer. What was needed were frozen foods that combine authentic flavor with familiar branding and packaging and that bring authentic culinary attributes and flair to reflect what is going on in any of the cuisines in the countries represented in the freezer case."
The Stats
According to the Specialty Food Association report "State of the Specialty Food Industry 2018," specialty frozen entrées are among the top 10 categories for retail sales. Growth is stable in frozen entrées but particularly robust in frozen plant-based meat alternatives, up 48% in retail sales between 2016 and 2018.2
As shown in "The Power of Frozen," frozen food growth outpaced total center store edibles as well as the fresh perimeter. Frozen dinners/entrées, the largest subcategory of frozen, shows steady growth, while frozen appetizers, side dishes, and meat are the fastest growing.
Consumers' embrace of broad definitions of wellness is driving growth and innovation. According to the National Frozen & Refrigerated Foods Association, non-GMO claims were up 10.1%, organic claims up 9.3%, gluten-free claims 4.2%, and free-from artificial colors/flavors claims up 6.3% in 2018 over the previous year.3
Health Innovation
The growth of the frozen food category shows that today's products better fulfill unmet consumer needs. "Our newer products and brands really exemplify what consumers were wanting in the frozen food aisle and not finding," Reimers says. "Modern health is much more than nutrients. It is about recognizable, wholesome, nutritious food ingredients, and products free from things the consumer prefers not to have."
Frozen meals have evolved beyond their traditional association with weight management and portion control. "Frozen meals are no longer about weight loss," says Patricia Bannan, MS, RDN, author of Eat Right When Time Is Tight: 150 Slim-Down Strategies and No-Cook Food Fixes. "Consumers have shifted toward health and wellness and wanting 'real' food. While frozen meals still are portion-controlled, consumers today are looking for a portion that will fill them up, too."
Spices and Seasonings
Not only do frozen foods contain more healthful ingredients, but they're also more flavorful. It's hard to ignore the explosion of spices and spice blends, both familiar and less well known. Flavor differentiation is noticeable in the expansion of offerings from individual Asian, Mediterranean, and Middle Eastern cuisines. The culinary development team at Nestlé worked with a global spice consultant to learn about and develop new seasoning blends using spices from around the world. The company's Lean Cuisine line serves as a showcase for new global influences and flavors.
Plant-Centric
Frozen foods include more plant-based varieties. Vegetarian and vegan products are widely available and span the spectrum of whole to manufactured plant-based protein sources. Acree says Saffron Road "uses real plant proteins like nuts. People have been eating vegetarian for a long time, and vegetarian cuisine offers many sources for us to choose from." Many vegetarian and vegan products are paired with features such as organic.
Flexitarians today are defined by their commitment to eat animal protein less often and enjoy plant-based and vegetable-centric meals more regularly. Bannan says vegetables are more prevalent than ever in the frozen food aisle, with fun shapes as well as crumbles that replace higher-carbohydrate meal components. "Food manufacturers are adding more protein, whole grains, and vegetables in every box, and that appeals to the flexitarian," Bannan says.
In addition, the plant-based meat alternatives category is growing rapidly as niche companies and large producers continue to introduce new products. Quorn, a global brand, is becoming better known in the United States, and its products are soaring in popularity after more than 30 years in the marketplace. "As more and more Americans are looking to go meat-free for even a few days a week, they want cleaner options such as mycoprotein," says Ben Sussna, head of marketing at Quorn Foods USA in Chicago. Meat alternatives tend to be sold as stand-alone items rather than incorporated into frozen meals.
Trending Ingredients       
Frozen food manufacturers, taking their cues from the popularity of functional nutrition and functional health, are using trending ingredients—less common whole grains such as barley, sorghum, and red rice, and specific ingredients linked to functional benefits, such as turmeric, black garlic, fermented vegetables, and ginger.
With pizza as the most consumed frozen food, gluten-free pizza crust reformulations are at the top of the list for frozen food companies—many of which, such as the brand Caulipower, are incorporating cauliflower into their recipes. Popular options include cauliflower with egg whites, cheese, and/or starches. Other uses for cauliflower include substituting puréed cauliflower for heavy cream or cheese sauce and creating meals on top of a base of cauliflower crumbles rather than white rice or potatoes to reduce carbohydrate and calories. Both Healthy Choice and O, That's Good! are including cauliflower into new product lines.
Global Authenticity
Frozen meals have expanded well beyond the traditional trio of Italian, Mexican, and Chinese dishes that were common a generation ago. Now, seasonings and flavor combinations represent several regions in the world such as chimichurri from Uruguay and Argentina, gochujang from Korea, togarashi from Japan, and za'atar from the Middle East. Chobani Incubator company Afia Foods in Austin, Texas, is owned by a husband and wife team who migrated to the United States from Syria. Owner Yassin Sibai created lines of authentically seasoned frozen beef kibbe products made with certified halal beef and frozen falafel products that are plant-based, gluten-free, and vegan. Afia validates its story of authenticity through use of traditional recipes from the owner's grandmother.
Real and Fresh
Consumers increasingly seek out frozen meals with fresh, real, familiar ingredients and formulations that evoke the home kitchen. The website for the brand Evol, recently acquired by Conagra, offers stories about the provenance of its ingredients. "Our cheddar cheese comes from cows that are raised in the USA. The cheese is produced without the use of animal rennet, is free of dyes and colorants, and is from cows not treated with rbST hormones. Our uncured bacon comes from pigs that are humanely raised and handled and are never given any antibiotics or fed animal byproducts. The bacon never has added nitrate or nitrite (except that which naturally occurs in celery powder and sea salt), so it tastes great without having all those potentially nasty side effects. Our beef is raised without antibiotics and is never fed animal byproducts. We're very choosy about our chicken, and that's why we only select wholesome chicken that has been raised in North America. Our chicken is always raised without the use of antibiotics or hormones."
Bannan says, "Frozen meals that embrace a 'real' food ingredient list remain top choices for consumers. Even the traditional Stouffer's lasagna now says on the front package, '100% pure beef, herb seasoned tomato sauce, and real mozzarella cheese.'"
Clean, Sustainable, and Transparent
Consumer expectations for "clean" food products have mobilized the frozen meals industry to also consider organic ingredients, eco-friendly packaging, and products free from hormones, artificial additives, and GMOs, along with full transparency regarding ingredients and dedication to sustainability. "Consumers have a newfound commitment to climate change, environment, and making responsible food choices," Reimers says. "We are finding huge emerging demand for plant-based, for example, for its sustainability attributes."
Product packaging also is taking a turn for the better. Packaging is being made with recyclable paper products, with more accurate depictions of products' contents (eg, larger portions of vegetables), and with transparent containers or package windows to enable consumers to see what they're buying.
Counseling Strategies for RDs
Nearly one-half of consumers who frequently use frozen meals and other items are eating more frozen food than last year, and they're bringing frozen food to work, according to "The Power of Frozen." This heightens the important role dietitians play in helping clients make healthful decisions when choosing and eating frozen foods. Among the available resources for consumers are the US government ChooseMyPlate website and the Nestlé Balance Your Plate campaign, which teaches them how to pair frozen dishes with vegetables, fruits, lean proteins, whole grains, and low-fat dairy to build balanced, convenient meals.
Bannan recommends giving clients benchmarks for selecting frozen meals. "One of the biggest concerns about frozen foods is the sodium content. My rule of thumb is to look for a meal with less than 600 mg sodium per serving. I also advise clients to consider meals that provide at least 15 g protein and 5 g fiber per serving, in a balance of lean protein, whole grains, and vegetables. I suggest adding more vegetables, fresh or frozen, to boost the nutrition and to make the meal more filling." As with any dietary guidance, creating a hierarchy of nutrient benchmarks lessens client frustration over the amount of time spent shopping for products that meet every nutrient specification. It also empowers clients to make decisions that suit their individual nutrition and dietary needs.
The expanded selection of culturally inspired meals makes it easier for dietitians to work with clients with diverse backgrounds who want to take advantage of the convenience of frozen meals. Rahaf Al Bochi, RDN, LDN, a spokesperson for the Academy of Nutrition and Dietetics and owner of Olive Tree Nutrition, says that "in addition to the recent proliferation of Thai, Indian, and Mediterranean flavors, to name a few, a growing number of meals meet dietary religious preferences such as kosher and halal. My role is to help clients navigate through the frozen aisle section to choose products that meet their goals and preferences." Dietitians can educate clients on the various logos and certifications that appear on packaging, including the subtleties among kosher and other certifying organizations, levels of organic certification, vegetarian and vegan logos, and allergen/allergen-free icons.
Dietitians working in hospitals also will see greater choices in frozen entrées. Saffron Road, for example, will be supplying six halal entrées with acceptable sodium levels to a regional hospital chain in New York.
— Mindy Hermann, MBA, RDN, is a food and nutrition communicator based in metropolitan New York.
Mindy Hermann, MBA, RDN, reports the following relevant disclosure: She attended Taste Your Way to Health, a sponsored trip by Nestlé, which provided some of the information presented in this article.

References
1. American Frozen Food Institute; Food Marketing Institute. The power of frozen. https://www.fmi.org/forms/store/ProductFormPublic/the-power-of-frozen. Published 2019.
2. Purcell D. State of the specialty food industry 2018. Specialty Food Association website. https://www.specialtyfood.com/news/article/new-research-state-specialty-food-industry-2018/. Published June 12, 2018.
3. Latest findings from national frozen and refrigerated foods association show improved favorability toward frozen food category. Cision PR Newswire website. https://www.prnewswire.com/news-releases/latest-findings-from-national-frozen-and-refrigerated-foods-association-show-improved-favorability-toward-frozen-food-category-300815290.html. Published March 20, 2019.