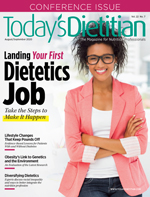 August/September 2020 Issue
Editor's Spot: Calls for Diversity
By Judith Riddle
Today's Dietitian
Vol. 22, No. 7, P. 6
The recent police murders of George Floyd, Breonna Taylor, Rayshard Brooks, and other citizens of color have sparked numerous conversations, public outrage, and worldwide protests about systemic racial injustice and inequality in America and mobilized companies and organizations in various industries and professions to step up their game and better diversify their boardrooms and workforces and boost accessibility of goods and services to Black and brown communities.
The nutrition profession is no exception.
Many dietitians are speaking up about racial injustice and brainstorming ways to diversify dietetics, which is 81.1% white, 3.9% Asian, 3.1% Hispanic, 2.6% Black, and 0.3% Alaskan Native. There are even fewer persons of color who hold positions as professors, preceptors, didactic program directors, and dietetic internship directors. Black dietitians, in particular, not only have joined the conversation but also are being transparent in discussing the encounters they've had with racial injustice throughout their lives and when pursuing higher education and working in dietetics, and they're brainstorming strategies to end racial inequality and diversify the field.
Racial, ethnic, cultural, and gender diversity in dietetics is imperative, RDs say, because it brings a variety of voices and perspectives to the table that will only help grow the profession. Diversity serves clients and patients from different backgrounds and walks of life, better representing the communities in which dietitians work.
Some of the steps leadership in the nutrition profession can take to begin diversifying the field are to seek out Black, indigenous, and people of color to fulfill positions of leadership in education and in all the dietetics' specialties. Dietitians say they should engage in self-examination to determine whether they harbor any racial and/or cultural prejudices leading to implicit or explicit biases in nutrition counseling or while networking or interacting with colleagues of color. Others say cultural competencies for RDs should be required just as ethics is a required competency. Many RDs have ideas to share and will agree that much still needs to be done to begin identifying and replacing all covert or overt discriminatory practices in favor of policies and procedures that promote inclusivity and diversity.
In this issue, Today's Dietitian interviews three successful African American RDs in "Diversifying Dietetics," on page 40 to discuss their struggles with racial injustice in their lives and in dietetics and what the profession can do to become more diverse.
Also in this issue are articles on diabetes and weight management, obesity's link to genetics and the environment, familial hypercholesterolemia, food insecurity during COVID-19, and tips on finding your first dietetics job. Please enjoy the issue!
Judith Riddle, Editor
TDeditor@gvpub.com