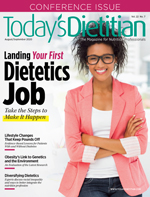 August/September 2020 Issue
Diversifying Dietetics
By Bonnie Taub-Dix, MA, RDN, CDN
Today's Dietitian
Vol. 22, No. 7, P. 40
Amid robust conversations and media coverage about racial injustice in America spurred on by the recent protests against systemic police brutality in the Black community, Today's Dietitian sits down with prominent African American RDs to discuss their experiences with inequality in life and dietetics and ways to better integrate the nutrition profession.
When COVID-19 invaded our lives, it was one of the most devastating events we'd experienced together as a nation. And while we've made efforts to flatten the curve, we still have more questions than answers about how long the virus will remain with us, when we will have an effective vaccine, and how to protect ourselves in the interim.
Just when we thought our country had suffered enough, we witnessed the death of George Floyd, a Black man brutally murdered by white Minneapolis police officers, leading to millions of people taking to the streets in protest in cities across the country and abroad.
It became apparent that although our nation is called the United States, we are far from united. George Floyd's murder was the proverbial spark that reignited deep-seated racial tensions and spotlighted the depth and breadth of injustice African Americans have endured for more than 400 years and continue to undergo every day.
Whether obvious or subtle, racial inequality and exclusion—and therefore a lack of diversity—always has existed in the dietetics profession. As of June 2020, in the United States, African Americans represent 2.6% and whites account for 81.1% of RDs. Asians make up 3.9% of dietitians, Hispanics or Latinos 3.1%, American Indians or Alaskan Natives 0.3%, and those who prefer not to disclose their ethnicity, are of two or more races, or go unreported represent 9%.
Sadly, despite these statistics and the recent racial unrest, many white dietitians, including myself, have only recently become aware of these disparities for the first time. The African American RDs whom I've interviewed for this article are successful, brilliant women, though I never thought about the hardships they may have suffered in their lives while growing up, pursuing education, or traveling along their paths to become great dietitians due to the color of their skin.
However, I and others want to learn about this country's history of systemic racism, and perhaps more importantly, unlearn many wrong assumptions about what our African American colleagues have or have not endured.
In the following Q&A, Today's Dietitian (TD) sits down with three African American RDs to discuss their experiences with racial inequality in their lives and in dietetics and what dietitians can do to increase diversity in our field, help us practice cultural humility and cultural competence, and address our own biases and practices of inherent racism. They, like many dietitians of color, have important stories to tell, and I hope this article serves as a bridge to creating meaningful, lasting change in our profession. TD's distinguished panel includes the following:
• Maya Feller, MS, RD, CDN, owner of Brooklyn, New York–based Maya Feller Nutrition, works with patients seeking MNT to manage diet-related chronic illnesses. She's the author of The Southern Comfort Food Diabetes Cookbook: Over 100 Recipes for a Healthy Life. She's dedicated to promoting nutrition education to help the public make informed food choices that support health and longevity. Feller also shares her approachable, real food–based solutions to millions of people through regular speaking engagements, local and national publications, and social media, and by serving as a national nutrition expert on Good Morning America, Strahan, Sara & Keke, and other television shows.
• Constance Brown-Riggs, MSEd, RD, CDE, CDN, president and owner of CBR Nutrition Enterprises in Massapequa, New York, focuses on providing complete MNT to hundreds of patients. She's chair of the Diabetes Care and Education Dietetic Practice Group of the Academy of Nutrition and Dietetics (the Academy) and author of the award-winning Diabetes Guide to Enjoying Foods of the World, a convenient guide to help people with diabetes enjoy all the flavors of the world while still following a healthful meal plan, and Living Well With Diabetes. She has established herself as an expert on nutrition, diabetes, and the cultural issues that impact the health and health care of people of color.
• Denine Rogers, MS, RDN, LD, FAND, is an integrative licensed dietitian and owner of Living Healthy, a unique nutrition, health, and wellness consulting business in Douglasville, Georgia. Rogers has been a wellness food and nutrition lifestyle management consultant for the past 15 years to foodservice companies, hospitals, federal government programs, educational institutions, corporations, small businesses, and health care facilities. She volunteers for the Academy as secretary of Dietitians of Integrative and Functional Medicine, is second century liaison of the National Organization of Blacks in Dietetics and Nutrition (NOBIDAN), is part of the diversity committee for the Georgia Academy of Nutrition and Dietetics, and is a member of the Asian Indians in Nutrition and Dietetics Member Interest Group of the Academy.
TD: Did you experience any racial injustice or inequality in the elementary and middle schools you attended?
Feller: As an adult, I look back and now know that funding streams and structures don't value or equitably fund communities of color, especially in urban public school settings. Growing up in Cambridge [Massachusetts] was progressive, so I was likely unaware of any inequalities in comparison to wealthier school districts. My friend circle from elementary, middle, and high school was made up of people I'm still friends with today, many of whom work in the arts and advocacy and social justice space.
I recognize that I'm privileged to have had an elementary school leader that made us start each day over the loudspeaker saying, "I am somebody." This was coupled with teachers who actively engaged in anti-bias learning strategies that fostered critical thinking. These early childhood experiences, along with the support of my family, greatly shaped who I am.
Rogers: I experienced racial injustice in an unusual way. When I was in junior high, I was diagnosed with mild dyslexia, and I had a hard time taking exams. I was sent to special education classes, and I noticed that all of the students that I saw there were African American (20% of the school's population was African American).
The school also housed a facility for special ed children, predominantly African Americans and Latinos, whom the school deemed as "hard to teach." During that time, my mother, who was a school teacher in a different district, was fighting with the Board of Education to get me out of those classes and moved to mainstream courses before high school. Before this change occurred, an evaluation was required by the guidance counselor who told me that the only career opportunities for children like me would be to work in janitorial or maid services. Well, I immediately told my mother, and within a couple of weeks I was placed in general classes. If I didn't have a mother as an advocate who worked in and knew the education system, who knows where I would be today.
TD: What inspired you to become a dietitian?
Rogers: When I was in high school, I had the incredible opportunity to work as a student intern during the summer at General Foods (now called Kraft General Foods). I worked in the consumer affairs department and test kitchens where the dietitians worked. I had never heard of a dietitian before this opportunity. The duties of the corporate dietitians at General Foods included answering questions from consumers about nutrition, performing surveys, conducting focus groups, writing articles for the General Foods Healthy Times newsletter, and creating recipes for new products in their test kitchens.
I've always loved the science behind nutrition and dietetics, and working with General Foods gave me the chance to pursue a career in the field of nutrition and dietetics. Incredible mentors like Paula Sneed, vice president of consumer and nutrition affairs at Kraft General Foods, helped shape my career, since she hired me as a student and then as a college intern during the summers. It was invaluable to work with one of the few African American female VPs in a Fortune 500 company. She even had the local newspaper interview me about my passion for nutrition and dietetics when I was a teenager. As a powerful woman with excellent leadership skills, she emphasized having discipline to work hard for what you want and never give up in anything you do.
Feller: I'm a second-career RD. My undergraduate degree is in experimental theatre with a focus on philosophy. After working in the arts and various jobs in underfunded New York City public schools, and while working at a museum, I found my way to nutrition. I was training for the Boston marathon and spent hours thinking about digestion—long runs allow the mind to wander. As the child of radical academics, I naturally thought this was something I should study.
Brown-Riggs: During my elementary and middle school years, I lived in St. Albans, Queens, New York. My next-door neighbor taught home economics during the school year, and she worked as a relief dietitian in the hospital during the summer. Her white uniform is what caught my eye. Although I thought she was a nurse, when she described the work she did, I knew that's what I wanted to do.
TD: Were there any obstacles you encountered that made it hard for you to get into the college or university you wanted to attend to study dietetics?
Feller: My undergraduate degree was in theatre, so as a dark-skinned woman who was far from the thin white ideal image, I was told I would never play a role other than the supportive best friend. The arts world wasn't open to a leading Black woman. I, along with other Black students in the program, watched as the young white men's careers flourished.
Brown-Riggs: My parents couldn't afford to send me to college, so my pathway to becoming an RD was nontraditional. During my last year of high school, I participated in a work-study program, and since my goal was to become a dietitian, I was able to work part time as a dietary aide.
Working in the dietary department gave me exposure to other dietitians. At that time, the requirements to become a dietitian were very different than they are today. While still working part-time as a dietary aide, I attended the New York Institute of Dietetics, and when I graduated, my position at the hospital was upgraded to dietitian. A few years later, however, the criteria to be called a dietitian changed: a bachelor's degree and sitting for the registration exam was now required. Since I only had a certification, my title was changed to "dietetic technician," but I was determined to get my degree and become a registered dietitian. I continued to work full time in the hospital and went to college in the evenings to receive an associate's degree in food technology. I then went on to receive my bachelor's degree in home economics and a master's degree in nutrition education. When I completed my master's degree, I remember a woman saying to me, "Oh, you were very lucky." I resented that statement because luck had nothing to do with my success. Hard work enabled me to get my degrees. My years of working as a dietetic technician enabled me to use my work experience, along with completing specific requirements established by the American Dietetic Association, to finally sit for the registration exam and become an RD.
TD: Can you describe some examples from your career in which you were treated differently based on the color of your skin?
Feller: There were many times when I experienced macro- and microaggressions, both from well-meaning non-Black people and intentionally racist non-Black people. The microggressions I experienced didn't happen excessively when I was in the dietetics internship or nutrition program. However, the most egregious examples came after I was an RD, ranging from walking into spaces where other RDs would ask, "Are you a dietitian?" even though it was a continuing education event for RDs. I've never gotten over the feeling that I always needed to display my knowledge of nutrition science and metabolic pathways even though I was a teacher since 2012. There are times when RDs assume, based on the color of my skin and natural hair, that I don't know as much as they do. It's quite something to have built a nutrition program for the Department of Health and Mental Hygiene and still be questioned by colleagues. Black dietitians and RDs of color have to be the best of the best to stand up to the scrutiny. Can you imagine that kind of pressure?
Brown-Riggs: I remember welcoming a client into my office. When I introduced myself, he said more than once, "You're Constance?!" It was very apparent that he didn't expect to see a Black woman. It was written all over his face and confirmed when he then made an excuse to not stay for his appointment. I've experienced instances like this on more than one occasion, although others have at least stayed for their appointments.
On another occasion, my (white) assistant and I left the office at the same time. As we were leaving, we met a new tenant (a white man) in the hallway. After we said hello, he immediately turned to my assistant and started talking to her as if she were the business owner, never acknowledging me, until I made him aware I was the business owner and she was my assistant. The assumption of course was that a Black woman couldn't be the business owner, so it had to be the white woman's business.
I've experienced implicit bias when being interviewed by a white physician and his office manager—also white. The office manager made a point to say that most of their patients were white and inquired about whether that would be a problem. In the end, I became a consultant in this physician's office and maintained a working relationship with him for over 20 years.
TD: Who are some African American dietitians who have made notable contributions to the dietetics profession, and what were some of their accomplishments?
Rogers: Being a member and now chair of NOBIDAN, one of the Member Interest Groups of the Academy, I have the pleasure of meeting so many accomplished Black dietitians. We highlight a few of these RDs for Black History Month on the @nobidan_mig Instagram page. As a few examples, Juanita Eldridge, MS, RD, has made a tremendous contribution in research and development of food and nutrition for astronauts in space travel for NASA, called Spaceship Food. She's truly a hidden gem. Evelyn Crayton, EdD, RDN, LDN, FAND, was a trailblazer as the first African American president of the Academy.
TD: What cultural biases exist among RDs toward clients and patients, and what is the effect of these biases?
Feller: Our diet culture perpetuates that bodies of Black women aren't desirable or the ideal. Weight and weight stigma often are steeped in racist trappings. When white or dominant culture becomes the norm and everything else is the "other," that means people are always trying to measure up to the "norm." Doctors also perpetuate these biases in caring for Black populations. The Academy needs to offer programs that address cultural bias, cultural needs, and cultural competence.
Currently, [health disparities among Black, Indigenous and People of Color (BIPOC)] is a problem because there's no discussion of the "why." Why do Blacks have greater incidences of diabetes and other diseases, including COVID-19? There are no easy answers, but education and unlearning are key to address these systemic biases.
Social determinants of health [also] impact accessibility to programs and determine which institutions receive funding. Historically, neighborhoods and programs created for BIPOC have been underfunded. BIPOC who are disproportionately burdened with noncommunicable diseases don't have equitable access to quality health care. This, in turn, results in increased mortality.
Kids in underserved communities are born disadvantaged, so how can they be expected to pass standardized exams? Can they make it into a nutrition program that's heavily based in the sciences? Black children don't have the same advantages as white children. Efforts need to be made to put scholarships in place for high school students in underserved communities. And will professors and teachers be brought in who are willing to make systemic changes in these underserved areas?
Rogers: There are cultural biases that I have witnessed towards clients and patients within dietetics practice. I had an Ethiopian client who was told that during their dinner meal with family they should use silverware when eating instead of their hands because using their hands and sharing their food with their family was unclean.
Health disparities refer to differences in health status among different groups of people. Some groups of people have higher rates of certain diseases and more deaths and suffering from them compared with others. Influences on health status include availability of and accessibility to high-quality education, nutritious food, decent and safe housing, affordable and reliable public transportation, culturally sensitive health care providers, health insurance, clean water and nonpolluted air, and lifestyle decisions. All of these factors can affect nutrition-related diseases such as obesity, hypertension, diabetes, hypercholesterolemia, and others.
TD: What are the steps we must take, and why, to integrate our profession?
Feller: Diversity in dietetics will involve programs that seek out and enroll BIPOC RDs-to-be and LGBTQ+ [lesbian, gay, bisexual, transgender, and queer, plus other underrepresented groups of the sexuality and gender spectrum such as intersex and asexual] RDs-to-be. We are providers that serve all communities, and they need representation in our profession. The challenge of segregated schools starts from an early age and isn't associated only with race. It's also significantly associated with class. BIPOC students historically have had less access to specialized educational enrichment programs, especially in math and the sciences. We would need to redistribute funds to underserved communities so there's access to quality, well-funded education programs beginning at earlier ages. We need to partner with organizations that are already doing this type of work.
Rogers: It's fundamentally necessary to diversify the field of nutrition and dietetics because of all the work we do in diverse communities. It would be unfair to not learn and develop relationships with the communities in which we work and serve. I recently became the cochair of the E-Commerce Committee of African American Professional Exchange (APEX), an associate resource group at Anthem, Inc, and serve with my fellow cochair, Judith Alexander, PharmD, BCACP, BCGP, consultant pharmacist, Sr.
APEX is where we raise cultural awareness about the African American community throughout the Anthem organization, and our platform is focused on health disparities within this population. We now have a team of Anthem APEX employee members writing educational articles and conducting webinars for Anthem employees based on this platform, fostering professional and personal development. This has enabled us to establish more profound relationships, respect, and understanding within the African American communities Anthem serves. As chair-elect of NOBIDAN, I'm proud that our mission is to provide a forum for professional development and support of dietetics, optimal nutrition, and well-being for the general public, particularly those of African descent.
TD: What can non-Black RDs do to educate themselves and fight racial injustice within the profession and in their practice?
Feller: White colleagues need to know that as long as they acknowledge their commitment to learning and unlearning—it's OK to make mistakes—that's part of this work. If people shy away from doing the work because they're afraid of making a mistake, it's a lost opportunity and we have failed at working toward change.
Non-Black dietitians need to commit to engaging in continuous education and formal training around cultural humility. If we serve people from diverse backgrounds, we need to be prepared to do so from an anti-bias patient-centered lens. We need to be prepared to listen to our patients and not be dismissive of their lived experiences.
There are so many dietitians actively engaged in anti-bias nutrition practice. I'd suggest dietitians spend some time on their social platform of choice and do the research to find the person or people that resonate with them the most. Commit to attending trainings for health care professionals focused on racial equality and culturally sensitive patient care.
Rogers: Dietitians can first recognize that cultural biases and health care disparities do exist. Next, they can learn about other cultures and place themselves in the shoes of those who are culturally different. It's important to understand the struggles [BIPOC] face in their daily lives, including their needs when it comes to health care. RDs can connect with various organizations to guide them and help meet their clients' health care needs.
I believe the best way to learn is to place yourself in another person's shoes. Learn what they have to encounter on a daily basis and the obstacles they face. Classwork is fine, but experience is better. Become more involved with this community and observe what they go through every day. Have empathy and don't be judgmental.
Cultural humility is essential, too. For those who don't know what cultural humility is, it's the ability to see things from each other's viewpoints, understand each other's backgrounds, and ultimately work together. On the other hand, cultural competence involves the ability to understand, communicate with, and effectively interact with people across cultures, but there's no understanding of other's perspectives regarding their culture. The way to practice cultural humility is to follow the American Psychological Association's advice: First is to have a lifelong commitment to self-evaluation and self-critique; second, a desire to fix power imbalances where none ought to exist; and third includes aspiring to develop partnerships with people and groups who advocate for others.
— Bonnie Taub-Dix, MA, RDN, CDN, is the award-winning author of Read It Before You Eat It — Taking You from Label to Table, and creator of BetterThanDieting.com. Taub-Dix is a media personality, media trainer for RDs, spokesperson, motivational speaker, journalist, and corporate and brand consultant. You'll find her on Instagram @Bonnietaubdix and @BTDmedia, Twitter @eatsmartbd, and Facebook @BonnieTaubDix.RDN and @BTDMediaGroup.
Glossary of Terms
BIPOC stands for Black, Indigenous and People of Color. Many social justice advocates prefer this terminology to the more general term "people of color," or POC, because it highlights the particularly severe onslaughts (eg, chattel slavery, displacement, violence) on Black and Native American/Indigenous populations due to white supremacy throughout history. (For more information, visit www.thebipocproject.org.)
Cultural bias is the tendency for people to judge others' beliefs and practices of other cultures through a narrow view based on their own culture.
Personal bias can derive from culturally defined interpretations but also can originate from other sources grounded in personal experience. Personal biases can lead to discrimination, and discrimination is usually derived from prejudice.
Cultural competence is defined as the ability to understand, appreciate, and interact with people from cultures or belief systems different from one's own.
Cultural humility is the ability to maintain an interpersonal stance that's other-oriented (or open to another person's perspective) in relation to aspects of cultural identity that are most important to that person. Cultural humility focuses on self-humility rather than achieving a state of knowledge or awareness.
Health care disparities are defined by Healthy People 2020 as "a particular type of health difference that is closely linked with social, economic, and/or environmental disadvantage. Health disparities adversely affect groups of people who have systematically experienced greater obstacles to health based on their racial or ethnic group; religion; socioeconomic status; gender; age; mental health; cognitive, sensory, or physical disability; sexual orientation or gender identity; geographic location; or other characteristics historically linked to discrimination or exclusion."
Systemic racism is the presence of racism (the conscious or unconscious belief in the superiority of one's race over or against another race) embedded into the structures of society that seek to deny equal opportunity and equal access to safe and adequate housing, educational opportunities, criminal justice, health care, goods and services, and employment. It becomes part of the policies or procedures at the federal, state, and local levels by which a particular entity operates.
---
Member Interest Groups and Resources Supporting Diversity
The Academy of Nutrition and Dietetics has several Member Interest Groups (MIGs) that reflect the many ethnically diverse communities in the profession and the public it serves. The Academy's MIGs that support African Americans and other people of color include the following:
• National Organization of Blacks in Dietetics and Nutrition is a professional organization of African American dietetics and nutrition practitioners whose mission is to provide a forum for professional development and support of dietetics, optimal nutrition, and well-being for the general public, particularly those of African descent. For more information, visit www.nobidan.org.
• Asian Americans and Pacific Islanders brings together members from the former Chinese and Filipino MIG communities and now strives to also include other Asian communities. For more information, visit www.aapimig.org.
• Cultures of Gender and Age is a group of like-minded members who embrace diversity and respect and celebrate everyone's uniqueness, offering members an inclusive community of networking and promoting the exchange of perspectives across gender, age, and lived experiences. For more information, visit https://coga.eatrightpro.org.
• Global MIG is a community of members focused on improving the nutritional status in regions with high burdens of malnutrition or nutritional crises due to conflict or natural disasters. For more information, visit https://gmig.eatrightpro.org.
• Indians in Nutrition and Dietetics (IND) brings together practitioners of Indian origin or those interested in learning more about this culture. IND MIG is a connected and collaborative community offering quality education and professional and leadership development. For more information, visit https://ind.webauthor.com.
• Latinos and Hispanics in Dietetics and Nutrition supports members' needs while fostering the development and improvement of food, nutrition, and health care for Latinos and Hispanics and their families in the United States and related territories, with outreach to Hispanic and Latino international members. For more information, visit www.eatrightlahidan.org.
• Religion offers a community for Academy members from various practice areas with an interest in cross-cultural awareness and reducing health disparities, specifically as they relate to the Jewish, Muslim, and Christian populations. For more information, visit https://rmig.eatrightpro.org.
• Cultural Competency for Nutrition Professionals is an e-book from the Academy of Nutrition and Dietetics. For more information, visit www.eatrightpro.org/practice/practice-resources/diversity-and-inclusion.