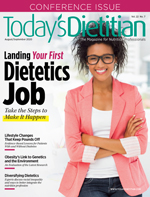 August/September 2020 Issue
Beverages: Get Hip to a New Generation of 'Wellness' Beverages
By Densie Webb, PhD, RD
Today's Dietitian
Vol. 22, No. 7, P. 12
Trend forecasters predict the beverage category will be hot for the rest of 2020 and beyond. In its annual report on upcoming trends, Imbibe, a beverage development company outside of Chicago, forecasts an exploding beverage scene incorporating lots of added ingredients that promise a variety of health benefits as well as new and classic flavors.1 Often, these trendy new beverages defy classification—the combinations and amounts of added ingredients are infinite.
Currently, there's plenty of buzz around low-alcohol and zero-proof drinks for the "sober curious," as well as more attention being paid to "hybrid functional" drinks that contain a variety of ingredients—from amino acids to herbals—purported to boost energy, improve athletic performance, or aid cognition. The overarching theme to the new wave of beverages is "holistic wellness," encompassing drinks that promise support for both physical and emotional health.
Here are a few of the current trends in beverage ingredients.
CBD
CBD (cannabidiol) extracted from hemp is reported to be beneficial for a range of conditions, including anxiety, depression, Alzheimer's disease, and cancer.2-4 Its addition to everything from coffee to carbonated beverages is one of the most controversial beverage trends.
The 2018 Farm Bill canceled hemp's designation as a Schedule I narcotic and legalized its cultivation. Hemp contains less than 0.3% of THC (tetrahydrocannabinol, the psychotropic component in marijuana), so there are no intoxicating effects. Although there are no clear FDA regulations to date regarding the addition of CBD to beverages, the agency is attempting to clamp down on its use as a food additive by issuing warnings to some manufacturers.
According to Janice Newell Bissex, MS, RDN, FAND, a holistic cannabis practitioner, culinary nutritionist, cookbook author, and owner of Jannabis Wellness, a cannabis consultancy in the greater Boston area, the quality of the CBD determines whether it will have a therapeutic effect. "CBD isolate is not as effective as broad-spectrum products, which have other cannabinoids and terpenes," she says.
This information typically isn't provided on product labels; the FDA found that 70% of CBD products tested were mislabeled, Bissex emphasizes.
Sweeteners
If clients are looking for sucrose on the labels of any of the trendy new beverages, they'll be hard-pressed to find it. However, some, like Ritual Zero Proof Whisky Alternative (see table), contain invert sugar (a combination of sucrose and fructose). Instead of sugar, most manufacturers are using stevia, monk fruit extract, noncaloric sweeteners such as acesulfame-K and sucralose (Splenda), and sugar alcohols such as erythritol.
Amy Kimberlain, RD, LD/N, CDCES, a spokesperson for the Academy of Nutrition and Dietetics, predicts that honey, agave, dates, and inulin will be top ingredients as sugar alternatives. If clients are concerned about the type of sweetener a beverage contains, encourage them to read ingredient labels carefully and instruct them on how to identify sweeteners that go by different names.
Adaptogens
Several drinks contain ingredients known as adaptogens (eg, schisandra, ashwagandha, holy basil, and ginseng), plants that are promoted to help the body resist physical, chemical, or biological stressors (see the article "Adaptogens" on page 14). Adaptogens in the form of supplements and powders and those added to drinks aren't regulated by the FDA. While these herbs and roots have been used for centuries in Chinese medicine, the clinical research on their use and effectiveness in Western medicine is still in the early stages.5-7
Collagen
Collagen is a connective protein found throughout the body, including the skin. In fact, collagen constitutes about 75% to 80% of skin.8
The theory behind drinking beverages that contain collagen is that an increase in the body's collagen levels results in healthier, firmer skin. ConsumerLab.com, an independent provider of test results and information to help consumers and health care professionals identify quality health and nutrition products, evaluated the research on collagen supplements (not drinks) and concluded that doses of 2.5 to 9 g per day appeared to improve skin and modestly reduce wrinkles.9
Any benefits of added collagen may depend on whether it's hydrolyzed, which generally isn't revealed on product labels.9 The collagen-containing drinks in the table accompanying this article contain 9 to 10 g collagen per serving.
Amino Acids
Beverages that have amino acids, such as theanine, tyrosine, and lysine, added to their formulations are referred to as "nootropics." They also contain a variety of other ingredients generally promoted to improve cognition and focus.10-12 According to Kimberlain, "some supplements do show promise for improving brain function, but dietitians should caution patients and clients and make them aware of any safety concerns and the lack of conclusive scientific evidence."
Vitamins
It's tough to generalize or determine which nutrients and in what amounts have been added (or not) to drinks. Among beverages with added vitamins, the most common Today's Dietitian found are B vitamins and vitamin C.
Bottom Line
Hundreds of beverages fall into the "wellness" category, with any number of combinations and amounts of ingredients that suggest or promise to improve mental or physical health. Unfortunately, not enough research is available for any of these beverages to suggest they have a variety of health benefits. Moreover, these "wellness" beverages can be pricey, and they aren't regulated by the FDA as are prescription and over-the-counter medications.
Dietitians can't know everything about all of the available beverages, but if a client or patient asks about them, find out about the ingredients, do some research, and decide how to best answer their questions.
— Densie Webb, PhD, RD, is a freelance writer, editor, and industry consultant based in Austin, Texas.

References
1. McHugh H. #Trendspotting: 2020 trend predictions. Imbibe website. https://imbibeinc.com/food-and-beverage-industry-media/blog-postings-from-the-drink-tank/trendspotting-2020-trend-predictions. Published November 25, 2019. Accessed March 1, 2020.
2. Lee JLC, Bertoglio LJ, Guimarães F, Stevenson CW. Cannabidiol regulation of emotion and emotional memory processing: relevance for treating anxiety-related and substance abuse disorders. Br J Pharmacol. 2017;174(19):3242-3256.
3. Pisanti S, Malfitano AM, Ciaglia E, et al. Cannabidiol: state of the art and new challenges for therapeutic applications. Pharmacol Ther. 2017;175:133-150.
4. Li H, Liu Y, Tian D, et al. Overview of cannabidiol (CBD) and its analogues: structures, biological activities, and neuroprotective mechanisms in epilepsy and Alzheimer's disease. Eur J Med Chem. 2020;192:112163.
5. Liao LY, He YF, et al. A preliminary review of studies on adaptogens: comparison of their bioactivity in TCM with that of ginseng-like herbs used worldwide. Chin Med. 2018;13:57.
6. Panossian A. Understanding adaptogenic activity: specificity of the pharmacological action of adaptogens and other phytochemicals. Ann N Y Acad Sci. 2017;1401(1):49-64.
7. Panossian A, Wikman G. Effects of adaptogens on the central nervous system and the molecular mechanisms associated with their stress-protective activity. Pharmaceuticals (Basel). 2010;3(1):188-224.
8. Skin. Cleveland Clinic website. https://my.clevelandclinic.org/health/articles/10978-skin. Updated March 17, 2016. Accessed February 29, 2020.
9. Collagen supplements review. ConsumerLab.com website. https://www.consumerlab.com/reviews/Collagen_Supplements_Review_Peptides_Hydrolysate/collagen/. Updated March 28, 2020.
10. Malik R, Sangwan A, Saihgal R, Jindal DP, Piplani P. Towards better brain management: nootropics. Curr Med Chem. 2007;14(2):123-131.
11. Heid M. Nootropics, or 'smart drugs,' are gaining popularity. But should you take them? Time. January 23, 2019. https://time.com/5509993/nootropics-smart-drugs-brain/
12. Ahmad Khan MS, Ahmad I, Chattopadhyay D (eds). New Look to Phytomedicine: Advancements in Herbal Products as Novel Drug Leads. Cambridge, MA: Academic Press; 2018.