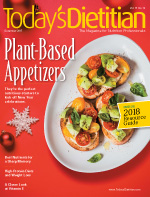 December 2017 Issue
Ask the Expert: Counseling Transgender Clients
By Toby Amidor, MS, RD, CDN
Today's Dietitian
Vol. 19, No. 12, P. 8
Q: I've been reading that clients who identify as transgender may have unique health experiences and needs. In what way is this the case, and how can I effectively counsel transgender individuals?
A: Approximately 1.4 million Americans, or 0.6% of the US population, identify as transgender, meaning they don't identify with the gender assigned to their physical sex or don't conform to any particular gender (otherwise known as gender nonconforming).1 Transgender individuals experience higher rates of certain health issues compared with gender-conforming (or cisgender) people. RDs need to consider these clients' possible health conditions as well as take into account hormone therapies and other treatments they may receive.
Health Disparities
Transgender individuals have a high prevalence of sexually transmitted infections including HIV, mental health issues, and suicide, and are less likely to have health insurance compared with cisgender people.2 The majority of transgender and gender-nonconforming survey participants in a report of the National Transgender Discrimination Survey have accessed some form of transition-related medical care, such as gender identity counseling and hormone therapy, despite barriers of discrimination and inability to afford it.3 It's important to note that transgender individuals who are undergoing hormone therapy may be at an increased risk of decreased bone density and CVD.4
Calculating Dietary Needs
Since guidance for nutrient calculations for transgender individuals isn't well established, RDs may be unsure about whether to use guidelines for males or females for each client. Academy of Nutrition and Dietetics spokesperson Heather Mangieri, MS, RDN, CSSD, LDN, says, "While no official workgroup or taskforce has been established … the Academy's dietetic practice groups have provided information to help dietitians better understand and guide transgender patients. Guidance was presented at the 2013 Food & Nutrition Conference & Expo™, and articles have been published in Food & Nutrition Magazine and in the Academy's journal."
Faced with still-burgeoning formal guidance, some RDs have developed their own methods of evaluating transgender needs. Meredith Liss, MA, RDN, CDN, CDE, CLT, is a senior dietitian at the Center for Special Studies at NewYork-Presbyterian Hospital, a program that specializes in prevention and treatment of HIV in a trans-friendly environment while also providing primary care to transgender patients without HIV. When calculating nutritional needs of transgender patients, the program uses gender-neutral kcal/kg calculations rather than separate calculations for men and women such as the Mifflin St. Jeor or the Harris-Benedict equations.
Rebecca Scritchfield, MA, RDN, HFS, a private practice dietitian and author of Body Kindness: Transform Your Health From the Inside Out — and Never Say Diet Again, uses a slightly different approach. "Since my work centers on body trust and intuitive eating, I'm rarely calculating calorie needs," she says. "Like my cisgender clients, I have relied on the clients' concerns and therapist support of nutrition care for recovery in the outpatient setting."
Transgender patients undergoing hormone therapy require special consideration. According to Liss, "Male-to-female transgender patients who receive antiandrogens and estrogen therapy to induce feminization show an increase in body fat and a decrease in lean body mass. Female-to-male transgender patients who receive androgen therapy to induce masculinization show a decrease in body fat and an increase in lean body mass." As such, she says, nutritional needs should be calculated on a case-by-case basis; for male-to-female transgender patients on long-term hormone therapy, female calculations are used, while for female-to-male transgender patients on long-term hormone therapy, male calculations are used.
Compassion and Inclusion
Nutrition professionals also must counsel transgender clients with compassion and respect. Scritchfield says, "Like all clients, you want to build trust through an alliance with your client. I have recently updated my office practices, new client intake forms, and website to reflect recommendations for creating a safe and welcoming clinic environment from the UCSF [University of California, San Francisco] Center of Excellence for Transgender Health."5
Adding gender identification to initial patient-intake forms can help practitioners know how to properly address patients by their preferred name and pronouns. The Center of Excellence for Transgender Health provides a pronoun reference sheet and list of terminology and expressions that can be used to build a rapport with clients.6
— Toby Amidor, MS, RD, CDN, is founder of Toby Amidor Nutrition (http://tobyamidornutrition.com) and the author of the cookbook The Greek Yogurt Kitchen: More Than 130 Delicious, Healthy Recipes for Every Meal of the Day and The Healthy Meal Prep Cookbook. She's a nutrition expert for FoodNetwork.com and a contributor to US News Eat + Run and MensFitness.com.
References
1. Flores AR, Herman JL, Gates GJ, Brown TNT; The Williams Institute, UCLA School of Law. How many adults identify as transgender in the United States? http://williamsinstitute.law.ucla.edu/wp-content/uploads/How-Many-Adults-Identify-as-Transgender-in-the-United-States.pdf. Published June 2016.
2. Lesbian, gay, bisexual, and transgender health. HealthyPeople.gov website. https://www.healthypeople.gov/2020/topics-objectives/topic/lesbian-gay-bisexual-and-transgender-health.
3. Grant JM, Mottet LA, Tanis J, et al. Injustice at every turn: a report of the National Transgender Discrimination Survey. http://endtransdiscrimination.org/PDFs/NTDS_Report.pdf. Published 2011. Accessed October 8, 2017.
4. Wellington C, Bilyk H. Gender identity: a culture with unique nutrition concerns. J Acad Nutr Diet. 2012;112(9 Suppl):A21.
5. Deutsch MB. Creating a safe and welcoming clinic environment. University of California, San Francisco Center of Excellence for Transgender Health website. http://transhealth.ucsf.edu/trans?page=guidelines-clinic-environment. Accessed October 8, 2017.
6. Hastings J. Approach to genderqueer, gender non-conforming, and gender nonbinary people. University of California, San Francisco Center of Excellence for Transgender Health website. http://transhealth.ucsf.edu/trans?page=guidelines-gender-nonconforming. Accessed October 8, 2017.