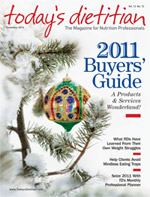 December 2010 Issue
Chickpeas — Rediscovering This Middle Eastern Staple Is More Than a Matter of Taste
By Bryan Roof, RD, LDN
Today's Dietitian
Vol. 12 No. 12 P. 64
I like to think I have a well-stocked pantry: virgin olive oil, artisanal vinegar, fleur de sel, etc. But the outlier has to be canned—yes, canned—chickpeas. While I typically avoid cans and their oft-overcooked and bland occupants, I take exception to chickpeas. Also known as garbanzo or ceci, chickpeas blend well with most flavors, offer up a healthful dose of protein and fiber, and, out of the can, it's hard to deny their convenience—and this is one of the few times that I'm not ashamed to admit it. Chickpeas, in all their nutty and convenient glory, fulfill all of the requirements for quick and healthful family meals.
Chickpeas originally hail from Middle Eastern and Mediterranean soil and can be found fresh there during the summer months, housed two to three peas to each leafy green pod. Freshly shucked, they can be cooked in a similar manner to fresh shell beans. Occasionally, fresh chickpeas can also be found at farmers' markets stateside. However, much of the rest of the world cooks with dried chickpeas, which offer a sweeter, slightly nuttier, and one could say truer chickpea flavor than the canned alternative. But their cooking requires a time investment: They first must be soaked overnight in about four times their volume of water, drained and transferred to a large pot with a similar amount of fresh water, and brought to a simmer and cooked until tender, somewhere between one and two hours. Once tender, salt is added to the cooking liquid (optional), and the chickpeas should be allowed to cool in the liquid to pick up the seasoning.
Don't get me wrong—if I had my druthers, I'd be wholeheartedly involved in a relationship with dried chickpeas. But I'm also a realist and recognize that their advanced preparation and extended cooking time could postpone dinner and possibly upset my children's delicate disposition.
While many are familiar with hummus, the infamous chickpea, tahini, garlic, and lemon purée, chickpeas can also be oven roasted for a crisp snack; coarsely mashed with scallions, cumin, and olive oil for a quick side dish; sprinkled on a salad; or floated into a soup or curry. Chickpea flour is used to make a variety of foods, including the Provencal crepes known as socca, which someone has undoubtedly filled with whole chickpeas at some point. Out of the can, even their starchy packing liquid can be used as an impromptu sauce base for sautéed greens. One of my favorite last-minute preparations for chickpeas, though, is a heady mix of herbs, spices, and garlic like that in the accompanying salad. But whatever the application and whether you prefer the convenience of canned or the sweetness of freshly cooked, it's hard to go wrong by simply minding your peas.
— Bryan Roof, RD, LDN, is a chef, dietitian, and food writer living in Boston.
Chickpea and Carrot Salad
Serves 4
Ingredients
2 T fresh lemon juice
2 garlic cloves, minced
2 packed cups cilantro leaves and stems
1/2 cup slivered almonds, toasted
1 tsp ground cumin
1 tsp sweet smoked paprika
1/2 tsp kosher salt
1/4 tsp cayenne pepper
1/2 cup extra-virgin olive oil
Freshly ground black pepper
2 (15-oz) cans chickpeas, rinsed and drained
1 lb carrots, peeled and coarsely shredded
Directions
In a food processor, combine lemon juice with minced garlic and let stand for 15 minutes. Transfer cilantro, half of the almonds, cumin, paprika, salt, and cayenne pepper to the food processor and pulse until chopped. Add the olive oil and process to a chunky paste. Season with salt and pepper to taste; transfer to a large bowl. Add the chickpeas and carrots and toss to combine. Garnish with the remaining almonds and serve.
Nutrient Analysis per serving:Calories: 590; Total fat: 36 g; Sat fat: 4.5 g; Trans fat: 0 g; Cholesterol: 0 mg; Sodium: 380 mg; Total carbohydrate: 52 g; Fiber: 13 g; Protein: 16 g
Note: This recipe is adapted from Cutty's, a craft sandwich shop in Brookline, Mass. Three cups of freshly cooked chickpeas can be substituted for the canned, if desired.