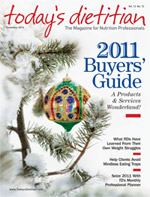 December 2010 Issue
Rising to the Challenge — Chef Takes Retirement Community Foodservice From Bland to Grand
By David Yeager
Today's Dietitian
Vol. 12 No. 12 P. 24
"Delicious" is not usually the first word that comes to mind when people talk about retirement community food. But Justin Johnson hopes that someday it will be. Since January 2008, Johnson, executive chef at Harwood Place, an independent-living retirement community in Wauwatosa, Wis., has been transforming the foodservice operation from an institutional, cafeteria-style facility to a fine dining haven. It took a couple of years to fully make the transition, but in the past year Harwood Place has become known in the greater Milwaukee area for fresh, local food and creative menus. Those qualities may be more commonly found at urban bistros, but Johnson took this job because he likes a challenge.
"When I first interviewed for this position, the ad said that they were looking for an executive chef with formal training to bring a fine dining atmosphere to a retirement community, and I thought that seemed like kind of a contradiction," he says. "And I thought 'I need to see what that's about.'"
But Johnson didn't take Harwood Place from meatloaf and powdered mashed potatoes to pan-seared local veal chops with red currant demiglace, a warm grain salad, and local haricot verts overnight. After signing on, his first task was to update the kitchen. Old, improperly functioning appliances had to go, and essential kitchen tools needed to be brought in. The kitchen was also reconfigured to provide a more efficient workspace. Even the dining room, which Johnson says was "almost funeral home looking," was renovated.
Once these changes had been made, Johnson needed to train the staff. Most of the employees working in the kitchen had little or no formal culinary experience, so Johnson closed the foodservice area for three days to teach them how to prepare meat, vegetables, and soup from scratch. Although this three-day course was just the beginning, it pointed the foodservice team in the direction Johnson wanted to go. Focusing on ingredients and preparation not only paved the way for more interesting dishes, but it also helped improve the nutritional value of the food. For instance, instead of "just throwing a pan of green beans [on the stove] and steaming it beyond belief to where it ends up with that swampy, murky green color," Johnson taught his staff how to blanch and shock vegetables to retain nutrients.
While Johnson has finally brought the facility to a place where he's comfortable, he's been careful not to be overly experimental. There's no molecular gastronomy going on in his kitchen. Coming from Le Cordon Bleu College of Culinary Arts in Chicago, he wanted to make his mark, but he realized that his clientele wasn't necessarily looking for avant garde cuisine.
"I have a lot of wild ideas that probably wouldn't go over too well with our customer base," he says. "And so I had to really kind of pull back on some things and make sure that, yes, the food is good and it's interesting and it's original, but it's not totally off the radar and it's not totally unrecognizable to this generation. So I guess there was a certain amount of humility that I needed to approach it with."
Not Your Grandfather's Retirement Community
Since Johnson took over, Harwood Place has gone from a facility with just OK food to a dining hot spot. He says the foodservice has become a draw for people who are considering retirement community living—and that's a factor that people over the age of 62 are deeming increasingly important.
"There's certainly a trend toward more innovative ways to offer healthy foods," says American Dietetic Association (ADA) spokesperson Christine Gerbstadt, MD, RD.
At a time in their lives when many people are becoming more isolated and potentially less interested in cooking or healthful eating, Gerbstadt says communities that offer interesting, healthful options are becoming more popular. Rather than munching on candy or snack foods all day, people can look forward to balanced meals. And there's no reason that balanced has to equate to boring.
"Fine dining and healthier food are absolutely compatible goals," says Gerbstadt. "And it also creates a lot of social camaraderie and interest around eating."
While grilled blue marlin with roasted red pepper coulis and arugula salad in a fig vinaigrette and mussel merlot sauce seems like fare for the well-heeled, ADA spokesperson Katherine Tallmadge, MA, RD, says there are plenty of studies suggesting that healthful, local eating is no more expensive than eating less-healthful, processed foods. She adds that fresh produce can be inexpensive if buyers know where to shop. Although there are varying levels of retirement living and wide income disparities among facilities, Tallmadge says low income is no excuse for bad food.
"Even at the bottom level, you should have enough money to provide your residents with fine food," she says. "I don't think it takes a lot of money to do that, if you define fine as freshest possible, seasonal, [and as] local as possible."
Tallmadge says a problem that she's seen in many of the retirement settings in which she's worked has been a lack of commitment from management. Although the food itself is not necessarily more expensive, upgrading facilities and keeping a dietitian on staff—as Johnson does—are added expenses. But changing health concerns, such as increased rates of hypertension and diabetes, make fruits, vegetables, and lean protein sources increasingly important components of seniors' diets. Tallmadge points out that the extra costs can be somewhat offset by a skilled staff.
"If a nursing home is not spending enough on their foodservice and doesn't have an appropriately trained cook or dietitian, they may not be getting the best bang for their buck," she says.
Gerbstadt says other ways to increase interest in healthful options are to incorporate salad bars or cooking stations such as a pasta or sandwich bar into a foodservice operation. Because salad preparation is labor intensive, seniors may be more inclined to eat it if the prep work is already done. Or high-fiber, whole grain pastas can be substituted for standard varieties, with more healthful sauces subbing for alfredo-type sauces. But however it's done, there are many options available for retirement communities to improve nutrition and satisfy taste buds.
So have any neighboring chefs contacted Johnson to find out how he transformed a typical, middle American, institutional foodservice operation into a culinary destination? "Not yet," he says with a laugh, adding, "I'll be happy to take those calls whenever they start coming."
— David Yeager is a freelance writer and editor based in Royersford, Pa.