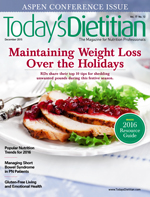 December 2015 Issue
Popular Nutrition Trends for 2016
By Densie Webb, PhD, RD
Today's Dietitian
Vol. 17 No. 12 P. 26
RDs weigh in on what products will be trending in the new year ahead.
Each year, nutrition trends that were once all the rage fade away and new trends emerge, sometimes making headlines. While a few trends, like gluten-free products, seem to be long-lived, others, like vitamin waters or fat-free cookies, see their heyday and then are relegated to the back row of the nutrition show. So, it's that time again—time to look into the nutrition crystal ball for 2016 and see what's new, what's hot, and what you can expect clients and patients to quiz you about in the coming months.
To find out what to expect, Today's Dietitian speaks with several nutrition experts to determine what products and categories will be the most popular this year and on the minds of clients and patients in 2016. Here's what they forecast:
Souping
"Souping is the new juicing," says Rachel Beller, MS, RDN, CEO of Beller Nutritional Institute and author of Eat to Lose, Eat to Win: Your Grab-N-Go Action Plan for a Slimmer, Healthier You. "It's definitely on the horizon for 2016." She's not referring to bone broth diets that encourage you to sip on soup before a meal to tame your appetite but rather to exclusive souping meal plans that even include desserts. She says, "While exclusive juice diets are billed as 'cleanses' or 'detoxes,' the one ingredient with the most 'detoxing' power—fiber—is trashed after the juice is squeezed out." Not so with soups, which often contain whole vegetables and, in the case of breakfast soups, fruit. The soups keep the fiber, seeds, rind, and pulp that juicing often discards. "It's trending in Los Angeles, with soups sold in to-go jars, similar to pressed juices." There are breakfast soups, known as smoothie bowls, and even dessert soups. McKenzie Hall, RDN, cofounder of NourishRDs, a nutrition communications and consulting company, says that because you have to sit down and eat with a spoon, breakfast smoothie bowls encourage people to enjoy their breakfast more mindfully.
Sprouted Grains
While sprouted grains have been around for a while, our forecasters predict that they'll become more mainstream. "Sprouting provides increased vitamins and minerals, antioxidants, increased digestibility, and nutrient absorption," says Melissa Joy Dobbins, MS, RDN, CDE, a nutrition blogger and consultant for Way Better Snacks, a company that produces sprouted grain chips and crackers. Sprouting, she says, creates enzymes that make plant proteins, essential fatty acids, starches, and vitamins more available for absorption. According to Oldways Whole Grain Council, a nonprofit nutrition education organization based in Boston, some research suggests that sprouted buckwheat can decrease blood pressure and help protect against fatty liver; and sprouted brown rice can help reduce blood glucose levels and improve immune function in breast-feeding mothers. In addition to chips and crackers, you also can expect a wider variety of sprouted food products. At the Academy of Nutrition and Dietetics' 2015 Food & Nutrition Conference & Expo® (FNCE®) in Nashville, Tennessee, several companies displayed their sprouted grain products, including grain cereals, snack bars, and rice and risotto mixes.
More Products With Less Sugar
According to Matthew Kadey, MSc, RD, cookbook author and food writer, companies will be under increasing pressure to reduce the added sugar content of their products and, as a result, will be turning to more of the so-called 'natural sweeteners,' like stevia, maple syrup, agave syrup, monk fruit, date sugar, and coconut palm sugar. Some provide as many calories as table sugar, others contain fewer calories, and some, like stevia, are calorie-free. While certain natural sweeteners, like date sugar, provide nutrients absent from table sugar, there's little or no research to suggest that alternative natural sweeteners provide any health benefits. Americans consume upwards of 22 teaspoons of added sugar per day and there's no debate that this amount should be reduced significantly; the response to this statistic has been a virtual "war on sugar." Google "war on sugar" and you'll find that chef Jamie Oliver has declared a personal war on the sweet stuff. Look again, and you'll find articles in The New Yorker, Bloomberg View, Huffington Post, and The Washington Post all declaring a war on sugar. As Kadey remarked, there will be greater demand and increased offerings of products containing reduced amounts of sugar, replaced with one or more of these natural sweeteners, many of which are metabolized by the body no differently than sucrose. Be prepared to answer consumer questions about all of them.
Probiotic Push
Probiotics have been around for a while. Those "good bacteria," like L Acidophilus, L plantarum, L rhamnosus, and L reuteri, have been found in yogurts and yogurtlike products for a long time. However, Sarah-Jane Bedwell, RD, LDN, a Nashville-based dietitian, says, "Looking forward to 2016, it won't be uncommon to find probiotic-fortified foods and beverages, such as orange juice, cereals, and waters." At the Natural Products Expo East in 2015, there also were vegan buttery spreads made from virgin coconut oil with probiotics added; microwaveable, high-protein muffins with probiotics; and organic fruit and vegetable juices, sweetened with maple syrup and with probiotics added. And it's not just about improving intestinal health. There's an important gut/brain connection you may be hearing more about. Research suggests that probiotics may be helpful in treating symptoms of depression. Whether or not there are enough live, active good bacteria in these new products to improve health is another question.
Full-Fat Dairy
According to Hall, "Now that people are starting to embrace more fat in their diets, I think we'll continue to see more full-fat and reduced-fat (as opposed to fat-free) dairy products being used."
Gregory Miller, PhD, MACN, president of the Dairy Research Institute, confirmed Hall's observation. "Consumption of whole-milk dairy products is on the rise as part of a whole, natural, and real trend. And there's a growing understanding that milk fat isn't bad for you and may actually be good for you." A survey conducted by IRi, a company specializing in predictive analytics in consumer markets, found that whole milk sales have gradually increased from 27.9% of the retail market in 2010 to 32.1% in 2015. Milk fat contains bioactive compounds, such as conjugated linoleic acid, a fat that research suggests may decrease the risk of coronary heart disease and depress cancer cell growth. The trend may be catching up with the research. In 2013, three comprehensive, independent reviews, published in the American Journal of Clinical Nutrition, the Journal of the American Heart Association, and the European Journal of Nutrition, concluded that there's no association between dairy fat or high-fat dairy foods and obesity, type 2 diabetes, or cardiometabolic risk, and they may be inversely associated with obesity risk. Not everyone agrees with these findings; the DASH diet and MyPlate still recommend consuming low-fat or nonfat dairy products. While the Scientific Report of the 2015 US Dietary Guidelines Advisory Committee (DGAC) pointed out that "consumption of dairy foods provides numerous health benefits, including lower risk of diabetes, metabolic syndrome, CVD [cardiovascular disease], and obesity," the evidence on dairy fat wasn't specifically addressed.
The Pluses of Pulses
Pulses are lentils, dry beans, beans, and chickpeas to clients and patients. The United Nations is so certain that pulses will peak in popularity that it has dubbed 2016 the International Year of Pulses (IYP). The aim of IYP 2016 is to heighten public awareness of the nutritional benefits of pulses as part of sustainable food production, aimed towards food security and nutrition. According to the United Nations' Food and Agriculture Organization, pulses are a vital source of plant-based proteins and amino acids for people around the globe and should be eaten as part of a healthful diet to address obesity, as well as to prevent and help manage chronic diseases such as diabetes, coronary conditions, and cancer; they're also an important source of plant-based protein for animals. In addition, pulses come from plants that have nitrogen-fixing properties, which can contribute to increasing soil fertility and have a positive impact on the environment. Cynthia Sass, MPH, MA, RD, CSSD, a nutrition blogger and author of Slim Down Now: Shed Pounds and Inches With Real Food, Real Fast, says she has devoted an entire chapter in her book to the health and weight-loss benefits of pulses, along with an eating plan that includes one serving of pulses per day. At FNCE® 2015, pulses were on display as snack bars and snacking crisps, in prepackaged salads with edamame and roasted soy nuts, and in soups.
Better With Beets
Beets have long been at the bottom of the vegetable hierarchy, as any fan of the show The Office can attest. When the character Dwight Schrute talks about his beet farm, his boss Michael Scott tells him, "Dwight, beets are the worst; nobody likes beets!" Well, food companies are now betting that the tide has turned and beets increasingly will be found on American tables. Beet juice—alone and combined with passion fruit juice—was on display at FNCE® 2015, along with beet hummus and beet-infused sports drinks. Consuming more beets would be a good thing, because they're rich in betalains, antioxidant compounds; folate; fiber; and the minerals manganese, potassium, copper, and magnesium. A 2015 review of beets and their health benefits in the journal Nutrients found that consumption of beets and beet concentrate holds promise as a treatment for oxidative stress and inflammation. Its constituents possess potent antioxidant, anti-inflammatory, and chemopreventive activity. So be ready with answers to questions about beets.
Relaxing Cholesterol Restrictions
Since the 1970s, the generally accepted recommendation regarding dietary cholesterol has been to limit intake to no more than 300 mg/day. But the 2015 DGAC, which reviews the latest research and makes recommendations for the US Dietary Guidelines for Americans, has for the first time taken a step back from the 300 mg/day rule. This is what the DGAC report said: "Previously, the Dietary Guidelines for Americans recommended that cholesterol intake be limited to no more than 300 mg/day. The 2015 Dietary Guidelines Advisory Committee will not bring forward this recommendation because available evidence shows no appreciable relationship between consumption of dietary cholesterol and serum cholesterol … Cholesterol is not a nutrient of concern for overconsumption." Because the average US daily intake of dietary cholesterol already is less than 300 mg, it's no longer considered a nutrient of concern. Whether or not dietary cholesterol in excess of that amount affects risk of coronary artery disease or risk of diabetes is still unclear. And because the guidelines likely will be issued at either the end of 2015 or the beginning of 2016, expect to get many questions in 2016 about whether dietary cholesterol still matters and how much is too much.
Sustainable Diets
Another first for the 2015 DGAC report was the mention of sustainable diets as part of the recommendations for achieving a healthful diet. The report defines sustainable diets as "a pattern of eating that promotes health and well-being and provides food security for the present population while sustaining human and natural resources for future generations." The report goes on to state, "The environmental impact of food production is considerable and if natural resources such as land, water, and energy are not conserved and managed optimally, they will be strained and potentially lost. The global production of food is responsible for 80% of deforestation, more than 70% of fresh water use, and up to 30% of human-generated greenhouse gas … emissions. It also is the largest cause of species biodiversity loss." Nevertheless, the USDA has recently stated publicly that the US Dietary Guidelines are not the appropriate vehicle for promoting sustainability, so dietitians won't see it mentioned or explained in the 2015 guidelines when they're released. Still, there will likely be more emphasis on food products in the market and on dietary patterns that are more sustainable for the planet. Be armed with information about what a sustainable diet is and advice on how to eat sustainably.
Managing Food Waste
Related to the sustainability movement is the growing emphasis on reducing food waste in restaurants, hospitals, and grocery stores as well as in the home, where 60% of food waste occurs. Here's another sobering statistic from Andrew Shakman, food waste prevention advocate and cofounder of LeanPath, a nonprofit organization developed to prevent and minimize foods waste through computerized food waste monitoring systems: one-half of all the food in the United States is wasted farm to fork, yet there are 870 million hungry people on the planet. To learn more about the specifics of reducing food waste, visit the Environmental Protection Agency website at www2.epa.gov/sustainable-management-food/food-recovery-hierarchy and read the book American Wasteland: How America Throws Away Nearly Half of Its Food (and What We Can Do About It) by Jonathan Bloom. The FDA and the USDA have established a joint goal to reduce food waste by 50% by the year 2030. In the next few years, expect to address more questions about how to cut food waste in the home.
Renewed Push for Protein
Researcher Douglas Paddon-Jones, PhD, FACSM, from the University of Texas Medical Branch in Galveston, says we can expect more research on the benefits of increased intakes of high-quality protein in middle-aged men and women. Much of the protein research to date, he says, has been in young and older populations. But the National Institutes of Health is calling for more research proposals that focus on protein intakes and its health effects in the middle-aged population. Keeping up with the latest protein research will better prepare dietitians to make protein recommendations for everyone they counsel.
— Densie Webb, PhD, RD, is a freelance writer, editor, and industry consultant based in Austin, Texas.