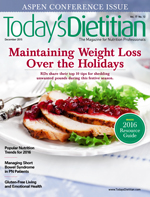 December 2015 Issue
Maintaining Weight Loss Over the Holidays
By Beth W. Orenstein
Today's Dietitian
Vol. 17 No. 12 P. 20
Expert dietitians share their top 10 strategies for shedding unwanted pounds during this festive season.
Many clients and patients have made great progress losing weight throughout the past year. Some have met their weight-loss goals while others are close to meeting their target. You want them to keep up the momentum and not risk packing on the pounds during the remainder of the holiday season. Thanksgiving may be behind us, but the festivities leading up to the New Year celebrations are in full swing and may make it hard for clients, who have demonstrated amazing resolve, to maintain healthful eating habits and continue to lose weight.
Today's Dietitian asks three RDs who specialize in weight management to share their top 10 tips for maintaining weight loss during the holidays.
All three experts agree that the key to weight loss maintenance this time of year is to plan a strategy from the first party invitation right up to New Year's Day when clients are inclined to make resolutions about their dietary habits. Following are their top 10 strategies RDs can share with clients.
1. Bring a Diet-Friendly Dish
Suggest clients bring a tasty, low-calorie, nutrient-dense dish that's favorable to their weight-loss plan, says Sara Haas, RDN, LDN, a Chicago-based spokesperson for the Academy of Nutrition and Dietetics, and a graduate of The Cooking and Hospitality Institute of Chicago's Le Cordon Bleu Program. If clients bring a dish that fits into their healthful eating plan, she says they'll have something they can fall back on. And the host likely will appreciate the offer. "No one wants to make everything for a party themselves," Haas says. Clients can bring a vegetable-rich salad with a touch of healthful fat, a whole-grain side dish, grilled vegetables, a fruit platter, or a smoked salmon platter.
In addition, clients can make some weight-loss friendly swaps in the dishes they bring. "You can usually reduce the sugar in a recipe by at least one-third and up to one-half without anyone noticing," says Caroline Kaufman, MS, RDN, a Los Angeles-based nutrition expert and blogger at CarolineKaufman.com. Clients can use applesauce or prune purée for half the fat in a recipe. They can use cooking sprays to coat pans instead of rubbing butter on them. And they can thicken soups with puréed vegetables such as potatoes and carrots or cooked risotto rice instead of adding cream, Kaufman adds.
2. Eat Light Before the Party
If clients starve themselves all day to save their appetites and all their calories for the dinner party, more than likely they'll overeat—and probably the first thing they see, which may be pigs in a blanket or some tempting fried concoction, Kaufman says. As an alternative, it's better to eat lightly before the party. For example, clients can eat a piece of high-fiber fruit or Greek yogurt to quell their hunger pangs, says Bonnie Taub-Dix, MA, RDN, CDN, owner of BetterThanDieting.com and author of Read It Before You Eat It. Greek yogurt is high in protein, which helps promote fullness. "And it's not going to make a dent in your calorie budget, so it's not a big deal if you have a cup ahead of time and still eat at the party."
3. Survey the Field
Recommend clients look at all the options on the buffet table before filling their plates, Kaufman says. That way, they quickly can identify and choose the healthier options and enjoy a more healthful, lower-in-calorie meal than if they were to randomly choose the first foods they see, she says. Their goal should be to fill one-half of their plates with fruits and vegetables, one-quarter with a lean protein, and one-quarter with whole grains, with a touch of healthful fat.
Remind clients to always use a plate because it will help them measure their portions and fill their plates before they begin eating so they're aware of how much they're about to consume, Taub-Dix says. Clients will tend to eat more—and, as a result, weigh more—if they don't watch their portions, she says.
If clients are meeting with friends at a restaurant, suggest they read the menu online ahead of time to determine what they will order. Recommend they not be shy about asking for substitutions (eg, steamed vegetables or tossed salad rather than fries or chips) or ordering appetizers rather than entrées for their meal. In addition, suggest clients choose grilled or broiled leaner cuts of meat, fish, or poultry, and avoid heavy cream sauces, Haas says.
4. Start Small
Dietitians also can encourage clients to eat smaller portions by suggesting they use six-inch appetizer or dessert plates rather than 12-inch dinner plates for their meals. Clients are more inclined to feel as though they're eating more than they are when using smaller plates, Taub-Dix says. According to a September 2015 online study published in The Cochrane Database of Systemic Reviews, adults consistently selected and ate more when they used larger tableware.1
5. Skinny Up on the Drinks
Plate size matters and so does the type of beverage clients choose to drink. Clients can avoid drinking the many excess calories often hidden in sugary and alcoholic beverages by developing a plan of action. Before clients walk in the door to a party, they should set a limit on how much they will drink, Haas says. They should tell themselves, "I'm only going to have one drink," and then hold fast to that rule. Otherwise, they could find themselves drinking enough calories to do some damage to their hard-won weight loss.
The lowest-calorie choice is a 4-oz glass of champagne, which contains about 80 kcal. A 5-oz glass of red or white wine has about 120 to 125 kcal. One trick to reduce calories is to add sparkling water to turn the drink into a spritzer. Another strategy is to make every other drink a glass of water or sparkling water. Drinking water will help clients stay hydrated as well as slow down their consumption of calorie-laden beverages.
Clients can save hundreds of calories by not choosing alcoholic drinks made with syrup, sour mix, sugary fruit juices, or creamy additives. These drinks are like desserts and can contain more than 500 kcal each. If clients want a mixed drink, suggest they choose those made with club soda or tonic water.
"And if you really don't want to drink, make yourself the designated driver," Taub-Dix says. That way, the client won't feel self-conscious about being the only one without a glass in his or her hand.
6. Position Oneself for Success
Another way to prevent overeating at a holiday party is to sit away from the buffet table. Clients are more likely to pick and eat more than they realize when they're standing next to a table full of food, Taub-Dix says. Clients also should avoid standing by the kitchen door where the servers are exiting and where they're more likely to fill their plates and refill their glasses. If clients want more food, they should make sure it's a conscious effort to get up and get it.
Moreover, recommend clients spend more time on the dance floor than at the buffet table. "When you get up to dance, you're not only not eating but you're also burning off holiday calories," Taub-Dix says.
7. Don't Say 'No' to Everything
While it's important for clients to watch the amount of food they eat, no food should be totally off limits. "Deny yourself your favorite holiday treat, and you're either going to make yourself sad, or eat lots of other food you don't really care about in an attempt to satisfy that craving," Kaufman says. It's all about portion control. "If your sister makes the world's best pumpkin pie, cut yourself a thin slice and enjoy the heck out of it. As soon as [the pie] stops tasting as good as that first magical bite, put your fork down. If there's still some left on your plate, get away if you can—stand up and go talk to some friends and family. Take a quick bathroom break, or have the waiter take your plate away." The less you have to rely on willpower, the better, Kaufman adds.
Often, a tiny bite of something can satisfy you, Haas says. If you can't have just a taste of that cream or pecan pie, opt for meringues, a handful of sugared nuts, or fruit from the fondue bar with a little bit of healthful dark chocolate, Haas adds.
8. Choose Wisely
While having a small portion of high-calorie holiday treats is OK, it's best that clients fill up on the lower-calorie, nutrient-dense offerings available, Haas says. She recommends cocktail shrimp instead of cheese balls; sliced carrots and cucumbers rather than chips; and hummus or salsa rather than dips made with mayonnaise or sour cream. A cucumber slice with a little hummus on top is just as tasty and has fewer calories than a potato chip coated in full-fat dip, she says. "Think outside the box."
When it comes to salads, educate clients that the term "salad" doesn't always mean "healthful" since some ingredients can significantly increase the calorie and fat content of the meal. Inform clients that a tossed salad with a spritz of vinaigrette dressing is a good choice, but a salad loaded with dried fruit, bacon, croutons, nuts, and full-fat cheese smothered in a creamy dressing can be a diet disaster, Haas says.
At the main meal, recommend clients choose leaner cuts of meat such as white meat turkey or chicken rather than fatty cuts of beef or pork. Moreover, encourage them to avoid eating the skin on turkey or chicken so they can save an extra 150 kcal or more, Haas says.
9. Avoid Temptation
And when they go grocery shopping, suggest clients don't buy calorie-dense foods and snacks over the holidays that they know they can't resist. "If you know you'll binge on gingerbread cookies, don't buy them," Kaufman says. If clients want one as a treat, urge them to find a bakery that sells them and buy just one. Or, recommend they bake a batch and give them to family and friends, and save only one or two for themselves. Remember, Kaufman says, willpower is a depleting resource. "The less you use, the more you have for later," she says.
10. Encourage Those Who Overindulge
If clients indulge at one or two events, it's not a crisis. "One unhealthful meal isn't going to make you gain weight," Kaufman says, "just like one salad isn't going to make you lose it." Tell clients to enjoy themselves on those special occasions and start their normal, healthful routine the next morning, she says. It's important for clients to know that while food often is the focus of the holiday season, they can surround themselves with healthful options and balance their time socializing with family members and friends.
— Beth W. Orenstein is a freelance food writer based in Northampton, Pennsylvania.
Reference
1. Hollands GJ, Shemilt I, Marteau TM, et al. Portion, package or tableware size for changing selection and consumption of food, alcohol and tobacco. Cochrane Database Syst Rev. 2015;(9):CD011045.
Recipes
Butternut Squash With Brown Sugar Roasted Pecans
The perfect dish to accompany any holiday meal, this butternut squash recipe embraces the flavors of the season. Roasting enhances the squash's natural sweetness and is complemented with lightly candied pecans, fresh thyme, and flavorful feta cheese.
Serves 4
(1/2 cup portions)
Ingredients
1 T packed brown sugar
1 T water
1/4 tsp ground cinnamon
1/4 tsp sea or kosher salt
1/2 cup pecan halves
1 butternut squash (about 11/2 lbs), peeled, seeded, and cut into 1-in cubes
1 T olive oil
Salt, to taste
Black pepper, to taste
1 tsp fresh thyme leaves, chopped
2 T crumbled feta cheese
Instructions
1. Preheat oven to 400˚ F and line one large rimmed baking sheet and one small rimmed baking sheet with foil or parchment paper. If using foil to line the baking sheets, spray the foil generously with nonstick cooking spray.
2. To a medium-size saucepan, add the brown sugar and water and bring to just a boil over medium heat. Stir with a spoon to dissolve the sugar. Add the ground cinnamon and salt and then the pecan halves. Cook, stirring constantly with a spoon, about 1 minute or until the mixture has thickened and the pecans appear coated. Spread the pecans evenly onto the small rimmed baking sheet, and place them in the oven for 5 minutes. Remove the pan from the oven and place it on a wire rack to allow the pecans to cool.
3. Place the cubed butternut squash in a large mixing bowl. Add the oil as well as the salt and pepper, to taste, and toss to coat. Spread the butternut squash out in an even layer onto the large, rimmed baking sheet. Roast, stirring occasionally, until the butternut squash is tender and lightly brown, about 30 to 35 minutes.
4. Carefully transfer the roasted butternut squash back to the large mixing bowl. Roughly chop the pecans and add them to the squash along with the chopped fresh thyme and the feta cheese. Toss to combine.
Nutrient Analysis per 1/2-cup serving (using 1/3 tsp salt and 1/3 tsp black pepper)
Calories: 205; Protein: 3 g; Carbohydrates: 22 g; Fiber: 4 g; Sugar: 7 g; Fat: 13 g; Sat fat: 2 g; Cholesterol: 4 mg; Sodium: 281 mg
— RECIPE AND PHOTO COURTESY OF SARA HAAS, RDN, LDN.

Whole-Wheat Blueberry Zucchini Muffins
These whole-wheat blueberry zucchini muffins, studded with walnuts and naturally sweetened with maple syrup and orange zest, can be a great low-calorie holiday dessert.
Makes 12 muffins
Ingredients
11/4 cups + 1 T white whole wheat flour
1/4 tsp baking soda
1 tsp cinnamon
1/2 cup walnuts, chopped
1/4 tsp salt
1/2 cup pure maple syrup
1 cup grated zucchini (about 1 medium zucchini)
1/2 cup low-fat milk (any type of milk will work, eg, almond, coconut)
1 tsp vanilla extract
1 egg
2 T olive oil
1 T orange zest (about 1 medium orange)
3/4 cup fresh or frozen blueberries (if frozen, do not defrost)
Directions
1. Heat oven to 350˚ F. Grease a 12-cup muffin tin or use muffin liners coated with nonstick spray.
2. Mix together the dry ingredients in a large bowl: 11/4 cups flour, baking soda, cinnamon, walnuts, and salt; set aside.
3. Combine the wet ingredients in another bowl: maple syrup, zucchini, low-fat milk, vanilla extract, egg, olive oil, and orange zest.
4. Make a well in the center of the dry ingredients and pour the wet ingredients inside. Stir the wet ingredients into the dry ingredients until just blended. It's OK if there are lumps.
5. Gently toss blueberries in 1 T of flour to coat. Stir the blueberries into the batter. Spoon the batter into the muffin tins, filling them about 3/4 of the way full.
6. Bake for 19 to 22 minutes until a toothpick inserted into the center of a muffin comes out clean. Cool tin on a wire rack for 10 minutes and then transfer individual muffins to a wire rack to cool completely.
Nutrient Analysis per serving (1 muffin)
Calories: 160; Protein: 4 g; Carbohydrates: 24 g; Fiber: 3 g; Fat: 7 g; Sat fat: 1 g; Trans fat: 0 g; Cholesterol: 30 mg; Sodium: 95 mg
— RECIPE AND PHOTO COURTESY OF CAROLINE KAUFMAN, MS, RDN.