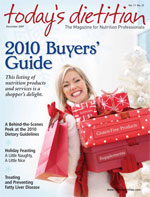 December 2009 Issue
American Pork: The Other Safe Meat
By Chef Kyle Shadix, MS, RD
Today's Dietitian
Vol. 11 No. 12 P. 64
It is important for RDs, as the food and nutrition experts, to keep up-to-date with current events to best support clients and patients. With all of the chatter about the swine flu, the term that the media often uses for the H1N1 virus, the public may be confused and fearful. The first step RDs can take to help alleviate concern among consumers is to refer to the illness as H1N1. Concerning pork, remind people that the Centers for Disease Control and Prevention states that people cannot acquire H1N1 from eating or handling pork itself; the meat and its products are safe. Scientific studies have proven that the H1N1 flu is a respiratory virus, not a food-borne illness.1,2
The U.S. government has strict safeguards in place to protect the food supply. All pork found in retail stores is inspected for wholesomeness to the rigors of USDA inspection. Every pig is inspected for signs of disease to ensure sick ones do not enter the food supply, and the "Passed and Inspected by USDA" seal ensures that the pork is free of disease.
Like any other virus, the primary way the H1N1 flu spreads is via an infected person coughing or sneezing. The two most important steps people can take to protect themselves and their family from any flu virus, including H1N1, are washing their hands frequently with soap and water or hand sanitizer and avoiding touching their eyes, nose, and mouth.
There may be misconceptions among Mexican Americans regarding pork's overall safety. Mexico does not have the same food safety protocols or Hazard Analysis and Critical Control Points system that exist in the United States; this has led to a number of well-known food-borne illness outbreaks in the past decade. To ensure we are protected from unsafe imported food, clear criteria must be established and enforced to stop imports from any country whose food safety regulatory systems are inadequate. Since Mexico has been at the forefront of such outbreaks, I remain skeptical of any perishable imported food from a country that has been historically lax in its food safety systems. If you work with the Mexican American population, clarify that pork produced in Mexico is not subject to the same standards as U.S. pork and let people know that American pork is safe to consume.
— Chef Kyle Shadix, MS, RD, is a culinary nutrition communications consultant in New York City and online at www.chefkyle.com.
References
1. Weingartl HM, Albrecht RA, Lager KM, et al. Experimental infection of pigs with the human 1918 pandemic influenza virus. J Virol. 2009;83(9):4287-4296.
2. Lipatov AS, Kwon YK, Sarmento LV, et al. Domestic pigs have low susceptibility to H5N1 highly pathogenic avian influenza viruses. PLoS Pathog. 2008;4(7):e1000102.
Pork Tenderloin With Maple Apple Sauce
4 servings
Ingredients:
One 12- to 16-oz pork tenderloin
1⁄4 cup pure maple syrup
1⁄4 cup apple cider vinegar
1 tsp Dijon mustard
1⁄2 tsp ground sage
1 apple, peeled, cored, and finely diced
Cooking spray
Salt and pepper to taste
1⁄4 cup water
Directions:
Preheat oven to 450˚F.
Whisk maple syrup, vinegar, mustard, and sage in a small bowl; mix in diced apples and set aside.
Spray a heavy, large ovenproof skillet with cooking spray and then place over medium-high heat. Sprinkle pork with salt and pepper. Sear pork on all sides, about 2 minutes.
Place pork on plate and add sauce to hot pan. Add water and bring to a boil, making sure to scrape the brown bits. Place the tenderloin back in the pan and use tongs to coat the surface with the sauce.
Place skillet with pork in oven. Roast pork until thermometer inserted into center registers 160˚F, about 10 to 15 minutes. Slice pork and serve with sauce.
Nutrient Analysis (based on 4 oz without salt):
Calories: 202
Protein: 20 g
Carbs: 17 g
Total Fat: 5.5 g
Sat Fat: 1.5 g
Trans Fat: 0 g
Cholesterol: 65 mg
Sodium: 49 mg
Fiber: 0.5 g