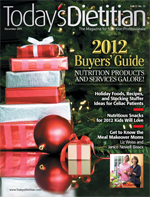 December 2011 Issue
Blood Oranges — Despite the Name, They're Suitable for Vegetarians
By Bryan Roof RD, LDN
Today's Dietitian
Vol. 13 No. 12 P. 64
I've been a die-hard meat eater for many years. Being from the South, I was practically forced to eat meat at an early age. However, to ensure that I'm around to embarrass my kids for years to come, my wife and I have decided to embrace a 90% meat-free diet, with half of our food coming from raw sources. We figured that going strict vegetarian—or raw for that matter—might result in cannibalism among the children, so we thought it best not to be too extreme. That means there will be salads. Lots of salads.
Not one for endless bowls of tired, leafy greens, I've had to expand my dinnertime approach to include a whole new variety of salads. Though in December, my new approach is a little disheartening as my options seem limited to beets and winter squash. Luckily, blood oranges are just coming into season, which will bring my drab salads to life.
Blood oranges stay in season until around April. Named for the color of their maroon flesh, they look like any regular orange, less an occasional rosy blush. Their pigmentation is a result of anthocyanin, an antioxidant within the fruit. Blood oranges are native to Spain and Italy but are now commonly grown in the United States, and the two main varieties are the Moro and Tarocco. While the Moro tends to be darker, the Tarocco is usually sweeter, and both have a slight raspberry flavor. In addition to being placed in salads, blood oranges can be zested, sliced, and juiced for all sorts of marmalades, tarts, relishes, and sorbets.
In my opinion, the best thing about blood oranges is that my kids have no idea they exist. They believe I'm able to turn the normally carrot-colored flesh of a humble orange into deep purple with the tap of a paring knife and a few magic words. I imagine this prank will go on forever; however, my wife insists the kids are just humoring me. Magic or no magic, they're still eating fruit.
— Bryan Roof, RD, LDN, is a chef, dietitian, and food writer living in Boston.
Blood Orange and Fennel Salad
Serves 4
If you have a mandolin, use it to slice the fennel as thinly as possible. If your fennel comes with the fronds attached, reserve some to garnish the salad.
Ingredients
4 blood oranges
2 T lemon juice
1 shallot, minced
2 T extra-virgin olive oil
Kosher salt and pepper
2 medium fennel bulbs, cored and sliced very thin
1/2 cup pitted Castelvetrano olives, halved lengthwise
1/2 cup whole blanched almonds, toasted and lightly crushed
Directions
1. Grate 1 tsp of zest from 1 orange. Cut tops and bottoms from each orange, and then cut away their peels and pith. Working over bowl, segment oranges, and then squeeze juice from membranes into second bowl. Combine 4 T blood orange juice, lemon juice, shallot, olive oil, zest, and 1/4 tsp salt in bowl.
2. Spread fennel out on large platter, and top with orange segments, olives, and almonds. Pour dressing over top, and garnish with plenty of freshly ground black pepper.
Nutrient Analysis per serving
Calories: 320
Total fat: 20 g
Sat fat: 2 g
Trans fat 0 g
Cholesterol: 0 mg
Sodium: 420 mg
Total carbohydrate: 31 g
Dietary fiber: 9 g
Sugars 13 g
Protein 7 g