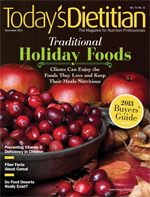 December 2012 Issue
How Real Are Food Deserts?
By Kathryn Hillstrom, EdD, CDE, RD
Today's Dietitian
Vol. 14 No. 12 P. 36
The research is conflicting, but communities are developing creative programs to make healthful foods available to underserved areas—and dietitians can become leaders in these efforts.
In 2010, in Jackson, Mississippi, First Lady Michelle Obama asked a group of middle schoolers, "We can't tell people to buy fresh food if there's not a place to buy it, right?"
She was referring to people living in what have been called food deserts, typically low-income neighborhoods whose residents lack easy access to healthful, affordable foods. However, recent research questions the concept of food deserts. For more than two decades, much evidence has supported their existence, but current studies suggest people in low-income areas actually live in food swamps, where they're inundated with a wide variety of both healthful and unhealthful foods.
The debate about food deserts is more than a spirited discussion. It has broader social and financial implications that may impact important policy and funding decisions regarding how resources are disseminated to underserved communities. Neighborhood initiatives already are in place to help improve the food environment and more are being funded. Whether a neighborhood is called a food desert or a food swamp, dietitians and health professionals need to understand how they can use their education and skills to improve the accessibility of healthful foods and educate people about nutrition.
Fewer Urban Supermarkets
The practice of supermarket redlining, when grocery stores in inner cities relocate to the suburbs, has contributed to the perception of the presence of food deserts.1 The supermarkets relocated as middle-class Americans started moving to the suburbs, leaving the inner cities with few food shopping options. This documented trend originated in the 1960s but wasn't widely known until a 1992 article in Newsweek gave it national attention.2
Valerie Ruelas, MSW, director of the community diabetes initiative at the University of Southern California and Children's Hospital in Los Angeles, strongly believes that "supermarket redlining has been a major contributor to the food landscape in Los Angeles County." She cautions that while the term "food desert" implies the absence of healthful foods, it also can mean "differential accessibility to healthful and affordable food between socioeconomically advantaged and disadvantaged areas."
Over the past 20 years, research on the existence of food deserts has been based on studies conducted in developed countries, such as Canada, the United Kingdom, and the United States, with large urban communities and has yielded mixed findings. One review that examined the existence of food deserts over a 40-year time span concluded that they do exist in the United States but not in other countries.3 In a 2009 Congressional report, researchers found that food deserts exist and that supermarkets have lower prices and more healthful items than corner markets in the inner cities.4 And in African American neighborhoods, it was noted that for every supermarket added to a census track (small, geographic subdivisions of a county used for tracking census data) fruit and vegetable consumption increased by 32%.5
The US government so strongly believes in the existence of food deserts that the USDA launched a website including a food desert locator where people can type in their zip code and determine whether they live in a food desert. As part of the first lady's Let's Move! campaign, funding is available to make more nutritious foods available to low-income food deserts through the Healthy Food Financing Initiative.
Conflicting Studies
Contrary to past research supporting the existence of food deserts, one recent study found that poorer neighborhoods had more than their wealthier counterparts—more fast food, corner markets, convenience stores, and supermarkets.6 There was a wide variety of healthful and unhealthful foods in the urban communities the researchers surveyed, prompting them to challenge the concept of the abundance of food deserts.6
In another study, An and Sturm showed that the presence or absence of a supermarket had no measurable impact on children's weight or eating habits.7 Kelly D. Brownell, director of Yale University's Rudd Center for Food Policy and Obesity, said in an April article in The New York Times that "it is always easy to advocate for more grocery stores. But if you're looking for what you hope will change obesity, healthful food access is probably just wishful thinking."
Jonathan E. Fielding, MD, MPH, a health officer and director of public health in Los Angeles County, disagrees with the wishful-thinking notion. While he favors using the term "swamp" to describe urban neighborhood food environments, he doesn't use the term in the same context as Lee. "Swamps are dangerous places," he says—full of alligators in the form of products containing a large amount of fat, salt, and/or sugar.
Fielding notes that the research data are mixed because the way in which people make food decisions is complex to understand and study. He says many variables affect access, not just the presence of a retail grocery store, including available transportation, money, safety concerns when walking to a supermarket, and time. The fact people in urban communities often work multiple jobs and many single mothers don't have time to prepare meals from scratch may play more of a significant role in food decisions than the presence or absence of a neighborhood supermarket. Fielding says all these factors influence food decisions, often in confusing and unpredictable ways.
Community Initiatives
While individuals have little direct influence on their food environments, policy makers can help improve conditions through a combination of incentives and public policy changes. Some retailers are being offered incentives to bring their supermarkets back to urban areas. Corner markets also are beginning to sell more fresh fruits and vegetables since these are places where people are accustomed to shopping and they're easily accessible.
Additionally, urban communities are considering introducing farmers' markets where local producers can display various fresh fruits and vegetables and discuss their health benefits. Community gardens are being introduced to encourage individuals who have time and an inclination to grow their own produce. And more farm-to-school and farm-to-hospital programs are cropping up, linking local farmers to urban institutions to form partnerships that promote healthful options for students and patients.
In a novel approach, the nonprofit organization Wholesome Wave began offering people receiving SNAP (formerly called food stamps) from the Supplemental Food Program and farmers' market coupons through the WIC initiative double value for food coupons used at participating farmers' markets. The program, which began in 2008, is now available in 28 states.
The USDA also has developed creative solutions to the food desert issue under the heading "Success Stories" on its food desert website. For example, in New York, immigrants with farming experience are being retrained to grow organic and sustainable produce on small, local farms.
Whether the research data are conclusive or not, several community initiatives are under way to bring healthful foods into urban neighborhoods. For example, Ruelas has worked in two underserved communities in Los Angeles to bring farmers' markets to areas where they didn't exist. She's also involved in the corner market conversions taking place in South Los Angeles—one of the poorest areas economically in that city. The project, called the Community Market Conversion Program, is encouraging four corner markets to sell more healthful foods in addition to their usual fare. Traditionally, beer and soda vendors provide the refrigerators in corner markets, leaving no room for more healthful beverages and other products. Ultimately, the corner markets will be transformed from the inside out and furnished with new refrigeration equipment where fresh produce can be sold.
Both Fielding and the Los Angeles Department of Public Health continue to support community initiatives such as these throughout Los Angeles County as well as social marketing campaigns that educate people to make healthier choices.
It's important for dietitians and community nutritionists to understand their community's nutritional needs and offer appropriate guidance for residents. Dietitians can continue monitoring food choices available in schools and advocating for more healthful options both inside and outside the school environment.
Being aware of available resources is paramount. Dietitians can educate themselves by visiting stores where people shop to assess food availability, quality, and price, and they can find out what stores accept government assistance such as WIC and SNAP. Many farmers' markets are beginning to accept SNAP through an electronic benefits transfer system and from WIC members and seniors through the Farmer's Market Nutrition Program.
Some food stores have developed creative marketing strategies to attract customers and encourage healthful eating. One supermarket chain in Los Angeles offers rides to shoppers buying at least $25 worth of groceries. Stores can offer free delivery services for orders that cost a certain amount of money and other incentives if they believe there's a need in the community and if they can increase their number of loyal shoppers. Similar initiatives can help build relationships with customers and encourage them to make requests for healthier foods.
This is an area in which dietitians and community nutritionists can play a role in improving the food environment. They can empower community members to ask for foods they want to buy. Store owners, and particularly corner store owners, have been found to respond favorably to requests to stock items customers want.
Getting the Word Out
Whether a neighborhood is a food desert with few healthful food choices or a food swamp where variety abounds, nutrition education is key to spread the word about the importance of healthful eating and obesity and disease prevention. Dietitians can provide nutrition education in the form of a program that teaches cost-effective shopping, use of ingredients, and time-saving food preparation on a budget. Perhaps, then, today's food deserts and food swamps would be gradually converted into food oases.
— Kathryn Hillstrom, EdD, CDE, RD, is an assistant professor of nutrition at California State University, Los Angeles. She specializes in family weight management and diabetes education and has counseled members of the WIC program.
Resources
The following resources can help your clients gain greater access to healthful foods in underserved communities. Many local and state agencies have programs geared to improve the food environment, so check with your local health department for more information.
• Government Food Assistance programs give an overview of all federally funded food assistance programs. (www.nutrition.gov/food-assistance-programs, www.usda.gov/wps/portal/usda/usdahome?parentnav=RURAL_DEVELOPMENT&navid=
FOOD_ASSISTANCE&navtype=RT)
• WIC "provides federal grants to states for supplemental foods, healthcare referrals, and nutrition education for low-income pregnant, breast-feeding, and non–breast-feeding postpartum women, and to infants and children up to age five who are found to be at nutritional risk." Participants don't need to be US residents to receive services. (www.fns.usda.gov/wic)
• SNAP/Food Stamp Program: This program was renamed the Supplemental Nutrition Assistance Program (although some states have different names). The goal is to help low-income individuals and families maintain a healthful diet. (www.fns.usda.gov/snap)
• Food Desert Locator: This website displays a map of census track areas considered food deserts. (www.ers.usda.gov/data-products/food-desert-locator.aspx)
• Wholesome Wave: This organization forms partnerships between farms and retailers to offer fresh, locally grown fruits and vegetables to underserved communities. It started double-value couponing where recipients of SNAP and Farmer's Market Nutrition Program coupons can receive double value at participating farmers' markets. (www.wholesomewave.org)
• USDA Success Stories: The USDA funds projects that improve food desert situations. The agency offers creative strategies for providing low-income communities with more healthful foods to eat. (http://apps.ams.usda.gov/fooddeserts/Food_Deserts_AMS_Success_Stories.pdf)
References
1. Redlining food: how to ensure community food security. Food First website. http://www.foodfirst.org/node/1452. March 28, 1997. Accessed August 28, 2012.
2. Where the food isn't. The Daily Beast website. http://www.thedailybeast.com/newsweek/1992/02/23/where-the-food-isn-t.html. February 23, 1992. Accessed August 29, 2012.
3. Beaulac J, Kristjansoon E, Cummins S. A systematic review of food deserts, 1966-2007. Prev Chronic Dis. 2009;6(3):A105.
4. US Department of Agriculture Economic Research Service. Access for Affordable and Nutritious Food: Measuring and Understanding Food Deserts and Their Consequences. Economic Research Service website. http://www.ers.usda.gov/media/242584/ap036fm_1_.pdf. June 2009. Accessed August 31, 2012.
5. Moreland K, Wing S, Diez Roux A. The contextual effect of the local food environment on residents' diets: the atherosclerosis risk in communities study. Am J Public Health. 2002;92(11):1761-1767.
6. Lee H. The role of local food availability in explaining obesity risk among young school-aged children. Soc Sci Med. 2012;74(8):1193-1203.
7. An R, Sturm R. School and residential neighborhood food environment and diet among California youth. Am J Prev Med. 2012;42(2):129-135.