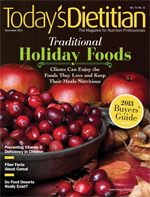 December 2012 Issue
Fiber Facts About Cereal
By McKenzie Hall, RD
Today's Dietitian
Vol. 14 No. 12 P. 30
Here's a primer about fiber in cereals and how to advise clients to choose the best varieties to improve their health.
For many consumers, the cereal aisle is perhaps one of the most confusing sections in the supermarket. There are numerous varieties from which to choose and a myriad of marketing claims printed on the boxes touting cereals' abundant whole grain and fiber content.
The good news is nutrition professionals are in the best position to counsel clients about the benefits of fiber, the best types of fiber to consume, and the sources that contain them in addition to how to read labels to make the best food choices.
Where We Turn for Fiber
While fiber has been consistently promoted for its health benefits, it hasn't been trumpeted as a glamorous ingredient of the supermarket until recently. Products high in fiber that were at one time not considered sources of fiber now line supermarket shelves, giving whole grain cereal some fierce competition. Popular products such as ice cream bars, yogurt, and even artificial sweeteners now boast the ability to supply a good amount of the recommended daily fiber intake.
To increase demand, cereal manufacturers now are adding commercially produced isolated fibers to their products. Isolated fibers are chemically synthesized or extracted from plant foods and added to foods containing little or no fiber.
Adding isolated fiber to so many different foods might seem to be a panacea for a low-fiber diet, but this trend is raising questions among consumers. Many are asking whether fiber-fortified foods are as beneficial as naturally occurring fiber-rich foods and why foods with added fiber aren't the best option if they aren't already consuming enough fiber. This is why dietitians should keep abreast of new ingredients, products, and marketing claims when advising clients about what products to buy.
"Fiber intakes are low, and manufacturers are adding fiber to foods and beverages," says Joanne Slavin, PhD, RD, a professor in the department of food science and nutrition at the University of Minnesota. "This is good since average fiber intakes are only half the recommended levels." The average American consumes approximately 15 g of dietary fiber daily—far below the recommended 25 g per day for adult women and 38 g per day for adult men, according to the 2010 Dietary Guidelines.
Fiber's Benefits
Unlike other food components, controversy regarding fiber and its benefits has remained practically nonexistent.
"Dietary fiber has a long-standing history of its ability to aid in the digestion process, but it's equally important not to discount fiber's other health benefits," says Jessica Crandall, RD, CDE, a national spokesperson for the Academy of Nutrition and Dietetics (the Academy). The benefits of fiber are well documented in numerous scientific studies, ranging from the prevention of cancer, cardiovascular disease, and diabetes to reducing the incidence of obesity and improving bowel function.1-3
Populations that consume adequate amounts of fiber report lower rates of chronic diseases than those that don't. Fiber also is a winner when it comes to battling the bulge. "We have epidemiologic data stating that fiber is linked to lower weight. One mechanism may be satiety, but we don't have many satiety studies showing that any [type of] fiber is effective, whether intact or not," Slavin says.
This leaves questions about whether one type of fiber is superior to another, such as naturally occurring, intact, or synthetically manufactured isolated fiber. "Not all fibers are alike, so there's interest in the differences among fibers, but there's very little research data," Slavin notes.
Types of Fiber Explained
In 2002, the Institute of Medicine published new definitions for dietary fiber to make distinctions between intact and isolated fiber. Intact fiber, which includes both soluble and insoluble fiber, describes the nondigestible carbohydrate found in food. Soluble fiber found in beans, oats, oat bran, legumes, and some fruits and vegetables slows the rate of food and nutrient absorption by attracting water in the stomach and small intestines. This form of fiber also has been found to reduce cholesterol and control blood glucose. Insoluble fiber, found in wheat bran, nuts, fruit skins, and some vegetables, acts as a natural laxative, speeding the transit time of food through the stomach and intestines. Both soluble and insoluble fiber are important, so it's best clients consider total grams of fiber when looking at nutrition labels.3
For dietitians, the variety of fibers doesn't necessarily make groundbreaking news, but the commercially produced fibers added to a litany of products has become a hot discussion topic. Isolated fibers can be found on nutrition labels in the form of resistant starch, polydextrose, indigestible dextrins, and inulin, one of the most popular varieties in products today. The health benefits of these fibers are still unclear, but adding them to commonly consumed products, such as cereals, may ultimately increase overall fiber intake among Americans. The Academy and recent research findings, however, question the health benefits of commercially produced fibers.
The Academy's position paper on dietary fiber, released in 2008, says that the "public should consume adequate amounts of dietary fiber from a variety of plant foods."4 Recent studies indicate it's the synergistic effect of fiber and other biologically active components found in whole foods that aids in the protection against chronic diseases. These findings suggest isolated dietary fiber added to highly processed cereal products may be less beneficial than intact fiber found in whole plant foods such as whole grains, including oats, rye, barley, and quinoa. Most consumers are unaware of this.
Understanding Nutrition Labels
Many shoppers are led to believe all cereals containing high amounts of added sugar and some hydrogenated oils are good for their health if they contain added fiber or whole grains, but that's not the case. "Cereals containing whole grains aren't necessarily high in fiber," Crandall says.
For example, multigrain cereals may contain multiple grains, but many of them can be refined. And just because a label says "made with whole grains" doesn't mean the cereal is 100% whole grain. The manufacturer can throw in a small amount of whole grains in addition to a substantial amount of refined grains and claim the product is made with whole grains.
Another source of confusion for consumers is the connection between fiber and fat content and the claims advertised on a product. For example, consumers may not know that eating foods rich in fiber and low in fat may help reduce the risk of some cancers. Educating clients about the correlation between consuming high-fiber whole grain cereals and the associated health outcomes, such as protection against certain cancers and heart disease, may motivate them to choose their cereals wisely.5
When counseling clients on how to select the best cereals for their health, Crandall recommends teaching them how to read nutrition labels and encouraging them to visit the cereal aisle and practice reading labels. "Don't assume clients know how to read labels or that it's common knowledge because for many consumers it's not. And not all consumers take the time to do it. Encourage clients to learn about the nutrition facts," Crandall says.
She also suggests shoppers take advantage of available learning opportunities, such as speaking with a dietitian or attending a grocery store tour to learn about marketing claims and how to read nutrition labels.
Advice for Clients
As clients learn to read labels, encourage women to aim for a minimum of 7 g of fiber for meals and 3 g of fiber for snacks and men to aim for 10 g of fiber for meals and 3 g of fiber for snacks so they're more likely to reach the daily recommended goal. If clients are adding fiber-rich foods, suggest they gradually increase their fiber intake and stay well hydrated throughout the day to prevent stomach cramping and constipation.
"It's important for consumers to recognize that the new labeling guidelines ensure that 'good sources of fiber' contain a minimum of 3 g and 'excellent sources of fiber' contain a minimum of 5 g," Crandall says.
To combat the fiber vs. whole grain dilemma, Crandall encourages clients to look for the word "whole" as the first one on an ingredient list. Advise clients to be wary of products that contain hydrogenated oils and large amounts of added sugar, but allow some "wiggle room" for sugar listed on the label if the cereal contains dried fruit. Sodium also must be considered when selecting a high-quality cereal, Slavin says.
The key is to eat cereals containing both fiber and whole grains, and balance the meal with protein and carbohydrates that are digested slowly. It's also important to look beyond calorie count. "Sometimes consumers get so focused on calories they forget to look at the makeup of the food—for example, the fiber count and the benefits," Crandall says.
She also suggests topping high-fiber cereal with almond slivers or adding it to Greek yogurt to boost protein intake and balance meals. Another suggestion: Recommend clients pack dry cereal for an on-the-go meal or snack. "If [they] don't have time for a sit-down breakfast, cereal can be a great portable option," she says.
"It's useful to consider a high-fiber cereal for breakfast compared to a donut and coffee or a sausage biscuit," Slavin notes. "The milk and cereal breakfast will provide protein, fiber, vitamins, and minerals and is generally low in fat. As RDs, we don't like to suggest a limited menu, but we can feel good about a breakfast that includes cereal and milk for children, adults, and the elderly."
One of the best ways clients can avoid confusion in the cereal aisle is to make their own granola or muesli. Homemade cereals are cost-effective and contain less added sugar, fat, and sodium than commercially packaged varieties.
— McKenzie Hall, RD, is cofounder of Nourish RDs, a nutrition communications and counseling business based in Los Angeles.
Homemade Muesli
Adding dried fruit, nuts, and spices to your own whole grain cereal is an easy way to add fiber to a morning meal. Clients can prepare a large batch of dried muesli ahead of time and always have a hot, nutritious breakfast at the ready.
Serves 8
Ingredients
2 cups old fashioned rolled oats
1/2 cup red currants
1/2 cup golden raisins
1/2 cup unsweetened flaked coconut
1/4 cup almonds, slivered
1/4 cup walnuts, chopped
1 tsp cinnamon
Directions
1. In a medium bowl, combine oats, currants, raisins, coconut, almonds, walnuts, and cinnamon.
2. Stir ingredients until they're well mixed. Store muesli in an airtight container. (It can be stored for several months.)
Microwave Instructions
Combine 1/2 cup muesli with 1 cup water and add a dash of vanilla, if desired. Microwave on high for three minutes. Top with one 1/2 tsp ground flaxseed.
Stovetop Instructions
Bring 1 cup water to boil for each serving of muesli. Stir in muesli. Simmer three to five minutes over medium heat, stirring occasionally. Add vanilla, if desired and 1/2 tsp ground flaxseed per serving.
Nutrient Analysis per 1/2-cup serving of dry cereal
Calories: 229; Total fat: 10 g; Sat fat: 3 g; Trans fat: 0 g; Cholesterol: 0 mg; Sodium: 0 mg; Carbohydrates: 33 g; Fiber: 7 g; Sugar: 12 g; Protein: 6 g
— Recipe courtesy of McKenzie Hall, RD
References
1. Vuksan V, Jenkins AL, Jenkins DJ, Rogovik AL, Sievenpiper JL, Jovanovski E. Using cereal to increase dietary fiber intake to the recommended level and the effect of fiber on bowel function in healthy persons consuming North American diets. Am J Clin Nutr. 2008;88(5):1256-1262.
2. He M, van Dam RM, Rimm E, Hu FB, Qi L. Whole-grain, cereal fiber, bran, and germ intake and the risks of all-cause and cardiovascular disease–specific mortality among women with type 2 diabetes mellitus. Circulation. 2010;121(20):2162-2168.
3. Gonzalez CA, Riboli E. Diet and cancer prevention: contributions from the European Prospective Investigation into Cancer and Nutrition (EPIC) Study. Eur J Cancer. 2010;46(14):2555-2562.
4. Martlett JA, McBurney MI, Slavin JL; American Dietetic Association. Position of the American Dietetic Association: health implications of dietary fiber. J Am Diet Assoc. 2008;108(10):1716-1731.
5. Institute of Medicine, Food and Nutrition Board. Dietary Reference Intakes for Energy, Carbohydrate, Fiber, Fat, Fatty Acids, Cholesterol, Protein, and Amino Acids. Washington, DC: National Academies Press; 2002.
High-Fiber Cereals Low in Saturated Fat and Cholesterol
| | | | | | | | | |
| --- | --- | --- | --- | --- | --- | --- | --- | --- |
| Cereal | Serving Size | Calories | Carbs (g) | Fiber (g) | Sugar (g) | Protein (g) | Fat (g) | Sodium (mg) |
| Barbara's Puffins High Fiber Original | 1 cup | 180 | 42 | 14 | 8 | 5 | 1.5 | 140 |
| Kellogg's All-Bran Bran Buds | 1/3 cup | 80 | 24 | 13 | 8 | 3 | 1 | 210 |
| Barbara's Puffins Shredded Oats Original | 11/4 cups | 220 | 46 | 5 | 12 | 6 | 2.5 | 260 |
| Uncle Sam's Original Cereal | 3/4 cup | 190 | 38 | 10 | < 1 | 7 | 5 | 135 |
| Kellogg's All-Bran Original | 1/2 cup | 80 | 23 | 10 | 6 | 4 | 1 | 80 |
| Kashi GOLEAN Original | 1 cup | 140 | 30 | 10 | 6 | 13 | 1 | 85 |
| Post Grape Nuts | 1/2 cup | 200 | 48 | 7 | 5 | 6 | 1 | 290 |
| Bob's Red Mill 7 Grain Hot Cereal | 1/4 cup | 140 | 28 | 6 | 1 | 6 | 1.5 | 0 |
| Post Shredded Wheat Original | 2 biscuits | 160 | 37 | 6 | 0 | 5 | 1 | 0 |
| Kashi 7 Whole Grain Flakes | 1 cup | 180 | 41 | 6 | 4 | 6 | 1 | 150 |
| Kellogg's All-Bran Complete Wheat Flakes | 3/4 cup | 90 | 24 | 5 | 5 | 3 | 0.5 | 210 |
| Old-Fashioned Quaker Oats, uncooked | 1/2 cup | 150 | 27 | 4 | 1 | 5 | 3 | 0 |
| Quaker Whole Hearts Original | 3/4 cup | 110 | 23 | 3 | 6 | 2 | 1.5 | 160 |
| General Mills Cheerios | 1 cup | 100 | 20 | 3 | 1 | 3 | 2 | 160 |
| Cream of Wheat Instant Original, uncooked | 1 packet (28 g) | 100 | 20 | 1 | 0 | 4 | 0 | 170 |