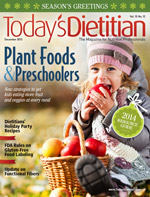 December 2013 Issue
Soup (Without Going Nuts) — Some Basic Guidelines
By Bryan Roof, RD, LDN
Today's Dietitian
Vol. 15 No. 12 P. 58
My 3-year-old, Tanner, wisely pointed out to me that eating soup is like chewing and drinking your food at the same time. He also went on to say that soup is "good for you because it's full of all the vitamins." He got that from his grandma, who's a soup fanatic and advocate on many levels.
I didn't grow up eating much soup because it's never really "soup weather" in the South. But now I live in New England, and soup is as commonplace as snow in your shoe—and I've had to adapt to both. Luckily, soups are easy to make, and make well, as long as you follow a few simple rules.
One benefit of soup, aside from being vitamin rich, is that you can get away with using very little meat, which works for meatless Mondays, increased vegetable intake, and related dietary trends. For the recipe below, I use only about 4 oz of sausage. The important thing here is to use assertively flavored sausage such as chorizo, with its robust hit of paprika and garlic, or kielbasa, which offers deep smokiness.
Most cooks feel they need to reach for the store-bought chicken broth to add backbone to their soup. While homemade chicken broth adds plenty of flavor, the store-bought stuff mainly adds salt and, depending on the brand, off-flavors and artificial colors. Therefore, good old water is fine for most soups. But when using water, you can't be shy about adding the salt. It's important; salt makes the other ingredients pop.
When using water, you want to build a base of flavor, and a couple of onions and a few extra cloves of garlic usually suffice. Even though I love garlic, I use more of it when making soup than I typically would in almost anything else I cook. The long simmering time mellows its harshness and adds nice background flavor.
Finally, soups should have body. They either can be thickened with flour or cornstarch, or you can fill your soup with starchy vegetables such as potatoes. Potatoes breakdown and release their starch when they cook, thickening the soup in the process. You can accentuate this action with the occasional vigorous stir and by lightly mashing some of the potato pieces against the side of the pot during cooking.
When I was 3, I doubt I'd even heard of soup, much less tasted it. Tanner's favorite is carrot, but I'm heavily pushing this one, which uses collard greens and potatoes, both of which are rich in vitamins. He's only too excited to discuss all this in detail—along with the efficiency of chewing and drinking at the same time.
— Bryan Roof, RD, LDN, is a chef, dietitian, and food writer living in Boston. Follow him on Twitter @bryanroof.
Collard Green and Potato Soup
Serves 8
Ingredients
3 T extra-virgin olive oil
2 onions, halved and sliced thin
6 garlic cloves, minced
2 tsp fine sea salt
8 cups water
1 lb Yukon gold potatoes, peeled and cut into 1-inch pieces
12 oz collard greens, chopped
4 oz chorizo sausage
Black pepper
Directions
1. Heat 2 T of the oil in a large saucepan over medium heat until shimmering. Add onions, garlic, and salt then cook until the onions are soft, about 10 minutes. Add water, potatoes, collards, and chorizo, and bring to a boil.
2. Reduce the heat to an aggressive simmer and cook until the potatoes are very tender, about 25 minutes, stirring occasionally and smashing some of the potato pieces against the side of pot to break them down slightly.
3. Add the remaining 1 T of oil, and season with pepper to taste.
4. Remove the chorizo, cut into small pieces, and return to the soup. Serve.
Nutrient Analysis per serving
Calories: 150; Total fat: 8 g; Sat fat: 1.5 g; Trans fat: 0 g; Cholesterol: 10 mg; Sodium: 770 mg; Total carbohydrate: 17 g; Dietary fiber: 3 g; Sugar: 2 g; Protein: 5 g