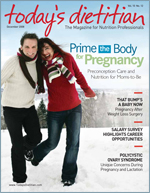 December 2008 Issue
Nutrition Trends for the New Year — Small Portions Will Be Big in 2009
By Juliann Schaeffer
Today's Dietitian
Vol. 10 No. 12 P. 42
Antioxidants, probiotics, omega-3s, oh my! 2008 has yet again featured functional foods to the hilt, and Sharon Palmer, RD, says this trend is likely here to stay—to some dietitians' dismay. "Functional foods are still huge, even though dietitians may not like it. People are focusing on 'it' ingredients, from superfruits to probiotics," she says.
And green, environmentally friendly concepts are starting to stick, as sustainability has proven to be a lasting trend. "From humane livestock care to the health of the soil, people want to know more about food practices and how they impact their health," Palmer continues.
But these trends, however popular, are nothing novel. And while you've most likely entertained clients' questions about superfruits, the new year may be a grayer shade of green, as the recent turn of the economy has its hands in all aspects of industry—dietetics included. Today's Dietitian sought out some trends that are either riding out the stock market tide or stemming from America's distasteful financial circumstances.
Return to Home Cooking
How will the economy's current state affect consumers' eating habits? There is no dietetics crystal ball, but Martine Scannavino, DHSc, RD, LDN, chair of the nutrition department at Cedar Crest College in Allentown, Pa., says, "In this economy, one's food dollars need to stretch much further."
There's no way around it: At the local burger joint and the grocery store, Americans' pockets are hurting—and 2009 will likely not bring much relief. According to the USDA Consumer Price Index, in 2008, food-at-home prices were expected to rise 5.5% to 6.5%, and food-away-from-home prices were expected to rise 3.5% to 4.5%. Consumers also saw the following price increases for staples last year: milk, 11.6%; and eggs, 29.2%. Vegetable oils and bread prices were also expected to increase by 9% or more in 2008.
Further, the National Restaurant Association recently reported that some restaurant operators are noticing that both sales and customer traffic have softened compared with last year. And in a survey reported in Nation's Restaurant News in September 2007, consumers reported that eating at home was the primary reason for not frequenting restaurants, with reasons including the high price of gas, food too high in calories, and change in financial situation.
With less pocket money for splurging, many Americans are digging out their aprons and dining in. "It's clear that we all need to make our food dollars stretch, so we're seeing a return to the home kitchen," says Scannavino. "I hear it from my students and from those I work with in the community. Everyone is looking for a way to balance their hectic lives and their rising food bills. Batch cooking such as chilis, soups, and stews are on the menu at home much more than before. Brown-bagging lunches has also seen an increase, both for the savings and because individuals feel they can better control the healthiness of the meal this way."
CNN reported in September that even sales of cookware, subscriptions to online and print cooking magazines, and cookbooks have increased in direct response to people returning to the home-cooked meal. And an increase in sales of pasta, canned goods, baking goods, and spices is also a telltale sign of the times, according to Scannavino. "People are replacing their dining out experiences with entertaining at home," she says.
Dawn Jackson Blatner, RD, LDN, an American Dietetic Association (ADA) spokesperson, agrees: "I have definitely seen this. In my practice, as well as in my cooking classes in Chicago, there are four pillars of why we eat what we eat: taste, convenience, health, and cost. People have wanted tasty, healthy, and convenient meal ideas and recipes from me, and now more than ever my patients want money-saving food tips, too. Money-saving food habits such as cooking at home for dinner and bringing a brown-bag lunch are trends that are here to stay with the current economic situation."
Shelley Goldberg, MPH, RD, senior director of nutrition communications at the International Food Information Council (IFIC), says the economic overlay on food, nutrition, and health cannot be overstated. "Factors driving consumer purchasing decisions, cost of individual foods and diets, and trends in home food preparation vs. eating or carrying out could all be interesting discussions in a challenging economy. The role of nutrition professionals will be critical as consumers try to get the most nutritional bang for their buck," she says.
"We have a data point from our annual IFIC Foundation Food & Health Survey that explores the priority of taste, health, cost, and convenience in [consumers'] food and beverage purchasing decisions," she continues. "In 2008, consumers said that taste was most important (84%), followed by price (70%), healthfulness (62%), and convenience (55%). What this means is that while taste will likely be first and foremost on consumers' minds when choosing foods and beverages to purchase, cost, healthfulness, and convenience are gaining in importance and cannot be discounted."
What does this mean for RDs? Kerry Neville, MS, RD, of KLMN Nutrition Communications, says nutrition professionals should take note and provide clients with quick, easy, and affordable recipes. "People are looking for meals to replace takeout for the most part (or dinners out, too). So that means they are looking for quick and easy recipes. On the flip side, people don't know how to cook!" she says. "People are eating out less and cutting back on takeout, but they want quick and easy meals that taste good—and hopefully are healthy, too." So get ready to update your menu offerings, as clients could be coming to you for dinner ideas.
Restaurants Slim Down Offerings
One possible upside to the economy's downturn is that although consumers may eat out less, they'll have more power over what restaurants will offer as eateries fight for consumers' business. And smaller portions is one thing customers have been relishing, according to Sheila Weiss, RD, director of nutrition policy for the National Restaurant Association.
Weiss says Americans are starting to take their healthy habits with them when they eat out, which has translated into menus with smaller plates and bite-sized desserts. "We were seeing [this last year and] I think this trend will continue, where things like small plates, tapas and meze, and bite-sized desserts were very popular, as well as a focus on locally grown and organic produce. I think as people are dining out more and trying new things, they're really looking for a variety of options, and restaurants that offer small plates that can be shared among a table have been very popular and I think will continue to be," she says.
T.G.I. Friday's restaurant chain unveiled its Right Portion, Right Price menu more than a year ago, with industry analysts unsure of how customers would react. But with overwhelming acceptance, the restaurant chain recently announced that it has made the popular portioned plates a permanent part of its menu, even adding more options. And according to an editorial in QSR magazine, when the fine-dining Atlanta restaurant Rathbun's downsized its dessert menu to mini offerings, dessert sales rose more than threefold.
"You can see from the trends with more entrée salads and the focus on organic produce, people are more aware of what they're eating. I think that they want a small taste of something, and they know that in order to maintain a healthy lifestyle, portion size certainly matters," Weiss says. "People still want a taste of dessert; they don't want to deny themselves that indulgence. We found that 79% of people are interested in eating healthier in restaurants than they were two years ago, and because they're dining out more, they want to take their healthy lifestyles with them when they dine out."
 
Neville says that while people used to eat out for special occasions, this is no longer the case. "It became a matter of people eating out a few days a week, which means it is a lifestyle and not a once-in-a-while treat," she says. "I think there was some pressure from consumer groups regarding portion sizes, which some of the family chains took to heart. I think it's great, since restaurant portions are so out of whack and so enormous. There are studies showing people tend to eat more when more food is on their plate, and this is true with restaurants. I appreciate the option for more moderate-size portions of entrées and desserts."
Scannavino says it may be the restaurant industry looking out for its best interest, but a smaller helping can only help consumers' health. "Smaller portions, bite-sized desserts, organic ingredients, and local foods are all making it on the menus. The industry knows a lucrative trend when they see it. Smaller portions sizes are a benefit to those cutting back on their own intake, but they are also a way of increasing revenues for the industry," she explains.
With diners guarding their dollars more than ever, restaurants will only become more aware of what customers want—and right now, they want healthy and affordable. "I think that also with various policy issues, like with the trans fat ban affecting restaurants, people are more aware of what they eat when they dine out. And restaurants are certainly more aware of the foods that they serve their guests," says Weiss.
Navigating the Labeling Chaos
With brands and supermarkets all creating their own labeling processes in an attempt to draw in consumer purchases for their foods, what help do consumers have with sorting through the clutter? Better-for-you symbols, country-of-origin labeling (COOL) seals, fortified-with statements, and nutrient content claims: Helping consumers navigate the labeling chaos is sure to be a trend that sticks in 2009. Especially with consumers cooking at home more, many will look for guidance to distinguish health from hype at grocery stores nationwide.
According to the IFIC Foundation's 2008 Food & Health Survey, 67% of Americans feel that reading or hearing about the relationship between food and health is of interest, but 45% think that food and health information is confusing and conflicting. Based on these data, Susan Borra, IFIC Foundation president, RD, says, "There's a lot of work to do to break through the food information clutter out there and make nutrition advice practical."
"I agree it's confusing," says Neville. "There are some programs that will be rolled out in grocery stores—from groups ranging from Keystone, NuVal, Nutrient Rich, and Hannaford Brothers. They have the potential to help consumers—or confuse them more—because there won't be just one system, there will be different systems in different chains. The intent is there to help consumers, and each of these systems has their good points, but [it remains] to be seen which of them really does help consumers make healthier choices."
Scannavino says product labeling has gotten out of control. "Although label claims and nutrition info on packages are regulated by the FDA, there seems to be far too many vague areas and nonregulated terms, which simply confuse the consumer," she says. "While many consumers have become more cognizant of reading nutrition labels, my experience in the community outreach realm has shown me that they are still confused and overwhelmed with the myriad terms and claims we see in the marketplace. It's impossible to keep track—a good source of whole grains, made with whole grains, an excellent source of whole grains; low-sodium, reduced sodium, etc—yet nowhere on the package does it define what these terms mean. I advise my students and community participants to ignore all the banner claims on packages and look at the ingredient lists and the Nutrition Facts label. I teach simple in-market comparisons one can do to assess just how healthy a product may be.
"I also believe that the move to local foods in many establishments is a direct result of the consumer becoming better informed," she continues. "The more consumers hear about issues like food-borne illness outbreaks, tainted food imports, and a political shift to a more nationalist view, the more cognizant and comfortable they become when choosing where their food comes from. The recent COOL labeling may add yet another buying dilemma to the shopping list, but I think consumers will welcome this added bit of knowledge."
Goldberg, who says that curbing the obesity trend and helping consumers attain and maintain a healthy weight will still take center stage, adds that "this will feed discussions about various labeling systems designed to help consumers get the most nutrients from their calories. These labeling systems will appear as icons appearing on front of packages and/or icons or numbers on shelves in grocery stores."
Many companies are aware of this labeling chaos, and one possible solution was created by a group of scientists, academicians, health and research organizations, food and beverage manufacturers, and retailers. The Smart Choices Program, a voluntary, front-of-the-package labeling program developed with help from the ADA to make it easier for consumers to choose healthy products, will be rolled out in 2009.
When questions about these labeling systems undoubtedly arise from consumers wondering what they mean and how to use them, Goldberg says nutrition professionals should guide the way. "[Consumers] should look to nutrition professionals to cut through the clutter and help them find their balance between a healthful diet and physical activity given their individual and specific circumstances," she says.
When clients ask for Blatner's advice on the labeling conundrum, she says the answer is simple: The Nutrition Facts panel is king. "Consumers are interested in choosing healthy foods, so manufacturers have placed health messages front and center on packages. Many companies even have their own logos and symbols to help consumers choose the healthiest products. With so many symbols and pieces of information on a label, it is imperative now more than ever that people use the food facts panel and read ingredients. We can use the package marketing to call our attention to a product, but then we should flip it over and read the Nutrition Facts panel and ingredients to check into the details of the claims on the front of the package."
Schools Get Fit
While American schools are not immune to effects of the economy's current downturn, an encouraging new trend shows that schools are standing up to the financial situation and are not backing down from their healthy initiatives—they're just getting creative. According to Erik Peterson of the School Nutrition Association, "The increase in food, milk, and energy costs combined with high labor and benefit costs are driving school boards to raise lunch prices and school nutrition programs to cut costs or go into the red," he says. "School nutrition programs continue to maintain the nutritional integrity of their programs but are having to find other ways to cut costs or use financial reserves to maintain their programs. School nutrition professionals have been forced to completely evaluate the financial integrity of their program and come up with creative solutions to balance the budget. Some examples of the strategies being implemented include preparing less labor-intensive recipes, offering less variety, purchasing seasonal produce, and reducing disposable and paper good use."
Peterson reports that in spite of rising costs, "School nutrition programs continue to offer more fruits and vegetables, especially fresh fruits and vegetables, more whole grains, and more low-fat dairy [options]. We continue to see more salad bars, more vegetarian meals offered, and more locally grown items (especially produce). We have also tracked school nutrition programs' continued efforts to eliminate trans fatty acids and reduce sodium in foods offered."
And while many vending machines in schools continue to be operated by school principals and other groups and less so by school nutrition programs, Peterson notes that "choices offered in vending machines continue to be healthier, with bottled water increasing in popularity, while all other beverage choices, including sports drinks, 100% juice, soda and diet soda, and skim milk, have shown drops in accessibility through vending machines in the past year. We are seeing about two thirds of school districts offering more fresh fruits and vegetables in vending and a la carte service lines and almost 70% limiting the hours of operation for vending machines. As a result, we are seeing vending machines used less often because of limited hours of operation and offering healthier items."
Scannavino also sees this but fears recent financial woes may thwart this trend. "We have seen many schools remove the vending machines or have the vending machines filled with more healthful options. Many cities and school districts have made advances toward healthier meals as well. This is a daunting task for schools, given their meager foodservice budgets and understaffed or underskilled labor force. The increase in food prices, as well as worldwide food shortages, will take their toll on the foods available through the National School Lunch Program. While schools are making an effort to improve the health and wellness of their students and provide nourishing meals, I believe that a great deal of these efforts will be put on hold until we see an upswing in the economy and a leveling off of food prices," she says.
"The economy has been really hard on school lunch programs and, as a result, some of the healthier versions of foods (eg, whole grain bread or rolls), which are more expensive, may not stay on menus. But I think school lunch has come a long way, and I hope it continues," says Neville. As with many industries, only time will tell which programs will survive, but Peterson predicts schools' nutritional programs will tough out the economic storm.
An Uncertain New Year
Wherever 2009 takes nutrition professionals, Goldberg says the 2010 Dietary Guidelines for Americans will be a major driver of discussions as they're debated over the next year. And pocketbook-protecting consumers' habits will likely prove what trends will last in hard economic times. While obesity prevalence will remain a top issue, Goldberg says, "Stressed consumers in a [challenging] economy will determine what trends are hot. Consumers want their food to have taste, nutrition/health, and convenience at a low cost without sacrificing any one of those aspects."
— Juliann Schaeffer is an editorial assistant at Today's Dietitian.