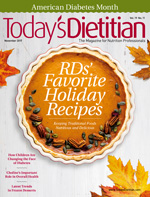 November 2017 Issue
The Retail RD: Demonstrating ROI
By Barbara Ruhs, MS, RDN
Today's Dietitian
Vol. 19, No. 11, P. 22
Further your career and enhance benefits for shoppers by knowing and increasing your value.
In working with many retail RDs over the years, quantifying return on investment (ROI) for their positions and programs is a challenge they face. Relating the impact of RD services to common retail metrics such as sales, basket size, and customer loyalty isn't something to which RDs typically are exposed in their dietetics training, and they may not have been trained to do this while working for a supermarket retailer. However, there's nothing more powerful than the ability to prove your value through ROI, whether when working for a supermarket or in any other dietetics position. A simple way to think about ROI as a dietitian is to consider whether your salary and benefits are offset by the supermarket's profits from the services you provide. Because supermarkets operate on slim profit margins to begin with, it's extremely important for retail RDs to be conscious of their contribution to the bottom line and how they influence grocery sales. This article focuses on ways retail RDs can quantify ROI for their position and services.
Retail Promotional Tools
According to Retail Grocery Store Marketing Strategies and Obesity: An Integrative Review, a study in the American Journal of Preventive Medicine, 39% of products in consumer's baskets were influenced by retailer promotions.1 By combining typical retail-based promotion strategies (such as in-store displays, food samples/demos, and point-of-purchase signage) with pricing strategies (eg, temporary price reductions and coupons), dietitians can maximize supermarkets' efforts to increase the appeal of more healthful products in stores and further demonstrate their own value.2,3 A 2010 national survey found that 66% of shoppers are receptive to programs or services that help them make more healthful choices while shopping.1 Dietitians in supermarkets are perfectly positioned to educate shoppers and transform in-store efforts.
Product Displays
An estimated 70% of all consumer purchasing decisions are made at the shelf, which is why merchandising displays and placement have a powerful influence on shoppers.4,5 Increasing the selection, convenience, and visibility of more healthful options has been shown to increase sales and can be accomplished by creating a designated health-themed display on an end-cap or other high-traffic area of the store.6 IRI Worldwide reports that more than one-quarter of volume, on average, is sold with merchandising support.7 To put this knowledge into action, The Food Trust has published "Supermarket Strategies to Encourage Healthy Eating," a toolkit that provides a blueprint for effective retail strategies that include in-store marketing tips, such as creating designated promotional shelf space for more healthful products or using shelf space, position, and end-cap displays to promote more healthful food items.8 To calculate the ROI of displays, it's important to establish a baseline of sales of the product. For example, if you're promoting a whole grain cereal featured on an end-cap display that also lives in the cereal aisle, you can measure sales of that particular cereal or brand family (a group of related brands) when it isn't on display and is similar in price. Typically, I'd recommend measuring both using the same duration or timeframe, whether it's for one week or four weeks. The increased sales volume generated by the feature display is called incremental lift. Another easy way to compare sales is to look at the 52-week average and compare it with the previous year's 52 weeks.
A note about tracking sales for brand families: In most cases, products that are part of a brand family have multiple UPCs, meaning that if you're featuring whole-grain Cheerios, several other cereals that are line-priced with this cereal also will be on sale. When you pull a data report by UPC, it's important for analysis purposes to separate the SKUs, or stock keeping units, that were on the display.
Demos, Sampling, and Point of Purchase
The addition of food demos and sampling is an effective tool for dietitians to employ when seeking to prove ROI and have a significant impact on sales. "The Psychology Behind Costco's Free Samples," an article published in The Atlantic in 2014, cited that in some cases, retailers have boosted sales by 2,000% by offering samples.9 In the supermarket intervention Eat Right-Live Well, executed in Baltimore, there was a 23.1% increase in the sales of promoted healthful products from pre- to postintervention by combining nutrition education, food sampling, point-of-purchase labeling, and pricing strategies.10 This research paper is particularly valuable for RDs in the planning stages to promote specific products, as it includes sales data for a variety of food categories promoted that can be used as a metric or guide in estimated ROI.
Dietitians can measure the impact of demos and sampling in a few different ways. They can review store sales of a product or unit movement each day a demo was conducted and compare the results with the previous week's sales or movement. Of course, if your store runs out of the product the day you're sampling, that's also an easy way to gauge success of your demo. Retail RDs also can choose to evaluate in-store demos by counting the number of samples taken by individual customers, and customer surveys can be used to gather more qualitative data.
Direct Revenues
In addition to retail-based strategies, dietitians seeking to demonstrate ROI can consider direct revenue sources. Food manufacturers and fresh produce organizations are accustomed to negotiating promotional programs with retailers. Retail RDs who use in-store displays, demos, sampling, and point-of-purchase nutrition labels or signage can establish a sponsorship fee in which companies pay for weekly or monthly promotions. Retail RDs also function as advocates for customer health and can play an important role in providing timely nutrition education that guides shoppers in specific food selections.
In establishing sponsorship fees, a good place to start is to consider the annual costs to run a retail RD platform, including marketing materials, in-store activation, and your salary. Some retail RDs may have the physical space to offer fee-for-service counseling services, culinary classes, and other nutrition services that can be a great revenue source. Although there are limited published data on ROI for health care services dietitians provide in the retail environment, revenue generated by these services is related directly to the RDs offering the services. Furthermore, dietitians can make the case that they're attracting potential new customers, enhancing customer loyalty, and increasing basket size. To measure this, retail RDs must collect data on these customers and track their loyalty card data if possible.
Benefits of Analyzing the Data
Whether you're a self-employed RD or working for a supermarket or any other type of organization, being able to quantify your value is a powerful tool that can be used to pitch new business, expand your dietitian team, or justify an increase in salary. Retail RDs can benefit by studying and implementing successful retail-based strategies such as in-store displays, sampling programs, and point-of-purchase signs or tags that impact sales. In addition, retail RDs should consider working with and learning from their retailer's customer insights and loyalty analysts, who collect and measure sales data. Working with category managers to gain insights into key metrics and strategies to measure sales impact also can be valuable. Being creative, learning how to evaluate success in the retail environment, and finding ways to generate sales using the unique skills and qualifications of RDs can impact retail and the health of customers now and into the future.
— Barbara Ruhs, MS, RDN, is a retail health expert to supermarkets and food companies and founder of the Oldways Supermarket Dietitian Symposium.
References
1. Glanz K, Bader MD, Iyer S. Retail grocery marketing strategies and obesity: an integrative review. Am J Prev Med. 2012;42(5):503-512.
2. Adam A, Jensen J. What is the effectiveness of obesity related interventions at retail grocery stores and supermarkets? — a systematic review. BMC Public Health. 2016;16(1):1247.
3. Liberato SC, Bailie R, Brimblecombe J. Nutrition interventions at point-of-sale to encourage healthier food purchasing: a systematic review. BMC Public Health. 2014;14:919.
4. It's not just about the shelf: creating the ideal in-store experience. Nielsen website. http://www.nielsen.com/us/en/insights/news/2016/its-not-just-about-the-shelf-creating-the-ideal-in-store-experience.html. Published July 21, 2016. Accessed September 19, 2017.
5. Grocery Manufacturers Association; Deloitte. Shopper marketing: capturing a shopper's mind heart and wallet. https://www.gmaonline.org/downloads/research-and-reports/shoppermarketing.pdf. Published 2007. Accessed 2017.
6. Foster GD, Karpyn A, Wojtanowski AC, et al. Placement and promotion strategies to increase sales of healthier products in supermarkets in low-income, ethnically diverse neighborhoods: a randomized controlled trial. Am J Clin Nutr. 2014;99(6):1359-1368.
7. IRI Worldwide. Merchandising for growth: connecting the dots for maximum activation. https://www.iriworldwide.com/IRI/media/IRI-Clients/T_T-2015_Merchandising-Trends.pdf. Published November 2015.

8. The Food Trust. Supermarket strategies to encourage healthy eating toolkit. http://thefoodtrust.org/uploads/media_items/supermarket-toolkit.original.pdf. Published 2011.
9. Pinsker J. The psychology behind Costco's free samples. The Atlantic. October 1, 2014. https://www.theatlantic.com/business/archive/2014/10/the-psychology-behind-costcos-free-samples/380969/. Accessed September 16, 2017.
10. Surkan PJ, Tabrizi MJ, Lee RM, Palmer AM, Frick KD. Eat Right-Live Well! Supermarket intervention impact on sales of healthy foods in low-income neighborhood. J Nutr Educ Behav. 2016;(48)2:112-129.
KNOW YOUR NUMBERS
In most cases, sales and profitability data are the gold standard in measuring return on investment (ROI). However, there are many other numbers that are meaningful in proving the value and impact of retail RD services. Some important numbers to track with regard to ROI and overall impact include the following:
the number of stores in which an RD has a display (the more, the better);
the distribution/circulation of publications featuring the RD or promoted products;
the number of publications printed for in-store customer pick-up;
the number of in-store signs or nutrition tags executed per week, month, or year (it's valuable to gather statistics on promoted/tagged products); and
the number of media and social media impressions (eg, how many total followers or how many likes or comments are generated for a particular post or party).
If you're struggling to measure ROI, please submit questions or comments to Barbara Ruhs, MS, RDN, @BarbRuhsRD on Twitter and Instagram.
— BR