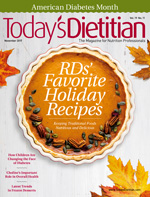 November 2017 Issue
Probiotics: The Use of Probiotics in Pregnancy
By Sherry Coleman Collins, MS, RDN, LD
Today's Dietitian
Vol. 19, No. 11, P. 18
Research suggests supplementation may help prevent allergic disease and other conditions in infants.
In her 28th week of pregnancy, Melissa visited her midwife for a regular checkup, where she was advised to begin taking an over-the-counter probiotic supplement. Although Melissa wasn't opposed to taking probiotics, she questioned the science behind the recommendation. Her midwife said she didn't know the specifics about the research but that it was considered good for maternal and infant health.
It turns out there are mixed results in the literature regarding probiotics and pregnancy. To make evidence-based recommendations, it's essential to wade through the clutter. Probiotics (and, more recently, prebiotics) are showing up in one food product after another—not just in all of the traditional places such as yogurt and sauerkraut but also in beverages, snack bars, and, of course, supplements. There's a great deal of research being conducted on probiotics' impact on the microbiome—whether they may help treat or prevent illness. Although pregnancy isn't an illness, there's enough research in the areas of maternal and infant health to consider using probiotics in some cases.
Potential Benefits
Research on probiotic use is evolving at breakneck speed. Manipulating the gut microbiota to promote good health before, during, and after pregnancy often is recommended to promote maternal and infant health and enhance good health later in life. There's convincing research in some of these areas, but research in other areas remains incomplete.
Healthy Mothers
Maternal health is paramount to an uncomplicated pregnancy and delivery and a healthy baby. Of course, pregnancy is a completely normal condition and not akin to disease. However, researchers are studying probiotics for the possible treatment of some common conditions that may occur in pregnancy that range from minor to serious.
One of the most common conditions that can cause discomfort for pregnant women is constipation. Often the result of hormones that cause the smooth muscle in the gastrointestinal (GI) tract to relax, dietary manipulation that includes increasing fiber and fluids can help reduce constipation. Probiotics may be a good additional nutrition therapy, too. While several studies have found that yogurt can treat constipation, few studies have been done in a pregnant population. In one randomized controlled trial of 60 women, researchers found that 300 g of probiotic-enriched yogurt (Bifidobacterium and Lactobacillus 4.8 × 1010 [CFU]) per day alleviated constipation better than conventional yogurt among pregnant women.1
Elizabeth Ward, MS, RD, Boston-based author of Expect the Best: Your Guide to Healthy Eating Before, During and After Pregnancy, says, "Probiotics may help to ease some of the GI problems that women face during pregnancy, including constipation. I recommend including probiotic foods such as fermented dairy products like yogurt and kefir every day over probiotic supplements." Ward also mentions the need for prebiotics in the form of fiber, recommending at least 30 g of fiber each day from whole foods such as whole grains, fruits and vegetables (including legumes), and nuts and seeds.
Another common condition during pregnancy is gestational diabetes mellitus (GDM). A small number of studies suggest potential protection with the use of probiotic supplements. Julian Crane, MB, BS, FRCP, FRACP, a professor in the department of medicine at the University of Otago, Wellington, New Zealand, says, "We (and others) have found a reduction in gestational diabetes mellitus." In fact, in a study published in January 2017, Crane and his colleagues published a randomized controlled trial in which subjects (n=373) either took Lactobacillus rhamnosus HN001 or a placebo. Those who took the probiotic had a significantly lower incidence of GDM than those who didn't (2.1% vs 6.5%).2 A previously published randomized controlled trial found no protection against gestational diabetes with the use of Lactobacillus salivarius UCC118, perhaps indicating the difference in efficacy of the strain.3 Other factors could be dosage, duration of treatment, timing of delivery (early vs later in pregnancy), or other genetic or environmental differences between the study groups. With regard to future and ongoing research, Crane says, "Other areas of interest with probiotics and maternal health would include vaginal infections during pregnancy and possible mental health given there's a considerable interest in the whole area of probiotics and possible brain effects."
More research is needed to fully understand the impact of probiotic supplements on maternal health. Although current research prevents clinicians from making specific recommendations for probiotic supplementation in pregnancy, a review of studies evaluating the safety of Lactobacillus and Bifidobacterium showed no risk to expectant mothers or newborns.4,5
Healthy Babies
The development of the infant microbiome is a key area of study, and it's known that there are a variety of contributing factors and situations that impact differences in microbial colonization among infants. Differences in the microbiome have been linked to increased allergy risk. Presently, there's support for the use of probiotics to prevent eczema. Since eczema is a precursor to a variety of atopic conditions (eg, food allergies and asthma), and because it causes a great deal of suffering, reducing or preventing it is important. About 10.7% of children younger than 18 have eczema, and about 37% of those with moderate to severe eczema go on to develop food allergies, according to the American College of Allergy, Asthma and Immunology.6,7 While researchers continue to learn about the connection, controlling eczema may be one way to reduce the development of food allergies.
Two separate systematic meta-analyses found a reduction in eczema risk among the offspring of mothers who took probiotic supplements during pregnancy.8,9 However, these two reviews had some limitations, so they were considered low quality. In fact, in a letter to the editor published in the Journal of Allergy and Clinical Immunology, one group of researchers and physicians said they question the value of the study by Cuello-Garcia and colleagues and these types of meta-analyses on the basis that it's impossible to recommend to patients a specific probiotic strain they should take, in what dosage, and for how long based on the current research.10
According to Susan Prescott, MD, PhD, an internationally acclaimed pediatrician and immunologist from the University of Western Australia, a member of the World Allergy Organization (WAO) expert panel, and author of the new book Secret Life of Your Microbiome: Why Nature and Biodiversity Are Essential to Health and Happiness, the issues with the research considered by the WAO include "the heterogeneity of studies, variety of strains, small and diverse population studies, and numerous other factors." However, Prescott says, "this does not mean that microbes don't have a significant effect on immune development." The WAO recommends supplementation in certain instances.11 According to the World Allergy Organization-McMaster University Guidelines for Allergic Disease Prevention (GLAD-P): Probiotics, clinicians should recommend probiotics to women at high risk of having an allergic child, those who breast-feed infants who are at high risk, and to infants who are predisposed to the development of allergy. According to the guidelines, "High risk for allergy in a child is defined as biological parent or sibling with existing or history of allergic rhinitis, asthma, eczema, or food allergy." In addition, the guidelines say that although the quality of the evidence may be low, the possible net effect is worth supplementation, since the risk of negative impact is low.
Studies to Watch
One of the studies to watch for is the Probiotics in Pregnancy (PiP) Study, a multicenter, multinational study that has recruited pregnant women to research the effect of L rhamnosus HN001 in early pregnancy through breast-feeding. Researchers expect administration to reduce the rate of infant eczema and atopic sensitization at 12 months. Researchers also are studying the impact of supplementation on GDM, bacterial vaginosis, and group B streptococcal vaginal colonization before birth, and depression and anxiety postpartum.12
Another study to keep an eye on is The Environmental Determinants of Diabetes in the Young (TEDDY), also a multicenter, multinational study. The TEDDY study is exploring the causes of type 1 diabetes mellitus to understand what interventions could help reduce the risk of its development. These researchers are exploring the interaction between genes and environmental contributors. The study is ongoing, but in 2015, researchers presented early data that showed a reduction of 33% in autoimmunity, based on the development of autoantibodies (antibodies to one's own cells) after infant supplementation with probiotics starting in the first month of life. Although promising, more research is needed to confirm these findings.13
The Bottom Line
As with most topics in nutrition and health, more good-quality research is needed to better understand which probiotics work best, in what doses, and for how long in which populations. Until then, the basic takeaways can be summed up as follows:
• Probiotics generally are considered safe during pregnancy.
• Supplementation should be considered in specific instances.
• Probiotics from food are safe and nutritious for all clients.
Probiotic foods are a safe way for pregnant women to introduce and consume healthful microbes during pregnancy and may provide other positive nutritional benefits. These may include foods such as fermented sauerkraut (a source of fiber), and yogurt and kefir (providing calcium and vitamin D). Pregnant clients should avoid unpasteurized milk and juice products because of the risk of foodborne illness. Prescott says whole foods and fermented foods are the best approach for most people. However, "there may be a role for supplements in some situations as long as they're seen as supplements and not replacements for healthful nutrition," she says. Exact recommendations for dosing remain to be determined.
As with all of nutrition counseling, dietitians should tailor recommendations to the individual patient and make recommendations in accordance with cultural preferences. Pregnant women who fall into the high-risk category are good candidates for probiotic supplements. In fact, regular consumption of safe, whole, fermented, and probiotic foods may benefit all patients. Finally, research on the benefits of probiotics is growing and dietitians should continue to follow the research in this area to provide the best evidence-based guidelines to use in practice.
— Sherry Coleman Collins, MS, RDN, LD, is president of Southern Fried Nutrition Services in Atlanta, specializing in food allergies and sensitivities, digestive disorders, and nutrition communications. Find her on social media @DietitianSherry and at www.southernfriednutrition.com.
References
1. The effect of probiotic yogurt on constipation in pregnant women: a randomized controlled clinical trial. Iranian Red Crescent Med J. 2016;18(11):e39870.
2. Wickens KL, Barthow CA, Murphy R, et al. Early pregnancy probiotic supplementation with Lactobacillus rhamnosus HN001 may reduce the prevalence of gestational diabetes mellitus: a randomised controlled trial. Br J Nutr. 2017;117(6):804-813.
3. Lindsay KL, Kennelly M, Culliton M, et al. Probiotics in obese pregnancy do not reduce maternal fasting glucose: a double-blind, placebo-controlled, randomized trial (Probiotics in Pregnancy Study). Am J Clin Nutr. 2014;99(6):1432-1439.
4. Dugoaua JJ, Machado M, Zhu X, Chen X, Kroen G, Einarson TR. Probotic safety in pregnancy: a systematic review and meta-analysis of randomized controlled trials fo Lactobacillus, Bifidobacterium, and Saccharomycess spp. J Obstet Gynaecol Can. 2009;31(6):542-552.
5. Elias J, Bozzo P, Einarson A. Are probiotics safe during pregnancy and lactation? Can Fam Physician. 2011;57(3):299-301.
6. Shaw TE, Currie GP, Koudelka CW, Simpson EL. Eczema prevalence in the United States: data from the 2003 National Survey of Children's Health. J Invest Dermatol. 2011;131(1):67-73.
7. Eczema and children. American College of Allergy, Asthma and Immunology website. http://acaai.org/allergies/who-has-allergies/children-allergies/eczema. Accessed September 9, 2017.
8. Cuello-Garcia C, Brozek J, Fiocchi A, et al. Probiotics for the prevention of allergy: a systematic review and meta-analysis of randomized controlled trials. J Allergy Clin Immunol. 2015;136(4):952-961.
9. Zuccotti G, Mariapia F, Meneghin F, et al. Probiotics for prevention of atopic diseases in infants: systematic review and meta-analysis. Allergy. 2015;70(11):1356-1371.
10. Szajewska H, Shair R, Turck D, van Goudoever J, Mihatsch W, Fewtrell M. Recommendations on probiotics in allergy prevention should not be based on pooling data from different strains. J Allergy Clin Immunol. 2015;136(5):1422.
11. Fiocchi A, Pawankar R, Cuello-Garcia C, et al. World Allergy Organization-McMaster University Guidelines for Allergic Disease Prevention (GLAD-P): probiotics. World Allergy Organ J. 2015;8(1):4.
12. Barthow C, Wickens K, Stanley T, et al. The Probiotics in Pregnancy Study (PiP): rationale and design of a double-blind randomised controlled trial to improve maternal health during pregnancy and prevent infant eczema and allergy. BMC Pregnancy Childbirth. 2015;16(1):133.
13. Uusitalo U, Liu X, Yang J, et al. Association of early exposure of probiotics and islet autoimmunity in the TEDDY study. JAMA Pediatr. 2016;170(1):20-28.