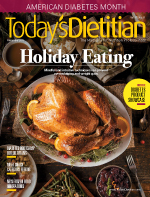 November 2016 Issue
Culinary Corner: Sweet Potatoes + Carrots
By Jessica Fishman Levinson, MS, RDN, CDN
Today's Dietitian
Vol. 18, No. 11, P. 66
Lighten up a traditional holiday side dish with these two staples.
Thanksgiving is by far my favorite holiday, in large part because I love all the traditional foods and the aromas that envelop the house as we're getting ready to celebrate. There's nothing better than walking into a kitchen that reflects the colors of fall and is filled with the scent of cinnamon, nutmeg, ginger, apples, sweet potatoes, and roasted turkey.
One of my favorite Thanksgiving dishes, and one I enjoy all fall and winter long, is sweet potato casserole. The problem with many sweet potato casseroles is that they can quickly turn into dessert thanks to the amount of butter, whole milk, and eggs that are mixed in. Not to mention the sugary marshmallows added as toppings.
To keep the nutritional integrity of sweet potatoes intact, this Sweet Potato Carrot Casserole With Maple Pecans combines beta-carotene-rich sweet potatoes and carrots with citrus and spices that pack in the flavor without the added calories, fat, and sodium. And that's not all for the nutritional quality of this side dish that won't be confused with dessert. In addition to beta-carotene, sweet potatoes are an excellent source of vitamin C and a good source of fiber and potassium, and carrots are a good source of fiber, vitamin K, and health-promoting phytonutrients.1-3 Ginger and cinnamon are rich in antioxidants that may reduce the risk of chronic diseases and inflammation, and cinnamon also has been shown to reduce the negative effects of a high-fat meal and decrease the insulin response after eating.4,5 Clearly, there are many good reasons for clients to make this casserole over the holiday season.
Roasting the sweet potatoes and carrots before puréeing them brings out the natural sweetness of the vegetables, so no added sugar is needed in the purée itself. The only added sugar comes from two teaspoons of maple syrup mixed with the pecans to add a sweet and crunchy topping and provide a wonderful contrast of textures in every bite. Don't worry, there will still be room for dessert.
— Jessica Fishman Levinson, MS, RDN, CDN, is a New York-based nutrition consultant, writer, and recipe developer, and the founder of Nutritioulicious (www.nutritioulicious.com).

References
1. Basic report: 11508, sweet potato, cooked, baked in skin, flesh, without salt. US Department of Agriculture, Agricultural Research Service website. https://ndb.nal.usda.gov/ndb/foods/show/3208?manu=&fgcd=. Updated May 2016. Accessed September 12, 2016.
2. Basic report: 11125, carrots, cooked, boiled, drained, without salt. US Department of Agriculture, Agricultural Research Service website. https://ndb.nal.usda.gov/ndb/foods/show/2902?manu=&fgcd=. Updated May 2016. Accessed September 12, 2016.
3. Sharma KD, Karki S, Thakur NS, Attri S. Chemical composition, functional properties and processing of carrot — a review. J Food Sci Technol. 2012;49(1):22-32.
4. Prasad S, Aggarwal BB. Chronic diseases caused by chronic inflammation require chronic treatment: anti-inflammatory role of dietary spices. J Clin Cell Immunol. 2014;5:238.
5. Skulas-Ray AC, Kris-Etherton PM, Teeter DL, Chen CY, Vanden Heuvel JP, West SG. A high antioxidant spice blend attenuates postprandial insulin and triglyceride responses and increases some plasma measures of antioxidant activity in healthy, overweight men. J Nutr. 2011;141(8):1451-1457.
Recipe
Sweet Potato Carrot Casserole With Maple Pecans
Sweet potatoes and carrots are roasted and then puréed with flavorful spices to produce a naturally sweet and creamy base for a lightened-up version of a classic holiday casserole. It's topped off with maple pecans that add some crunch and sweetness and still leave you room for dessert.
Serves 10
Ingredients
Nonstick cooking spray
2 lbs sweet potatoes, peeled and cut into large chunks
1 lb carrots, peeled and cut into large chunks
1 T olive oil
3/4 cup chopped pecans
2 tsp maple syrup
1 tsp grated ginger
1 tsp orange zest
2 T freshly squeezed orange juice
1 cup light coconut milk
1 tsp ground cinnamon
1/2 tsp ground nutmeg
1/2 tsp kosher salt
Freshly ground pepper, to taste
Directions
1. Preheat oven to 400° F. Line large baking sheet with aluminum foil. Coat a 9 X 13-inch baking dish with cooking spray and set aside.
2. Toss sweet potatoes and carrots with olive oil and spread on baking sheet. Roast 30 minutes until caramelized, stirring once or twice during cooking.
3. While vegetables are roasting, in a small bowl toss pecans with maple syrup and set aside.
4. When vegetables are finished cooking, remove from oven and reduce oven temperature to 350° F.
5. Transfer roasted vegetables to a large food processor; add ginger, orange zest, orange juice, and coconut milk, and process until smooth, scraping down the sides of the bowl as necessary. Add cinnamon, nutmeg, salt, and pepper, to taste, and process again until blended. Taste and adjust seasoning as desired.
6. Spread the sweet potato carrot purée in the prepared baking dish and sprinkle with prepared pecans. Bake until hot and beginning to brown around the edges, 40 minutes.
Nutrient Analysis per serving
Calories: 180; Total fat: 9 g; Sat fat: 2 g; Trans fat: 0 g; Cholesterol: 0 mg; Sodium: 180 mg; Total carbohydrate: 23 g; Dietary fiber: 5 g; Sugars: 9 g; Protein: 3 g