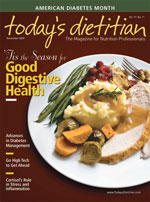 November 2009 Issue
Don't Forget About Winter Squash
By Chef Kyle Shadix, MS, RD
Today's Dietitian
Vol. 11 No. 11 P. 72
When I think of squash, I think of the summer variety, the ones with a long, curved neck and bulbous base, or the infamous zucchini, the deep-green cylindrical variety that is a bit smaller at the top than at the bottom. Who wants vegetables grown in the winter, anyway? Actually, winter squash are not harvested in winter as one might assume; rather, they are picked in the fall and stored until spring.
Since most winter meals tend to be higher in overall calories, it seems fitting for people to include winter squash in their repertoire; but from my experience, most people don't know how to cook them. Winter squash varieties have a tough skin and are very hard, so preparing them may seem daunting. Because they are so firm, they take longer to cook, but don't let that stop you and your clients from enjoying their creamy texture. Winter squash also tend to be inexpensive when compared with other vegetables. Because of their firm flesh, they are not easy to peel or cut, but don't worry if you waste some because doing so is preferable to sustaining a kitchen injury. Due to the potential for wounding myself, I have recently begun cooking them whole and unpeeled. I then scoop out the soft flesh for use in recipes.
More people would likely cook winter squash if they simply knew how. If I were on the commodity board representing winter squash, I would invest my marketing dollars in stickers that explain cooking basics and a Web site providing home cooks with a quick and easy resource for venturing into uncharted squash territory.
The following is a basic tutorial on preparing all winter squash varieties. But remember: When choosing winter squash, look for ones that are heavy for their size and have a hard, deep-colored rind free of blemishes. Another advantage to winter squash having such a thick skin is that they can be stored for longer than summer squash and do not require refrigeration.
— Chef Kyle Shadix, MS, RD, a culinary nutrition communications consultant in New York City and online at www.chefkyle.com.
How to Cook Winter Squash
1 lb squash yields approximately 1 cup cooked
Ingredient:
1 or more whole winter squash, such as one listed in the sidebar
Directions:
Preheat oven to 400˚F.

Wash squash under running water, removing any debris. Using a sharp knife or fork, pierce several holes in top of squash near stem; you don't have to worry about poking it all over.
Place squash in a pan, not on a cookie sheet, because as it cooks, it may collapse and its natural water will seep out. Bake in the oven for 45 minutes. Smaller winter squash will be soft and visibly done, but depending on the size, it may take up to 2 hours (for an 8-lb squash).
After removing it from the oven, allow the squash to sit and cool completely. Then cut it in half and scoop out the seeds and stringy fibrous flesh that surrounds the hollow core. Use immediately or store in the fridge.
Nutrient Analysis for 1 cup of three common varieties:
Acorn Squash: Calories: 56; Protein: 1 g; Carbs: 14 g; Total Fat: 0 g; Sat Fat: 0 g; Cholesterol: 0 mg; Sodium: 4 mg; Fiber: 2 g; Trans Fat: 0 g

Butternut Squash: Calories: 82; Protein: 1.5 g; Carbs: 21 g; Total Fat: 0 g; Sat Fat: 0 g; Cholesterol: 0 mg; Sodium: 8 mg; Fiber: 2.5 g; Trans Fat: 0 g

Spaghetti Squash: Calories: 41; Protein: 1 g; Carbs: 10 g; Total Fat: 0 g; Sat Fat: 0 g; Cholesterol: 0 mg; Sodium: 27 mg; Fiber: 2 g; Trans Fat: 0 g
Cooking Ideas
• Purée in food processor with light coconut milk, curry, and freshly minced and sautéed ginger and garlic.
• Add brown sugar, vanilla extract, and toasted walnuts.
• Add maple syrup and toasted almonds.
• Serve mashed with salt and pepper and a touch of real butter.
• Mix with prepared pesto and sprinkle with Parmesan or Pecorino Romano cheese.
Winter Squash Varieties
Acorn
Amber
Ambercup
Arikara
Atlantic Giant
Autumn Cup
Banana
Buttercup
Butternut
Calabaza
Carnival
Cushaw
Delicata
Gem
Giraumon
Gold Nugget
Hubbard
Jarrahdale Pumpkin
Kabocha
Lakota
Mooregold
Red Kuri
Rouge vif d'Estampes
Spaghetti
Sugar Loaf
Sweet Dumpling
Turban