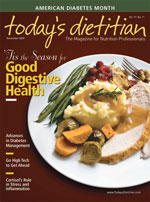 November 2009 Issue
Add Tart and Tangy for Heart Health
By Jenna A. Bell-Wilson, PhD, RD, CSSD
Today's Dietitian
Vol. 11 No. 11 P. 56
If you've ever felt like a member of the "food police" in your work as an RD, then you've likely spent much time telling patients what not to eat. But what if there were something tasty that patients could add to their diet that would lead to better health? For patients with heart disease, it's sometimes difficult to answer the plea for something sweet and tangy that positively impacts crucial lab values. But look no further than your local grocer this holiday season because the native cranberry may be just what you and your patients have been searching for.
From fresh fruit to trail mix, cocktail to relish, and 100% juices to powdered mixes, the little red berry has as many uses as it has heart-health potential. While eating a healthy, balanced diet is one of the most important and relevant ways to delay and prevent various health complications, including cardiovascular disease (CVD), by encouraging your heart-health-conscious patients to add cranberry to their diet, you may help them reduce their risk of developing CVD.
Promoting Heart Health: It's All About the Diet
Epidemiological studies have consistently shown that a diet rich in fruits and vegetables is inversely related to the risk of developing CVD and stroke. To a significant extent, this effect may result from these foods' high antioxidant and polyphenol content. Research as identified numerous polyphenolic phytochemicals, such as flavonoids and proanthocyanidins (PACs), as having strong antioxidant properties. The compounds in cranberries have a wide range of effects—from antioxidant, antibacterial, and antiviral activities to regulating gene expression.1
Research has also suggested that the PACs in cranberries may increase LDLs' resistance to oxidation, preventing platelet aggregation and thrombosis, reducing blood pressure, and inhibiting inflammation. The PACs in cranberries are structurally different from those in other plant foods, and this unique structure may explain why, despite thorough testing, polyphenol-rich grape and apple juices, raisins, green tea, and chocolate do not appear to produce some of the same activities.2 The PACs in cranberries have a unique A-type PAC linkage structure that sets it apart from most other vegetable and fruit PACs, and the red berry is actually one of the most concentrated sources in the American diet. In fact, the level of phytochemicals in an 8-oz glass of cranberry juice cocktail is equal to or even greater than the content in a serving of red wine. Thus, consuming cranberries or their related products could help maintain health and prevent CVD.
Which Form Is Best?
Cranberries are naturally low in calories, fat, and sodium; are cholesterol free; and are a good source of potassium and dietary fiber. Besides the fresh fruit and 100% juice products, other cranberry products, such as dried sweetened cranberries and cranberry juice cocktail (27% juice), have been recognized by the American Heart Association as heart healthy based on their nutrient composition.2
Recent research suggests that many forms of cranberries are beneficial to heart health. In two reports published in the British Journal of Nutrition, 30 middle-aged men with abdominal obesity consumed increasing daily doses of cranberry juice cocktail (125, 250, and 500 ml per day) over three successive periods of four weeks. Researchers monitored labs for levels of oxidized LDL (OxLDL) and HDL cholesterol concentration.3,4 Over the course of the study, researchers noted a significant decrease in plasma OxLDL concentrations following the intervention. After the participants consumed 250 ml of cranberry juice cocktail daily, researchers noted a significant increase in plasma HDL cholesterol concentration, an effect that plateaued during the last study phase.
Because elevated circulating concentrations of OxLDL and low levels of HDL cholesterol are considered relevant markers of oxidative stress and endothelial activation, the study results suggest that daily cranberry juice cocktail consumption may decrease risk for developing CVD.
Berries for the Holidays
As the seasons change and you search for healthy dishes to serve (or suggest serving) in the coming months, take a tip from Pamela Nisevich, MS, RD, a nutrition consultant in Dayton, Ohio, who recommends trying the potent cranberry as a side dish, adding it to heart-healthy baked goods, and drinking it. Nisevich directs colleagues and patients searching for more information on the history and health benefits of the red berry to the Cranberry Institute (www.cranberryinstitute.org).
For innovative ways to use the berry in recipes, she recommends visiting www.uscranberries.com, a site that contains a plethora of new and innovative recipes and can provide answers to all of your questions about the native berry.
— Jenna A. Bell-Wilson, PhD, RD, CSSD, is an author and a nutrition communications consultant in Chicago. She advises the Cranberry Institute as an RD.
 
Cranberry Whole Wheat Muffins
These delicious and healthy muffins are great to bring to a brunch or to have on hand for a healthy snack.
Ingredients:
2 cups all-purpose flour
3⁄4 cup whole wheat flour
1⁄3 cup granulated sugar
1 T baking powder
2 tsp ground ginger
1⁄2 tsp orange zest (grated orange peel)
1⁄4 tsp salt
1 1⁄4 cup milk
5 T melted butter
1 egg
1 cup fresh or frozen, thawed cranberries, halved
1 cup chopped, toasted pecans
Directions:
1. Preheat oven to 350 degrees. Line muffin pan with paper liners.
2. In a medium bowl, combine flours, sugar, baking powder, ginger, orange zest, and salt. Set aside.
3. In a medium mixing bowl, whisk together milk, melted butter, and egg. Stir in cranberries and nuts.
4. Add wet ingredients to dry and stir just until blended. Do not overmix.
5. Divide batter evenly among muffin cups. Sprinkle granulated sugar on top of muffins, if desired.

6. Bake for 15 to 18 minutes or until lightly browned.
Yields: 12 muffins
Nutrient Analysis (per muffin):
Calories: 252; Total Fat: 12 g*; Saturated Fat: 4 g*; Polyunsaturated Fat: 2 g*; Monounsaturated Fat: 5 g*; Cholesterol: 30 mg*; Sodium: 132 mg; Carbohydrates: 31 g; Fiber: 3 g; Protein: 5 g
*If you use a soft spread (vegetable oil spread in a tub): Total Fat: 11 g; Saturated Fat: 2 g; Polyunsaturated Fat: 4 g; Monounsaturated Fat: 5 g; Cholesterol: 18 mg
— Recipe used with permission from the Cranberry Marketing Committee
References
1. Howell AB, Reed J, Winterbottom R, Krueger C. Bacterial anti-adhesion activity of cranberry vs. other foods. Federation of American Societies for Experimental Biology. 2002.
2. McKay DL, Blumberg JB. Cranberries (Vaccinium macrocarpon) and cardiovascular disease risk factors. Nutr Rev. 2007;65(11):490-502.
3. Ruel G, Pomerleau S, Couture P, et al. Low-calorie cranberry juice supplementation reduces plasma oxidized LDL and cell adhesion molecule concentrations in men. Br J Nutr. 2008;99(2):352-359.
4. Ruel G, Pomerleau S, Couture P, et al. Favourable impact of low-calorie cranberry juice consumption on plasma HDL-cholesterol concentrations in men. Br J Nutr. 2006;96(2):357-364.