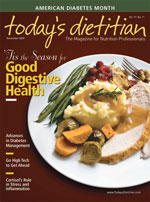 November 2009 Issue
Innovations in Diabetes Management — Emerging Tools and Medications Aim to Strengthen and Simplify Care
By Rita E. Carey, MS, RD, CDE
Today's Dietitian
Vol. 11 No. 11 P. 34
Structured, Internet-based support services may become a cost- and outcomes-effective way to promote lifestyle change for people with diabetes.
There is a spirit of innovation and creativity surrounding many of the newest products and services available for diabetes care and management. On display at this year's annual meeting of diabetes educators in Atlanta (suitably themed "Exploring New Dimensions") were many of the most novel tools and products, ranging from home glucose monitoring systems and IT-supported diabetes management services to a diabetes vaccine that is ever closer to becoming a reality.
This article will highlight some of these products and services and preview a few additional developments that are in the pipeline.
Home Glucose Monitoring: Easier, More Affordable
Now on the market is a new generation of home glucose monitors offering accuracy, affordability, and ease of use, many of which became widely available within the last year. A few of the new kids on the block include the Glucocard series of meters, the WaveSense Presto and Jazz, and the Bionime Rightest Blood Glucose Monitoring System GM100 Slim Series.
Glucocard is manufactured by Arkray USA, one of the pioneering companies in the field of diabetes self-management. Formerly known as Hypoguard, this company developed the first home glucose monitor in the 1970s and is currently the fifth-largest manufacturer of home glucose monitoring systems in the world. 
All of the Glucocard meters are autocoded, and the strips require the smallest blood sample currently possible: 0.3 µL. The meters have an attractive design, the LCD screens are easy to read, and the meter is a breeze to learn to use. Test strips are housed in a unique, compact container with a clear bottom that enables users to easily track the number of strips inside. Glucose strips have an extended shelf life of six months—a bonus for those who fail to use them within the usual three-month expiration period. Suggested retail cost for test strips is $20 for 50, making them generally less expensive than many glucose test strips on the market today.
AgaMatrix, maker of the WaveSense line of blood glucose monitoring products, introduced its code-free Presto and Jazz meters to the market in 2008 and its latest product, the WaveSense Diabetes Manager, earlier this year.
The company strives to develop meter technology that corrects for the variety of errors that contribute to inaccuracies in blood glucose readings. Some frequently cited sources of measurement error include strip manufacturing variations and chemical interferences from food or supplements (eg, vitamin C), as well as individual hematocrit levels and extremes in ambient temperature and altitude.
AgaMatrix uses a simply designed strip with its product (0.5 µL sample size, three-month expiration). All WaveSense meters monitor and adjust for the variety of error-producing factors mentioned previously, thus potentially producing more accurate blood glucose readings. The suggested retail price for meters and strips is similar to the Glucocard line of products, making them another affordable and accurate option for individuals who must pay out of pocket for part or all of their diabetes supplies.
The WaveSense Diabetes Manager is a unique electronic diabetes management software application that runs on the Apple iPhone and iPod Touch. Patients can download it for free from the iTunes App Store and use it to enter blood glucose and meal data and insulin dosing information on the go. In addition, they can access their history and create graphs of data that they can share with their healthcare provider.
The Bionime Rightest Blood Glucose Monitoring System GM100 Slim Series is the latest meter from Bionime to be offered on the U.S. market. 
Bionime determined early on that one of the biggest factors affecting the frequency of self-monitoring blood glucose in people with diabetes is the cost of supplies. The suggested retail price for the Bionime family of meters and strips is generally 40% to 50% lower than the major brands, making frequent glucose testing more affordable. Accuracy is also a concern for anyone using or interpreting data from a meter, and according to the company's vice president for the Americas, Jeff Konecke, Bionime products surpass current International Organization for Standardization accuracy guidelines.
The Bionime series of meters and strips also has a unique design. The GM100 feels solid, an attribute deliberately worked into the design, and has a large, easy-to-read LCD screen. The test strips are made from a stiff plastic and are easy to handle and insert into the meter. The strip is larger than others on the market—a feature beneficial to people with poor dexterity and/or vision. Additionally, one side of the strip is ridged, adding a nonvisual meter placement guide for those who are visually impaired. The blood sample size required is 1.4 µL, an amount that is larger than many other brands. Konecke notes that the sample size for the product bucks a current trend: Many new meter systems require minute amounts of blood. Bionime, however, believes that small blood samples compromise accuracy—the smaller the blood sample, the more impact outside interferences will have—and therefore chooses to keep its sample size a little larger than most.
IT-Supported Diabetes Management: Wave of the Future
Internet-supported diabetes data management services like the WaveSense Diabetes Manager and other downloadable glucose data programs will undoubtedly become preferred management tools. With these tools, healthcare providers can access data and make treatment decisions in a timely fashion, hopefully helping to lower the costs and improve the outcomes of diabetes care.
In a similar fashion, structured, Internet-based support services may become a cost- and outcomes-effective way to promote lifestyle change for people with diabetes. Most behavior-change research indicates that the time period over which people need support to significantly alter and improve their lifestyle habits varies widely. Healthcare coverage plans usually do not reimburse multiple visits to a dietitian or other providers of lifestyle change support; thus, many individuals cannot afford the out-of-pocket expense for such care.
Healthy Humans (www.healthyhumans.com), a unique Web-based support service, is designed to continue the healthcare conversation with people who have diabetes in an affordable fashion. Regular outreach from Healthy Humans staff (weekly e-mails and phone calls) reinforces what patients have learned about self-care and provides motivational support and an online portal to track change. Individuals can submit questions to a panel of Healthy Humans physicians (including endocrinologists, cardiologists, nephrologists, neurologists, general practitioners, and ophthalmologists) who believe in and practice an integrative healthcare approach. All Healthy Humans doctors are accomplished clinicians on the leading edge of healthcare reform.
Healthy Humans also builds personalized wellness plans for people with diabetes focusing on diet, exercise, stress management, and nutritional supplements. The herbs and other supplements included in the Healthy Humans protocol have good data supporting their effectiveness in stabilizing blood glucose and improving diabetes outcomes.
The State of a Vaccine
Type 1 diabetes (including both juvenile-onset and latent autoimmune diabetes of the adult) is caused by the immune-mediated destruction of pancreatic beta cells. In type 1 diabetes, immune markers, or islet cell antibodies, in the blood can be detected before the clinical onset of disease. This prediabetic period, plus the partial remission period after diagnosis, theoretically represents a window of opportunity to halt or slow diabetes progression. Researchers are currently conducting clinical studies to test a variety of agents that may alter the course of type 1 diabetes in some individuals. One treatment being studied as a potential vaccinelike defense against type 1 diabetes is glutamic acid decarboxylase-alum (GAD-alum), made by Diamyd Medical in Stockholm, Sweden.
Glutamic acid dehydrogenase-65 (GAD-65) is one of the islet cell antibodies that signal the impending onset of type 1 diabetes. GAD-alum is recombinant human GAD-65 formulated with alum that may act like a vaccine to decrease autoimmune destruction of the pancreatic beta cells.1 A small study of young patients recently diagnosed with type 1 diabetes (n = 70) published in the October 2008 issue of The New England Journal of Medicine found that patients treated with two injections of GAD-alum less than six months after diagnosis experienced a smaller decline in fasting and stimulated C-peptide levels at 30 months than patients in a placebo group. Insulin requirements, however, did not differ significantly between the two groups. C-peptide levels decrease as residual insulin production drops off, so this indicates GAD-alum may preserve that function. The study authors suggest that altering the timing and frequency of GAD-alum injections may further improve residual beta cell function and reduce insulin needs. Large-scale confirmatory studies are currently underway in Europe and the United States.
New Medications
A number of new medications received an FDA seal of approval this year, including saxagliptin (Onglyza) and bromocriptine (Cycloset). Saxagliptin is a new dipeptidyl dipeptidase-4 inhibitor made by AstraZeneca and Bristol-Myers Squibb. Like sitagliptin, the other drug on the market in this class, saxagliptin slows the destruction of incretins, GIP and GLP-1, thus allowing a quicker and more appropriate pancreatic secretion of insulin at meals, as well as a concomitant reduction in glucagon secretion. When combined in studies with metformin or used as monotherapy, saxagliptin reduced the hemoglobin A1C percentage anywhere from 0.45% to 2.5%.2,3 It is indicated for use as monotherapy or with sulfonylures, metformin, and thiazolidinediones.
Bromocriptine blocks the release of prolactin from the pituitary gland and has been used to treat women with menstrual difficulties, excessive lactation, and infertility problems. It is also a dopamine agonist and is used in treatments for Parkinson's disease and, most recently, type 2 diabetes, according to the Mayo Clinic.
The FDA-approved Cycloset, made by VeroScience, in May for the treatment of type 2 diabetes. According to company literature, the drug acts on the hypothalamus to improve postprandial glucose and lipid metabolism. Studies show no adverse cardiovascular risks, and Cycloset is the first drug approved under the new FDA rules designed to prevent drug-induced adverse cardiovascular events. Because it blocks prolactin, the drug should not be taken during pregnancy or lactation.
Some novel medications and insulin delivery systems currently being researched include the following:
• metformin-laced chewing gum (Generex Biotech Corporation);
• sprayable and inhalable insulins (Generex Biotech Corporation and Mannkind Corporation); and
• an insulin patch (Altea Therapeutics).
Two pieces of MetControl, a chewing gum that contains metformin, may produce similar reductions in fasting blood glucose as one 500-mg metformin tablet.
Oral-lyn Buccal insulin spray, also being developed and studied by Generex, is delivered to the inner cheek. It is available to patients in some overseas markets and is currently in global phase 3 research trials. Mannkind petitioned the FDA in March for approval of its inhaled insulin, Afresa, so delivery of insulin through the lungs may yet become a treatment option.
The insulin patch, or transdermal insulin delivery system developed by Altea Therapeutics, is currently in phase 1 trials in the United States. Insulin is only one of several medications being trialed for transdermal delivery by Altea Therapeutics. The company recently entered into an agreement with Eli Lilly and Company and Amylin Pharmaceuticals to develop a transdermal patch for delivering exenatide (Byetta).
Warmer Feet, Fewer Ulcers
One product featured at the American Association of Diabetes Educators meeting this year deserves special comment: a tool called the WarmFeet Kit, created by Birgitta I. Rice, MS, RPh, CHES. As a doctoral student in Minnesota, Rice researched the effectiveness of biofeedback for healing diabetic foot ulcers. Her research revealed that patients who regularly practiced the relaxation and visualization exercise she created could significantly raise the temperature of their toes, thus indicating an increase in circulation. The visualization that participants practiced centered on sending warmth to their feet. Per information gathered at her lecture at the annual meeting, many patients with ulcers that had not healed for years saw their wounds resolved within six months of initiating this biofeedback therapy.
The WarmFeet Kit includes a CD recording of the visualization used in the study, as well as an alcohol thermometer for patients to use in measuring temperature changes in their feet. With such potentially dramatic results, this product could literally save limbs for many individuals suffering from foot ulcers.
Present and Future Possibilities
There are many innovative new products and services for diabetes management available today. Unfortunately, covering all of them is beyond the scope of this article. This limited review, however, certainly indicates that people with diabetes can look forward over the coming months and years to more tools to help them cope with the disease and live healthier lives. 

— Rita E. Carey, MS, RD, CDE, is a clinical dietitian and diabetes educator at Yavapai Regional Medical Center and the Pendleton Wellness Center in Prescott, Ariz.
References
1. Ludvigsson J, Faresjö M, Hjorth M, et al. GAD treatment and insulin secretion in recent-onset type 1 diabetes. N Eng J Med. 2008;359(18):1909-1920.
2. Rosenstock J, Sankoh S, List JF. Glucose-lowering activity of the dipeptidyl peptidase-4 inhibitor saxagliptin in drug-naïve patient with type 2 diabetes. Diabetes Obes Metab. 2008;10(5):376-386.
3. Jadzinsky M, Pfützner A, Paz-Pacheco E, et al. Saxagliptin given in combination with metformin as initial therapy improves glycaemic control in patients with type 2 diabetes compared with either monotherapy: A randomized controlled trial. Diabetes Obes Metab. 2009;11(6):611-622.