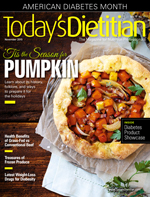 November 2015 Issue
Ask the Expert: Tart Cherry Juice and Exercise Recovery
By Toby Amidor, MS, RD, CDN
Today's Dietitian
Vol. 17 No. 11 P. 8
Q: My clients have been inquiring about the link between exercise recovery and tart cherry juice. Can you discuss the science and provide tips for counseling clients?
A: Both elite athletes and everyday exercisers are consuming tart cherry juice in lieu of a sports drink before and after exercise, specifically high-intensity strength exercise, endurance running, and intensive cycling. There's growing research that supports its benefit for helping athletes recover.
Recovery of Muscle Function
A 2010 study published in the Scandinavian Journal of Medicine & Science in Sports examined the influence of tart cherry juice on recovery following a marathon.1 Twenty recreational marathon runners were assigned to drink tart cherry juice or placebo for five days before, the day of, and 48 hours after a marathon. Numerous markers for muscle damage were examined both before and after the race. Based on the data collected, researchers concluded that tart cherry juice appears to help with recovery of muscle function poststrenuous exercise by increasing total antioxidative capacity and reducing inflammation and lipid peroxidation.
Decreased Muscle Damage and Strength Lost
A 2011 study published in Medicine & Science in Sports Exercise examined the effects of a Montmorency cherry juice concentrate or isoenergetic fruit concentrate on 10 well-trained male athletes using a crossover experimental design.2 Subjects consumed the concentrate for seven days before and 48 hours after unilateral leg exercise. After two weeks, a second trial was conducted on the alternate leg. Results showed that the maximum voluntary contractions during recovery were significantly faster in the tart cherry concentrate group vs placebo. Researchers concluded that cherry juice consumption did improve recovery of isometric muscle strength after an intensive workout. One theory proposed is that the high levels of polyphenols (including flavonoids and anthocyanins) found in tart cherry juice helped lessen the oxidative damage induced by the exercise.
A 2006 study published in the British Journal of Sports Medicine examined the effects of a tart cherry juice blend vs placebo in 14 male college students.3 In this placebo-controlled, crossover design study, subjects consumed the tart cherry juice or placebo twice a day for eight consecutive days. On the fourth day of supplementation, subjects performed eccentric elbow flexion contractions. Two weeks later, subjects performed the same exercise, though on the opposite arm and after crossing over their initially assigned supplement. The results found that strength loss and pain were significantly less in subjects consuming cherry juice vs placebo. Strength loss averaged over the four days postexercise was 22% with placebo compared with 4% with the tart cherry juice.
Reduced Inflammation and Oxidative Stress
A 2014 study published in Nutrients looked at 16 trained cyclists who received either Montmorency tart cherry concentrate or placebo twice a day for seven consecutive days.4 On days five through seven, the cyclists completed a high-intensity 109-minute simulated road cycling race, and researchers measured oxidative stress and inflammation from blood samples collected at baseline, and pre- and postexercise on all three days. Results found that lipid hydroperoxides and high-sensitivity C-reactive protein were lower in the tart cherry concentrate group vs the placebo group. As such, researchers concluded that tart cherry concentrate may indeed help decrease inflammation and oxidative stress induced by intensive exercise.
Recommendations for Clients
Tart cherry juice does show promise in aiding various postexercise concerns. However, it shouldn't be consumed as a replacement for a proper postworkout meal or snack. If a client would like to consume tart cherry juice to help with exercise recovery, based on the amount given during studies, health practitioners can recommend the following:
ten fluid ounces of tart cherry juice preworkout; and
an additional 10 fluid ounces or consumption of dried tart cherries within 30 minutes postworkout.
— Toby Amidor, MS, RD, CDN, is the founder of Toby Amidor Nutrition (http://tobyamidornutrition.com) and the author of the cookbook The Greek Yogurt Kitchen: More Than 130 Delicious, Healthy Recipes for Every Meal of the Day. She's also a nutrition expert for FoodNetwork.com and a contributor to US News Eat + Run, Shape.com, and MensFitness.com.
References
1. Howatson G, McHugh MP, Hill JA, et al. Influence of tart cherry juice on indices of recovery following marathon running. Scand J Med Sci Sports. 2010;20(6):843-852.
2. Bowtell JL, Sumners DP, Dyer A, Fox P, Mileva KN. Montmorency cherry juice reduces muscle damage caused by intensive strength exercise. Med Sci Sports Exerc. 2011;43(8):1544-1551.
3. Connolly DA, McHugh MP, Padilla-Zakour OI, Carlson L, Sayers SP. Efficacy of a tart cherry juice blend in preventing the symptoms of muscle damage. Br J Sports Med. 2006;40(8):679-683.
4. Bell PG, Walshe IH, Davison GW, Stevenson E, Howatson G. Montmorency cherries reduce the oxidative stress and inflammatory responses to repeated days of high-intensity stochastic cycling. Nutrients. 2014;6(2):829-843.